Top 7 Video Stream Sites
Video streaming is a type of media streaming. With its help, remote users can easily watch a video online. So they don't need to download it on a host computer or device.
According to statistics, video streaming has been taking the world by storm. For example, 75% of all internet traffic belonged to video streaming in 2017. Moreover, the traffic is projected to jump to 82% by 2020. It comes as no surprise that the industry is flourishing. Now, when it comes to choosing a new platform for online streaming, it's hard to pick one, since there are lots of video streaming services on the web.
Read our article to review the best video streaming services. You're guaranteed to find what you need.
Note that the video streaming sites listed below are not in any particular order of importance. We do not claim that the lists of pros and cons are complete. Moreover, they are neither exhaustive nor quantitative. However, we hope that the general overview of video streaming services may come in handy.
Youtube: the Most Popular Website Among Video Streaming Services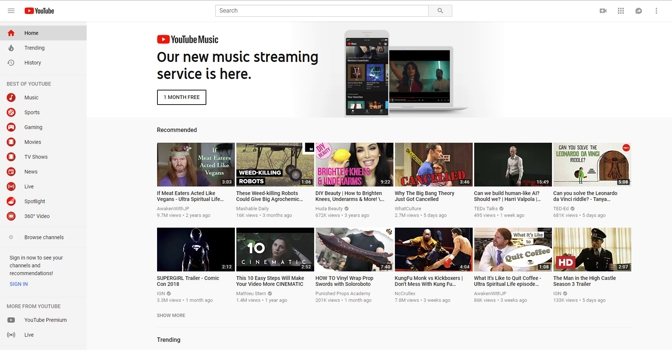 Created in 2005, Youtube ranks among the most visited video streaming sites you can find. The server hosts tons of videos that are viewed and commented every single day. There are over 1.3 billion users of the platform all over the world, and the user base never stops growing.
As for Youtube content, it's really diverse. You can easily watch online many free public domain films from channels, TV shows, and millions of other types of videos.
Youtube offers:
HD video playback
Widescreen format
Subtitles and closed captions
Customizable personal video page
Ability to limit video access
Ability to embed videos on a blog or website
However, the server also has the following downsides:
Prohibition to upload duplicate, explicit, third-party content without owner's permission
Spam comments
Ads
Hulu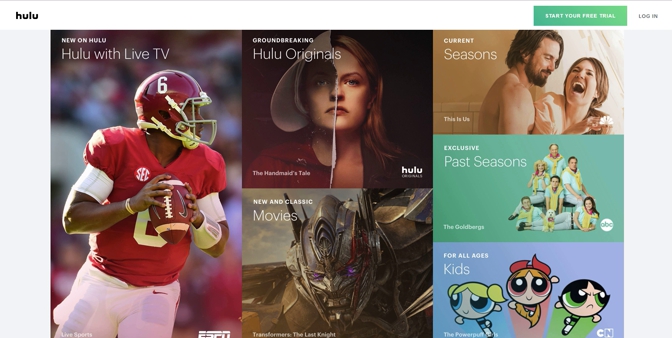 Hulu has 17 million users as of 2018. It's the biggest legal movie and TV shows streaming site. This video stream platform has a formidable library of video content. Enjoy exclusive series, Hulu Originals, top movies, kids shows, and more.
Pros:
Different plans and free trial for a limited period of time
Live TV
Original content
Possibility to get rid of commercials
Watch episodes of current TV shows the day after airing on cable
Stream to unlimited screens at home and up to 3 when you're on the go
Cons:
Only accessible within the US and some US overseas military bases
No offline viewing
No upload option
Veoh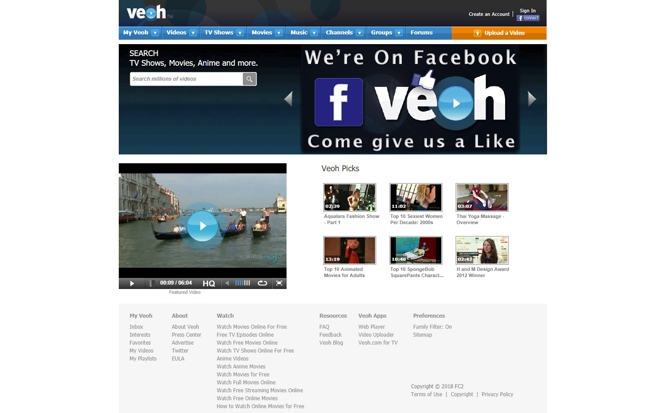 Monthly audience of Veoh is estimated to be about 15 million visitors. The platform provides a wide range of TV shows, movies, and music related videos for free. It also hosts independent productions and user-generated content.
Pros:
Sort videos in no time: select the language you need and the desired video length
Upload videos of different formats
Social networking features: create groups, participate in forums, leave comments, add friends, etc.
Cons:
No video stream site updates since 2010
Not always relevant search results, e.g. user clips are mixed in with professionally produced movies
Metacafe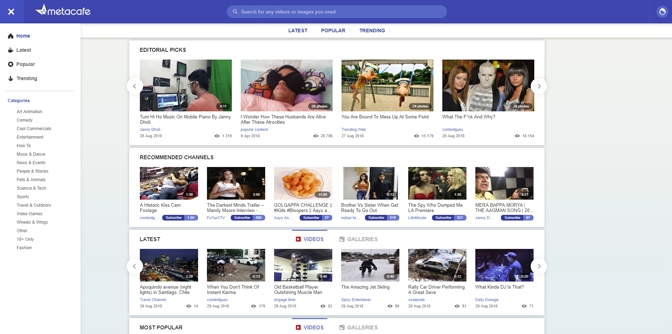 Metacafe has 12 million unique monthly viewers. This online platform specializes in short videos which have become appealing to the community. Users can easily upload their clips for free. A special ranking algorithm ensures that these clips are of high quality, and there are no duplicates on Metacafe. All videos are classified into categories, such as "Comedy", "Science & Tech", "Sports", "Travel & Outdoors", and more.
Pros:
Videos can be embedded on blogs or websites
Lots of funny content and quick how-to guides
Cons:
Lacks professional videos
Home for weird and shocking content
Vimeo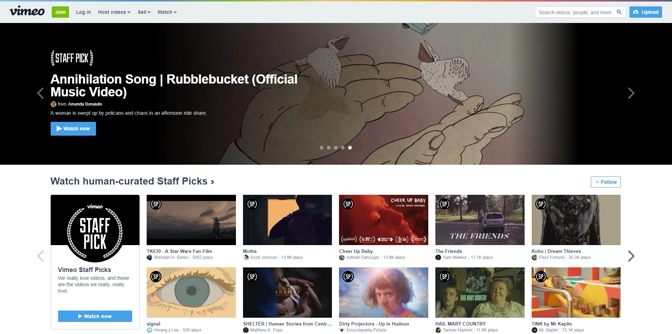 This video-sharing site has about 130 million visitors per month. Founded in 2004, Vimeo is considered as a platform for creators to promote their movies, animation, and music. The brand name is a combination of two words – "video" and "me". It is also an anagram of the word "movie."
Pros:
High-quality content
Full HD video support
4K video support
No in-video ads
Easy to change the URL of your clip so that users can find it quickly
Privacy and playback control: make your videos available only on your website
Neat interface without distracting elements
Cons:
Not totally free for filmmakers
500 MB weekly upload limit for basic accounts
Dailymotion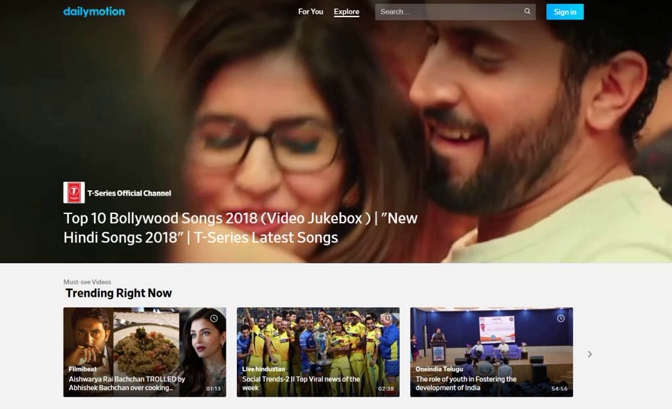 Dailymotion was founded in 2006 in France. Now the platform claims to be the world's second-largest video sharing website, with 300 million users from around the world. This video streaming service allows users not only to watch videos but also create an account and publish your own clips up to 4GB with HD 1080p support. The website is available in 18 major languages and about 35 localized versions.
Pros:
Clean and simple video player
Supports 360-degree spherical videos
Cons:
Break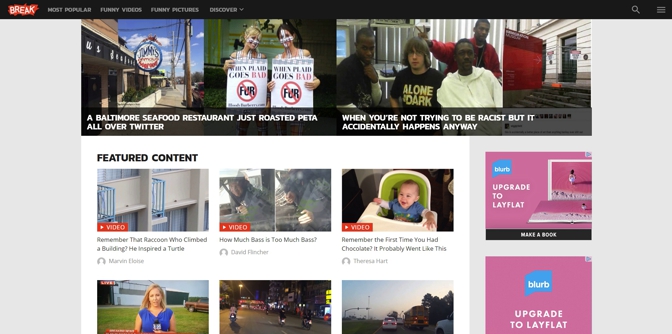 Founded in 1998, Break is a humor website marketed towards men aged 18–35. This platform is mainly known for funny videos, pictures, and articles. The site is so easy to navigate that we recommend you visit it and find out all its pros and cons for yourself.
As you can see, each platform has its advantages and disadvantages. To make the final choice, first of all, you should decide why you need a video streaming site. Do you want to have fun? Are you looking for a server to promote your experimental videos? Or maybe you just want an alternative to cable TV? The next step is to visit the website of your choice and make sure it meets your needs. Select the platform that best fits your budget, your devices, and your viewing habits. Enjoy an amazing video watching experience!
Once you've chosen the best video streaming service, try Movavi Screen Recorder Studio to capture online streams in HD. Record the part of the screen you need. Add voice comments. Convert recordings to AVI, MP4, MOV, and other formats. Download the program and watch favorite videos offline again and again!
By Drusilla Thornsson
August 30, 2018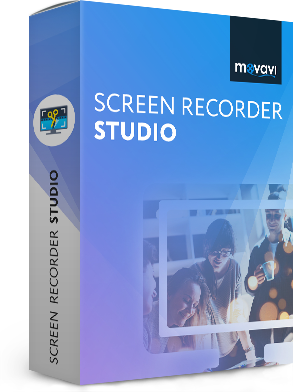 Movavi Screen Recorder Studio
The perfect way to record from your screen
Capture video from your computer screen

Grab sound from multiple sources

Tweak videos with the built-in editor

Save videos in any popular format
Read Other Useful Articles