Best TV for Gaming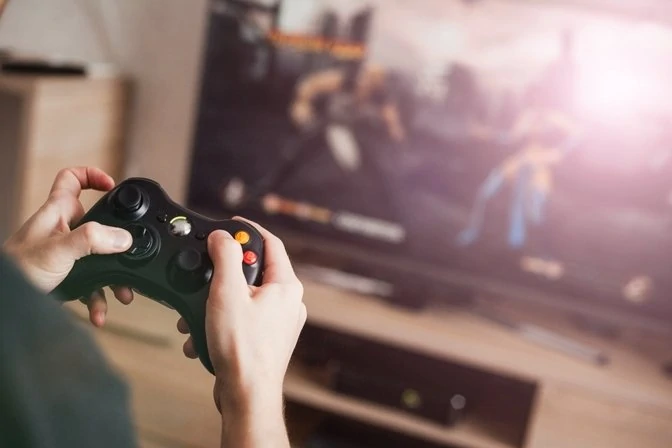 While most people buy a TV to use with their Xbox One X or Sony PS4 Pro, a TV can also come in handy for both console and PC gaming. They can be comparatively cheap or extremely expensive, and they come in all sizes, from small, 32-inch sets all the way up to 85-inchers. Gamers tend to choose the bigger 4K models, though, because what they are often looking for in gaming on the TV is the deep immersion in the world of the game that is provided by the big screen, high dynamic range (HDR) and high resolution set. But choosing among the best gaming TVs can get tricky with all the custom settings they offer and all the myriad specs that accompany digital displays. We recommend you read this article about the best gaming monitors, because we've taken a deep dive into some of the key features and parameters you need to keep in mind when choosing a gaming screen:
Disclaimer: We use affiliate links to the products mentioned on this page. When you click an affiliate link and make a purchase, we receive commissions. If you want to support our portal, you can use the links. Otherwise, you can find the recommended products using a search engine.
Looking for an app to record your gameplay? Try Gecata by Movavi – an easy-to-use screen-recording program for Windows.
How to Choose Best 4K TV for Gaming
Gaming TVs differ from gaming monitors in several important ways, so here are some key points you need bear in mind before plunging into our recommendations for the best TV for gaming.
HDR. As you may know, high dynamic range is one of the key features of console gaming. HDR is the Xbox- and PS4-compatible feature that makes games look so crisp and colorful on these platforms. There are two major HDR standards you'll find on today's TVs: HDR10 and Dolby Vision. For gaming, it is paramount that your TV supports HDR10.
LED vs. QLED (or LED). Without going into technical details, here's the essential difference between these two. OLED TV pixels generate their own light, so they are capable of producing a "perfect" black by reducing the current running through them to zero. That is important. To achieve the same thing, LED displays have started to create so-called dimming zones. So, you need to know that the more dimming zones your LED display has, the better blacks you'll get. QLED stands for "quantum dot LED", which is a Samsung-owned technology that adds an extra layer of dots to Samsung screens to enhance their brightness and color spectrum. So, QLED monitors are brighter than LED, which, in turn, are brighter than OLED. At the same time, OLED will provide natural blacks and better viewing angles. And the ability of OLED displays to completely turn off each individual LED means that the edges are usually sharper on these displays and not muddied by backlight.
HDMI. To play in 4K at 60 frames per second, you will need a specific HDMI2.0 cable with a greater bandwidth than HDMI1.4.
Response time and refresh rate. If you've read our article on gaming monitors referenced above, you might guess that, in the case of 4K TVs, response time and refresh rate are also the two key parameters that define the speed of interaction between your moves and the screen's response. So, if you're into console fighting, for example, pay very close attention to these two numbers in the monitor specs. By the way, many monitors' Game Modes will let you boost the refresh rate by downgrading the brightness or the quality of the picture.
Our Top 10 Picks
#CommissionsEarned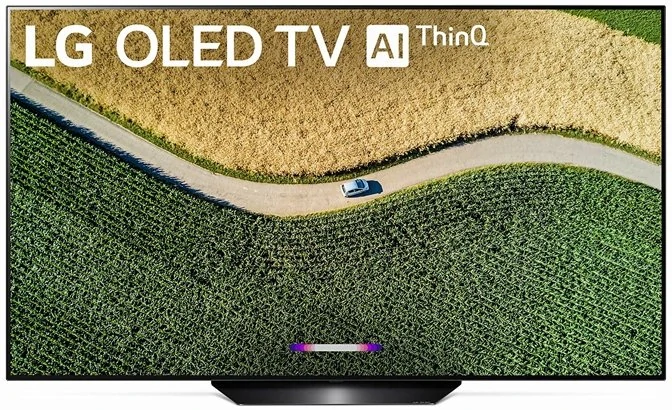 Screen size: 55"/65" | Panel type: OLED | HDR Compatibility: Dolby Vision, HDR10, HLG | Refresh Rate: 120Hz | Price: $1,995
The LG B8 OLED model has already been noted as a great gaming TV but, little by little, it is being replaced by the newer B9 model, which is a bit more future-proof as it comes with an HDMI 2.1 port. The monitor offers lightning-fast response and perfect blacks due to its OLED base technology. You can enable Instant Gem Response in the Additional Settings menu for the monitor to auto-switch to Game Picture Mode whenever it detects that a game is being played and thus lower the latency and adjust the response time for an even better gaming experience. And the Ultra HD Deep Color mode makes HDR gaming on this monitor as immersive as it can get. It is worth mentioning, though, that the B9 is not as bright as you might expect, and, as with many OLED monitors, it can suffer from slight temporary image retention. The audio quality is not the best there is, but it should not be a problem if you use it with a separate sound system.
#CommissionsEarned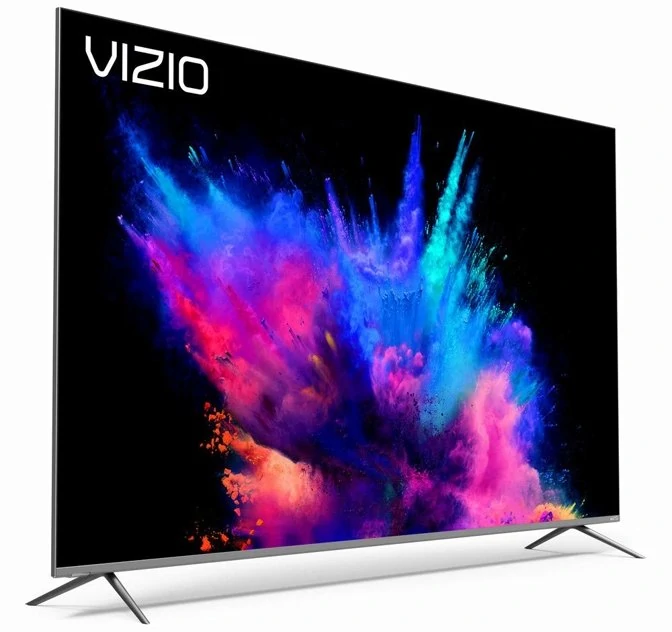 Screen size: 65" | Panel type: LED | HDR Compatibility: Dolby Vision, HDR10, HLG | Refresh Rate: 120Hz | Price: $1,099
For years now, Vizio P-Series TVs have provided solid gaming models, one of which we have included in our list. This model stands on thin metallic aluminum bezels, is sturdy, and looks cool in a minimalist way. It has four HDMI 2.0b ports and one HDMI 1.4 port, all of which support HDCP 2.2. This is one of the few P-Series TVs to include Vizio's quantum color technology, which allows a wider and more precise color range. Another impressive improvement over its closest predecessor is the doubled number of local dimming zones, now 200, that offer incredible contrast control and reduce blooming of images with bright highlights. A peak brightness of 1,100 is more than enough and beats the B9 OLED in this regard while being almost $1000 cheaper. The TV has 30 pre-installed apps and over 100 channels to watch through PlutoTV. Finally, the P659-G1 can be controlled by voice via Alexa or Google Assistant. HDR gaming on this TV is just extraordinary, and we recommend it to anyone interested in gaming on TV.
#CommissionsEarned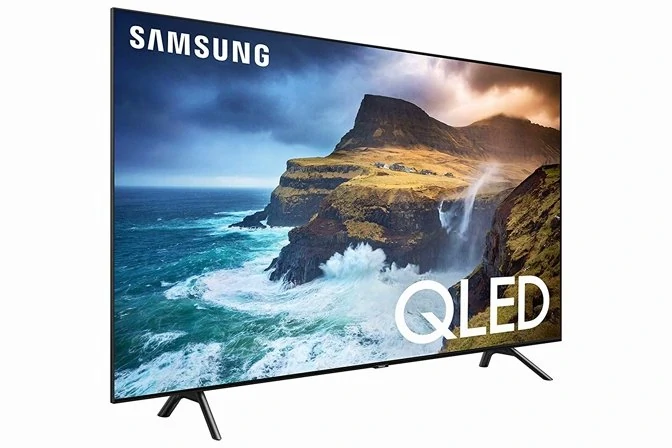 Screen size: 49"/55"/65"/75"/82"/85" | Panel type: QLED | HDR Compatibility: HDR10+ | Refresh Rate: 120Hz | Price: $1,199 for a 65" model
This Samsung TV is at the lower end of the high-end models, offering a wide range of sizes from 42 to 85 inches. Just like the Vizio P659-G1, it has a VESA wall mount, and the design is also similar, with a solid stand, thin borders, and excellent overall build quality. The native contrast ratio is great, going as high as 8056:1 with local dimming, so you'll be able to enjoy very deep blacks in a dark room. Unfortunately, the TV's local dimming can't be turned off completely. HDR and SDR peak brightness is good – even though it doesn't go above 750 nits, it is enough to enjoy gaming in a sunlit room. Response times are excellent, producing only a small blur trail behind an object moving at high speed. The Game Motion Plus menu lets you reduce input lag to the minimum through the motion interpolation feature. Other gaming-specific features include FreeSync support and auto latency mode. The viewing angles are rather disappointing, and this is probably the one big downside of this model: playing with a group of friends can get tiresome as the image loses accuracy as soon as you move away from the center.
#CommissionsEarned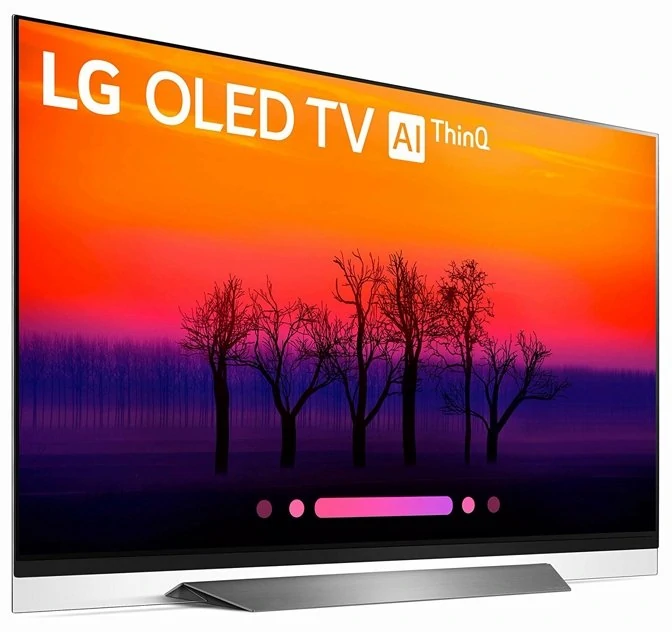 Screen size: 55" | Panel type: OLED | HDR Compatibility: Dolby Vision, HDR10, HLG | Refresh Rate: 120Hz | Price: $3,299
This was one of the best 4K TVs you could buy in 2018, and not much has changed in 2020. The E8PUA is still at the top of any list, and the gaming list is no exception. On the other hand, you wouldn't expect less for 3,299 bucks - but even at such a high price, this TV fulfills all its promises and surprises you at every turn. The design is just gorgeous, with an OLED panel mounted on a sheet of glass which slides into an elegant brushed aluminum base with literally not a single screw involved. Its own AI, called ThinQ, recognizes game consoles, automatically tunes to the correct HDMI input, and sets the TV to the gaming picture preset, reducing lags to as little as 20ms and enhancing brightness. Considering the thinness of the TV, its audio performance is astounding. The absence of any kind of backlighting effects. Halos, or blossoming only accentuates the depth of the blacks this model produces, giving you every last inch of the "black-friendly" OLED technology. Color acuity is very good and the screen uniformity is impeccable. With TruMotion set to smooth, you won't see a single jerky movement. Considering the price of the TV, the thing you would want to consider is the relatively limited width, which is an issue with most OLED models, but this shouldn't be an issue if you use it only a few hours a day.
#CommissionsEarned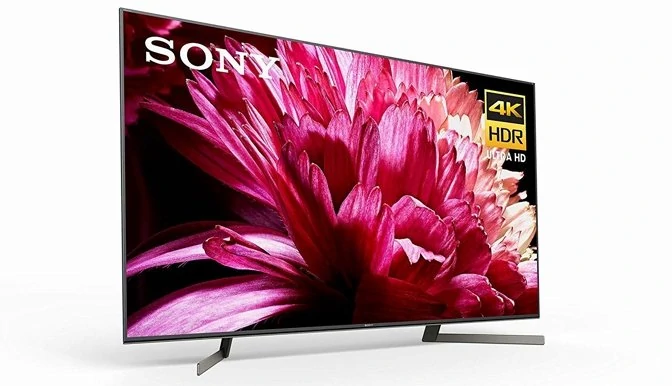 Screen size: 55"/65"/75"/85" | Panel type: LED | HDR Compatibility: Dolby Vision, HDR10, HLG | Refresh Rate: 120Hz | Price: $1,499 for a 65" model
The X950G lineup includes screens ranging from 55 to 85 inches, with a mid-range 65-inch model going for $1,499. All the features are the same across the lineup, except for the X-Wide Angle technology included only in the 75" and 85" models. The X1 Ultimate processor with increased processing power supports 4K X-Reality PRO, accessing a huge database with pixel mapping and pattern detection, as well as an X-Motion clarity feature that enhances motion smoothness without significant loss in brightness. Sony put serious effort into providing good audio quality with its Acoustic Multi-Audio system, distributing four audio sources evenly across the height of the screen instead of placing one big speaker at the bottom edge, as so many models do. This results in sound that seems to come directly from the image. A great bonus with these models is the Netflix Calibrated picture mode that Sony designed in partnership with Netflix and controlled through a special Netflix app. Color accuracy, grayscale tracking, and motion smoothness are all very good in SDR and HDR gaming. Blacks are nice and deep. As for the brightness, it is just superb, with HDR topping out at about 1,200 nits.
#CommissionsEarned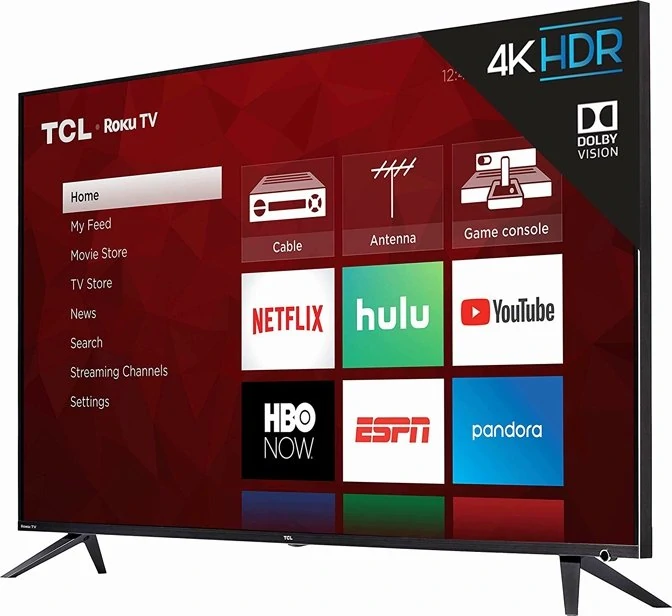 Screen size: 55" | Panel type: LED | HDR Compatibility: Dolby Vision, HDR10, HLG | Refresh Rate: 60Hz | Price: $799
Back in 2017, this Chinese company gathered lots of positive reviews for its inexpensive TVs loaded with useful features. This particular model is an LED set with 96 local dimming zones (for a 65-inch model, the number goes up to 120), which is a decent value for this price range. You won't get those uncontrollable bright flashes spreading all over the screen, and you'll be able to get good deep blacks and sharp edges between the contrasting areas. Pretty much all HDR content is covered, as the 55R617 supports both HDR10 and Dolby Vision. It lacks the HLG HDR support, but that shouldn't be a problem, because the sources requiring HLG are still fairly uncommon. Unfortunately, the refresh rate is limited to 60Hz, and this can indeed discourage console enthusiasts from buying this TV, as Xbox now supports 120Hz output. Still, there is an Action Smoothing tool that works well and helps significantly with motion blur, but does add the infamous "soap opera effect" to the picture. When you turn on the "Game Mode", Action Smoothing is automatically disabled. One of the best features of this TV is the built-in Roku streaming service menu. The screen is bright enough, measuring about 800 nits in HDR, and the input lag in games is excellent with Game Mode turned on. All in all, this is a great budget option to go for if you don't care too much about having a 120Hz refresh rate.
#CommissionsEarned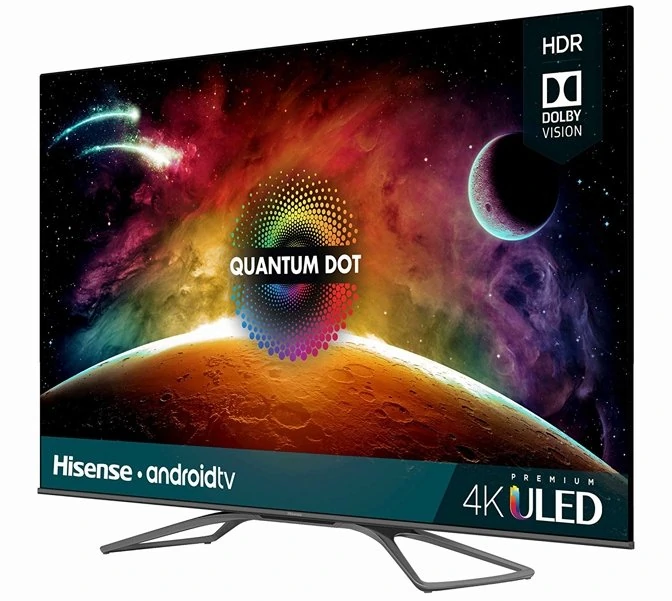 Screen size: 65" | Panel type: LED | HDR Compatibility: Dolby Vision, HDR10 | Refresh Rate: 120Hz | Price: $899.99
Here is another great model that comes in at under $1,000. Just like the TCL 55R617, it supports Dolby Vision and HDR10 and gives excellent color performance, with only the greens slightly undersaturated, which pulls the yellows and cyans back a little; also, with HDR10 enabled, the magentas run a bit reddish. But in general, the colors look natural and balanced and the quality is more than enough for the price tag. Make sure to set the Active Contrast to Low or Off, because its higher values, which produce deeper blacks, are actually eating some of the details in shadows and making the picture a bit muddy. The Game Mode on the H9 shows a surprisingly low input lag of 17.9, comparable to that of the TCL55R617, which is impressive considering that it is 10 inches wide – that is the main reason this budget TV from Hisense makes it to our list.
#CommissionsEarned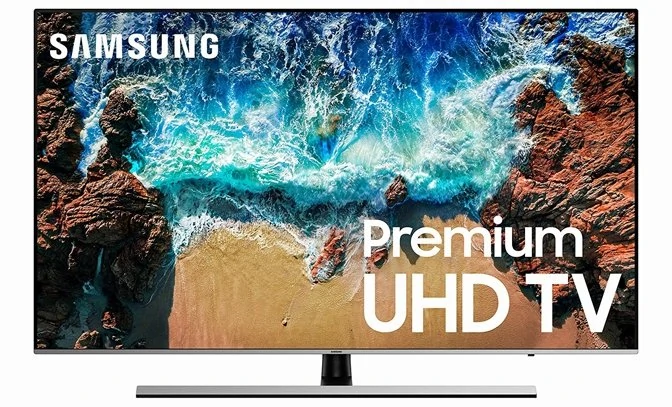 Screen size: 55" | Panel type: LED | HDR Compatibility: HDR10+, HLG | Refresh Rate: 120Hz | Price: $733.95
The NU8000 line of TVs is another sub-$1000 choice worth considering. This TV has a great minimalist design, with no plastic frame around the screen, a T-shaped stand, and a brushed aluminum finish on the back. The TV comes with the latest version of Samsung's Smart TV OS, shows incredibly low input lag, the HDR images are sharp, and the colors are beautiful. Samsung's HDR+ upconversion algorithm expands the colors even further. Note that it also makes colors warmer, so if you prefer colder scales, you can change the Color Tone back to standard in the menu. There are some problems though, the first being the NU8000's edge-lit panel. The fact that it is not full-array lighting means that the light dispersion is not the best, and it is not customizable. Secondly, the motion rendering on this monitor is a bit tricky. As with many budget models, it tends to produce a "soap opera effect" when the motion smoothness is tuned to its maximum. But when you start to turn it down, instead of getting a natural blur effect, motion artifacting comes into place. But a happy medium is achievable with a little patience and tweaking of advanced settings.
#CommissionsEarned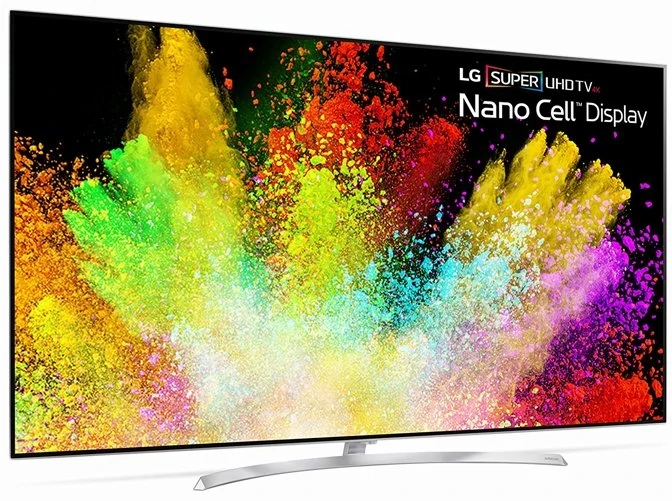 Screen size: 65" | Panel type: LED | HDR Compatibility: HDR10, Dolby Vision, HLG | Refresh Rate: 120Hz | Price: $3999.99
A bezel-free design makes this model look almost like an OLED TV: just a half-inch border surrounds the active part of the display. The screen is super-thin, sitting on a brushed metal stand with a curved foot and a neck connecting it to the back. The SJ9500 comes with a beautiful and user-friendly webOS interface with streaming services like Hulu, Amazon, Netflix, Sling TV, and YouTube included. As this is not an OLED TV, the SJ9500 enhances its black level quality with backlighting. Usually, high-end LED models use LED array baсklighting to enhance control over the brightness but, because SJ9500 is so thin, it uses edge-mounted lighting rather than an array, which results in a contrast that is typical for this price range. The one area where the SJ9500 excels, beating many of its competitors, is color quality. The colors on this model are vibrant and very accurate, the picture is never oversaturated or cartoonish, and the color range is insanely wide, showing very detailed scales of reds, blues and greens. Actually, regardless of the middling contrast with this model, the clarity is still pretty impressive – objects appear crisp and clean, with no apparent muddiness.
#CommissionsEarned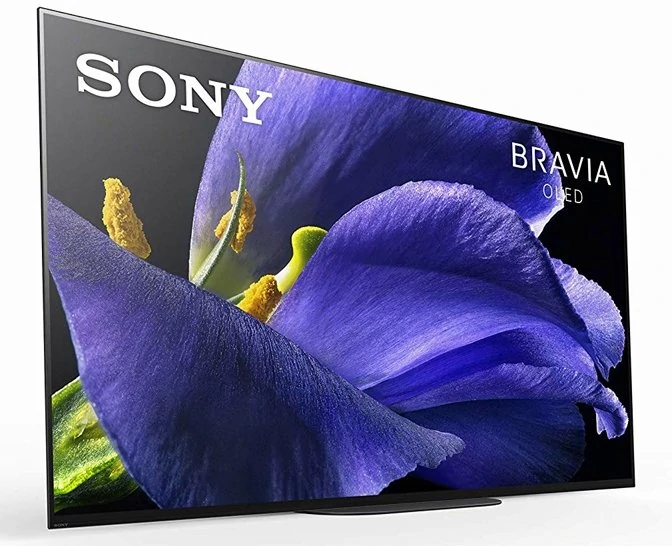 Screen size: 65" | Panel type: OLED | HDR Compatibility: HDR10, Dolby Vision, HLG | Refresh Rate: 120Hz | Price: $3498.99
This is a recent update to the universally acclaimed A9F model, and it is fair to say that the A9G is worthy of its heritage. The first big change is in the design: this time, Sony opted for a more minimalist design, as more and more high-end models do these days. The A9G keeps it thin and simple with a bezel-less, black OLED panel with only a 0.3-inch black frame around the active display plus a quarter-inch strip along the bottom edge. The A9G has an interesting sound system that produces great quality audio: instead of the usual speakers hidden somewhere in the screen case, there are two 10-watt actuators that produce stereo sound. A pair of 20-watt "subwoofers" that work in tandem with the 10-watt actuators form a powerful 60-watt system. The A9G is bright enough for an OLED screen. The color performance is also impressive, though not the most accurate in this price range. Reds, blues, and greens come very close to the mark, but don't quite hit it, while the whites are a bit cool. Still, this performance is typical among modern OLED screens. Fortunately, all this is tweakable using the extensive calibration settings for correcting color performance, and the overall picture is still excellent – detailed, with impressive contrast and the deepest "OLED blacks". Finally, the input lag in Game Mode is under 20ms, which is the standard for gaming.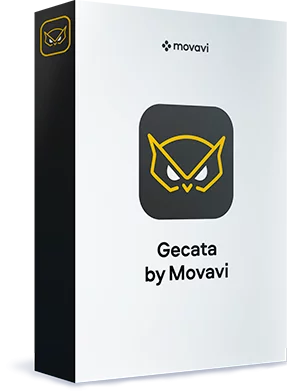 Gecata by Movavi
The best way to preserve your gaming achievements.
Record HD game videos at up to 120 FPS

Grab sound from microphone and speakers

Add webcam video to the game footage

Save video in MP4 for easy uploading to YouTube