10 of the Best Free Movie Apps for Android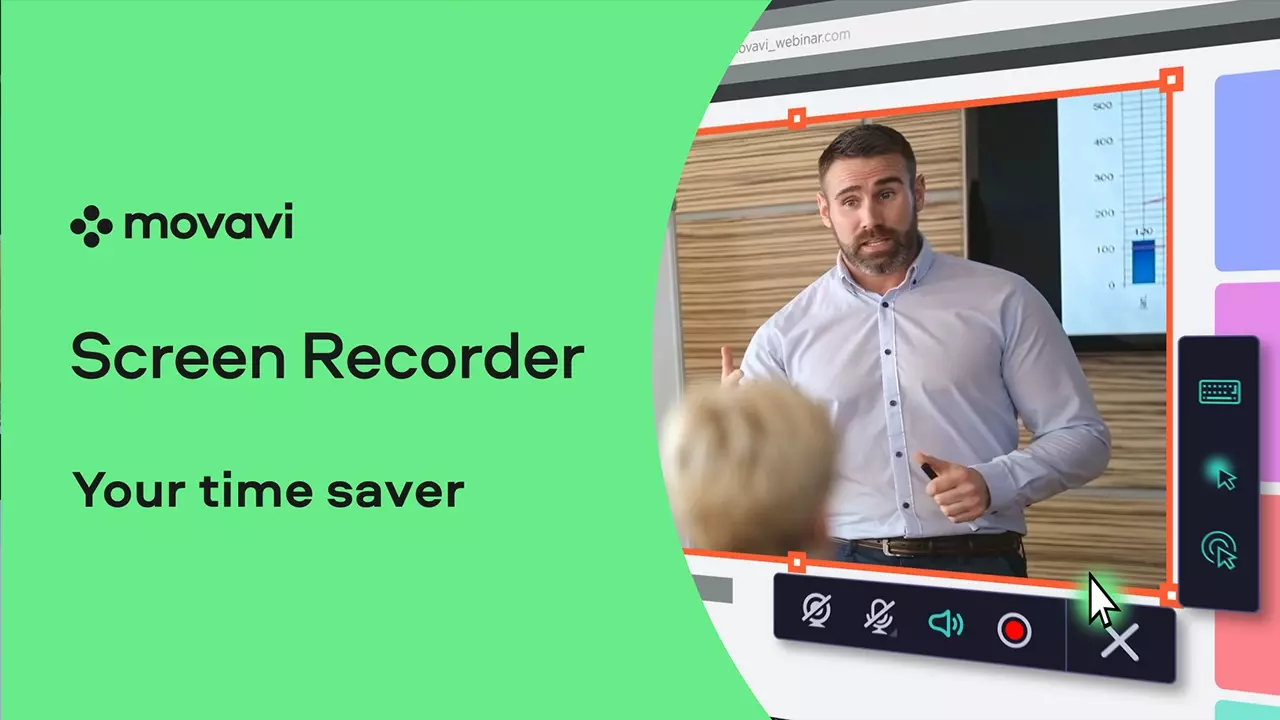 At home and on the go, more people than ever before are using free movie apps for Android to download and watch their favorite films, TV shows, anime, and online videos. The online world offers so many options when it comes to both education and entertainment through this accessible media. Why not find the best streaming apps for your future watching pleasure?
The following 10 free movies apps for your android tablet or phone are not ranked in any particular order. Each one has unique features that may suit your viewing style in particular. You can use them all on a variety of mobile devices that use the Android system. Many of them also have versions that suit iOS for you Apple devices users out there, too.
After you read this article, you will know what apps to use on your Android device.
Top Free Movie Streaming Apps
Explore the possibilities for online, streaming, and live video entertainment from your Android phone or tablet.
Tubi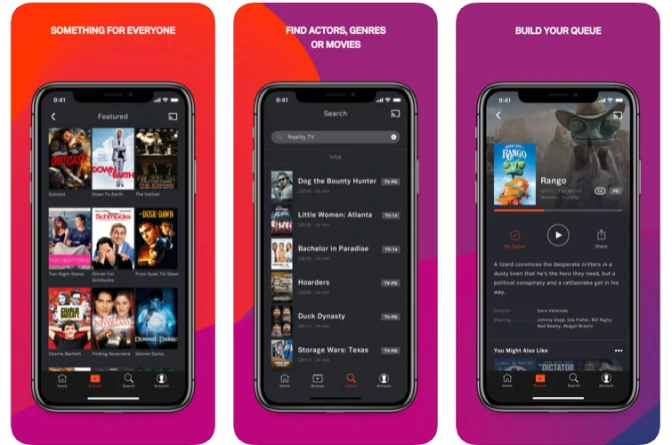 Enjoy watching big-name movies and television shows from major studios like MGM, Paramount, and others when you download the Tubi streaming app. It's free, legal, and you do not even have to sign up with a credit card or other payment method.
One of the best things about this app is how simple it is to search for your next binge-watching favorite. The easy-to-use interface allows you to swipe through color graphics, search for specific titles, your favorite actors, or genres and remembers what you watched before, too.
Need some more romance in your life? Take a look at our list of the top movies in this popular genre.
Sony Crackle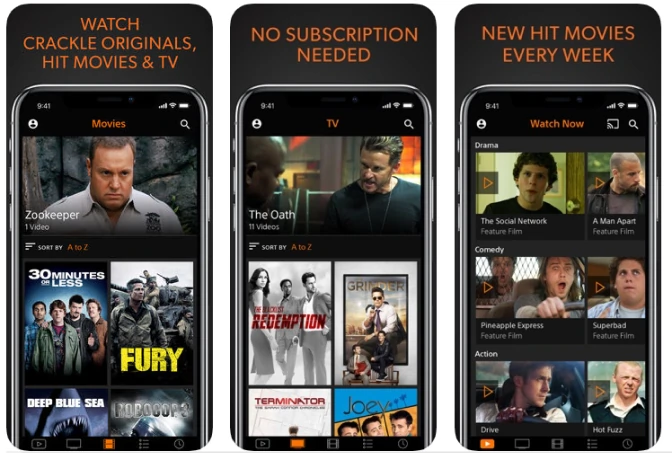 Not only does this Android and iPhone app give you a massive collection of hit movies and shows without paying a dime, but you also get access to Crackle Originals that you cannot find anywhere else. With a free account, you can save your favorites, set up filters to only see the genres or styles of movie you like, and search for actors and actresses. Yes, there is ad like all of the free services, but reviewers say they are quite short and unobtrusive.
To explore tons of available live streaming shows, take a look at our comprehensive list.
Vudu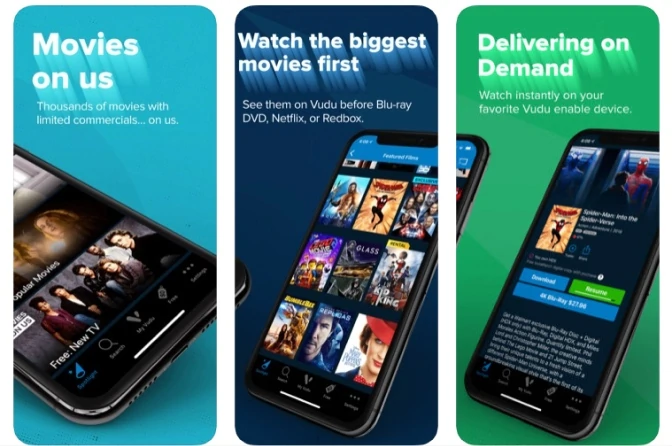 Although the app is completely free, you may have to pay for some premium content, which you can buy or rent. That just increases the availability of your favorites when you are out and about needing some entertainment. Still, Vudu offers thousands of full movies and series absolutely free to its users. It's available on both iPad and Android tablets and smartphones or all types.
They offer 100,000 titles to choose from and even offer the opportunity to download shows so you can watch them at your leisure even when your device is no longer connected. This makes for super flexible options for you.
Popcornflix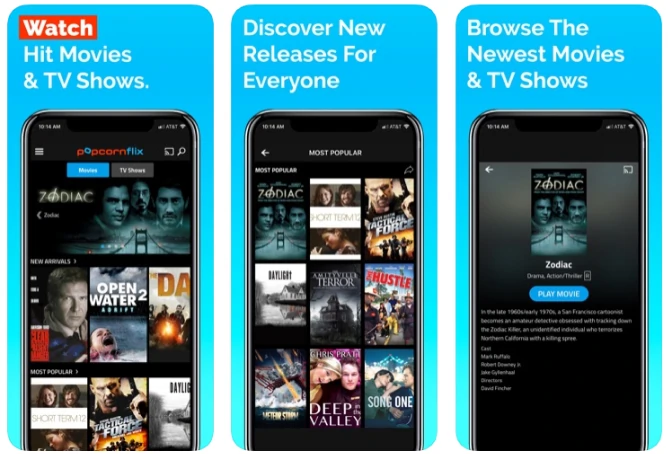 This app might appear a bit less popular than some of the ones mentioned above, it still provides a huge selection of free movies and shows for you to enjoy. One drawback that some people face with this selection stems from the smaller library of films to watch. There are about 700 in a variety of genres. They boast new ones added every week, too, so you never run out of options, and you may find some treasures not offered by other apps if you take a look.
Popcornflix does not offer a premium or subscription-based model to get rid of ads at this time. People who stream or download free movies from the internet expect advertising to pay for the service, of course.
Snagfilms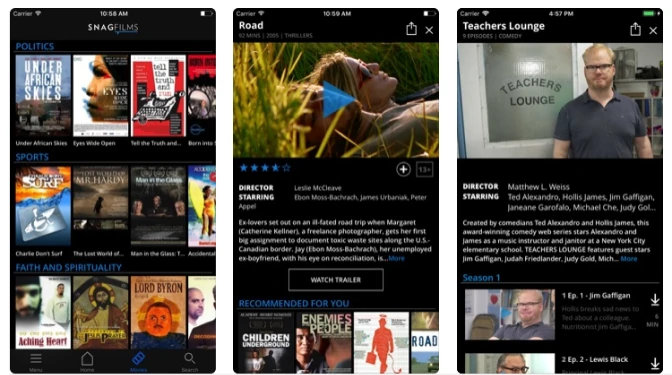 With more than 5000 entertaining options to choose from, this app offers the type of selection that many people look for. It includes full-length features, great options for the kids, special interest genres, and more. Unlike some of the other apps that focus more on popular movies and series, this also offers a wealth of foreign titles and documentaries about a vast array of topics.
Over the years, Snagfilms has brought in quite a few honors from iTunes, Gizmodo, and Huffington Post among others. It has been around for several years now and has grown in popularity. Searching is simple by actor, genre, or title, too.
MUBI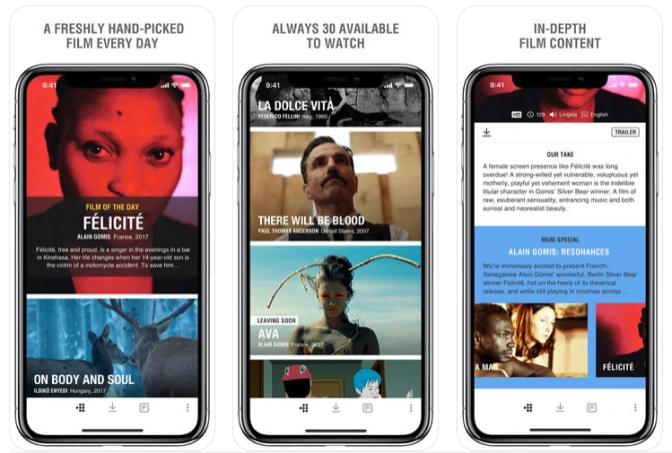 Unlike the other iPhone and Android apps that give you a wide variety of movie and show selections to choose from, MUBI operates a bit differently. You get one specific movie every day to watch within the next month with no interruptions. You are allowed to download the entire film as well if you prefer viewing it at your leisure when you do not have access to the internet.
This app focuses on cult classics, historical films, and favorites that have won awards in the past. It attracts the attention of people more interested in the unique and celebrated rather than the latest popular hits. If this sounds like you, check it out.
Pluto TV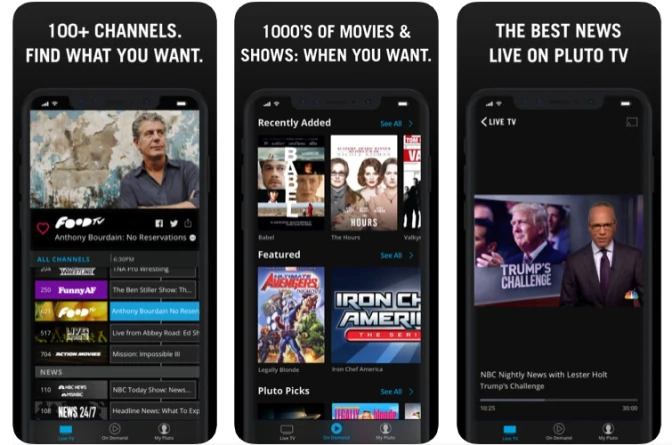 Anyone can sign up for this viewing service and enjoy a wealth of options for entertainment. They have over 1,000 movies and the unique benefit of 100 live TV channels, as well. You just might not run out of things to watch ever. The category search tool is quite unique. Instead of only filtering the selections by genre, title, or actor, you can also select options specifically not available on Netflix or cleverly titled groupings like "Punch, Kick, Ka'Boom" for action flicks.
The free live television offers network shows for news, sports, cartoons, horror, adventure, anime, and more. The more cerebral will appreciate a collection of informative documentaries.
YouTube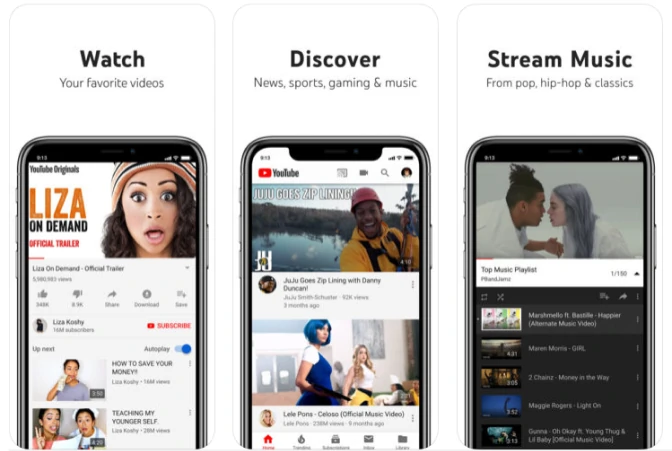 Everyone knows about YouTube online, and its app is one of the most popular video and music watching and listening apps in the world. You can sync your channels and subscriptions onto any device with ease so you never interrupt your binge-watching pleasure. Catch everything from full-length movies to those short viral clips that people love to share.
Like the other options on this list, you do not have to pay anything for all of the stuff you want to see. Explore, enjoy, and educate yourself with a massive collection.
Cinema Box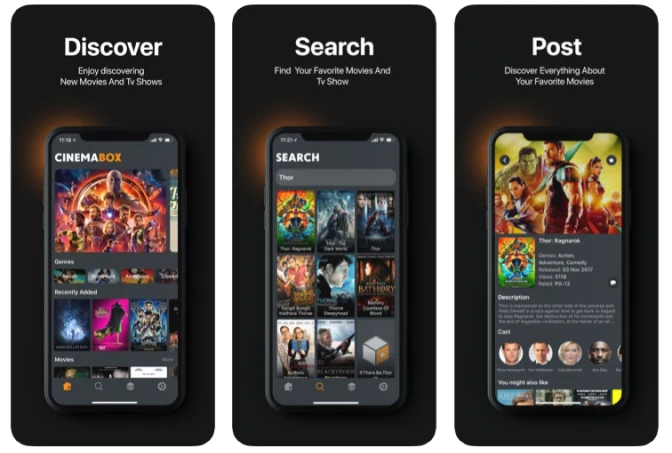 One of the best features of this Android and iOS service comes from its integration with IMDb. This helps you get the latest and most in-depth information about whatever films and shows you watch. It can also help you figure out what to enjoy next as you search for actors, genres, and more. Music and graphic wallpapers add extra interest to the Cinema Box experience.
Viewster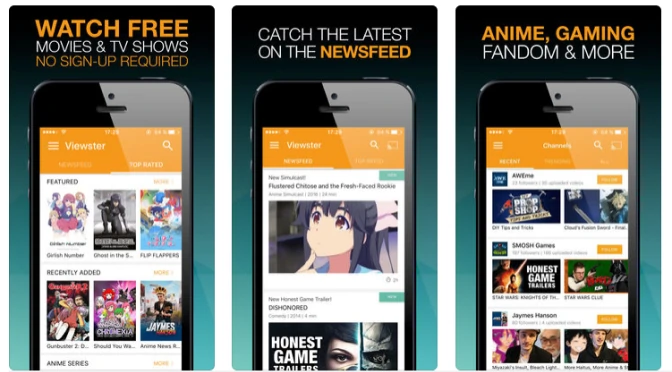 Even though this program available for your phone, tablet, or other mobile device has a large selection of films and television shows, it features a large list of anime and gaming videos, too. It boasts options that may be difficult to find on other platforms with 100% free access. You do not even need to sign up to watch whatever you want. Viewster is considered one of Europe's top apps for streaming video content and more.
No matter what app you choose for entertaining yourself at home or wherever you are, you may need to record a film or favorite show to watch later. People have busy lives these days, so consider the Movavi Screen Recorder service to grab entire videos to watch at your leisure. Not only can you capture anything on your computer or device screen, but you can also edit it to improve your viewing experience.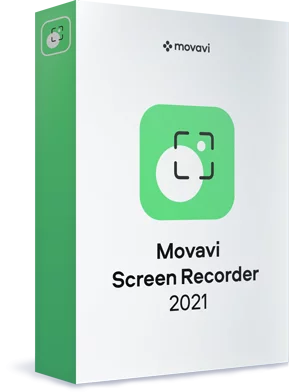 Movavi Screen Recorder
The perfect way to record from your screen
Capture video from your computer screen

Grab sound from multiple sources

Save recordings without quality loss

Export videos in any popular format
Disclaimer: Please be aware that Movavi Screen Recorder does not allow capture of copy-protected video and audio streams.
See Other Useful How-to Guides