How to Record a Twitch Stream
Twitch.tv, or just Twitch, is one of the world's most popular video streaming services. It's primarily focused on game videos created and uploaded by users, live gaming competition broadcasts, and video shows. Of course, to watch all this, you need an Internet connection. But what if you are on the road, on a plane, or just spending time outdoors, and want to enjoy your favorite game videos offline? Some streams can be deleted after a while, too. Either way, saving them on your computer or mobile device would be a great idea, so Twitch recording software would come in very handy to download the videos and watch them wherever and whenever you want.
Movavi Screen Recorder is the perfect recorder, with a range of functions for grabbing, editing, and converting screen activity in high quality video and audio. Its intuitive and user-friendly interface will help you capture any Twitch video effortlessly. And, unlike a lot of online services and unknown programs from the web, Screen Recorder is completely safe and will not harm your device.
This simple guide shows you how to record a Twitch stream using Movavi Screen Recorder. Just click the appropriate button below to download the Windows or Mac version.
Install the Twitch Recording Software
Open the file you've downloaded and follow the installation instructions.
Adjust the Capture Settings
Choose the Twitch video you want to save and launch Screen Recorder. Draw your capture frame to fit the video area. You can then adjust the frame manually or pick a preset from the Capture Area list to fine-tune the framing. To capture sound as well, make sure the System Audio icon is green. If you want to set the recording duration so that the program will automatically stop capturing after a specific amount of time, hit the alarm clock button and adjust the capture time settings. That way, you don't have to track the process yourself.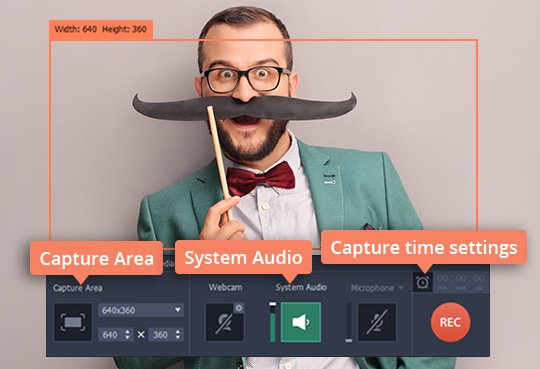 Record the Twitch Stream
Click the REC button to start recording. After a three-second countdown, Movavi Screen Recorder will begin ripping your video, so get ready to play it. Click Pause to take a break, Stop to finish, or Cancel to stop without saving. You can also control the process with hotkeys: F9 to pause/resume and F10 to stop (for Windows users) and ⌥ ⌘ 1 to pause/resume and ⌥ ⌘ 2 to stop (for Mac users). The captured video will be saved automatically – you'll be able to check it in the preview window.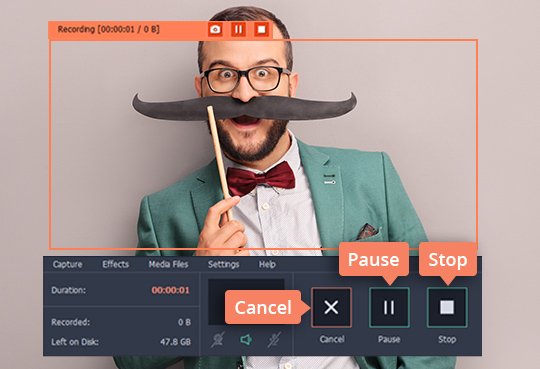 Trim and Convert the Video (Optional)
While you're in the preview window, you can trim away any unwanted material from the captured video. Just drag the marker on the seek bar to the beginning of the unwanted segment and use the scissors to cut. Repeat this to mark the end of the fragment, then left click to select it and hit the trash can button; this will remove the segment from your video. Do this for each section you wish to delete. You can save any changes you've made and convert the video to your desired format from the preview window. To do this, hit Save As.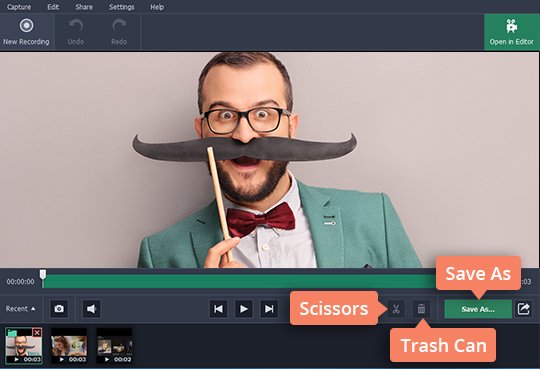 Now select one of the formats in the export dialog and click the Save button. Wait for a few minutes while the program converts your file to the format you've chosen. Now you can watch your Twitch video on your computer or other device anytime, anywhere!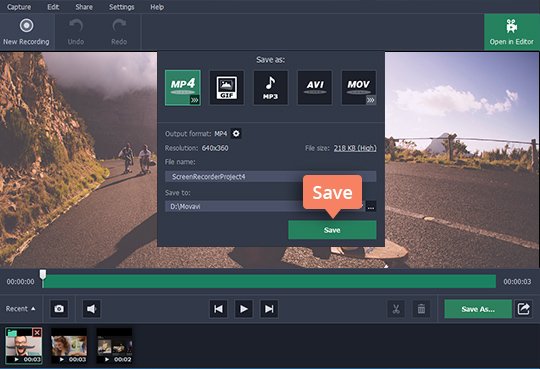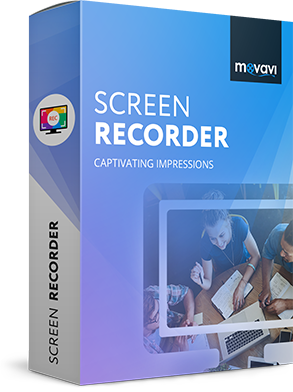 Movavi Screen Recorder
The perfect way to record from your screen
Capture video from your computer screen

Grab sound from multiple sources

Save recordings without quality loss

Export videos in any popular format
Disclaimer: Please be aware that Movavi Screen Recorder does not allow capture of copy-protected video and audio streams.
See Other Useful How-to Guides