How to Add an Audio Track to Your Video
Music can have a dramatic effect on our perception of a video – no matter whether it's a movie, a commercial, or a video presentation. But what if all you have is silent footage or a video with just a few snippets of voice commentary that really needs some good music to make it interesting? To add music to videos, download Movavi Video Editor. With this easy-to-use software you'll combine audio and video in a couple of minutes! Movavi's software for Windows and Mac OS allows you to add sound in MP3, WMA, OGG, or FLAC format to your MP4, AVI, or any other format video and save it as a new file.
Adding a song to a video with Movavi Video Editor is quite easy. Read our instructions below and learn how to put music over a video clip in four simple steps.
Step 1. Install Movavi Video Editor
Open the file you've downloaded and follow the on-screen instructions to install the app on your PC or Mac.
Step 2. Add Media Files to the Program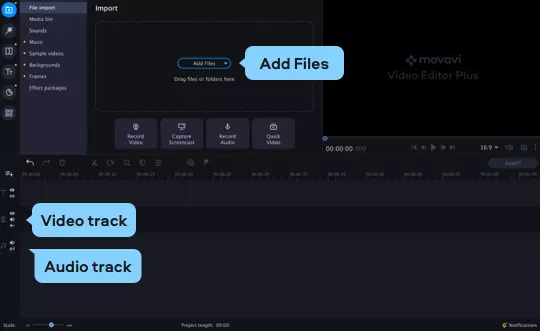 Launch the program and select New Project in the welcome window. To add audio to video, click Add Files and upload the video and audio files you want to merge. All the files will be added on the Timeline board below: the video files will be placed on the Video Track and the audio files on the Audio Track marked with the musical note icon.
Step 3. Adjust the Audio File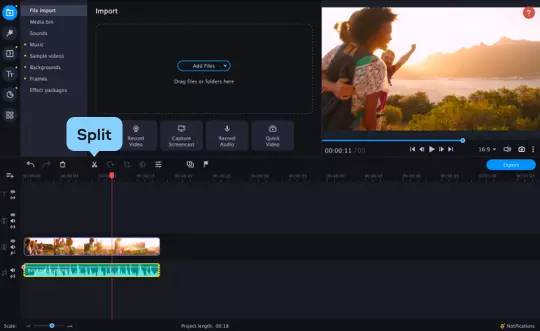 If the video and the sound track lengths do not match, you can edit the audio in your video in numerous ways. For example, if the music file is longer than your video, you can move the red marker to the end of the video, and click the Split button as shown in the picture. If the video is longer than the music track, you can double the audio and place the copied files side by side on the same track.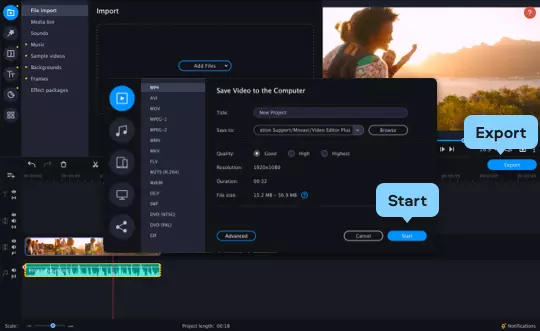 Click Export and choose how you would like to save your video from the tabs in the left part of the pop-up window. Select the desired format or the ready-made preset for your mobile device or prepare your video for uploading to the web. Finally, choose the destination folder in the Save to field and click Start. Now you know how to add music to videos! Apart from adding sound to a video, Movavi Video Editor also lets you undertake many other tasks: merging multiple videos into one, inserting transitions between video segments, applying filters and special effects, adding titles, and much more!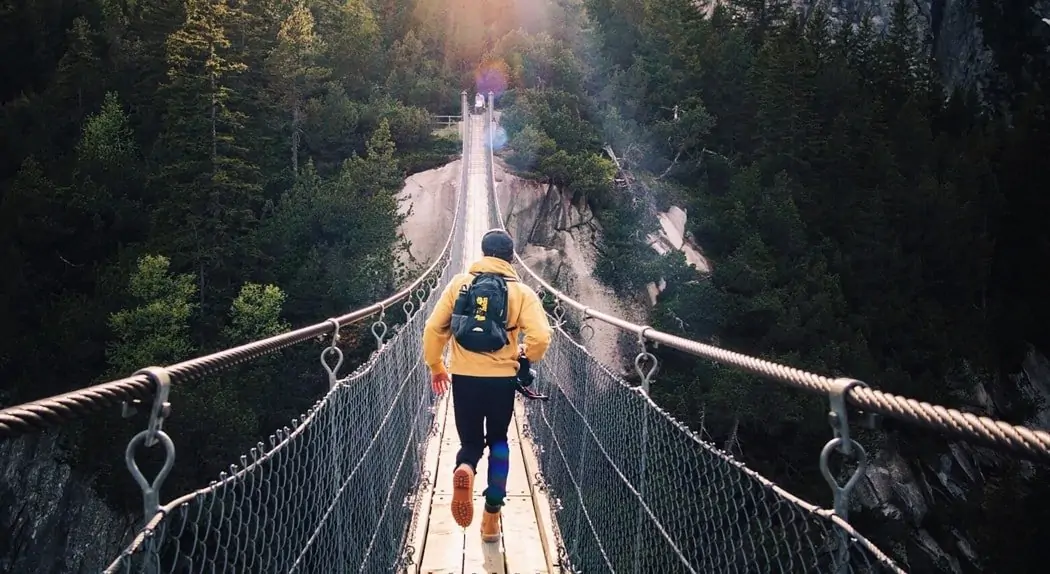 Movavi Video Editor
Make videos. Create. Inspire.
* The free version of Movavi Video Editor has the following restrictions: a 7-day trial period, a watermark on the output videos, and, if you're saving a project as an audio file, an ability to save only half the audio length. Learn more
Movavi Screen Recorder
An easy way to record from your screen in HD. Make video footage of any application, record online streaming video, webinars, even Skype calls, and save clips in all popular formats.
Photo Editor
An intuitive photo editing app that lets you retouch any photo on the fly. Improve quality, add filters and captions, remove unwanted objects, change backgrounds, and more!
Sign up for news and special offers