How to Use Our Screen Recorder for PC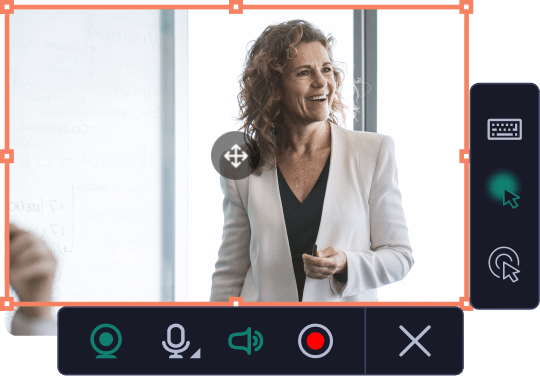 Set Up the Recording Parameters
Choose the capture area and adjust the recording settings.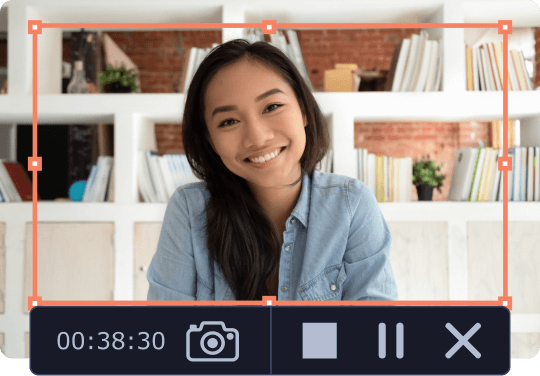 Grab Audio and Video
Hit the REC button and start recording your desktop.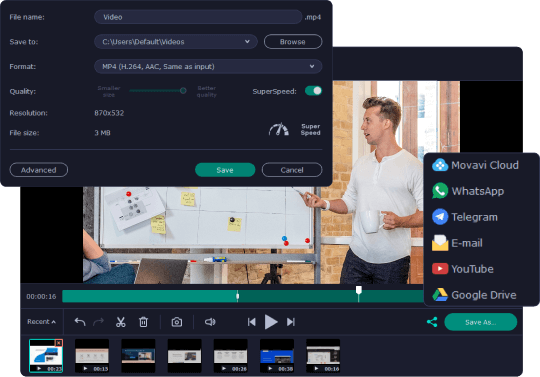 Edit the Record and Save the File
Use the simple editing tools to make your recording perfect. Save the file in any convenient format to your laptop.
What Can You Do With Our Screen Recording Software for Windows?
Create Screencasts
Use the recorder as a video screen capture. Grab your voice with mic, capture face with webcam, and record internal sounds with the system audio.
Schedule Recording
Choose the date and time for the recording to start. Set the time limit for capturing.
Grab Separate Streams
Capture separate streams. Record screen and audio simultaneously or separately.
Take Screenshots and Edit Them
Capture your monitor with the screenshot function. Edit the screen captures in the preview window – add annotations and graphics.
Share In a Second
Upload records to YouTube or Google Drive and send sharing links to your colleagues and friends. Screenshots can be shared via social networks.
Add Mouse Effects
Set up the mouse display in the recording. Add mouse effects – highlight cursor or clicks, choose a click sound.
Show Keystrokes
Show your keyboard to viewers.
Personalize Shortcuts
Choose your own shortcuts to control the recording.
Convert with SuperSpeed
Convert the video with the SuperSpeed tool.
Need to start capturing in few minutes but still don't have a computer screen recorder installed? Movavi Screen Recorder for Windows will solve your problem. The program is so easy and intuitive, that you don't spend any time learning how to use it.
Our screen recorder with audio allows you to make records with a sound, edit videos, save results and share them.
Download a trial version of the screen video recorder for free and start using the catcher today.
Trusted by millions people in 210+ countries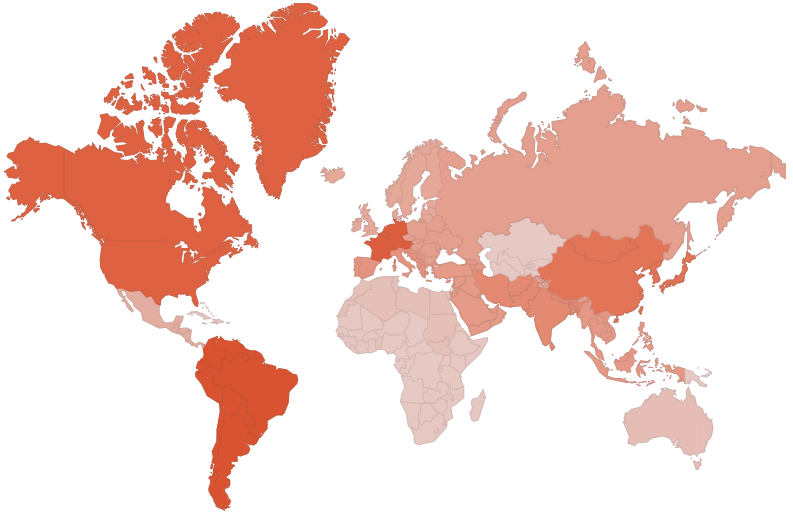 What Do Users Think About Movavi Screen Recorder?
Excellent program, very easy to use. Recorded 4 videos without any problem. Will recommend to anyone who wants to capture videos from web.
Jake Green
Cool app to record videos on your screen and share them on YouTube. I love it.
Kate Ostin
Movavi makes good products. Their screen recorder is great, easy to use and well priced.
Michael Stevenson
Support Center and Money Back Guarantee
If you experience technical problems, you can contact our Support Center. If we are unable to resolve the problem, you can get a complete refund of your purchase price within 30 days.
Built-In Tips on Using the Screencast Software
We've added helpful tips on how to use Screen Recorder. These appear when you hover the cursor over a particular button. Tips can be enabled or disabled in the Settings menu.
Free Minor Updates
We are constantly improving the grabber, adding new features and making the program more user-friendly. You get all these minor updates for free.
Knowledge Base
We provide you with user manuals, video guides and how-to's. These articles help you to hone your skills in screen recording.
Supported formats
Check out the full list of formats supported by Movavi Screen Recorder
Output
MP4, AVI, MOV, MKV, GIF, MP3, PNG, BMP, JPG
Tech Specs
System Requirements
Processor
Intel®, AMD®, or compatible processor, 1 GHz
Display
1024 × 768 screen resolution, 32-bit color
RAM
2 GB for Windows 7, Windows 8, and Windows 10
Hard drive space
280 MB available hard disk space for installation, 2 GB for ongoing operations
Disclaimer: Please be aware that Movavi Screen Recorder does not allow capture of copy-protected video and audio streams.