Want to know more about how to record a screen on a Mac with audio? First, take a look at this comparison table with tools that will help you record screen on a Mac.
Program

Best for

Cons

Download

QuickTime Player
Free screen recordings
Needs third-party software to capture with audio
Movavi Screen Recorder
Easy high-quality screen recordings with audio
Free trial limitations
OBS
Free screen recording and live streaming with audio
It has a difficult learning curve
| | | | | |
| --- | --- | --- | --- | --- |
| Screencapture | One-click screen recording online | Lack of editing tools; watermark in the free version | | |
| Recording using hotkeys | Fast, intuitive screen recordings with audio | Limited features | | |
Our special top pick for Mac screen recorders with audio is Movavi Screen Recorder. Simply record your screen with sound in just a few clicks. Make professional-quality recordings, then save and share with absolutely no hassle. With no learning curve to worry about, you will be recording your Mac screen with sound in no time at all.
How to screen-record on a Mac with audio using QuickTime Player
Best for: Free screen recordings
CNET rating: 3 out of 5, 664 reviews
Price: Free
Main features:
Quickly record your screen with two clicks
Has some editing functionality
Also acts as a solid multimedia player that works with many file formats
Soundflower allows you to channel audio from multiple applications
Pros:
No need to download software for OS X
Easy to record video on Mac
Cons:
QuickTime is built-in to every version of Mac OS for free. So, whether you're using MacBook Air, MacBook Pro, or any other Mac computer model, you've probably used QuickTime at some point.
The app has a screen-recording feature, but it comes with a pretty severe drawback. By default, QuickTime's screen capture does not record any audio from your computer's default output. Message boards and support forums are flooded with people wondering how to record the screen and audio at the same time on a Mac with QuickTime. Thankfully, there is a solution, but it requires third-party software. Soundflower is an open-source macOS system extension that allows applications to pass audio to each other. Let's take a look at how to record screen on a Mac with audio using QuickTime. You can also access the detailed instructions by following the link below:
Step 1. Install the Soundflower software
Download and install Soundflower for macOS. The installer will come in a zip file that you'll need to extract before you can run the installer application. On newer versions of macOS, permissions behave differently than when Soundflower was created, so the installation will initially fail. It will get far enough into the process to add an option to your System Preferences, though. After the installation fails, go to Security and Privacy in the macOS System Preferences. You'll see a message that system software by developer Matt Ingalls was blocked from running. Press the Allow button and run the installer again. It will finish installing this time. If prompted to, restart your computer.
Step 2. Change your audio output device
Soundflower works by rerouting your audio. In order for it to do that, you'll need to set it as your audio output device. To perform this step, go back to the System Preferences window and open the Sound settings. Click on the Output tab to bring up a list of available sound output devices. You will see that Soundflower has been added to that list and that it has two entries, Soundflower (2 ch) and Soundflower (64 ch). The 64 channel version is for more advanced uses. Set your output to the 2 channel version.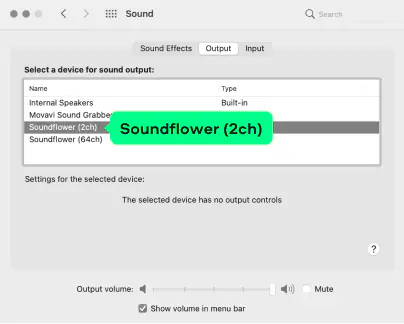 Step 3. Adjust the settings
Open the QuickTime app and go to the File menu. From there, click on New Screen Recording. A new window will pop up with a Record button in the middle of it. Don't hit it quite yet. Look for Options on the right side of the window. Click on that and make sure that your Microphone is set to Soundflower (2ch). Soundflower works by routing your audio output to the microphone input and tricking QuickTime into thinking it is recording from the microphone.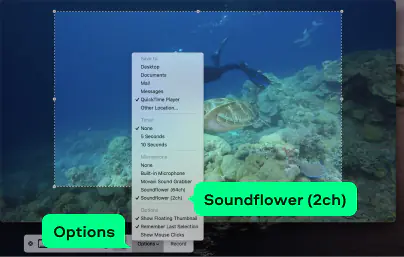 To begin the recording process, click the Record button in the QuickTime menu. A dialog may pop up asking you to give QuickTime permission to access the microphone. Agree to that. You may need to press the record button again afterward. It can sometimes take a while for the process to start, so be patient. When it starts, QuickTime will tell you to click a mouse button to record full screen or drag a box around the area you want to record. Once you do one of those, the recording will start.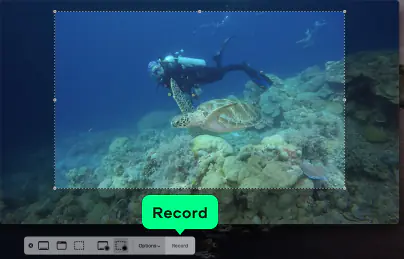 Step 5. Change your audio output device back
When you are done recording, press the Stop button. You are not done yet, though. You need to go back to System Preferences one more time and set the sound output device back to the default value. Otherwise, you will not hear any sound coming out of your computer.
Recording a screen with audio on an iPad and iPhone with QuickTime
Now you know how to screen-record with sound on a Mac. As a quick bonus, we'll tell you how to record your iPad and iPhone screen using QuickTime. This is actually very easy. Plug your iPhone or iPad into your Mac. From the QuickTime File menu, choose New Movie Recording. Now use the arrow menu to select the iOS device as both your camera and your microphone. Now you'll be able to start the recording process the same way you did above and capture your mobile screen with audio.
Screen recording on a Mac with audio using Movavi Screen Recorder
Best for: Easy high-quality screen recordings with audio
G2 rating: 4.5 out of 5, 45 reviews
Price: $57.95 for a lifetime license
Main features:
Allows you to schedule your screen recordings with a time limit
Draw on the videos during recording and make notes
Free minor updates
Pros:
It's free to use, but you can upgrade for more features
It has tools to record video, take screenshots, and record audio
It captures system audio on Mac devices
Cons:
You have to download and install the software
An easier tool for screen recording on a Mac with audio is Movavi Screen Recorder. The software was created with ease of use in mind, but the design does not let that get in the way of placing in a ton of great features. During the recording, you can use drawing tools to make annotations on your video. When you export your video, you'll benefit from Movavi's SuperSpeed tool that greatly accelerates the encoding process. Let's take a look at how to make a new screen recording with audio using Movavi Screen Recorder.
Step 1. Download and install the program
Download Movavi Screen Recorder from the website and install the app following the on-screen instructions. Once you have finished installing the software, run it. After the program starts up, you'll see a widget appear on your screen that lets you control the recording process.
Step 2. Navigate to the program you want to record
Movavi Screen Recorder will record whatever is on your screen, so once you open the software that you plan on recording, be sure that no other application windows block the view of it while you are capturing your video.
Step 3. Click the screen recording button
On the widget that popped up when you opened Movavi Screen Recorder, look for the Screen Recording button. The icon with the picture of a movie camera on it will be that one for capturing video. Next to it is an icon of a still camera that can be used for taking static screenshots.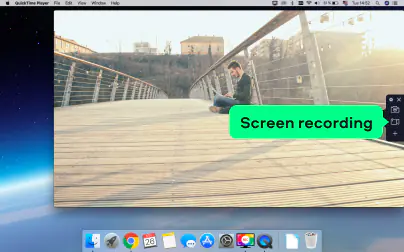 Step 4. Drag the box over the area you want to record
Once you press one of the screen capture buttons, you'll be presented with the option to click and drag a box over the area of the screen that you'd like to record. If you'd only like to record one window, you can drag it around that. You can also cover the whole screen if you'd prefer to get everything on your desktop in the video.
Step 5. Set audio and display options
When you are done positioning the box where you want it, you will see an additional set of controls pop up. One of them will be a red record button. Hold off on clicking that, as we still have some things to set up. Next to the record button are icons of a Microphone and a Speaker. This will determine whether the video will include external audio captured from the microphone or the internal sound, respectively. Set each of those according to your needs.
Movavi Screen Recorder has some options that make certain types of screencasts easier to follow for the viewers. It will allow you to show when the mouse is clicked, show the location of the mouse cursor as you move it around, and display any keystrokes that you make while you are recording the video. You'll find all of these settings in the options box near the one with the Record button on it.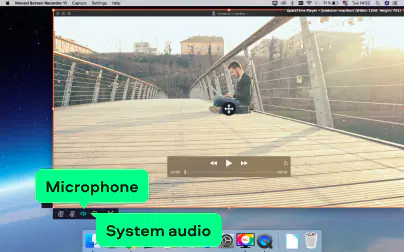 You are now ready to record a video of your screen. Press the Record button to screen capture with audio on your Mac. The countdown timer will appear and let you know when the recording will start. After the recording has started, perform the actions you wish to capture. The recording will continue until you press the Stop button in the Movavi Screen Recorder interface.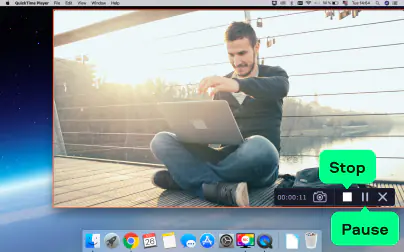 How to use the OBS Mac screen recorder with audio
Best for: Free screen recording and live streaming with audio
TechRadar rating: 4 out of 5
Price: Free
Main features:
The ability to use window captures, images, text, browser windows, webcams, and capture cards
An intuitive audio mixer with multiple options
Multiple, easy-to-use configuration options
Easy layout rearranging
Pros:
Live streaming and recording
Great game optimization
Nice selection of source options
Cons:
OBS Studio is another Mac screen recorder with an audio option. It is a very robust solution for broadcasting streaming video, with a lot of great features for mixing and combining sources to craft a professional look. However, this power comes at the cost of a much larger learning curve.
Now we'll take a look at how to record a video with OBS. You can also access the detailed instructions by following the link below:
Step 1. Download the program
From the OBS website, choose the version for macOS.
Launch the installation file and follow the instructions to finish the installation process. Once you have installed the app, open it up to begin recording.
Step 2. Create a new profile (optional)
Creating an OBS profile makes it easy to switch between various recording setups. If you find that you are doing a lot of screencasts and want subtle, or extreme, differences between how they are laid out and captured, it is good to create a profile for each of them. To create a profile, go to the menu bar, click on Profile and click New. Give your new profile a descriptive name. Settings you change will be saved to this profile until you switch to a different one.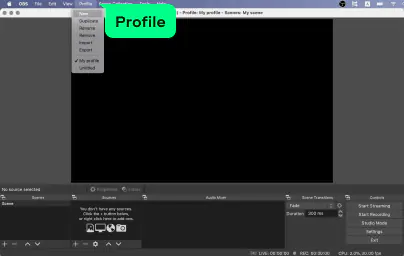 Step 3. Create a scene collection
Just like you'll probably want different profiles for different types of videos, you'll probably want a different collection of scenes as well. Now let's set up a new scene collection. From the menu, go to Scene Collection and click on New. Name your scene collection and click OK. Everything will be cleared, and you'll get a fresh canvas.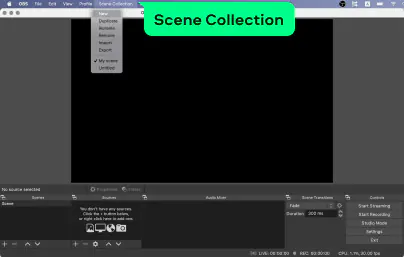 Step 4. Add images (optional)
To add an image for use as a background or display element of some sort, you can drag and drop the image directly onto your canvas. Once on the canvas, it can be dragged around to resize and position it. You can show and hide sources of all types by clicking the eye icon next to it in the Sources tab. This will come in handy if your image is initially covering up everything else when you first load it in.
Step 5. Configure your settings
You can add any type of source by clicking the plus button in the Sources tab and selecting the type of source you'd like to add from the pop-up menu that appears. There are many types of sources in OBS that are beyond the scope of this tutorial. For now, you just need to know that you can record your screen by adding a Display Capture source.
You can add audio sources the same way you added video sources. When you add an audio source, you'll get a mixer in the window.
Look at the Controls menu on the bottom right of the screen. You'll see a Settings button near the bottom of that menu – here, you can adjust various recording parameters.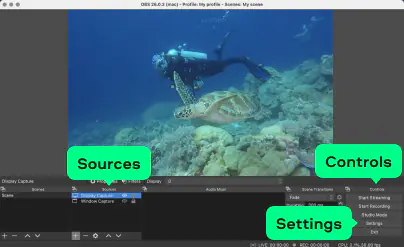 The same menu with the Settings button has the button to start recording. Click on Start Recording to start recording your video. The Start Recording button will change to a Stop Recording button while you are recording. When you are done recording, press that.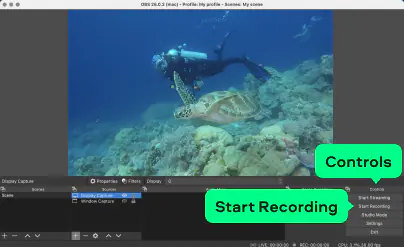 How to screen-record with sound on a Mac online
Best for: One-click screen recording online
Price: Free with a watermark; $9.95/month; $39.95/year
Main features:
Screen and webcam capture
Microphone and system audio recording
Option to grab the entire screen or a certain browser tab
Pros:
Free version
Simple to use
No download needed
Cons:
Lack of editing tools
The free version puts a watermark on recordings
Screencapture is a simple online tool that lets you record your screen with audio. You don't need to install anything on your computer – just open the website, set the capture parameters, and start recording! The tool allows you to capture the entire screen, a window, or a browser tab. The output video is saved in the MP4 format. Screencapture is supported in Google Chrome, Mozilla Firefox, Microsoft Edge, and Opera.
Here's how to make a recording of your screen with audio using Screencapture.
Follow the link below to open the recorder's website:
Step 2. Set the capture parameters
Click Sound to activate the system sound capture. You can also choose to record webcam and microphone.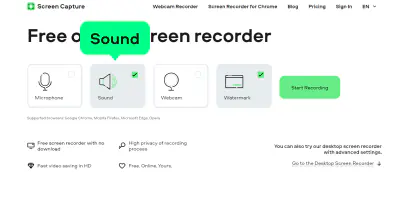 Click Start Recording and select the desired screen capture option.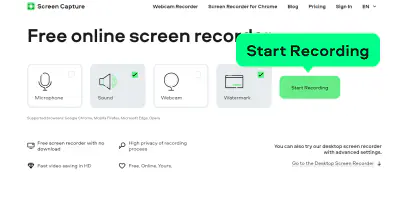 Click Stop Recording when you're done. Hit Download to save the file to your computer.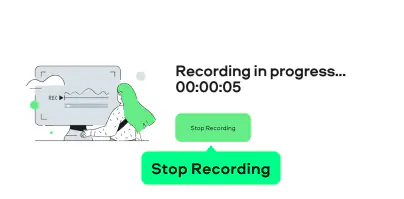 How to record screen and audio at the same time on a Mac using hotkeys
Best for: Fast, intuitive screen recordings with audio
Pros:
No need to install a screen recorder for Mac
Easy-to-use
Cons:
Does Mac have a built-in screen-recording feature? Yes! On iOS Mojave and later, you can use hotkeys for screen recording. Let's see how to use shortcuts to record your screen with audio on a Mac.
First, you need to open the toolbar for recording. Hold down Command + Shift + 5 to bring up the screenshot toolbar.
Step 2. Specify the settings
Next, specify the recording settings. Select Options and choose your Audio/Microphone, Save to preferences.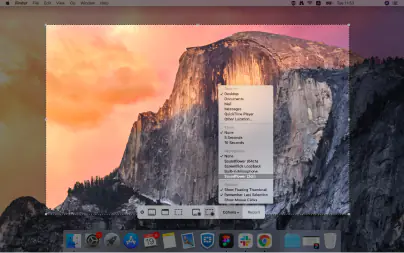 Step 3. Select the recording area
Select Record Entire Screen and start recording immediately. Or select Record Selected Portion, choose the area you want to record, and click Record.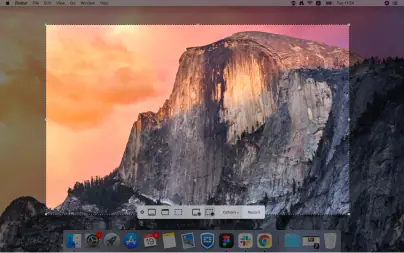 To finish recording your screen, select the Stop button or simply hit Command + Control + Esc.
That wraps up our recommendations for the 5 best screen recorder options for Mac. Now you will need to weigh up the pros and cons of each, as well as a few important points to help you make your choice. When selecting the best software for your own personal recording projects, consider the following key factors:
Cost. Do you have a budget, or would you prefer to use free software? If you only need the basics, you can happily settle for free tools or the free version. If you require more advanced features, consider splashing out on the paid version.
User-friendliness. What is your individual level of experience using software or recording/editing videos? Be sure you choose a program that allows you to be operational as quickly as possible. For this reason, a user-friendly and easy-to-navigate program with an intuitive interface is highly recommended.
Features. What are the deal-breakers for you in terms of features? Here you need to do your homework and compare the different software options available. Do you need just recording capabilities or editing tools too? Do you require special effects or subtitles?
Supported formats. How do you want to save and share your video once complete?
User reviews. Always read the product user reviews online. Here, you will benefit from the experiences of others and save yourself some trouble.
Technical support. Who is going to be available to help you if you have a technical issue? Does the software come with a dedicated customer support team that you can reach out to by online chat or email?
Frequently asked questions
How to screen-record on a Mac with sound with QuickTime Player?
QuickTime Player doesn't natively support the recording of your computer's audio. It does, however, let you record your voice from the microphone while you are recording your screen. To capture your screen with audio, you'll need to use the Soundflower plugin. You can see the detailed instructions by following the link below.
Why is there no sound when I screen-record on a Mac?
If you are using QuickTime player to record the screen and audio at the same time on a Mac, then the answer above will apply to you. If you are using some other software and still not getting any audio, it's possible that the software cannot capture audio and video simultaneously. Try to use another app, like Movavi Screen Recorder.
How can I record my screen with audio?
One of the best ways to record your screen with audio is to use Movavi Screen Recorder.
Download the app and launch it.
Click Screen Recording and select the area you wish to capture.
Activate the recording of system sounds.
Click the REC button to start the recording and hit Stop when needed.
Hit the Export button and click Save.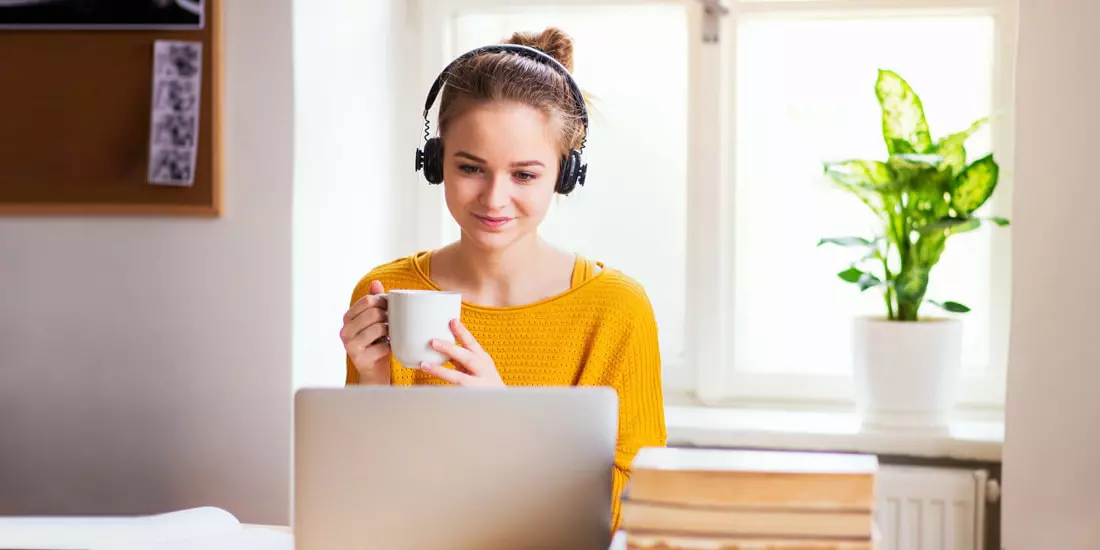 Movavi Screen Recorder
The perfect way to record from your screen
Disclaimer: Please be aware that Movavi Screen Recorder does not allow capture of copy-protected video and audio streams. Learn more
Sign up for news and special offers