Download

Download

Movavi Screen Recorder
Adjust video and audio settings
Capture your screen with audio
Trim (optional) and save the captured clip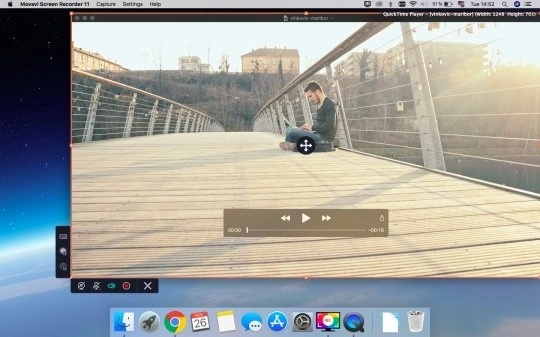 How to Record Screen and Audio at the Same Time on Mac
A YouTube blogger recording a video game tutorial, a teacher creating an educational film, a software user trying to show their problems to support. What do all these people have in common? They all need an easy-to-use screen recorder. Need the same on your Mac?
If you want to see professional results from day one of using a program, try our Mac screen recorder with an audio capturing feature. Create your own training films, video instructions, and reviews. Our program allows you to record video and audio from the screen on Mac. Download the program now, read the following instructions, and make your first screen video with sound.
Step 1. Download and Install Our Screen Recorder

DownloadDownload the installation file, double-click it, and follow the instructions on the screen.

Step 2. Adjust Video and Audio Settings

On the Screen Recorder control panel on the right, click the Screen recording button. Select the recording area: frame it using your cursor, click on the window to frame it, or click outside all windows to record the whole screen. Make sure the colored frame has appeared.

If you want to record video with sound, check the System Audio button. When it is displayed in green, sound will be recorded, so if the button is gray, just click it. If you want to add your voice or other external sounds, click the Microphone button, and this will appear in green too. Click on Start recording to begin.

Step 3. Capture Your Screen with Audio

There will be a 3-second countdown. You can control the process of recording using the Pause and Stop buttons. After you click Stop, the preview window will appear.

Step 4. Trim (Optional) and Save the Captured Clip

In this window, you can trim the unwanted parts of the video clip: for each of these parts, place the position marker at the beginning and click Cut, then move the marker to the end of the segment and hit Cut again. Select the unneeded section with the marker and click Delete fragment. Repeat for all the segments you want to get rid of. When you like the resulting video, click Save As.

Choose an output format from the Format list, and click Save. You're done!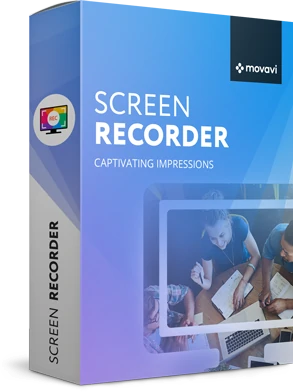 Disclaimer: Please be aware that Movavi Screen Recorder does not allow capture of copy-protected video and audio streams.
Movavi Screen Recorder for Mac
Capture video from your computer screen

Grab sound from multiple sources

Use the simple editing tools to make your recording perfect

Save videos in any popular format
Disclaimer: Please be aware that Movavi Screen Recorder does not allow capture of copy-protected video and audio streams.
How to Record Screen and Audio on Mac for Free
It can be difficult to find a free Mac screen recorder with an audio capture option. Of course, you can easily use the QuickTime Player to capture the video part. However, the program does not support sound recording, so you'll need to install a second app – Soundflower. It's a free audio extension that lets you record system audio, but you will not be able to add a voice commentary during the recording. Still, using QuickTime with Soundflower at least lets you record audio and screen on your Mac.
Step 1. Install Soundflower

Download the latest version of the program and install it. Make sure the program works with Mac OS X. Click the Sound icon. You'll see four new audio devices in the Sound menu.

Step 2. Set Up Audio Device

To record sound, you need to change the sound channel. Go to the System Preferences and then to the Volume menu. You will see a Gear icon in the bottom left corner. Click the icon and select Create multi-output device.

Choose Built-in Output and Soundflower (2ch). Click on the Gear icon and select Use this device for sound output.

Step 3. Open the QuickTime Player

Launch the QuickTime application. Click File and then New audio recording. QuickTime will recognize Soundflower as a microphone. Select Soundflower (2ch) and Quality (High or Maximum) in the settings next to the red Record button. Now the program will record system sounds.

Step 4. Start Recording

Turn on the audio and click the Record button to start recording. Click Stop in the quick menu, if you want to stop recording. Select a folder and save your video.

Now you know how to record the screen on Mac with sound. As you can see, even though QuickTime comes preloaded on MacBooks (both Air and Pro), you will need to install additional software and adjust several system settings in order to record video and audio on a Mac computer. We suggest downloading our screen recording software instead, so you can capture screen video with sound, just the way you want it, in a couple of clicks.

Was the article helpful?