How to Trim a Video
When you record video on your camera, some footage is always inevitably spoilt by incorrect focusing, bad light or noise, and other problems. If you want to turn your rough material into a good-looking movie, you need to remove all the unusable parts. The question is: how do you trim your video in the most efficient way? With Movavi Video Editor, cropping and splitting your video is as easy as 1-2-3. This intuitive video trimming software for PC and Mac enables you to split and trim clips and movies in any video format – AVI, MP4, MPEG, FLV, as well as MP3 audio, and many more. Download Movavi Video Editor, add your video files, and pinpoint exactly what needs to be removed. This tutorial proves that trimming a video can be a really easy task with the video editor by Movavi.
Install the Video Editor
Once the installation file is downloaded, run it and follow the on-screen instructions.
Add Video to the Timeline
Launch the program, click the Add Media Files button and open the video you want to trim. You can also drag your file to the timeline directly from the folder.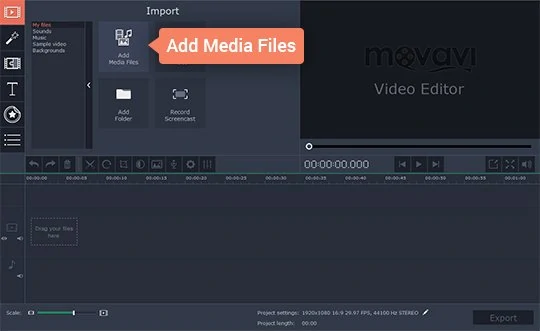 Move the Marker and Trim Your Clip
By moving the red marker along the video clip on the timeline, you can find the exact spot where you want to split your footage. When you've located it, click the Split button shown on the picture. Then select the unwanted part and hit the Delete key on your keyboard or right-click the unwanted fragment and select Delete in the context menu.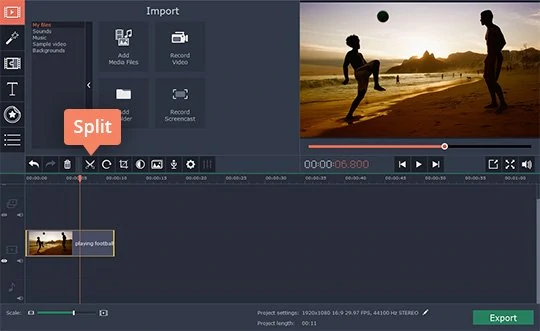 Save the Trimmed Video
To save your newly edited footage, click Export. Choose the desired video format from the list of ready-made presets, select the filename and the folder to save, and click Start. Note that besides the video trimmer tool, Movavi's simple app has tons of other functions that can help you bring your creative ideas to life.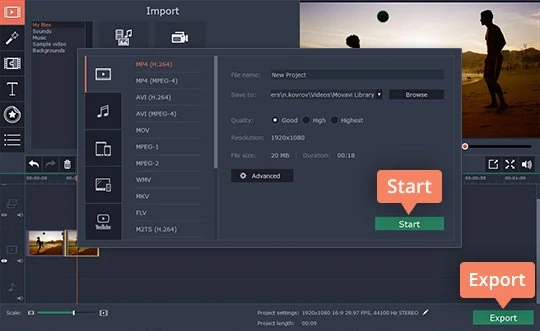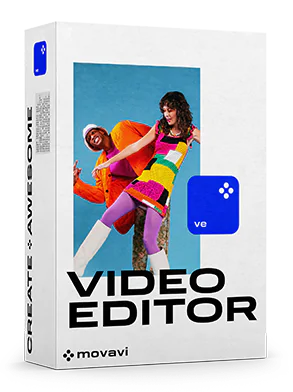 Movavi Video Editor
Your next step in video-making
Edit video clips, images, and audio on a timeline

Add transitions, filters, titles, and stickers

Animate objects using keyframes, use more built-in media

Export videos in any popular format
*The trial version of Movavi Video Editor may have the following restrictions depending on the build: a 7-day trial period, watermark on exported clips, 60-second video or 1/2 audio length limit, and/or some advanced features unavailable when exporting videos. Learn more