Apowersoft Unlimited review
In this Apowersoft review, we're going to look at Apowersoft Unlimited, a bundle of all the company's products that includes Apowersoft Screen Recorder, Apowersoft Video Converter, Watermark Remover, and many more. We'll discover the differences between the PC and Mac versions, which are significant, and we'll also see how it compares to its leading rival, Movavi Ultimate. If you're converting or creating video for YouTube, working with PDF files, looking for a screen recorder or a streaming audio recorder, which of these bundles is best for you? Let's find out.
| | Apowersoft | Movavi |
| --- | --- | --- |
| Price | $599 (lifetime) or $59.95 per year | per year |
| Consistent, user-friendly interface across all products | No | Yes |
| | | |
| --- | --- | --- |
| Number of useful products (i.e. for recording/editing) | 12, with some duplication (e.g. two screen recorder apps) | 9 |
| Trustpilot average rating | 3.7 out of 5 | 4.6 out of 5 |
| Number of Trustpilot positive ratings, June 2021 | 107 | 9,432 |
What's in the Apowersoft Unlimited pack?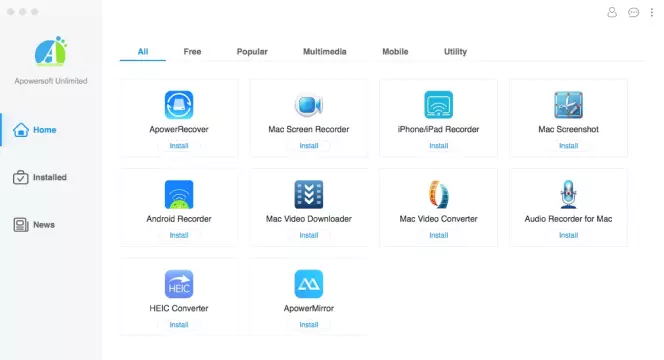 Apowersoft Unlimited gives you 18 different programs, but some of them are really features rather than things you'd want to buy as dedicated apps: for example, HEIC Converter can convert from Apple's HEIC image format for a quoted $19.95 per year, but you can do that for free in the Preview app or Photos app on your Mac. Many of these apps are also available for free online.
The full list of apps you'll get on a Windows PC is:
ApowerEdit, for merging, splitting and trimming video;
ApowerREC, a screen recorder;


Apowersoft Video Converter Studio
Streaming Audio Recorder;
ApowerMirror, for mirroring your phone to your PC;
ApowerManager, for backing up your phone;
ApowerPDF. For editing PDF files;
ApowerRescue, an iOS data recovery app;
HEIC Converter, a cut-down version of Apowersoft Photo Viewer;
PDF Converter;


Apowersoft Screen Recorder Pro;
Apowersoft iPhone/iPad Recorder;
Apowersoft Android Recorder;
Apowersoft Screen Capture Pro, a screenshot app;
Windows Shutdown Assistant;
ApowerCompress, for compressing files;


Watermark Remover;
ApowerShow, a simple video editor.
The Mac selection is slightly different. There's no ApowerShow, ApowerCompress, Watermark Remover, Windows Shutdown Assistant, ApowerRescue, or ApowerManager; instead, the bundle gives you:
LightMV, a template-based video maker;
ShowMore, a screen recorder and video host;
LightPDF, a second PDF editor;
OCR, a simple text recogniser.
Whether you go for Mac or PC, it looks like the kind of collection that looks good on a product page – look at all the things you're getting! – but on closer inspection we think many of these apps are likely to gather virtual dust on your computer.
What's in the Movavi Ultimate pack?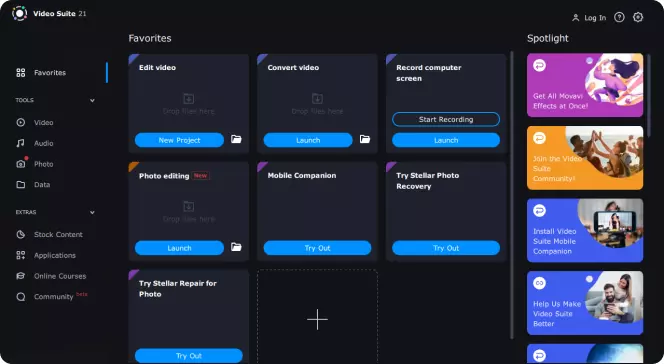 Movavi's offering is much more focused. Instead of 18 apps, there are nine here, and those nine are firmly focused on images and video.
For video editing, Movavi Unlimited gives you:
Movavi Video Editor
Movavi Video Converter
Movavi Slideshow Maker
For screen recording:
Movavi Screen Recorder
VHS Capture
For photo and PDF editing:
Photo Editor
Photo Manager
PDFChef
Movavi also gives you full access to the Movavi Effect Store, a collection of stickers, titles, transitions, backgrounds, and effects that's updated each month, and one more app, the Movavi Mobile Companion. That is a simple and effective tool that enables you to transfer media files wirelessly from your phone or tablet, edit them on your computer and then put the updated versions on your device. Mobile Companion is already available for Android, and an iOS version is imminent.
Apowersoft Unlimited vs. Movavi Unlimited
The Apowersoft Unlimited package consists of nearly 20 different apps, and their interfaces differ widely. The core video apps have a straightforward dark grey interface that's fairly friendly and reminds us of Apple's iMovie, but other apps such as ApowerPDF and Apowersoft Streaming Audio Recorder go for lighter colours and a more traditional Windows interface instead while ApowerREC is as black as a Metallica album cover. The mobile apps such as Apowermirror replicate the interfaces of phones on your desktop.
None of the Apowersoft apps are particularly hard to learn, but the inconsistent interfaces are jarring, and there's significant overlap between what some of the apps do, especially with video.
It's interesting to compare that to Movavi, which has taken the eminently sensible decision of combining most of its apps in a single application: Movavi Video Suite. This has all the futures of Movavi Video Editor, Movavi Screen Recorder, Movavi Video Converter, Movavi Slideshow Maker, VHS Capture, and Media Player in a single app. There are several benefits to that. First of all, you aren't having to constantly switch between apps or remember what does what when you're presented with a new interface. Secondly, it means you don't have a hard disk full of apps you don't use. And thirdly, it means you don't have to try and remember which app includes the specific feature you want to use.
If a media format exists, Movavi can almost certainly open it. The list of supported video and audio formats is huge, with over 180 different supported file types and codecs: it can read 3GPP, ASF, AVI, DIVX, FLV, SWF, M2TS, MKV, MOV, MP4, MPG, WMV, MXF, OGV, QT, RM, RMVB and WebM and export AVI, FLV, M2TS, MKV, MOV, MP4 (including H.264), MPG, WMV, OGV, and WebM.
Apowersoft supports video formats including MP4, MKV, AVI, WMV, HEVC, H.264, MKV, 3GP, FLV, HTML5, M4V, MOV, ASF, DV, VOB, OGV, ASF, RM, MTS/M2TS/TS/TP/TRP, MOD, and TOD.
It's important to note that many of the formats listed here are legacy formats that go back many years, so for example, FLV is Flash Video – a format that was shut down in early 2021 that requires a plugin that's no longer available. Support for such formats enables you to convert old video files and export them in more modern, widely supported formats such as MP4.
Both of the bundles here include screen recording software that you can use to capture an on-screen presentation or video (although you'll need additional software if you want to record PC video games). Both Apowersoft and Movavi enable you to record the screen with or without your webcam, and you can choose to record a selected area rather than the whole screen. Both apps enable you to record across multiple displays but approach it differently: Apowersoft asks you to make sure both displays are running at the same dots per inch resolution while Movavi records an identically sized portion of the main window if the second display is of higher resolution. Movavi also enables you to show your viewers your keyboard presses, which is useful if you're making tutorial or training videos.
Movavi Screen Recorder and ApowerREC
| | Apowersoft | Movavi |
| --- | --- | --- |
| Record screen | Yes | Yes |
| Record webcam | Yes | Yes |
| | | |
| --- | --- | --- |
| Record system sounds and mic | Yes | Yes |
| Display keyboard | No | Yes |
| Add text and arrows | Yes | Yes |
| Trim video | Yes | Yes |
| Schedule recording | Yes | Yes |
| Record a selection | Yes | Yes |
| Multiple displays | Yes (if same DPI) | Yes |
| Output formats | MP4, AVI, MOV, FLV, MPEG, VOB, ASF, common audio formats | MP4, AVI, MOV, MKV, GIF, PNG, BMP, JPG, common audio formats |
Whether it's converting old VHS tapes – something Movavi has a specific setting for – or converting from one format to another, the range of supported formats from both manufacturers is very good. All the most important formats are here, such as MP4, MKC, MOV, and YouTube-friendly video.
If you have older footage you want to convert, it's important to check the list of supported formats to see if it's there. Chances are it will be with the Movavi app, which supports over 180 different media file formats, including some we haven't seen for many years. Shockwave Flash, anyone? This legacy format support is particularly useful for home videos, we've found, especially earlier digital ones that recorded onto digital video tapes or discs: many of the formats used to record back then have long since faded from favour, so it's great to be able to convert them into formats that work on almost anything.
Both apps here enable batch conversion, so you can add a bunch of videos to the conversion queue, start it off and go and do something else while your computer carries on converting.
Movavi Video Converter and Apowersoft Video Converter
| | Apowersoft | Movavi |
| --- | --- | --- |
| Supported formats | MP4, MKV, AVI, WMV, HEVC, H.264, MKV, 3GP, FLV, HTML5, M4V, MOV, ASF, DV, VOB, OGV, YouTube, ASF, RM, MTS/M2TS/TS/TP/TRP, MOD, and TOD | 180+ formats including import: 3GPP, ASF, AVI, DIVX, FLV, SWF, M2TS, MKV, MOV, MP4, MPG, WMV, MXF, OGV, QT, RM, RMVB; export AVI, FLV, M2TS, MKV, MOV, MP4 (including H.264), MPG, WMV, OGV, and WebM. |
| Image stabilisation | No | Yes |
| | | |
| --- | --- | --- |
| Built-in editor | Yes | Yes |
| Hardware acceleration | No | Nvidia, AMD, Intel |
| Optimised for multi-core processors | No | Yes |
Movavi's app and Apowersoft's app both use the familiar three-panel view that's become industry standard in video editing apps: you have the timeline at the bottom, a preview window at the top right and your clips, audio and tools in the top left. We think the Apowersoft interface is a little more cluttered than the Movavi one – the Movavi feels more like a pro-level app than the Apowersoft one – but it's perfectly straightforward to use.
One of the big selling points of the Movavi app is that the Movavi Unlimited bundle also gives you unlimited access to the Movavi Effects studio, which is enormous and contains genuinely useful transitions, effects, and intros. These enable you to create something really professional-looking in less than half an hour, and they're lots of fun to mess around with too.
Customer support is crucial, especially for products aimed at non-technical users – so if you're looking at a product that wants you to sign up annually or pay for a lifetime subscription, you need to be confident that you'll get the support you need when you need it. One of the best ways to gauge that is with customer review sites such as TrustPilot, where people share their experiences.
If you check out Apowersoft on the consumer review site TrustPilot there seem to be plenty of unhappy customers: nearly one-fifth of customers rate the company as poor or bad, and it only has 107 positive reviews and an "average" rating of 3.7 out of 5. Movavi, by comparison, has 9,432 positive reviews and is rated an "excellent" 4.6 out of 5.
Apowersoft Unlimited is $59.95 a year or $599 for a lifetime subscription for personal users. If you want to use Apowersoft Unlimited for business, it's $99.95 per month or $999 for a lifetime license. There's a 30-day money-back guarantee but that only applies to the lifetime licences: for the monthly licence it's 7 days.
Movavi Unlimited doesn't have a lifetime plan: it's an annual subscription that works out as less than £10 per month. A personal license is $155.95 per year, and the business version is $309.95 per year.
Apowersoft Unlimited vs. Movavi Unlimited: The key takeaway
Both Movavi Unlimited and Apowersoft Unlimited offer a lot of features, but there are some important differences in their approach. The most obvious is that Apowersoft's bundle is much less focused than Movavi's one: where Movavi has focused on three key areas – video editing, screen recording, and image editing – the Apowersoft apps run the gamut from file compression to putting a Windows PC to sleep. That's great if you need all of those features, but we're struggling to envisage a scenario where the average person will. As a result, the selection feels a bit like a trolley dash in a supermarket rather than a thoughtful collection designed to meet a specific customer need.
That same lack of focus is apparent in the very different interfaces across the Apowersoft range. It's not a deal breaker by any means, but Movavi's approach – combining the key features in one app – means you don't need to familiarise yourself with multiple different interfaces and control schemes. That means you'll spend less time learning or re-familiarising yourself and more time getting stuff done.
If you're considering either of these suites for video editing, slideshows, picture editing or PDF creation, we'd strongly recommend trying the free demos so that you can compare the two companies' very different approaches.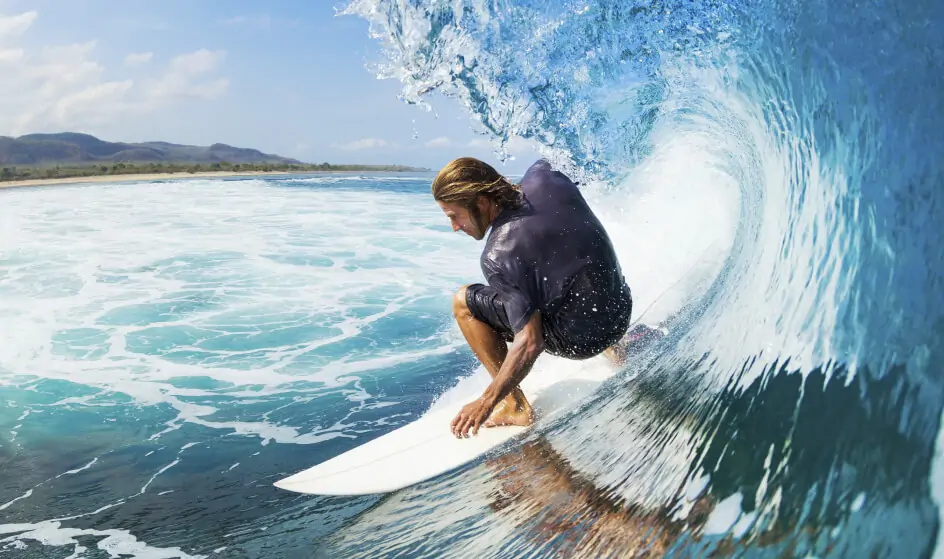 Movavi Unlimited
The best Movavi programs gathered in one bundle for infinite creative possibilities.
Sign up for news and special offers