Converting to and from FLV: Useful Methods
The FLV (Flash Video) format is very widely used for Web video, especially for such popular video hosting sites and social networks as YouTube and Facebook, so it's often the go-to format for sharing video over the Internet. If you want to share your AVI, MPEG, WMV files, or DVDs via a video sharing service, you will need to convert them into a web-friendly format such as FLV or MP4. Likewise, if you've saved an online video in the Flash format, be aware that not every media player supports it, so you'll need to convert the FLV file to a more flexible format.
The FLV, or Flash Video, format was created by Macromedia and is now supported by Adobe Systems. By the 2000s, FLV was the gold standard for uploading video to the Internet, and the format is still very popular. These days, it is primarily used to deliver video and audio streams synchronously. FLV is very handy when it comes to the Internet, but most mobile devices don't support this format.
So, if you want to convert your video to or from FLV format, try one of the approaches described below. If you have a single file and it's not too large, it is worth using an online tool. For multiple files or large videos, consider using the desktop app from Movavi. Click one of these links to jump to the appropriate section.
How to Convert FLV to Other Formats and Vice Versa on a Desktop
Movavi has one of the fastest, simplest ways to turn your files to another format! With Movavi's FLV converter, you can change the format of almost any video, and even extract audio from any movie and save it as an MP3 file. If you convert FLV to AVI, 3GP, or MP4, you'll be able to watch it on Nokia and Samsung phones, iPods, and Sony PSPs. This multifunctional software will help you to not only convert video, audio, and DVDs but also rotate, trim, and compress videos, add subtitles, and more! Download this handy application for Windows or Mac for free and see for yourself – video conversion is easy!
Install the Movavi FLV Converter
Download and open the installation file, then install the software. It's much more than an FLV conversion program – you can use this tool to manage your media library too.
Choose Videos for Conversion
Click Add Media in the upper left corner of the FLV converter interface and then select Add Video. Choose the FLV files you want to convert or the videos you want to convert to FLV. You can choose one or multiple files and convert them to any format in one pass.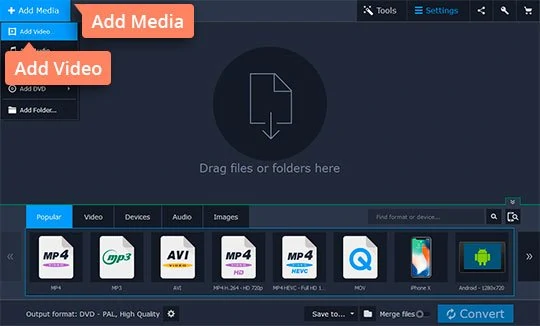 Choose the Resulting Format
To choose an output file format, go to Video > FLV (Flash Video) in the lower part of the converter interface and select the resolution that best suits your needs. If you want to convert FLV video to a format compatible with PSP, iPad, iPod, or other devices, go to Devices and choose the specific device from the list.
There's also an option to select the preset automatically – just connect your device to the computer and click the Cell Phone icon.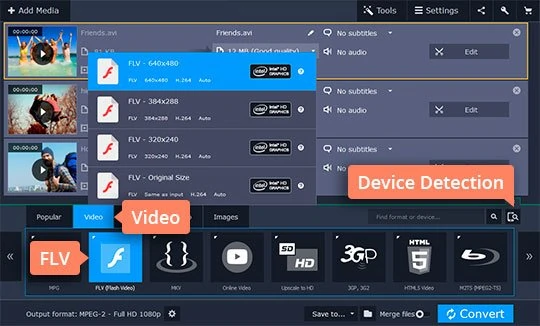 Start the Video Conversion
Choose the folder in which you want to place your converted files by clicking the Folder icon. Then, click Convert to start the process, which may take some time, depending on the number and size of files you convert.
When the process is finished, all the videos will be saved, and the folder containing the converted videos will open automatically.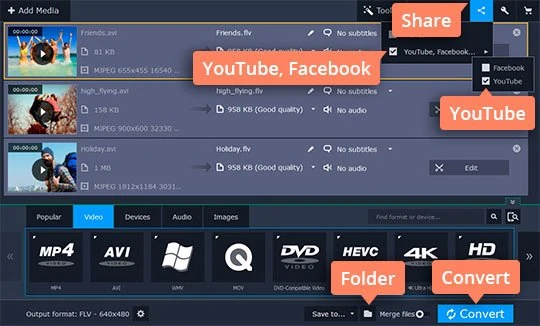 That's it! With the FLV video converter from Movavi, you'll be converting videos to FLV and other video formats with ease!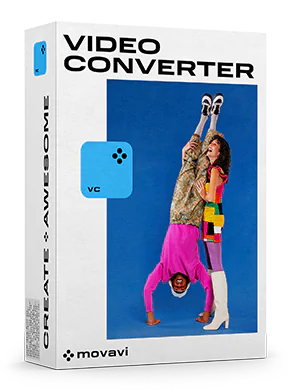 Movavi Video Converter
The ideal way to get your media in the format you need!
Convert video, audio, DVDs, and image files

Enjoy lightning-fast conversion without quality loss

Improve quality, adjust sound, trim and join files before converting

Save video and audio clips for easy mobile access
Differences between Desktop and Online Converters
Online Video Converter
Long-time wait
Limited file size
Popular formats supported
Slow conversion speed
Movavi Video Converter
0-second wait
No size limits
180+ formats, presets for 200+ devices
Fast conversion speed
Online user support
How to Use the FLV Converter Online
The option of converting online is very handy if you're using a borrowed computer or if you just have no time to install anything. Here's how to convert files online.
Upload Your FLV Video and Choose the Output Format
To upload the file, click the Add Your Media button. You can upload a video not just from your computer but also from Dropbox; if you need this option, hit the arrow to the right of the Add Your Media button and select the Dropbox option.
Locate your file and click Open. You can add only one file at a time and the video size is limited. The default output format is MP4. To change this, click the format list, choose Video and select another format.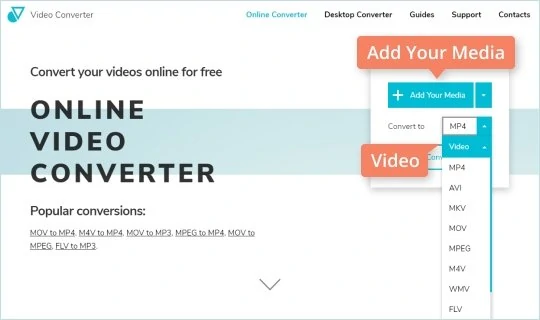 Launch the Conversion and Retrieve Your File
Click Convert to start the conversion process. After it's complete, your file will start downloading. If this does not happen automatically, hit the Download button. Wait a little… Once all is ready, enjoy your converted video!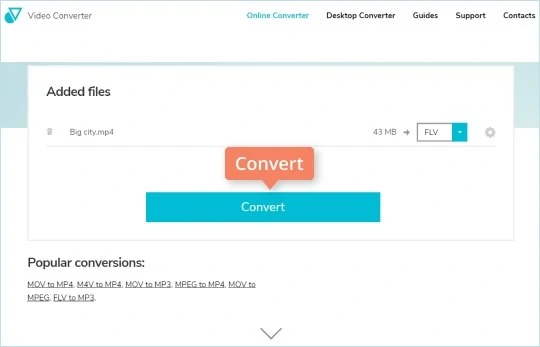 See other useful how-to guides