Meet the New Video Compressor
Compress your videos with ease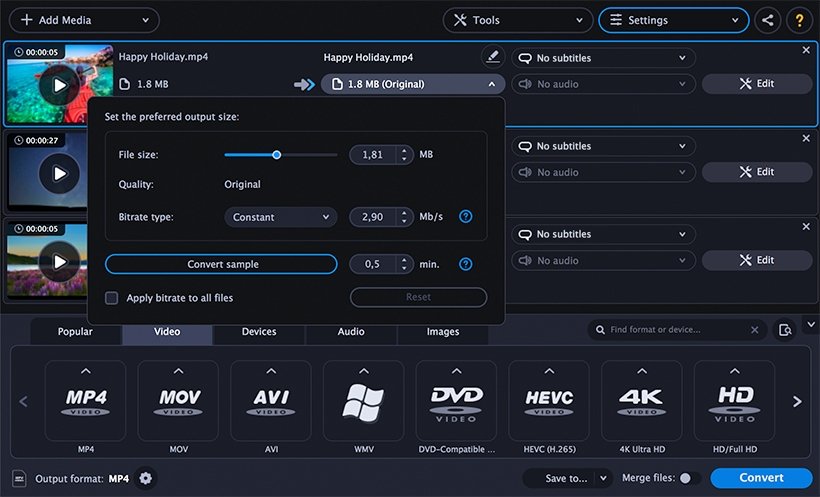 Compress Video Size
Compress video files without losing quality so you can save more of your favorite movies and shows for watching any time.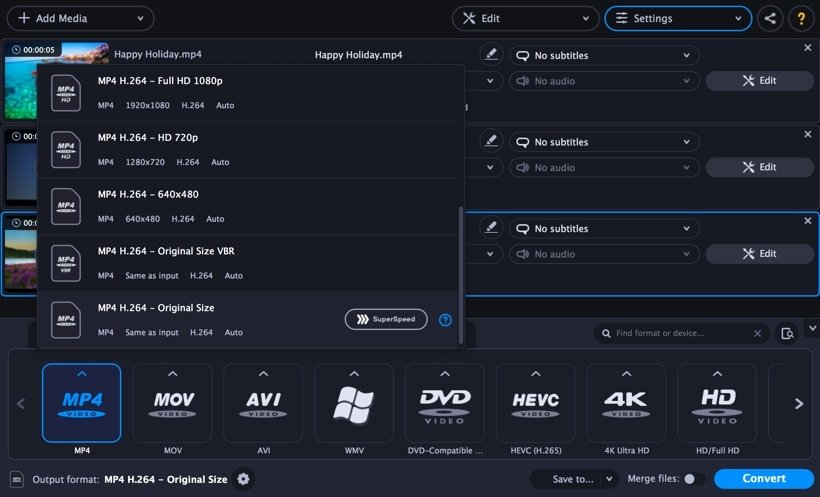 Convert Files Easily
Convert multiple videos with ease. Save your files in any popular format for any device.
Get the Ultimate Tool to Compress Video Files
Need simple video compression software that will help you significantly reduce the size of your video files? Movavi Compressor is just what you need!
This program supports any format for all popular devices and is one of the best options for lossless video compression. It can also be used as a quick conversion tool, letting you change the format of video, audio, and image files in just seconds.
Download the video compressor from Movavi, and you'll be able to send large video files via Discord or email like it's no big deal.
How to Compress a Video and More
Drag and drop your media files into the app window.
Click the size value of a file and change the settings you need.
Click Convert to compress your file.
Drag and drop your media files into the app window.
Click the icon for the desired format.
Click Convert to start the process.
Frequently Asked Questions
How can I compress video files?
Just drag and drop your files into the main window in the video compressor. Click the file size value and adjust the settings. Once you're done, hit the Convert button.
How long does it take to compress a video with the Movavi app?
It may take several minutes, depending on the file size and format, but often it will be even quicker to compress a video.
Is it safe to compress files with Movavi Compressor?
Yes, the program is 100% safe and virus-free. You can compress any video file without trouble.
Movavi Video Converter 2020
Processor
Intel®, AMD®, or compatible processor, 1 GHz
Graphics card
NVIDIA® GeForce® series 8, Intel® HD Graphics 2000, AMD Radeon™ R600 or higher graphics card with up-to-date drivers
Display
1280 × 768 screen resolution, 32-bit color
RAM
2 GB for Windows 7, Windows 8, and Windows 10
Hard drive space
120 MB available hard disk space for installation, 750 MB for ongoing operations
Sign Up for News and Special Offers
Your email address was successfully added. Thank you for your interest in Movavi!