Supported Formats
Check out the full list of formats and devices supported by Movavi Video Converter
Input
Formats
Codecs
3GP, 3G2, 3GP2, 3G2P, 3GPP
H.263, H.264, MPEG-4
ASF
MPEG-4, VC-1, WMV V7, WMV V8
AVCHD
H.264
AVI
H.264, MPEG-4, MJPEG, DivX, Xvid, DV, Cinepack, Fraps, TechSmith, CineForm, uncompressed
DivX
DivX
DVD
MPEG-1, MPEG-2
FLV, F4V
FLV1, H.263, H.264, VP6, Flash Screen Video
M2TS, TS, MTS, M2S, M2T
MPEG-2, H.264, H.265
MKV, MKM
H.264, H.265, MPEG-4, MJPEG, Theora, VP9, DV, uncompressed
MOV, QT
H.264, MPEG-4, MJPEG, AIC, ProRes, Sorenson 1/3, PNG, CineForm
MP4, M4V
MPEG-4, H.263, H.264, H.265, MJPEG, ProRes
MPG, MPEG, MPE, M2P, M1V, M2V, VOB, DAT, MOD, TOD, VRO, IFO
MPEG-1, MPEG-2, H.264
MXF
H.264, MPEG-2, DV
OGG, OGV, OGM
Theora, MPEG-4
RM, RMVB, RAM, RAX, RMX
Real Video 2/3/4, Cooker
SWF
FLV1
WebM
VP7, VP8, VP9
WMV
WMV V7, WMV V8, WMV 9, WMV 9 Screen, WMV 9 Advanced profile, MPEG-4, WMV 9.1 Image V2
WTV
H.264, MPEG-2
Others
AMV, AVS, BIK, BNK, CAVS, CDG, DPG, DV1394, DVR-MS, EA, FFM, FILM, FILM_CPK, FLC, FLI, FLM, FLT, FLX, GXF, H.261, IVR, MJ2, ML20, MPEG-3, MTV, MVI, MXG, NC, NSV, NUT, NUV, R3D, REC, RVA, RMS, RPL, RTSP, SDP, SMK, SXA, THD, THP, TRP, VFW, WM, WMVHD, WPG
Output
Formats
Codecs
3GP, 3G2
H.263, H.264, MPEG-4
ASF
WMV V8
AVI
H.264, MPEG-4, MJPEG
FLV
FLV1, H.264
M2TS
MPEG-2, H.264
MKV
H.264, H.265*, MPEG-4, MJPEG, Theora, VP9
MOV
H.264, MPEG-4, MJPEG
MP4, M4V
MPEG-4, H.264, H.265*
MPG, VOB
MPEG-1, MPEG-2
MXF
H.264, MPEG-2
OGV
Theora
SWF
FLV1, MJPEG
WebM
VP8, VP9
WMV
WMV V8
Input
Formats
Codecs
AAC
AAC
AC3**
AC3
AIF, AIFF, AIFC
PCM
APE
Monkey's Audio
AU, SND
PCM
F4A
AAC, ALAC
FLAC
FLAC
M4A, M4B, M4R
AAC, ALAC, PCM
MKA
AAC, AC3, MP3, ALAC, Vorbis
MP3
MP3
OGG
Vorbis
Opus
Opus
WAV
PCM, AAC, MP3
WMA
WMA 9, WMA Pro, WMA Voice
Others
ADTS, ALAW, APC, CAF, DTS, GSD, GSM, M2A, MLP, MMF, MP+, MP1, MP2, MPC, MPEG-3, OMA, QCP, RA, RMJ, SHN, SND, TTA, VOC, W64, XA
Output
Formats
Codecs
AAC
AAC
AC3**
AC3
AIFF
PCM
AU
PCM
F4A
AAC, ALAC
FLAC
FLAC
M4A, M4B, M4R
AAC, ALAC
MKA
AAC, AC3, MP3, ALAC, Vorbis
MP3
MP3
OGG
Vorbis
WAV
PCM
WMA
WMA 9
Input
Formats
APNG, BMP, DPX, GIF, JPEG (.jpeg, .jpg, .jp2, .jls), Netpbm formats (.pam, .pbm, .pgm, .ppm), PCX, PNG, PTX, SGI, TGA, TIFF, WebP, XBM, XWD
Output
Formats
BMP, GIF, JPEG (.jpg), PNG, TIFF
Subtitle types
SSA, SRT, ASS, DVD Sub, DVB Sub, DVB Teletext, Text, X-Sub, Mov text sub, HDMV PGS Sub, Microdvd, Eia-608, JACOSub, Subviewer, Sami, Realtext, Subrip, WebVTT, MPL2, VPlayer, PJS
Supported Devices
Manufacturer
Device model
Amazon
Amazon Kindle Fire HD 7"
Amazon Kindle Fire HD 8.9"
Amazon Kindle Fire HDX
Apple
iPad (1–4), iPad Air, iPad Air 2,
iPad Pro, Pro 9.7, Pro 10.5, Pro 12.9,
iPad mini, iPad mini 4, iPad mini with Retina display
iPhone (1–3GS, 4–4s, 5, 5s, 5c, 6, 6 Plus, 6s, 6s Plus, SE, 7, 7 Plus)
iPod Classic, iPod Nano (5G, 7G), iPod Touch (1–3G, 4G, 5G)
Apple TV
Archos
Archos 7
Archos AV500/700
Archos 605/705/Archos TV+
Archos 504/604
Archos 404/405
Barnes & Noble
Barnes & Noble Nook Tablet
Barnes & Noble Nook Color
BBK
Media Player
BlackBerry
BlackBerry Z10, Z30
BlackBerry Q10
BlackBerry Bold 9900, 9930
BlackBerry PlayBook
BlackBerry Torch
BlackBerry Bold 9000, 9700
BlackBerry Bold 9650, 9780
BlackBerry Storm
BlackBerry Curve 8900
BlackBerry Flip 8220/8230
BlackBerry Pearl 8100 Series
BlackBerry 8800 Series
Cowon
Cowon D2/D2+
Cowon O2/S9
Cowon A3
Cowon Q5/N3/P5
Cowon iAudio X5
Cowon
Cowon D2/D2+
Cowon O2/S9
Cowon A3
Cowon Q5/N3/P5
Cowon iAudio X5
Explay
Explay HD Quad
Explay Navigator, Vision
Explay Infinity, Sky Plus
Explay Surf, Polo
Google
Google Nexus 10
Google Nexus 7
Google Nexus 6
Google Nexus 5
Google Nexus 4
HTC
HTC One mini 2
HTC Desire 816
HTC Desire 310
HTC One (M9)
HTC One (M8)
HTC One Mini
HTC Butterfly
HTC Flyer
HTC Sensation
HTC One X
HTC One
HTC Droid Incredible
HTC Desire
HTC Wildfire S
HTC Diamond
HTC EVO 3D
Huawei
Huawei Honor 7, 8, 9
Huawei Mate 8
Huawei Nexus 6P
Huawei Honor 5X
Huawei MediaPad Series
iriver
iriver B100
iriver P8
iriver E300
iriver E150
iriver E100/Lplayer
Lenovo
Lenovo A Series
Lenovo P Series
Lenovo S Series
Lenovo K Series
Lenovo Vibe Series
Lenovo Tablet A Series
Lenovo Yoga Tablet Series
Lenovo Miix Series
Lenovo ThinkPad Series
LG
LG G6
LG G5
LG G4
LG G3
LG G Pad
LG G Flex 2
LG G Flex
LG Optimus G2
LG Optimus 4X HD
LG Optimus
LG Prime
LG KP500
LG Bliss UX700
Microsoft
Xbox 360
Xbox One
Motorola
Motorola Moto G
Motorola Moto X
Motorola Q
Motorola CLIQ
Motorola RAZR
Motorola Droid RAZR HD
Motorola XOOM
Motorola DEFY
Motorola ATRIX
Nokia
Nokia Lumia 1520
Nokia Lumia 1020
Nokia Lumia 930
Nokia Lumia 920
Nokia N900
Nokia N97
Nokia N96, N95, N93, N92
Nokia N86, N85, N82, N81
Nokia N90, N80
Nokia N70–N79
Nokia XpressMusic 5800, 5530
Nokia XpressMusic 5730, 5630, 5610
Nokia XpressMusic 5320, 5220
Nokia X6, X7
Nokia X3
Nokia E90
Nokia E75, E72, E71
Nokia E70, E60
Nokia E66, E65, E63, E62, E61
Nokia E55, E52, E51, E50
Samsung
Samsung Galaxy S8, S8+
Samsung Galaxy S7 Edge
Samsung Galaxy S7
Samsung Galaxy S6 Edge+
Samsung Galaxy S6 Edge
Samsung Galaxy S6
Samsung Galaxy S5
Samsung Galaxy Grand Prime
Samsung Galaxy Note Pro
Samsung Galaxy Note 2014 Edition
Samsung Galaxy Tab Pro
Samsung Galaxy Tab S
Samsung Galaxy Tab 4
Samsung Galaxy S4
Samsung Galaxy S III
Samsung Galaxy S II
Samsung Galaxy S
Samsung Galaxy Tab 3 (8", 10.1")
Samsung Galaxy Tab 3 (7")
Samsung Galaxy Tab 2 (8", 10.1")
Samsung Galaxy Tab 2 (7")
Samsung Impression
Samsung Omnia II
Samsung Omnia HD
Samsung Jet S8000
Samsung Star S5230
Samsung Pixon 12
Samsung Galaxy Note Edge
Samsung Galaxy Note 5
Samsung Galaxy Note 4
Samsung Galaxy Note 3
Samsung Galaxy Note
Samsung Charge
SanDisk
SanDisk Sansa
Sony
Sony Xperia X, XZ
Sony Xperia Z5, Z5 Compact
Sony Xperia Z4, Z4 Compact
Sony Xperia Z3, Z3 Compact
Sony Xperia Z2
Sony Xperia Z2 Tablet
Sony Ericsson Xperia X10
Sony Ericsson Xperia X1
Sony Xperia S
Sony Xperia Tablet Z
Sony Xperia Z, ZL, Z1
Sony PlayStation 3
Sony PlayStation 4
Sony PlayStation Portable
Sony PlayStation Vita
Xiaomi
Xiaomi Redmi Series
Xiaomi Redmi Note Series
Xiaomi Mi Series
Xiaomi Mi Pad Series
* Codec available only in Movavi Video Converter Premium on systems with Intel® HD Graphics 5300, NVIDIA® GTX 950, or higher graphics card.
** Format supported by the video conversion app on Windows 8 and later versions.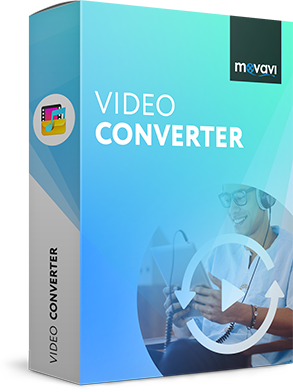 Movavi Video Converter
The ideal way to get your media in the format you need!
Convert video, audio, DVDs, and image files

Enjoy lightning-fast conversion without quality loss

Improve quality, adjust sound, trim and join files before converting

Save video and audio clips for easy mobile access