SuperSpeed Zero Quality Loss Conversion
Time is the most precious resource for many of us – who wants to waste it waiting? Now you can enjoy your converted movies in the original quality in mere seconds – with the innovative SuperSpeed conversion in Movavi Video Converter! The SuperSpeed mode enables format changes in the blink of an eye without re-encoding or quality loss. Unlike regular video conversion, this mode utilizes another type of video processing – remultiplexing, or remuxing, which means that format changes are executed without decoding and re-encoding the video stream. This dramatically increases the conversion speed and the quality of the video remains exactly the same as in the original file, because remuxing does not in any way affect the video content.
SuperSpeed conversion is available for video streams as well as for audio streams of your videos.
The benefits of this conversion mode are clear:
The original quality of your video is unaffected, so your output files are going to be of the highest possible quality.
Unbelievably fast processing: converting videos in the SuperSpeed mode is just as fast as moving files between folders – up to 79x faster than regular conversion (see diagram below).

Thanks to the dramatic speed increase – SuperSpeed processing is up to 79 times faster than regular conversion – Movavi Video Converter completely eclipses the competition (check out the test results below).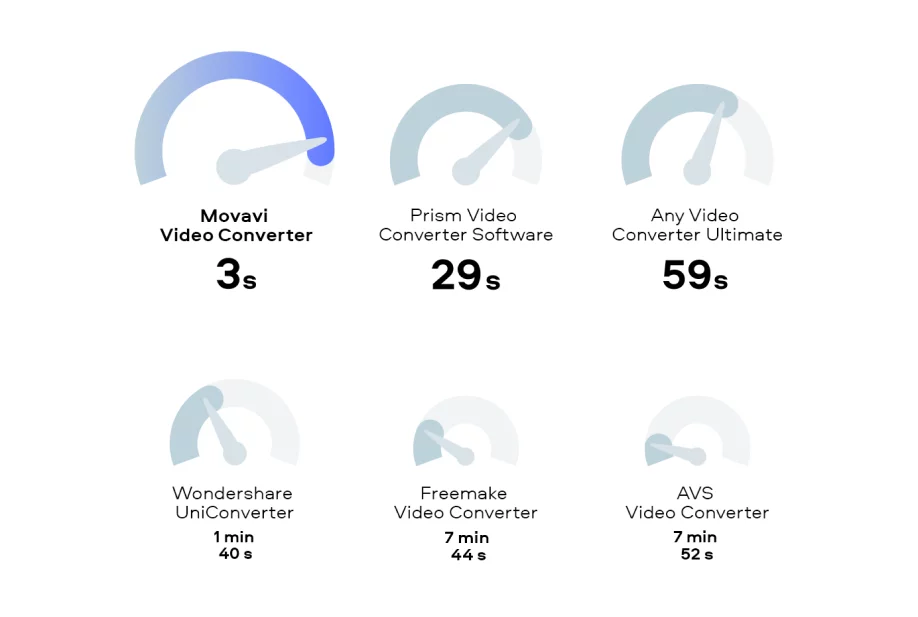 When SuperSpeed conversion can be used
The SuperSpeed conversion mode is available for the most popular formats if you don't plan to change the codec of the input file after conversion. Just check out the complete table of compatible video formats and presets for mobile devices for details:
Input formats
and codecs

MP4

MKV

MPG

MOV

AVI

AVI (H.264)

AVI (MPEG-4)

FLV (H.264)
| | | | | | |
| --- | --- | --- | --- | --- | --- |
| M2TS (H.264) | | | | | |
| M2TS (MPEG-2) | | | | | |
| MKV (H.264) | | | | | |
| MOV (H.264) | | | | | |
| MP4 (H.264) | | | | | |
| MP4 (MPEG-4) | | | | | |
| MPG (MPEG-2) | | | | | |
Input formats
and codecs

iPad 3/4,
iPad Air/Air 2,
iPad Pro iPad
mini 4

iPhone 7/7
Plus iPhone SE
iPhone 6/6s
Plus

Google Nexus
4/5/6/7/10,
Samsung
Galaxy Note 3/4/5/Edge

Samsung HD
LED TV 4,5
Series, Sharp
AQUOS Q-Series

LG, Panasonic,
Philips, and
Sony HDTVs

AVI (H.264)

AVI (MPEG-4)

FLV (H.264)
| | | | | | |
| --- | --- | --- | --- | --- | --- |
| M2TS (H.264) | | | | | |
| M2TS (MPEG-2) | | | | | |
| MKV (H.264) | | | | | |
| MOV (H.264) | | | | | |
| MP4 (H.264) | | | | | |
| MP4 (MPEG-4) | | | | | |
| MPG (MPEG-2) | | | | | |
** SuperSpeed conversion is only supported if the resolution of the original video is the same or lower than that of the device: 1920×1080 for iPhone 7 Plus, 7, 6s Plus, 6s, 6 Plus and TVs, 1280×720 for iPads, iPhone 6 and SE, Samsung Galaxy Note 3/4/5/Edge, Amazon Kindle, and Google Nexus, 1136×640 for iPhone 5/5c/5s, and 960×640 for iPhone 4/4s.
The SuperSpeed mode is also perfect for quickly trimming your video or audio without wasting extra time on re-encoding and losing quality as a result: the files will be trimmed in no time and retain their original quality.
There are several limitations though, that you need to take into account when using SuperSpeed conversion:
Codecs, resolution, bitrate, and other video parameters should remain unchanged.
Effects cannot be applied: e.g. you cannot rotate your video or add watermarks.
How to perform SuperSpeed conversion in Movavi Video Converter
First, add the files you want to convert to Movavi Video Converter. Then review the Video or Devices presets at the bottom of the program interface – if a preset supports SuperSpeed conversion for at least one of the added files, it will be marked with a SuperSpeed tag. To see which files are eligible for this type of conversion, just choose one of these presets. All files that will be converted with this preset without re-encoding will show the text Original quality next to the estimated output file size. Then click the Convert button – all SuperSpeed-compatible files will be processed without re-compression; the others will be converted in the normal way.
SuperSpeed conversion is enabled by default. You can disable it by clicking the Settings button and choosing Preferences as shown in the picture below.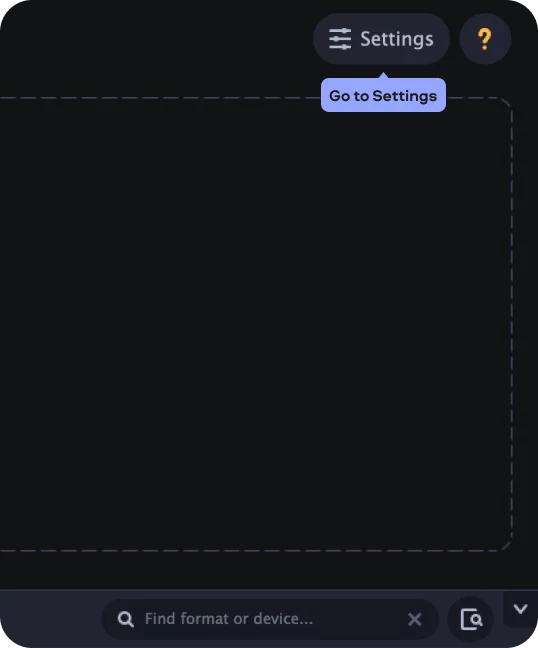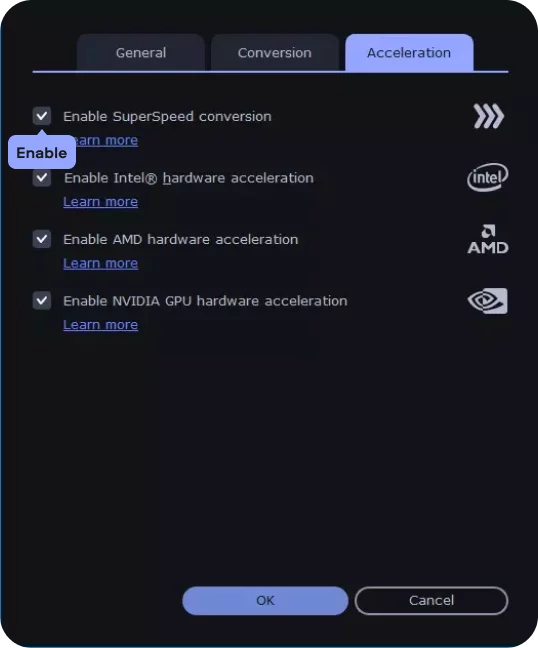 * The free version of Movavi Video Converter has the following restrictions: a 7-day trial period; a watermark on output videos; when converting audio files, an ability to convert only half the file length; and, when working in the SuperSpeed mode, an ability to convert only half the video file length. Learn more
** Tests carried out by Movavi. Computer specifications: OS Windows 7 Professional 64-bit, Service Pack 1; Intel® Core™ i5-3550 3.30 GHz processor, 4 GB RAM – DDR3, 1333 MHz; Intel® HD Graphics 2500 video adapter; INTEL SSDSC2MH250A2 250 GB solid-state drive.