Movavi Video Editor vs. Windows Movie Maker Review
Windows Movie Maker is free video editing software available on virtually every PC. Developed by Microsoft as part of the standard program suite, it was included in Windows XP and, more recently, Windows 7 and Windows 8. Even though it is no longer available for download on the official Microsoft site, you can still download Windows Movie Maker from third-paty web resources. You can also try a powerful alternative like Movavi Video Editor that gives you access to a wider range of tools and is also available to Mac users.
To help you decide whether to choose Windows Movie Maker or download Movavi Video Editor, we'll compare both apps based on the following criteria:
The simplicity of Windows Movie Maker has always been one of its major trump cards. As we see, Movavi Video Editor is very similar in this respect. Both programs have a very intuitive interface with familiar navigation patterns. Both can be set to English or one of many other languages, so no problem here.
Input and Output Features
Next, let's see how the applications fare when it comes to the material they can work with.
Comparison parameters
Windows Movie Maker 2012
Movavi Video Editor 2023
Support for most input media formats
Support for most output media formats

Video: only MPEG-4, WMV
Audio: only MPEG-4/AAC

✖

Support for most devices
Support for 4K video
Intel® Media acceleration
It turns out that Windows Movie Maker is seriously lacking in the number of media formats available for saving your files – only four against dozens in the case of Movavi Video Editor. Moreover, the Movavi app supports 4K video, which is definitely a huge advantage for those interested in handling videos in this resolution. The Intel® Media hardware acceleration is another neat feature that will make your working process a lot smoother if you go with Movavi.
What about tools for capturing video and audio from various sources? See the answers in the picture below.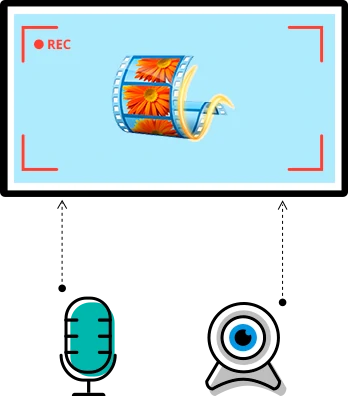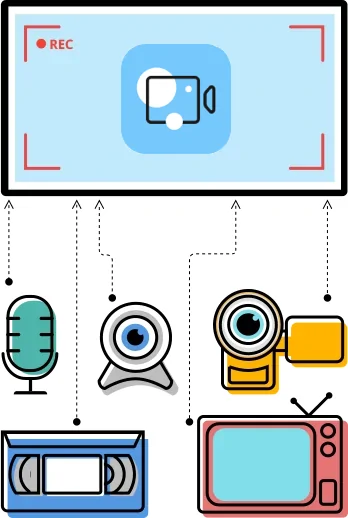 Again, Windows Movie Maker offers a very limited choice of options. If you're going to create screencasts from devices other than a webcam, you should probably stick with Movavi Video Editor. It allows you to capture audio and video from a wide variety of sources such as HD camcorders, webcams, TV tuners, VHS tapes, and more.
The tools for editing videos and photos in both programs present roughly the same picture.
Comparison parameters
Windows Movie Maker 2012
Movavi Video Editor 2023
Transitions and effects
FEW
MANY
Caption presets
FEW
MANY
Callouts
Stickers
Chroma key and animation
Footage adjustment (flip, crop, and rotate)
Sound adjustment and editing

Also, new features: noise removal and equalizer

✖

Splitting and trimming
Panning and zooming
Footage stabilization
Auto adjustment
Timeline mode
Mask & Highlight
The set of features provided in Windows Movie Maker is, yet again, quite modest. You can use only a handful of effects and transitions there, compared to the impressive collection offered in Movavi Video Editor. The same goes for title presets. When you edit your projects, whether at home or in the office environment, you'd probably want a bit more room for creativity. This is precisely what is available to Movavi users, together with handy features like callouts, auto adjustment, and timeline mode. In addition, you can get even more effects at Movavi Effects Store.
The level of user support is where the two video editors differ the most:
| Comparison parameters | Windows Movie Maker 2012 | Movavi Video Editor 2023 |
| --- | --- | --- |
| FAQs and how-tos | | |
| Video guides and manuals | | |
| Email | | |
| Live chat | | |
| Forum/Community | | |
The MS website offers virtually no educational materials on their program. All it has in terms of user support is a help service you can contact by email and a forum. But let's not forget that Windows Movie Maker is not available for download anymore. Trying to download it from other websites may harm your computer.
The Movavi site, on the other hand, provides a wide variety of useful content, including FAQs, manuals, and video guides with regular updates. If something is not working properly or there's an error of any kind, you can contact the company's live chat service to get help in real time.


Microsoft
Windows Movie Maker
Movavi
Movavi Video Editor
The major advantage of Windows Movie Maker is its price – it's freeware so it's the best you can get in terms of financial value. The full version of Movavi Video Editor costs $79.95 , but the sheer range of available features makes it really worth the investment.
If you need a simple, easy-to-use tool for editing videos that's also free, go with Windows Movie Maker. But if you need greater creative freedom or you're simply using a Mac, then you should definitely try Movavi Video Editor. It lets you:
Work with a much wider range of media formats
Easily share videos on YouTube and Vimeo
Use dozens of editing options and effects
Get thorough support
Just download the Movavi Video Editor installer, follow the instructions and start editing your videos like a pro.
The links provided are to the latest version of the software with all necessary upgrades.
System requirements: Microsoft® Windows® 7/8/10/11 with up-to-date patches and service packs installed (32 bit or 64 bit); Mac OS X® 10.13.6 or higher (64 bit).
Disclaimer: Please be aware that Movavi Screen Recorder does not allow capture of copy-protected video and audio streams.
* The free version of Movavi Video Editor has the following restrictions: 7-day trial period, watermark on the output videos, and, if you're saving a project as an audio file, an ability to save only half the audio length. Learn more