Best Slideshow Software for Mac
There have never been more choices for you to choose from when selecting slideshow software than there are today. While most of us remember making PowerPoint presentations during school, PowerPoint is now just one of the dozens of slideshow maker options for savvy internet users in 2021.
Slideshow software has come a long way since PowerPoint's initial run on the Mac in 1987. The ability to add not just images and text but also videos, music, transitions, and more is now standard on most of the best slideshow programs. It's hard to go wrong with most selections you'll find doing a cursory Google search.
If you're looking to set yourself up with slideshow software that specifically meets your needs, we're here to help. We cover 19 of the best photo slideshow programs in this piece, outline the best slideshow maker for Mac and PC users, explain their pros and cons, and provide recommendations for which ones you should try based on what you want to actually do with the software.
Best Programs to Make a Slideshow on Mac: 19 Top Programs
The best slideshow software for Mac ranges from the free, minimal versions used by students and amateurs to the comprehensive, robust programs popular among businesses and marketing firms.
Generally, making a slideshow is a straightforward process and is in many ways similar to telling a story. For most users, beginning that story entails choosing a theme or template to use across the entire slideshow. Most slideshow software available on Macintosh provides a limited number of these templates for free because they make it easier for a user to boot up the software and move toward a finished product.
Once you've given your project (or "story") a title, you're then able to add slides of images, videos, text, graphics, and more in quick succession, and you can even tweak the way slides transition between each other so as to best engage your audience.
The best slideshow makers for Mac act as powerful tools in which users can create narratives, pitch dreams, showcase hobbies, market products, and so much more. And it all begins by starting up a slideshow maker and getting to work.
We've reviewed the best slideshow makers for Mac to make the process of choosing that software easier for you. But first, here's our top recommendation.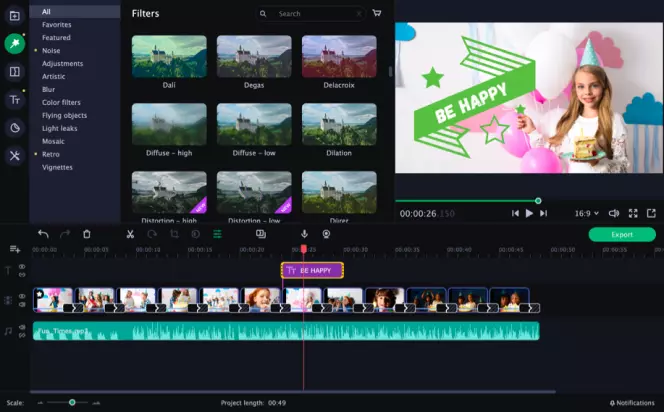 While you have many options when it comes time to choose a slideshow app for Mac, Movavi Slideshow Maker stands apart from competing software for several reasons.
First, the program's Slideshow Wizard makes it a simple task for beginners to create their own professional slideshow. All they need to do is upload the media files they want, then choose transitions to use across the presentation. It's also easy to add music, and there's a user guide in case anyone needs some extra assistance.
Additionally, creating projects in manual mode gives users access to advanced settings like native recording, extra tools for photo editing, and a powerful video editor directly in the app – most of which can simply be used by clicking and dragging stuff around. And when the presentation is finalized, the slideshow is saveable in a range of file formats and file sizes based on the user's needs.
The ease of use and customizability of Movavi Slideshow Maker makes it one of the best slideshow programs for Mac and Microsoft Office currently on the market.
Key Features:
Turn your favorite media (music, videos, image) into a slideshow
Supports all major file formats
Intuitive, but with in-app tutorials if needed
Timeline makes editing seamless
Pros:
Easy to use
Effective tool for amateurs and professionals
Many personalization features
Free 7-day trial version available
Equal emphasis on photo slideshow and slideshow video tools
Cons:
Transitions can't be randomized
Trial version slideshows are watermarked
OS: Windows 7/8/10, macOS X (legacy versions for Mac and Microsoft Windows also available)
Licensing: Free 7-day trial, subscription, or lifetime license
File size: 107.2 MB
Price: personal 1-year license ($44.95 ), lifetime personal license ($64.95 ), 1-year business license ($89.95 ), lifetime business license ($161.95 )
Our rating: 10/10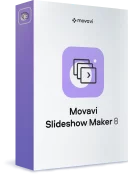 Movavi Slideshow Maker
An easy-to-use, yet efficient slideshow making program
Create a slideshow with music in 3 simple steps

Join slides with dynamic transitions

Add stylish animated titles

Adjust color, enhance picture quality
List of Slideshow Programs for Macintosh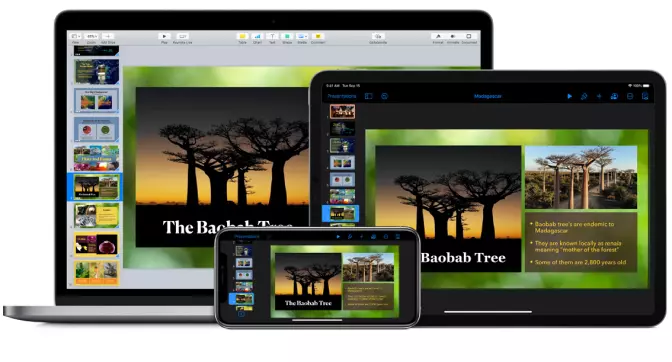 Keynote is a tool most Mac users are familiar with. Now usable on iPhones and via iCloud, Apple's slideshow maker Keynote is versatile and free to use for anyone on a Mac purchased in 2013 or later.
Keynote's current iteration allows you to collaborate on projects, quickly adjust presentations on the fly with a sleek mobile app, and even turn handwriting into computer text. If you're all-in on Apple products, Keynote is an effective tool for creating slideshows and presenting information to friends, family, colleagues, and clients.
Key Features:
On-the-go collaboration (mobile app, Apple integration)
Import PowerPoint, other files into KeyNote
Equal emphasis on video, photo, and audio editing
Pros:
Handy phone app makes it possible to edit presentations anywhere
Can easily embed videos into your presentation
Possibly already on your computer if you have a Mac
Cons:
Takes time to master
Can only be used on Mac
OS: iOS, macOS
Licensing: Free (for new Mac laptops and desktops) or one-time purchase
File size: 345.2 MB
Price: $19.99
Our rating: 9/10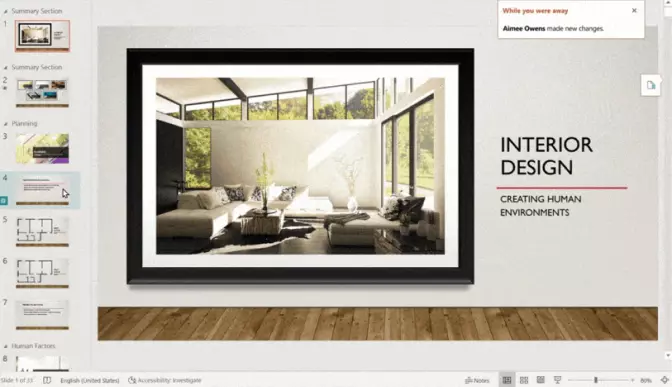 Microsoft PowerPoint is the grandfather of slideshow maker software and is so well known that it's synonymous with slideshows (many people say "I need to make a PowerPoint" rather than "I need to make a slideshow").
PowerPoint is easy to use and provides helpful less-known features like self-running presentations and audio modification (such as bookmarking, trimming, and fading). To create a slideshow, simply choose a premade theme, fill out the title page, and add media as necessary. Presenting images, text, video, and audio via PowerPoint is a piece of cake.
Key Features:
Classic slideshow software, open and begin making your presentation
Embed videos and links into slides
Still receiving updates today
Pros:
Lots of helpful resources online if you encounter issues
Most people have used it at some point, so likely a lesser learning curve
Operating system agnostic (usable on whatever you're running)
Cons:
Linear, prevents the user from portraying the full picture about a topic without verbal support
OS: macOS, Windows
Licensing: 1-month free trial, subscription
File size: 700 MB
Price: personal 1-year license ($69.95)
Our rating: 8/10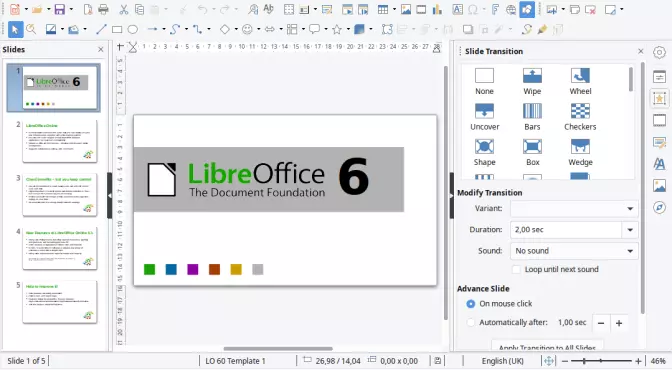 LibreOffice Impress is the slideshow maker tool for LibreOffice's open-source suite of productivity software. It offers users five different view modes for each step of the presentation-making process and even has interesting built-in tools like The Fontworks which allows you to put together 2D and 3D images from text.
To make a slideshow, you can start with the outline mode and take it from there. And if you're looking for help in the creativity department, you can easily download free LibreOffice Impress templates online.
Key Features:
Multiview options
Create 2D and 3D vectors out of text
Free templates
Pros:
Multiple viewing modes for easy step-by-step presentation making
Completely free to use
Cons:
Not an online app, making collaboration less efficient
Navigating all the features can take time to figure out
OS: Windows, macOS, Linux, Android, iOS
Licensing: Open source software
File size: 252 MB (for LibreOffice productivity suite)
Price: Free
Our rating: 7.5/10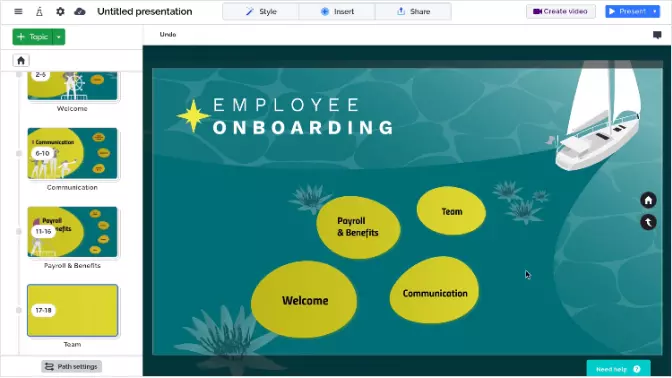 Prezi is a novel response to linear presentation software like PowerPoint. Originally a web application, Prezi Next allows you to create dynamic presentations offline.
Although creating a slideshow with Prezi involves a lot of the same types of selections (template, adding text and video, etc.), the way information moves from section to section on Prezi is where it really stands out.
Each presentation is displayed on a canvas, and rather than going from slide to slide, your presentation zooms in and out like the zoom on a camera when you're ready to proceed to the next section. You can even easily add video and audio with Prezi's recording software, allowing the creation of dynamic presentations that stand out from the norm.
Key Features:
Unique slide progression
Incorporates talking head video
Pros:
Different feel from standard slideshows, focuses on "the path" (transitions)
Easy to incorporate your own audio and video into a presentation, including talking-head videos
Range of modes to begin your canvas, providing ample customizability
Cons:
Limited collaboration within the app
Pricing is multi-tiered and it's difficult to understand which features you may or may not need
OS: Windows 7, 8, 10, macOS X or higher
Licensing: Monthly subscription
File size: 650 MB
Price: $5, $15, or $59/month based on subscription level
Our rating: 8.5/10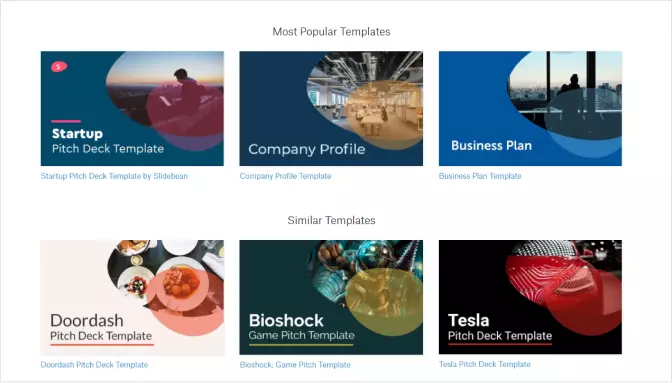 Slidebean was built for those of us who lack the graphic designer mindset. Once you add the content for your slideshow, Slidebean uses AI to rearrange that content in an aesthetic way.
If you're looking for an opportunity to spice up your presentations and don't care as much about customizability, Slidebean is an intriguing option.
Key Features:
AI automatically modifies your presentation for you
Range of templates
Aesthetic interface
Pros:
Easy to use
Attractive designs
Excels at creating pitch decks
Cons:
AI rearrangements might require adjustments
Some users have reported encountering minor bugs
OS: Web application
Licensing: Subscription
File size: N/A
Price: free basic plan, $8/month starter, $19/month premium, $149/month Founder's edition
Our rating: 9/10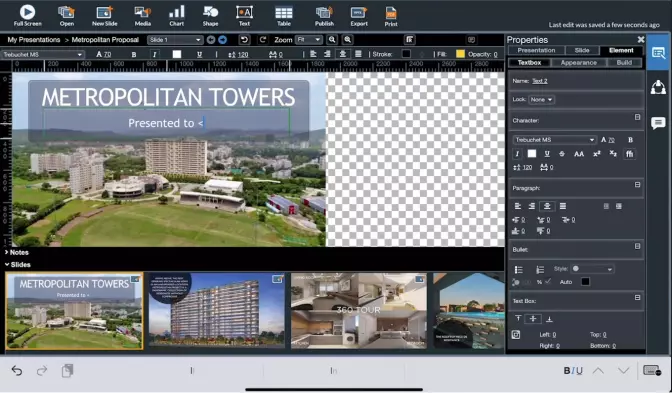 CustomShow is enterprise presentation SaaS created with the intent of helping companies unite under a single aesthetic vision. After creating a presentation and uploading the desired media, users can make customized slides that employ shading effects on images, video backgrounds, and more.
This slideshow creator for Mac also allows users to simultaneously cast their presentations to multiple locations, making it particularly useful for large remote teams. And with web and mobile apps paired with a strong analytics foundation, there's a lot of value to be drawn from this product by those serious about getting the most out of business presentation software.
Key Features:
Enterprise SaaS
Analytics integrations
Ideal for brand standardization
Pros:
Collaboration features make it particularly effective for larger companies
High level of customizability
Cons:
Not built with individual users in mind
Less user friendly than many other presentation software
OS: Cloud-based application
Licensing: Subscription
File size: N/A
Price: $29/$49/$69 per month based on the desired subscription level
Our rating: 8/10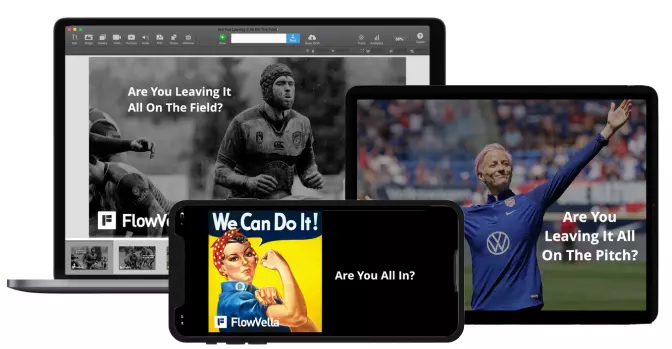 FlowVella was built for interactive presentations – allowing presenters (or users, depending on the context) to seamlessly move amongst the images, videos, PDFs, and any other uploaded media content.
After you've entered the application, you can "create a flow" to begin the creation process.
This slideshow software for Mac has several interesting features, including "kiosk mode" for iPads, which lets other people interact with your presentation without being able to alter its content. Such a function allows you to leave an iPad out at your tradeshow booth or museum exhibit and let others interact with it safely.
Key Features:
"Kiosk" mode for tradeshows, museums, and more
Create "flows" of media
Pros:
Built with many types of users in mind
Intuitive interface
Cons:
OS: OS X and iOS
Licensing: Subscription
File size: N/A
Price: $10/month, $20/month, enterprise option
Our rating: 8.5/10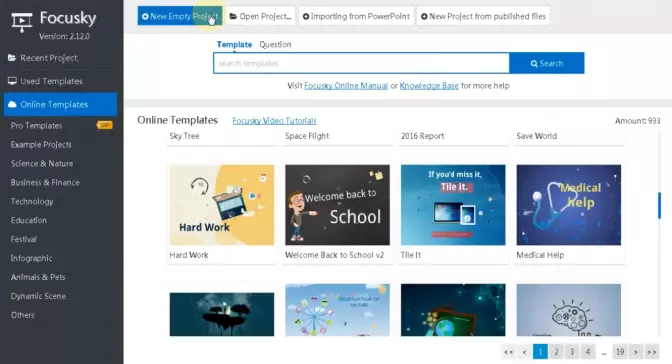 Focusky is a robust piece of slideshow software with an interface that will feel familiar for all veteran PowerPoint users. However, where it differentiates itself is its various customization features. For instance, it facilitates zooming in and out and other transition effects similar to Prezi (even though the creation flow is similar to PowerPoint).
Key Features:
Zoom transitions on slides
Collection of free media to use
Pros:
Large range of customization tools (5,000+ open-source vector icons and diagrams, object animation, wide array of templates)
Can publish presentations online on their cloud hosting service
Cons:
Some minor bugs involving effects on embedded videos
OS: For Windows10/8/7Vista/XP, macOS
Licensing: Free trial, subscription, lifetime purchase
File size: 372 MB
Price: $0, $9.9/month, $99/month, $399/lifetime
Our rating: 9/10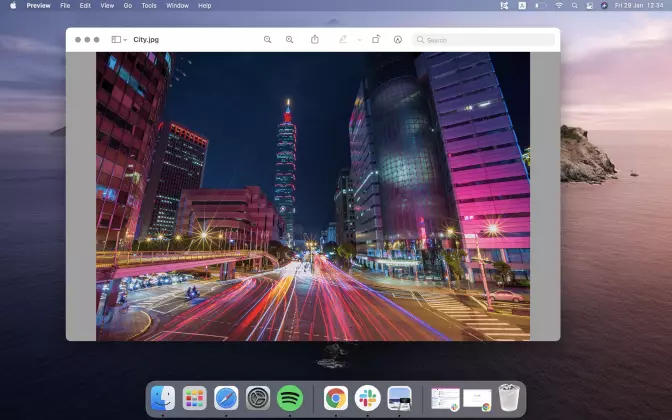 If you're a Mac user, you've probably used Preview without even realizing it. When you want to look at a screenshot or image you downloaded on your Mac, Preview opens the file for you. But did you know you can use Preview as a free slideshow app for Mac?
To get started, open each file you'd like to include in your presentation in the Preview application. Such files include JPEG, PNG, and even PDF. Once the files you want are opened, go to View and click on Slideshow.
Key Features:
Image viewer
Can view JPEG, PNG, PDF, and more
Pros:
Simple, on-the-fly concept
Make a presentation fast
Cons:
Lacks customization options, the media you provide is what you get
OS: macOS (Big Sur)
Licensing: Free for Mac users
File size: N/A
Price: Free
Our rating: 6.5/10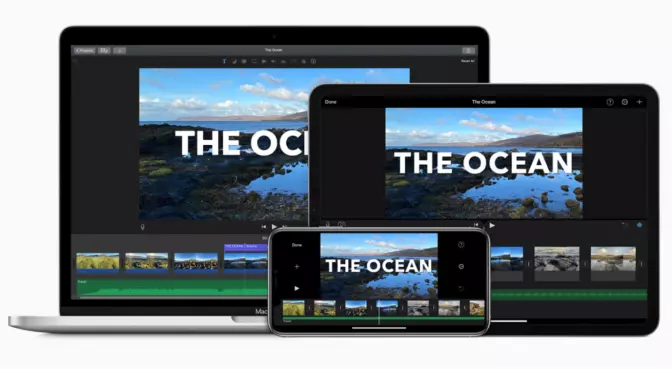 Similar to Preview, iMovie is another Macintosh exclusive that wasn't designed specifically for making an Apple slideshow but can still be used for such a purpose. Built with iOS and macOS integration in mind, it's easy to see why some people have turned to this software to create more dynamic, video-based presentations and slideshow videos.
To get things moving, pick out the media you want, then add text, music, and anything else you need to round out your presentation. With video filters, green screen functions, and other cool video-related features, iMovie is great if you're looking to present information in a dynamic, fun way.
Key Features:
Easy to move media between Apple products
Video-centric software
Pros:
Robust video editor
Cross-device integration for Apple products
Cons:
Less suitable for traditional slideshows
OS: iOS, macOS
Licensing: Free for Mac users
File size: 2.2 GB
Price: Free
Our rating: 7/10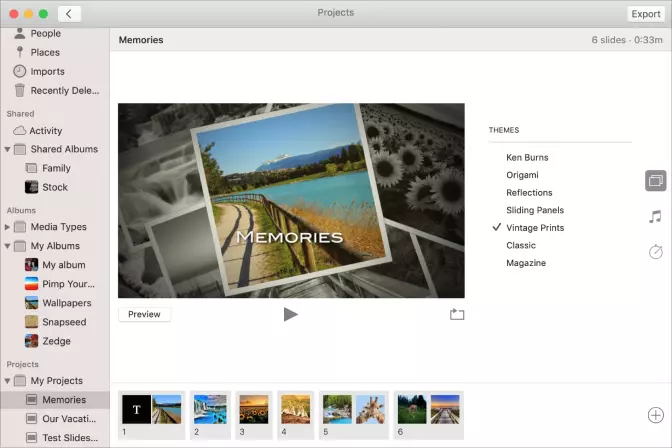 Apple's Photos app, just like Preview, comes pre-installed on Mac computers, and it's also the base photo application on iPhones and iPads. Taking photos and videos are set to upload on the cloud automatically, and then you can conveniently access them across any of your synced Apple devices.
Apple Photos provides two options for making a slideshow. First, you can make a slideshow solely comprising your photos, a theme, and music. Or if you want to go beyond that, it's possible to create a slideshow project, which lets you include text and set the time between slides. Both are easy if your needs focus primarily on the visual aspect of presenting information.
Key Features:
Great for personal/family projects
Simple photo editing tools
Pros:
Lets you create custom calendars, cards, and photo books
Easy photo editing and slideshow creation
Cons:
Customization options are limited
OS: iOS, iPadOS, macOS
Licensing: Free for Mac users
File size: N/A
Price: Free
Our rating: 8/10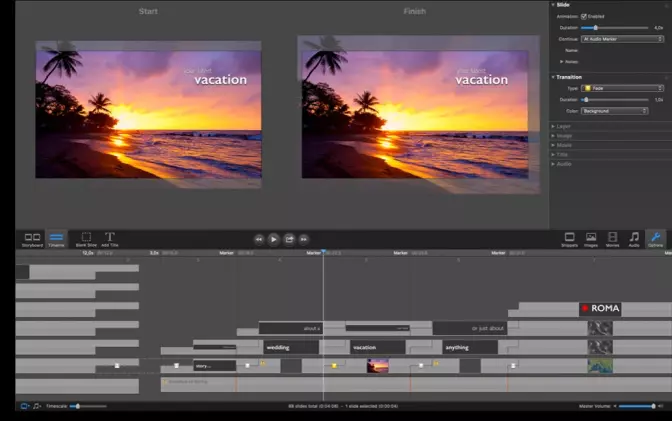 FotoMagico5 is a powerful presentation builder that lets users really dive into the finer details of a presentation. From adjusting audio to align it precisely with image and video transitions to high-resolution functionality, this software is particularly great for savvy computer users or professional photographers.
Each slide is visible on the bottom panel of the screen, making it easy to move from frame to frame and adjusting everything to your exact specifications.
Key Features:
Audio-transition alignment
High-resolution video and photo
Pros:
Customization options galore
4K resolution video slides
Cons:
Occasional bugs reported by users
OS: macOS, iPadOS
Licensing: One-time purchase
File size: 371.5 MB
Price: $50/basic, $100/pro
Our rating: 8/10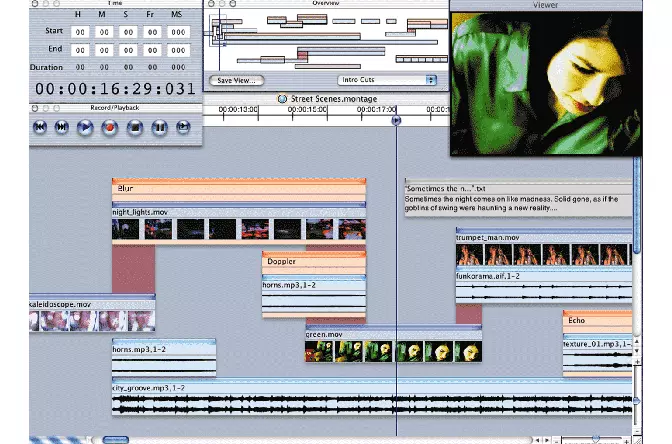 HyperEngine AV is video and slideshow-making software, perfect for making short introductory videos about a product, a YouTube clip, or dynamic slideshows. It features a "trackless" workspace which lets the user adjust an unlimited quantity of videos, audio files, images, and tracks of text.
Transitions between slides and video clips are created instantly after you drop one on top of another.
Key Features:
Drag-and-drop images and video
Trackless workspace
Pros:
Drag and drop function makes transitions simple
Video editor with lots of text customization features
Cons:
Hasn't received an update from its developer in almost a decade
OS: macOS X or higher
Licensing: Open-source software
File size: 11 MB
Price: Free
Our rating: 7/10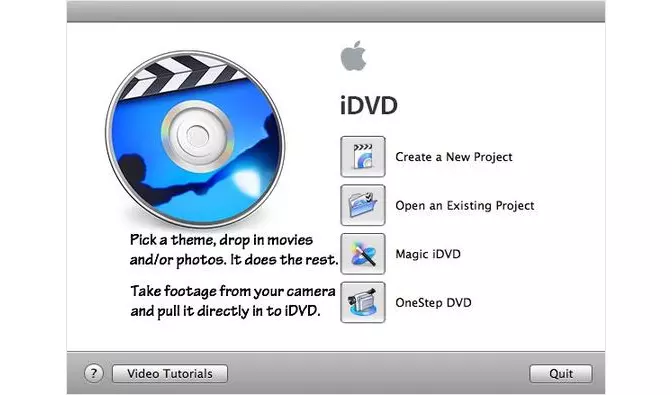 iDVD is one of Apple's older video-creation apps, popular among the home movie-making crowd. Facilitates the creation of widescreen DVDs with menus and ambient audio. To make your video, simply add a title, pick out a theme, and drag your uploaded video clips into the labeled boxes.
Key Features:
Fun for homemade videos (weddings, family reunions, etc.)
Rip DVDs of your creations
Pros:
Great video editor for homemade wedding videos
Widescreen video support
Cons:
Not supported on Apple's newest operating systems
OS: macOS (pre-Catalina)
Licensing: Free for Mac owners
File size: 36.12 MB
Price: Free
Our rating: 7.5/10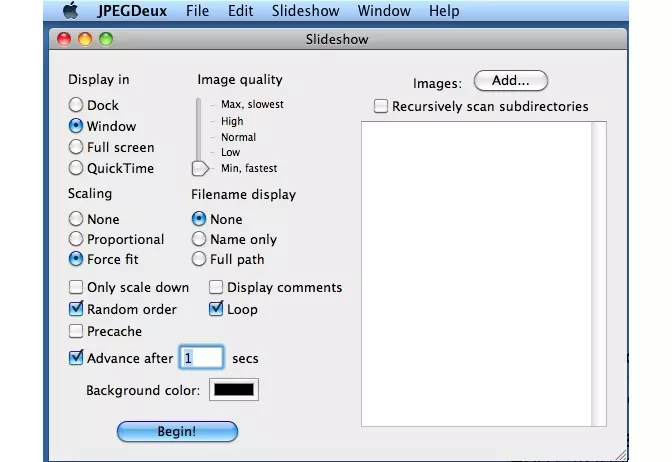 JPEGDeux is software used to create image slideshows. Most users like it as an alternative to iPhotos, because it provides a more interesting way of displaying slides – whether you prefer them in window mode, a full-screen display, or in Dock mode.
There are some transition and customization options, but they are minor. Simply upload and organize your photos to create your slideshows.
Key Features:
Organize thousands of phone photos
Simple presentations
Pros:
Simple photo slideshows
Interesting option for dumping and organizing phone photos
Cons:
Lacks customization features
Not compatible with newer versions of macOS
OS: macOS X
Licensing: Open-source software
File size: 350 KB
Price: Free
Our rating: 8/10
Muvee Reveal Express for Mac is a straightforward app that lets you quickly make a stunning picture slideshow paired to music. All you need to do is select the images you want (up to 50 per slideshow), pick a song you like on iTunes, and the app does the rest — matching transitions to the beat of the music and adding fun color filters and camera zooming.
Key Features:
Dual view of the media panel plus preview screen simplifies adjustments
Automatically analyzes media, adds default music and styling
Pacing button to adjust speed of slideshow
Pros:
Simple to use
Fun way to highlight iPhone photos
Cons:
OS: macOS X 10.6.6 or later
Licensing: One-time purchase
File size: 33.8 MB
Price: $14.99
Our rating: 7/10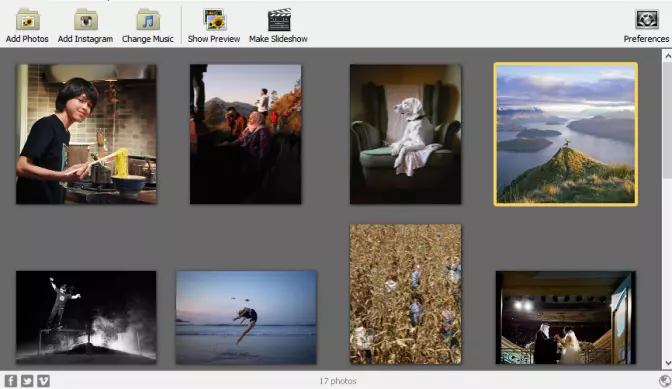 4K Slideshow Maker is what it says it is: a photo slideshow maker for Mac that lets you output slideshows in resolutions as high as Ultra 4K HD. Creating a slideshow is easy with this software, and you can quickly manipulate photos, add music, and even upload images directly from Instagram into your presentation.
Key Features:
Employs the Ken Burns video effect
Turn your presentations into YouTube videos
Pros:
Good video editor tool for beginners
Uses the Ken Burns effect
Slideshow can be easily turned into a YouTube video
Cons:
OS: macOS 10.13 and later, Linux, Windows
Licensing: Open-source software
File size: 29.7 MB
Price: Free
Our rating: 8.5/10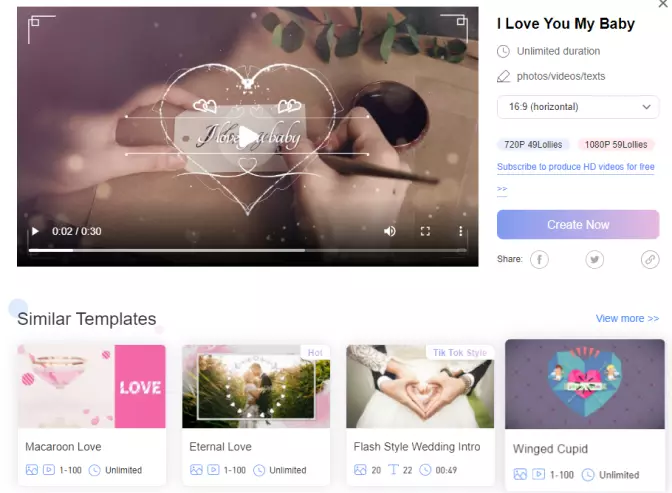 LightMV is an app that lets users customize a wide range of media, but primarily leans toward video rather than still images. Video templates make it easy to get started, and then you just need to upload the media you want and add text.
Key Features:
Templates for most occasions
Save on iPhone, share on social media
Pros:
Provides template themes designed specifically for weddings and businesses
Perfect for a photo or video slideshow (or a combination)
Cons:
Free to download, but not to access your presentation
OS: Android, Windows, iOS, macOS
Licensing: Subscription
File size: 5.8 MB
Price: $29/month, $39/3 months, $299/year
Our rating: 7.5/10
Conclusion
Whether you're a businessperson looking to assemble impactful presentations, a parent hoping to create a nice slideshow for your upcoming family reunion, or an aspiring YouTuber in need of an effective video editor, there's software on this list most suited to you. But for the most comprehensive, easy-to-use slideshow creation tool that meets the needs of all these demographics and is usable across all devices, we recommend Movavi Slideshow Maker.
Here's a list of some of the top free slideshow makers for Mac and Windows, as well as the best software on the market overall:
Program
OS
Pros
Cons
Price
Movavi Slideshow Maker
Windows 7/8/10, macOS
Easy to learn; high level of customization; try for free before purchasing
Watermarks on slides until you purchase a license
Free 7-day trial, personal 1-year license (

$

44.95 ), lifetime personal license (

$

64.95 )
Keynote
iOS, macOS
Simple phone app for to-go editing; video embedding within slides; regular updates
Learning curve is bigger; Mac exclusive
Free (for new Mac laptops and desktops) or one-time purchase ($19.99)
Microsoft PowerPoint
macOS, Windows
Ubiquity means it's easy to Google solutions to your questions; familiarity (most people have used it at some point)
Lacks dynamic elements (A-> B-> C)
1-month free trial, 1-year license ($69.95)
LibreOffice Impress
Microsoft Windows, macOS, Linux, Android, iOS
Simple navigation; open-source and kept up-to-date
Manual collaboration only (not an online app)
Free
Prezi
Microsoft Windows 7, 8, 10, Mac OS X or higher
Dynamic transitions and presentation format; lots of customization
In-app collaboration leaves much to be desired; pricing page is complicated
$5, $15, or $59 per month based on a plan
Slidebean
Web app
Simple; aesthetic templates; popular for startups and entre­preneurs
Occasional bugs; AI modi­fications need adjustment sometimes
$0 to $149 per month based on a plan
Custom­Show
Web app
Excels as team software; high degree of customization
Not built for single users; higher learning curve
$29, $49, $69 per month based on a plan
FlowVella
macOS X, iOS, iPadOS
For amateurs and professionals; straight­forward interface
Small bugs here and there
$10 or $20 per month based on a plan, enterprise option
FocusSky
Windows 10, 8, 7, Vista, XP; macOS
Large range of open-source design elements; online publishing of presentations
Users have encountered issues with certain features like video embedding
$0, $9.9,or $99 per month based on a plan, $399 lifetime
Preview in Finder
macOS (Big Sur)
Convenient (already on your Mac); straight-forward process
Not much to customize, focuses on image display
Free for Mac users
iMovie
iOS, macOS
Excels at video editing; current app, still updated
Lacks image editing features and slide customization
Free for Mac users
Apple Photos
iOS, iPadOS, macOS
Easy to make slideshows; sharing photos also easy
Not robust software
Free for Mac users
FotoMagico 5
macOS, iPadOS
Many customization tools; simple navigation
Working out small bugs
Basic ($50), pro ($100)
HyperEngine AV
macOS X
Simple interface for beginners; strong video editing capabilities
No longer being updated
Free
iDVD
macOS (pre-Catalina)
Widescreen video support; Apple integrated
No longer supported on Catalina
Free
JPEGDeux
macOS X
Basic tool (so easy to master); alternative to letting your digital photos lie around
Can't tweak much within the software
Free
Muvee Reveal Express
macOS X 10.6.6 or later
Plug-and-play; clean interface
Lacking customization
$14.99
4K Slideshow Maker
macOS 10.13 and later, Linux, Microsoft Windows
Built with beginners in mind; Instagram compatible
Lacking customization
Free
LightMV
Android, Microsoft Windows, iOS, macOS
Aesthetic, modern templates; quickly add text to images or video
Software says it's free, but must pay to get your presentation after making it
$29 per month, $39 per 3 months, $299 per year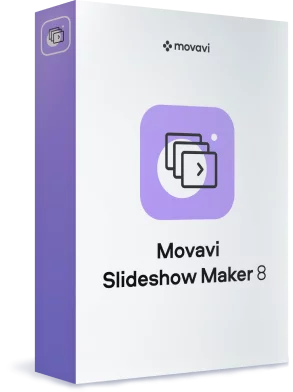 Movavi Slideshow Maker
An easy-to-use, yet efficient slideshow making program
Create a slideshow with music in 3 simple steps

Join slides with dynamic transitions

Add stylish animated titles

Adjust color, enhance picture quality