The 10 Best Paid and Free Video Ad Makers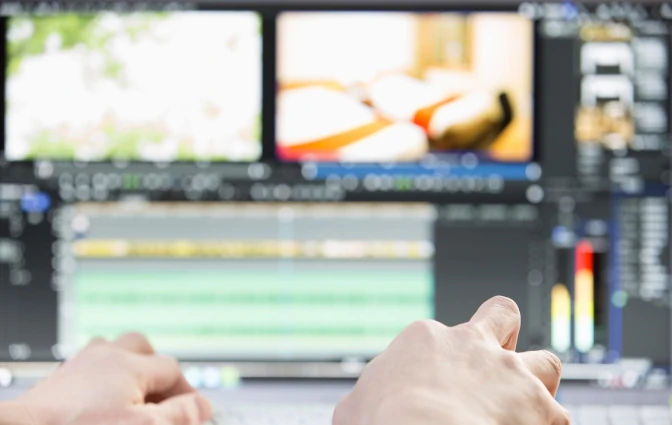 It's so easy to record video footage and compile videos nowadays, but putting together a video ad that arrests the audience's interest and drives traffic to your business requires a lot of consideration. It may sound as if this kind of task requires a certain level of technical knowledge, but a good video ad making software should make the job easier for you. The best video advertisement maker should have all the necessary tools needed to create video ads for your online advertising.
If you want to make a compelling video ad to help market your business, you need a good video ad creator. Read on to discover some of the best paid and free video ad makers.
Best Video Advertisement Makers
Below, you'll find a list of tools to make a great video ad without much effort. The majority of them are web-based: it means that you can use them from any device that has an Internet connection. All the software below have free trials, so you can check them out before investing your money.
Operating system: Windows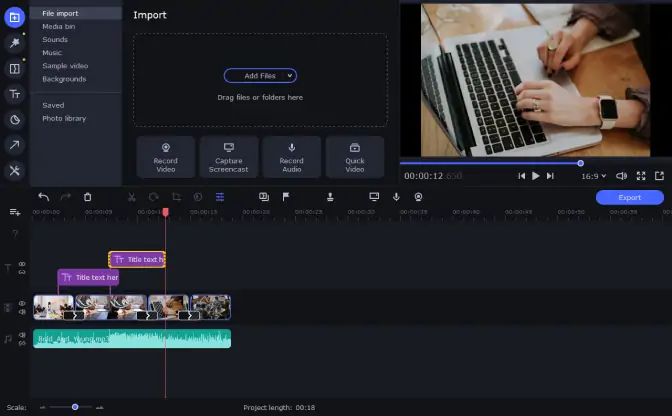 Whether you are a professional or novice, Movavi Business Suite can meet all your video creation needs. You only need a few minutes to record, cut, apply effects, and add audio to your videos to make a persuasive video ad.
If you're a professional marketer, here's what Movavi Business Suite can help you with:
Add audios and voice commentaries to your presentations
Add screen recordings to videos from webcam footage
Select from over 200 effects and editing tools
Best for those who prefer offline software and need more than just a basic video creator.
Key features:
It's a fully-fledged media editing platform: you can create videos, convert media files, record your computer screen, and do many other things.
It has a built-in stock of images, videos, and music you can use in your videos without worrying about commercial usage rights.
If you're new to video editing, there are many free and paid courses to help you get started.
Pros:
No subscription fees: you're paying for a lifetime license.
This is installable software, so it works offline.
Cons:
It's only free during the 14-day trial period.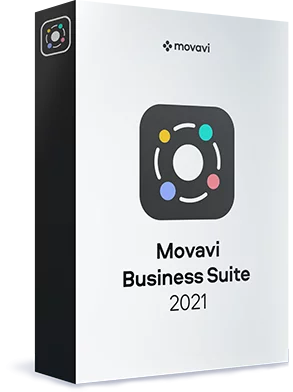 Movavi Business Suite
Ramp up your business productivity
Create tutorial, marketing, and commercial videos

Convert multimedia files to any popular format

Capture screens for demo videos and job interviews

Share videos using Movavi Cloud
How to Make an Advertisement Video Easily Using Movavi Business Suite
Step 1. Download and Install the Software
Click the Try Free button above to get the installation file. Open the file and follow the on-screen instructions to complete the process. After the installation is done, the program will launch automatically.
Step 2. Add Files to the Program
In the welcome window, click New Project in the Edit video area.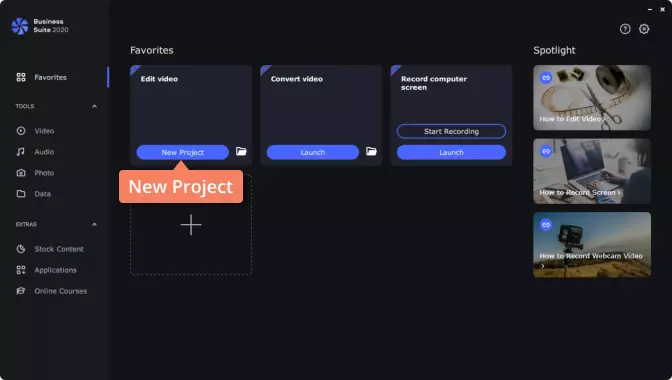 After the video editor opens, click Add Files and select the media you want to use for your commercial. It can be pre-filmed or purchased content. You can also use stock images, footage, and music from the software itself. All the stock content in the program is free for commercial use.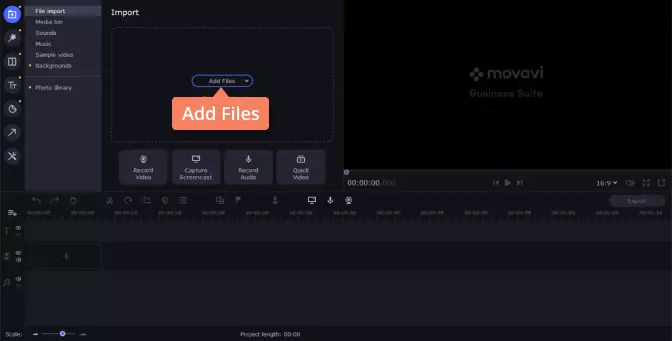 Step 3. Do the Editing
First, arrange the footage and music on the timeline. Then, add effects like transitions, titles, filters, and logos.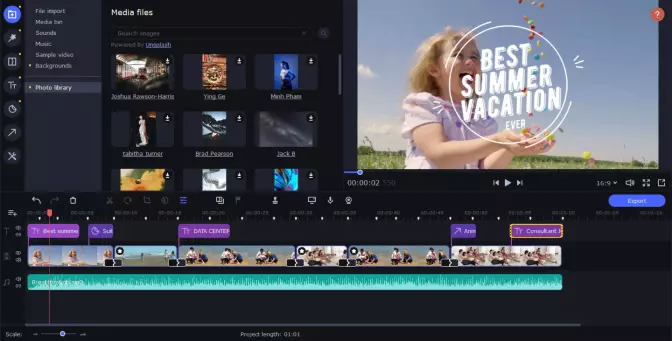 Step 4. Save the Video Ad
To save your video, click Export. Enter the desired file name, select the output quality, format, and folder. Click Start.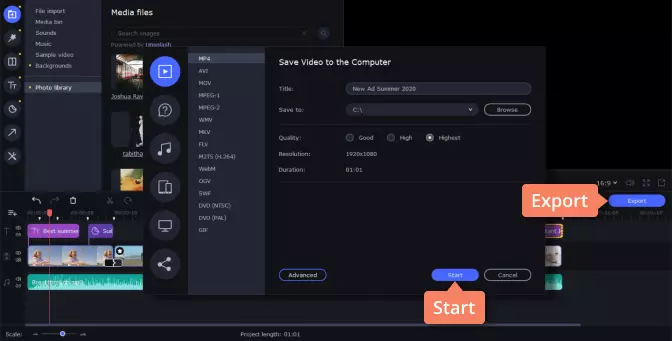 Operating system: any (web-based)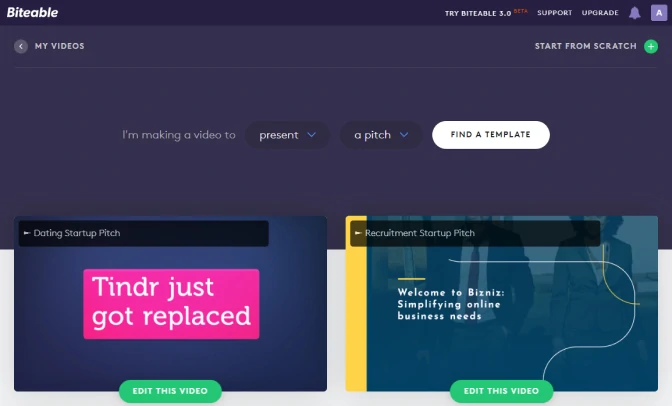 Quite famous among video ad making people, Biteable offers innovative video ad creation and editing capabilities without clogging your system. This video advertisement maker works online, so you don't have to download it to your local storage.
This free video ad maker opens a whole range possibility for making and editing video ads. It avails lots of templates that you can combine with your footage from digital cameras or its library of music and video clips to make fantastic video ads.
Although one version exists as a free video ad maker, you would be better off avoiding it since it has many limitations. To get the best out of this online video ad making software, go for the premium subscriptions. It will cost you, but the benefits will be worth much more than the sacrifice you make when you subscribe to the full-feature premium version.
Best for marketers who are not very experienced in video editing and don't have a big team of colleagues working on videos.
Key features:
The platform has an event calendar to help you be up-to-date with all the significant events for your interest area.
The software has over 800,000 stock footage clips and animations in the built-in library.
It lets you add your brand's logo to every video in a few clicks.
Pros:
It has over 600 free editable templates.
It supports uploading images directly from Unsplash.
Cons:
The Starter plan allows for one unbranded video export per month. Plus has three video exports. If you need more than three videos per month (for example, your content plan has one video per week), you have to get the Unlimited subscription plan, which may be an investment for a small business.
If you want to know more about the platform, check out the review below:
Operating system: any (web-based)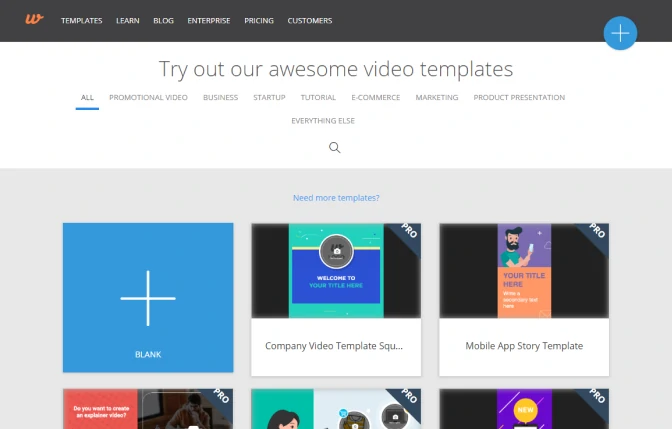 This video ad-making software offers more than 80 templates for your video ad to impact potential clients positively. The easy to use online video editor allows you to add logos and texts to the video to make an enthralling video.
Since you need plenty of time to attend to other equally important matters of your business, a good video ad making software should only take a few minutes. Wideo fits this bill because it has a simple interface and many templates to create video ads quickly.
Best for well-established businesses not afraid of spending a bit more on video creation.
Key features:
The software has a variety of free pictures and soundtracks to add to your video ads.
You can share videos with a single click, or download it as an MP4 file.
There are many images, backgrounds, music tracks, and animated effects to spice up your video ad.
Pros:
The platform has an excellent range of stock animations to make your videos more engaging.
It allows users to search for additional images from Google.
Cons:
All the subscription plans on the website don't include commercial licensing. So, to make a video advertisement, you have to contact the sales team.
If you want to know more about the platform, check out the review below:
Operating system: any (web-based)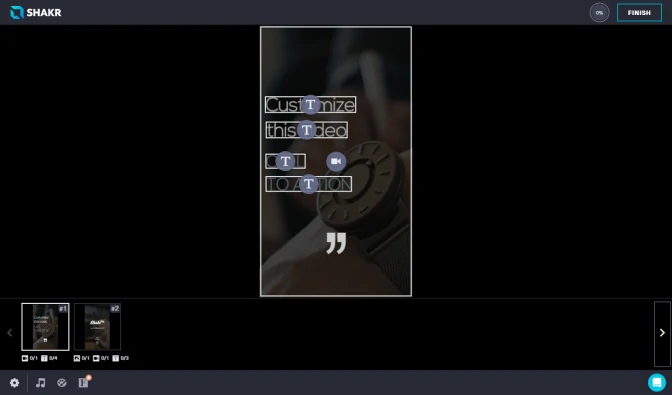 Need a video ad maker optimized for social media and blends seamlessly with your creative? Shakr can help you reach millions of people across the globe through its automated capabilities. This software can also help you stay ahead of the pack because it allows you to create hyper-targeted content suitable for modern-day clients.
Easy to use and lightning-fast, this application ensures that you spend minimal time combining your video footage and effects to produce a captivating ad for the social media platform. Anyone – whether your social media manager or just a marketing team member – can use this ad maker to create content that appeals to potential clients' individual needs.
Best for companies that have video creation teams.
Key features:
The software has thousands of video templates for a user to choose from.
The platform has direct video export to social media, e.g., Facebook.
Since the platform focuses on businesses, it can provide custom solutions for your case.
Pros:
Shakr works with some of the biggest companies worldwide, like American Express and Skyscanner.
Your videos will be perfectly optimized for Facebook and Instagram.
Cons:
This app is for big teams only: with $200 being the lowest monthly subscription price. It is most reasonable for big companies that have big budgets on video creation.
Operating system: any (web-based)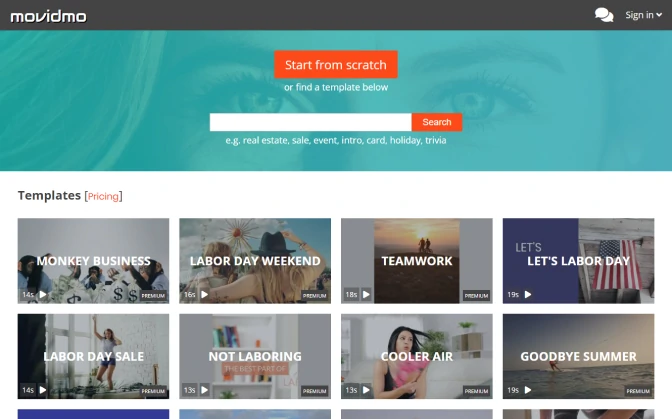 If you want to create high quality and inspiring video ads for your business or start-up, you can turn to Movidmo. This video ad maker provides an online platform for designing and creating promotional video ads.
Best for marketers that don't have a specific video creation schedule and prefer to pay per video and not get any subscriptions.
Key features:
Videos can be rectangular or square.
The software gives you the ability to add customized branding, messages, and styling to your videos.
The built-in music library has a broad range of musical genres and moods.
You can share a project URL with others to see their feedback on your video ads.
Pros:
Credit system: you don't pay for a subscription, you buy several credits to your account and spend them on exporting videos.
The software is integrated with the Getty Image media stock.
Cons:
There doesn't seem to be many reviews from actual customers.
Operating system: any (web-based)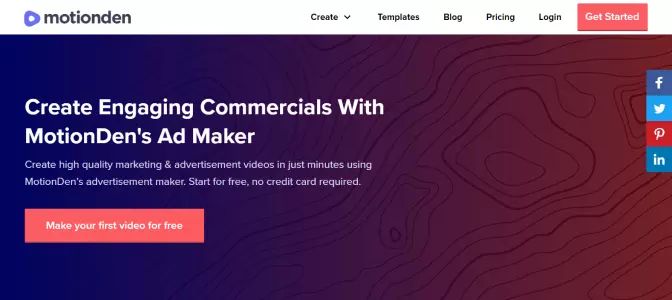 MotionDen is a web-based platform for video creation, like the majority of the list. It has more than 500 video templates suitable for almost any purpose: from YouTube intros to ads and wedding videos. In this list, MotionDen is one of the few ad makers that don't require a monthly subscription for downloading videos without watermarks. It lets you pay per video, with an option to add a few dollars to get it in better quality.
Best for marketers that don't have a specific video creation schedule and prefer to pay per video and not get any subscriptions.
Key features:
A list of 80+ templates for creating ads.
Fast video processing.
Exporting directly to YouTube.
Any videos produced with MotionDen can bу used for commercial purposes, so you won't have to pay additional fees for a business license.
Pros:
You can pay per video and not buy the monthly subscription if you don't need it.
You can export your videos directly to YouTube.
Cons:
MotionDen doesn't have templates for Instagram video formats.
Free Video Advertisement Makers
Before we get started with free video ad-makers' topic, let's explain why we chose the following software as free options. All of the platforms mentioned below allow you to export videos to your computer for free. So you can technically use them on any platform you need. However, those videos will have watermarks on them, which isn't what buyers generally enjoy. Also, any free downloads cannot be used for commercial purposes. So, if you're planning to use a video from any of these platforms for actual advertising, we highly recommend you spending money on a commercial subscription.
Operating system: any (web-based)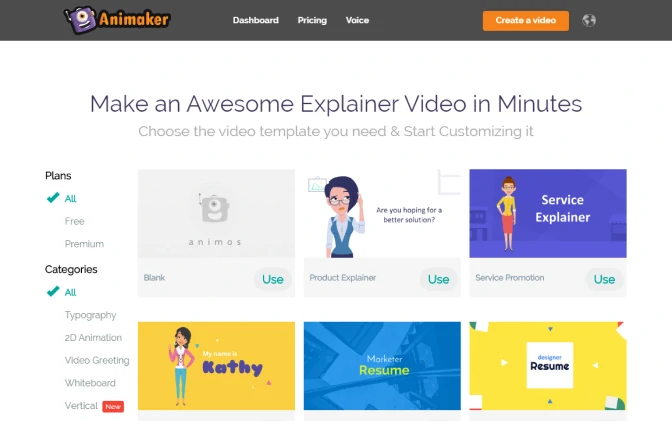 Another web-based video editing software is Animaker. You can use this online animation program to create videos for education, marketing, business, or personal purposes. It has a simple interface, so all you need is to drag and drop items to the timeline. You will also like the many templates available, plus a library of images, audio tracks, and effects to add to your video ad to achieve the desired result.
Animaker also offers a great variety of support materials, such as a quick email response team. The fair amount of free articles and characters also make it one of the best online video creators for both professionals and novices.
Best for creative video-makers looking for new expressive means.
Key features:
The software can upload videos directly to Facebook and YouTube.
It also allows you to make short GIFs to make your brand's social media account more entertaining.
If you want to add a narrative to your brand, you can create an animated character. With a wide range of features and automatic lip-sync, this character may represent your brand in video ads.
Pros:
The company has special offers for non-profit organizations. Contact the support for details.
With clients like Google, Cisco, and Pepsi, you can be sure that you'll get the best customer experience.
Cons:
Only the Pro and Enterprise plans give you commercial rights on created videos.
If you want to know more about the platform, check out the review below:
Operating system: any (web-based)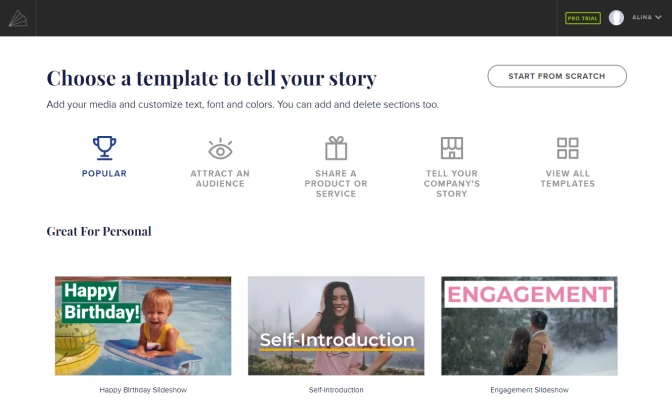 A vast majority of your potential clients are on Facebook. The easiest and fastest way to engage them would be creating a moving video ad optimized for Facebook to reach out to them. However, you need a good video ad creator to put together spectacular video ads capable of causing a ripple effect on the social media platform.
Best for marketers who have to advertise on several platforms and want to have content optimized for each platform while keeping the style consistent.
Key features:
Multiple memory styles, color customizations and font libraries
Pre-built storyboards for marketing
Both landscape and square marketing videos
HD 1080p video output
Over 3,000 licensed music tracks for commercial use
Add dazzle to the videos
Pros:
Animoto's partners are LinkedIn, Facebook, Instagram, Twitter, Hubspot, and other big companies.
The platform has specific templates for different platforms, including YouTube, Facebook, and Instagram.
Cons:
To use your videos for commercial purposes, you need to get the Professional subscription plan. But since it has no limit to the number of videos you download, this platform provides great value for your money.
If you want to know more about the platform, check out the review below:
Operating system: any (web-based)

Like most video editors from this list, InVideo is an online video-making tool that lets you create ads using ready-made templates. This software's significant advantage is that it allows you to download up to 60 videos per month, even during the trial period. Sure, there will be watermarks if you haven't paid for a subscription, but it gives an honest demo to the platform.
Best for marketers on a budget: out of all the online editors on the list, you get the most video downloads per dollar.
Key features:
Creating videos in any language.
Adding voiceover to a video.
Making videos for Twitter, Facebook, Instagram, and YouTube.
Pros:
Even with the least expensive subscription plan ($20 per month), you can export up to 60 videos per month in HD.
InVideo claims to have the best rating among other video editors on G2 and Capterra.
Cons:
The length of a video is limited to 15 minutes, even with the most expensive subscription plan.
If you want to know more about the platform, check out the review below:
Operating system: any (web-based)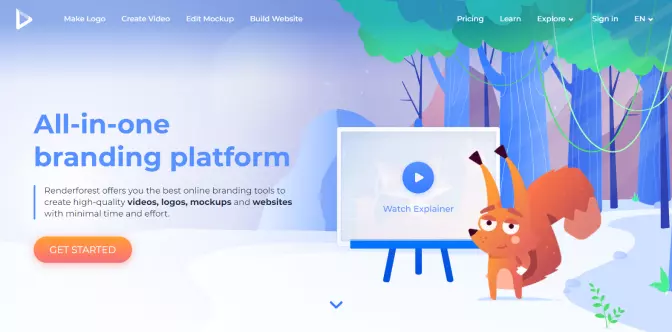 Renderforest is not just an ad maker – this platform allows you to control your branding fully. With such features as making logos, mockups, and even creating a website, Renderforest soars over other platforms from this list. It has a variety of subscription plans, so you can start with a free trial and upgrade to the plan version best suited for your business.
Best for those who need more than just an online video maker.
Key features:
A built-in logo maker, mockup creator, and a website.
A wide range of subscription plans for individual users, small businesses, and big enterprises.
More than 500 video templates.
Pros:
If you're new to marketing and don't know how to start building your brand, Renderforest gives you all the basics.
Renderforest has one of the cutest designs on the market. You can tell that your videos, logos, and mockups will be perfect just by looking at the squirrel on the main page!
Cons:
If you want Full HD videos, you'll have to get the Popular or the Agency subscription plan, and those are not the most affordable.
If you want to know more about the platform, check out the review below:
Renderforest review by Capterra
Frequently Asked Questions
How Do I Make My Own Video Ad?
Making a video ad isn't difficult. Here's how you do it with Movavi Business Suite:
Download and install the software.
In the welcome window, click New Project in the Edit video area.
Drag and drop the files you want to use for your ad into the window that appears.
Arrange your videos and photos on the timeline. Don't forget to add background music.
Add effects like captions, logos, filters, and transitions.
When you're satisfied with the preview, click Export, select the desired export settings, and click Start. After the processing is done, the video ad will be saved to your computer.
What Is the Best Free Video Ad Maker?
During our research, we found several ad makers that allow you to download the resulting videos for free. However, all of them apply watermarks to the videos exported for free, and not all of them will enable you to use the free videos for commercial purposes. So, we would highly recommend that you not follow the route of looking for a totally free ad maker but look for the best trial period conditions and the best value for money.
Here's the list of programs we suggest you try:
Animaker
Animoto
InVideo
Renderforest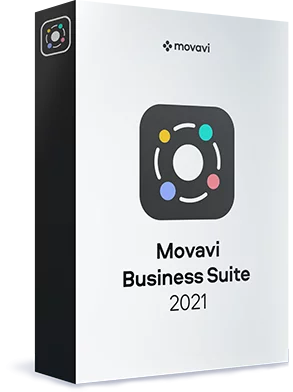 Movavi Business Suite
Ramp up your business productivity
Create tutorial, marketing, and commercial videos

Convert multimedia files to any popular format

Capture screens for demo videos and job interviews

Share videos using Movavi Cloud
See Other Useful How-to Guides