What Is Blended Learning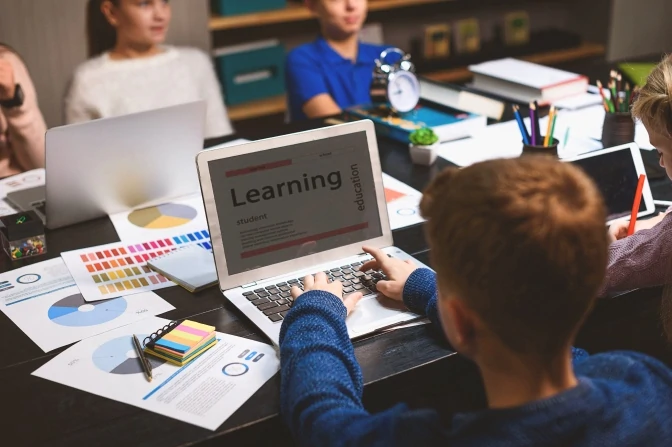 In this article, we'll tell you more about the relatively new method of studying – blended learning. You'll get to know what is blended learning, its advantages and pitfalls, and the models of this approach.
Blended Learning Definition
Blended learning is a mix of traditional offline learning and online independent learning. These methods are combined in a way to complement each other. Blended learning is also called hybrid learning. While experts still argue about its efficiency, the method is gaining great popularity worldwide. Hybrid learning doesn't mean just placing the computers in classrooms. This method is about changing the whole learning experience.
To engage with their students online, teachers can use any kind of learning management system (LMS). Students complete online courses, watch uploaded video lectures, take tests, track the results, and communicate with peers and teachers using LMS platforms. Professors can alternate between traditional classroom activities and online courses.
Components of Blended Learning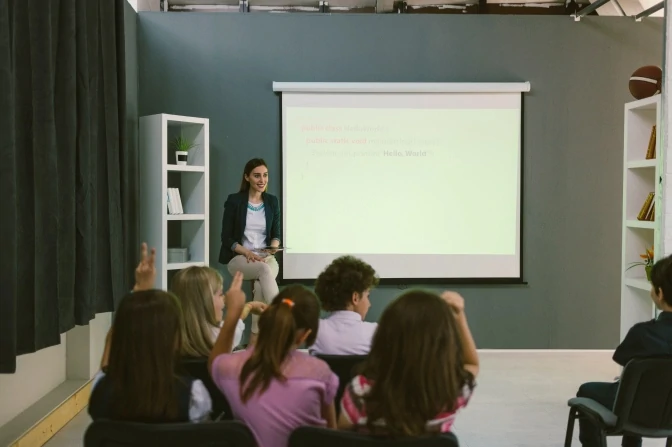 Blended learning consists of 3 parts:
Face-to-face classroom training guided by a teacher.
Online training. Learners study the resources uploaded into LMS: lectures, video content, and online assessments.
Independent learning time. Students can attend the classroom about once a week and spend the rest of the time studying the training materials at home.
Flipped Learning Activities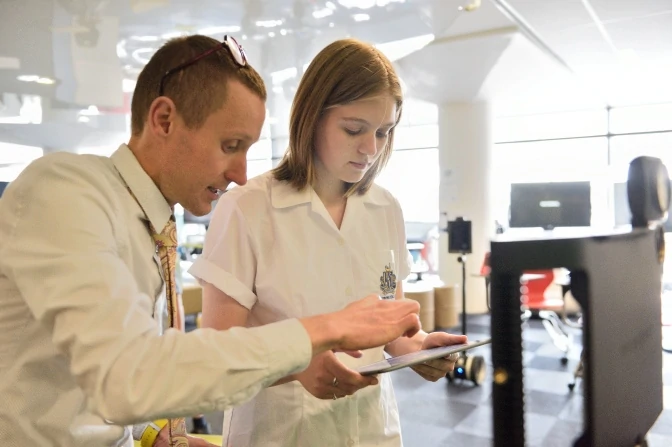 Blended learning led to the occurrence of a new education model – the flipped classroom. In this model, teachers provide learners with online lectures and course materials. Students study the materials at home at their own pace. It allows not to waste time in the classroom to deliver a lecture. During the classroom activities, teachers organize a discussion, projects, and practice tests for the whole class, answer the students' questions, and provide any other support.
Blended learning changes the role of a teacher in the process of education. In this case, the more suitable word for "teacher" is the term "facilitator". A facilitator guides the students and helps them manage the required skills and knowledge for independent learning. The facilitator is responsible for creating various types of content for online learning, facilitating the communication between students, and providing the assessment.
Advantages of Blended Learning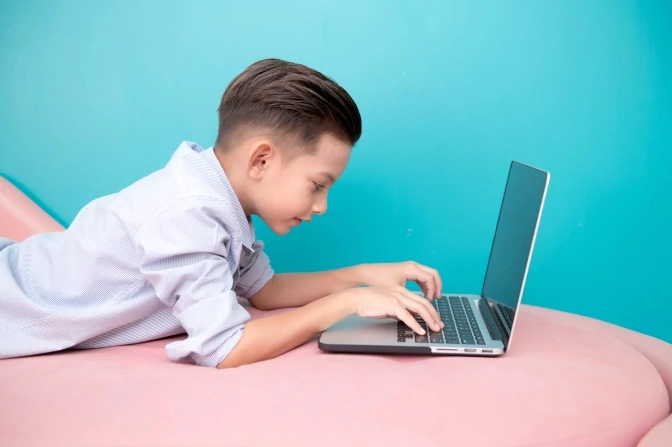 Let's look at the advantages of the blended learning model.
Blended learning can provide a more comprehensive understanding of the learning material, as it covers the needs of visual, auditory, and kinesthetic learners at once.
This learning method gives students more flexibility. Learners can manage the pace and time spent on each course.
Hybrid learning is a great solution for remote students.
It cuts the cost of travel and printing training materials expenses.
Tracking the results made easy with blended learning. It's easy to see who has completed an online course.
Pitfalls of Blended Learning
There are several things to think about before diving into blended learning.
Teachers will have to adjust their offline ready-made courses to use them as an online course. Not all the training content that can be used in the classroom is suitable for LMS.
Instructors should define their goals, review course materials, think of the audience, and create new teaching strategies for blended learning.
Switching to blended learning can take time. Students need some time to get used to the new learning environment and learn how to study online by themselves. Teachers also need time to observe training materials and monitor the results.
Blended Learning Models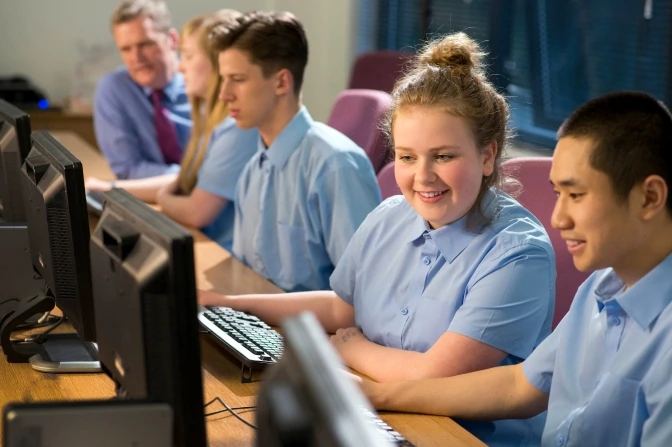 To find out how hybrid learning works in practice, let's look at the examples of blended learning models. Note that these models aren't the only way to implement blended learning. Many schools rely on different models at the same time. It's possible to pick different solutions and mix them following the needs of the students. Here are several blended learning models.
Station Rotation model means rotating the students through different activities on a fixed schedule. At least one of the activities has to be online training.
Lab Rotation model is the same as the Station Rotation model with the only difference. Students rotate to a computer lab for online training instead of staying in the same classroom.
In the Individual Rotation model, students have an individual schedule. They don't have to rotate through every activity. The schedule is made by a teacher or software, based on the needs of the student.
Flipped Classroom model allows learners to study at home using online training materials. During the classwork, teachers organize practice and project activities.
Following the Flex model, learners mainly study online with a few offline activities. Teachers support their students and provide group projects and face-to-face tutoring.
A La Carte model gives students the opportunity to take an online training course with an online teacher. Students can take online courses that aren't provided by their school.
In the Enriched Virtual model, students study online, outside school. They have to come to school only for face-to-face classes with a teacher. The learners don't have to attend classes on a daily basis.
Project-Based model is used when a learner studies online and offline, working on project assignments.
The Self-Directed model is a mix of online and face-to-face learning. A student has personalized learning programs. The teacher's role is to evaluate the success of the learning experience.
In the Inside-Out model, learning starts in the classroom and finishes outside the classroom, meaning online.
The Outside-In model is the opposite of the Inside-Out model. Classes start online but finish in the classroom. Students communicate and receive feedback during classwork.
The Supplemental model is mainly studying online with rare cases of face-to-face learning. Or on the contrary, studying offline with rare online supplementing exercises.
Mastery-Based model is when students rotate between offline and online learning.
Try Blended Learning with Movavi Academic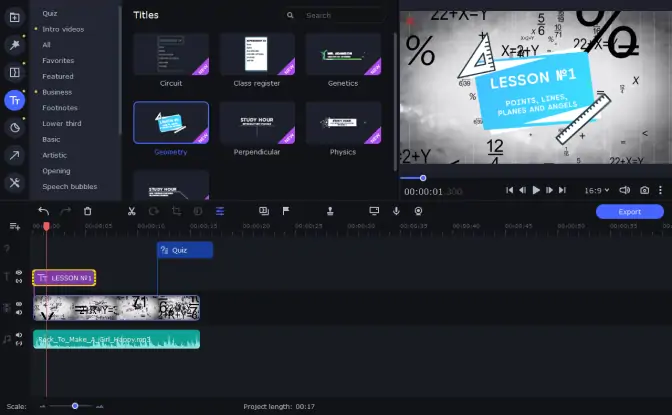 Movavi Academic is a video-editing and screen-recording software that provides great help in a learning experience. The app allows you to create cool classroom projects through video. Add explanatory elements, captions, and built-in content. Create a video course for remote students.
Make good use of the screen-recording feature. Capture your screen and apply pan and zoom effects to the recording. Set a timer to capture online lectures and webinars if you're away. You can also record webcam footage and add voice-over commentary to your videos. Save your projects and share them online.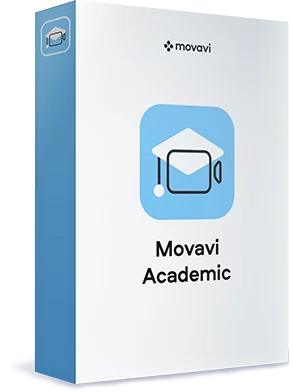 Movavi Academic
Enhance the learning experience
Explain new topics through video

Record lectures and webinars

Create online training courses

Design engaging classroom projects
See other useful how-to guides