The Best Education Apps for Teachers
As an educator, you have many different types of responsibilities on your plate. But having said this, your most important task—quite clearly—is to ensure that your students receive the best possible education.
While there are many ways to go about this, we live in a world where teachers can leverage game-changing technologies to educate all students in the classroom. Specifically, we are talking about education apps. Regardless of the subject or subjects that you teach, there are many teaching applications that can be lifesavers in the classroom. Many of these teaching applications are intuitive, easy to use, and are available for all grades and levels of school.
But having said this, which education apps should you use in your classroom? We have your back. Below you will find our collection of the best apps for teachers that are on the market today. As a reminder, the following list isn't ranked in terms of preference or favor. Instead, it is simply a group of free education apps that can help take your students to the next level.
The Best Free Education Apps That Are Available Today
Kahoot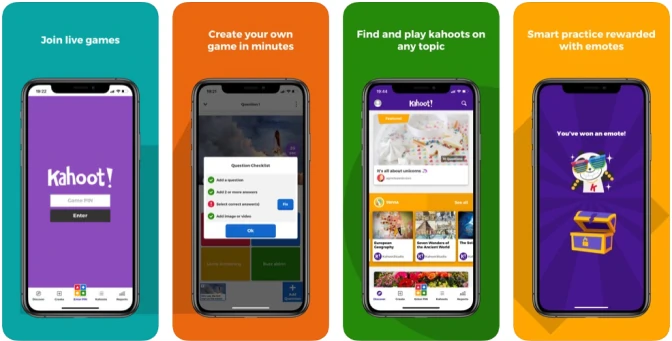 Kahoot is a learning and trivia app designed to let you create your own quizzes in seconds. If you want to deliver a quick quiz or test on a particular subject in your class, you can easily do so using Kahoot. In addition to the ability to quickly create quizzes, Kahoot lets teachers use the app to assign homework. By doing this, you can not only save time when correcting student work, but you can more easily track your students' progress in your course.
Seesaw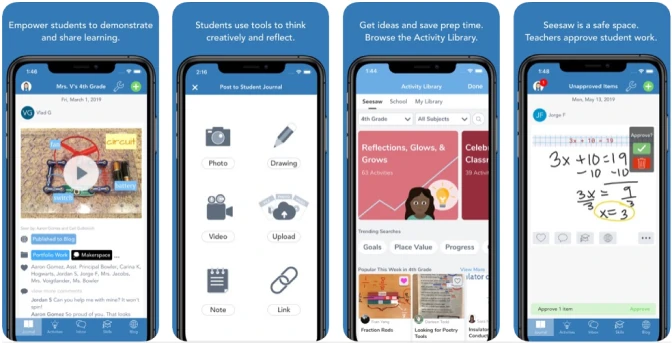 Seesaw is the self-described "best platform for empowering students to demonstrate and share their learning." Students can use the Seesaw app to show off what they have learned in the classroom. For instance, students can upload photos, drawings, videos, and notes to the app, signaling their mastery (or need for improvement) in a particular area. Upon using Seesaw, teachers can easily see what their students know and what they must reemphasize in the classroom.
Socrative Teacher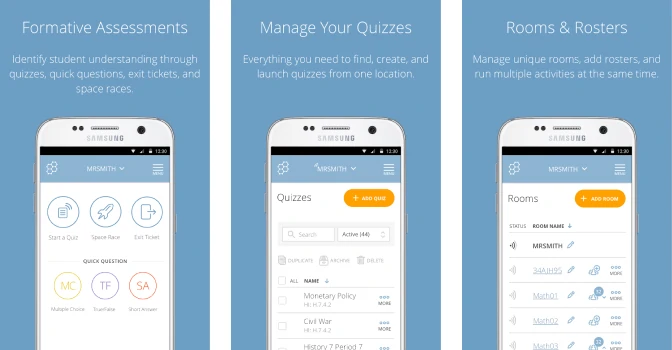 Socrative Teacher is a great tool that you can use to create technological interactivity within your classroom. With this app, you can create custom quizzes and distribute them to your students, create quick question polls, and even generate space races. Even better is the fact that Socrative Teacher quickly grades all assessments, saving you time and letting you see what your students know and don't know.
Google Classroom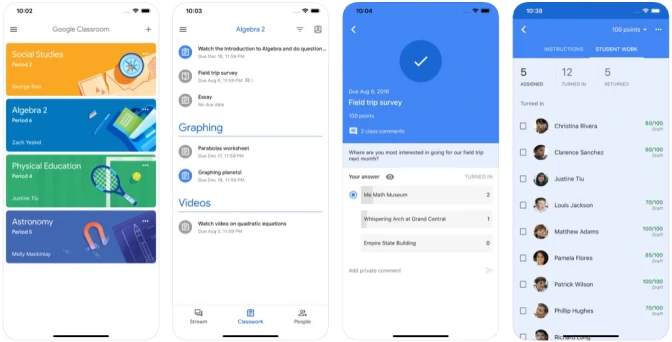 Google Classroom is an app used by elementary teachers and high school teachers alike. This app is extremely versatile. It lets instructors, students, and their parents easily connect outside the classroom. You can use Google Classroom to create, collect, and grade any type of assignment. With this app, you can also have a real-time look at who is (and isn't) completing their assignments on time. Ultimately, it is a terrific app that you should consider for your classroom.
Slack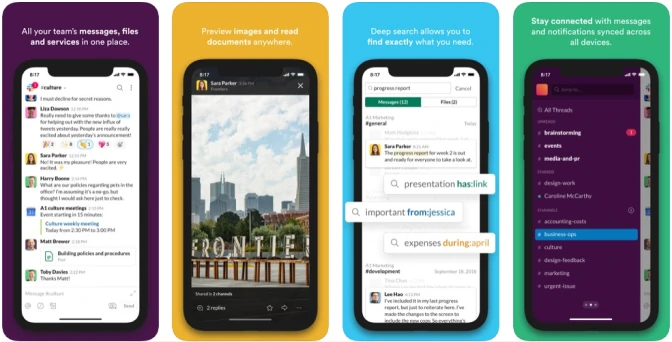 Slack is the well-known communications app that can help you and your classroom get more done. Not only can Slack help you and your students better communicate on certain projects or tasks, but it can be a central hub to communicate about virtually anything related to your coursework. Slack is intuitive and easy to use, so you and your students won't have any trouble communicating on the platform.
Doceri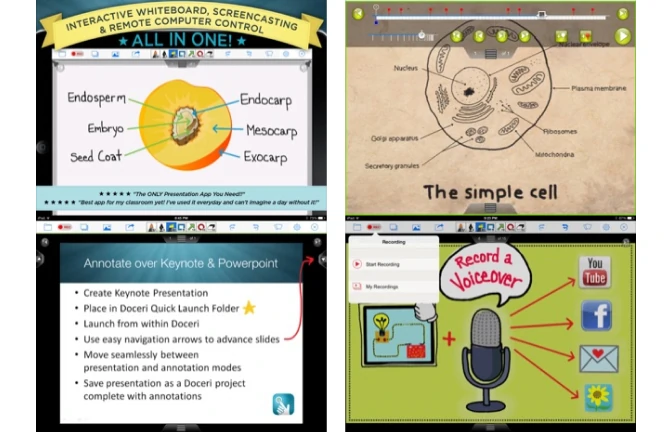 Doceri is an interactive whiteboard app that can help you deliver lectures to your class. With this app, you won't have to turn your back to your class when explaining a certain concept or topic. If you are delivering a PowerPoint presentation, for instance, you can use Doceri to annotate key points that you want to emphasize. You can also use Doceri to control a computer through your iPad, but this is an optional feature.
Make It For Teachers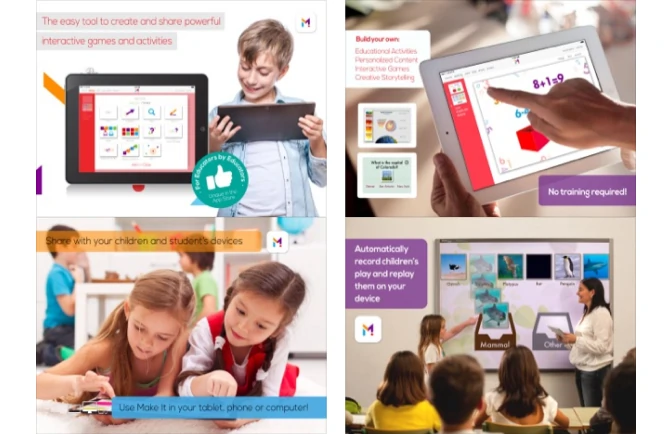 Make It For Teachers is a fun, effective app that lets you and your students create games, activities, books, and other projects. Once you or your students are finished creating, this app makes it extremely easy to share their creations with the rest of the class. Whether you want to design a fun classroom activity or have your students create and submit a project in one central location, you will want to check out Make It For Teachers.
ClassDojo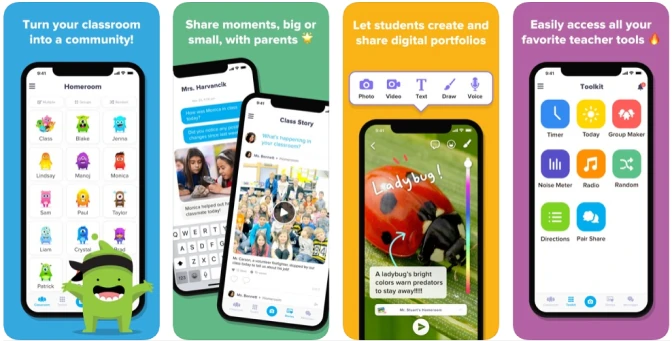 ClassDojo is a communications app that lets teachers and students communicate safely and securely. The app provides significant flexibility to teachers. Not only can teachers encourage students who are working on a skill or lesson, but teachers can easily communicate with any parent. As for parents, they are able to see their student's progress along with actual photos and videos from school. In sum, this is a great product that is specifically designed for instructors, students, and parents.
Edmodo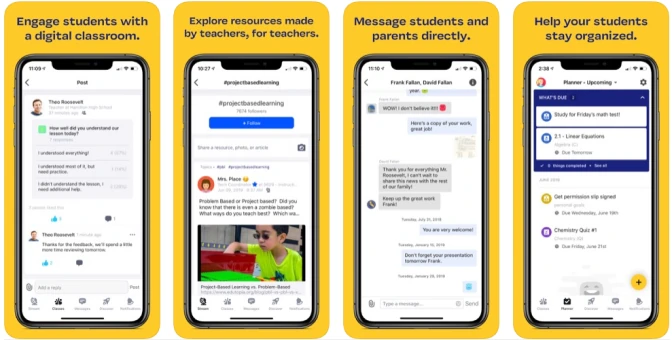 Edmodo is an education app that helps teachers engage with students in a digital classroom. Not only can teachers share lessons with their students on the app, but they can also keep parents updated on their students' progress and create a vibrant classroom community. Along with this, Edmodo offers many educational resources that you can incorporate in your classroom as appropriate.
Educreations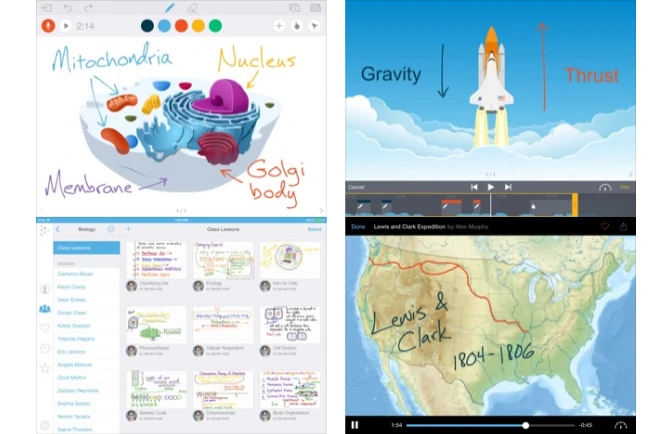 Educreations is another interactive whiteboard app that can be a vital tool when instructing your students. With this app, you can easily annotate or markup any type of content that you want to deliver to your students. In addition to simple whiteboarding capabilities, you can use Educreations to generate short instructional videos that can further explain a concept to your class.
StudyBlue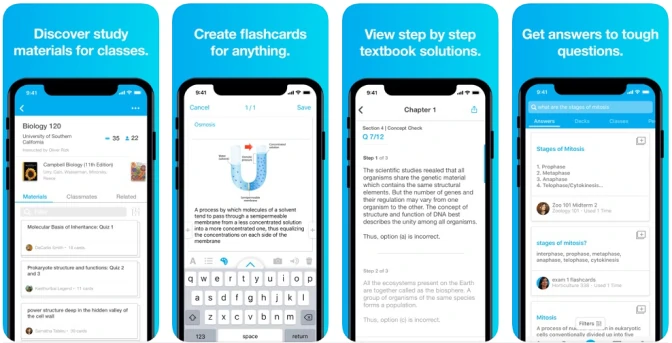 StudyBlue is a flashcards and study guide app that can help your students succeed in your course. With this app, your students can study the concepts in your course—regardless of where they are. In addition to generating and reviewing their own flashcards, students can quiz themselves and track their progress on learning a particular topic or concept.
Trello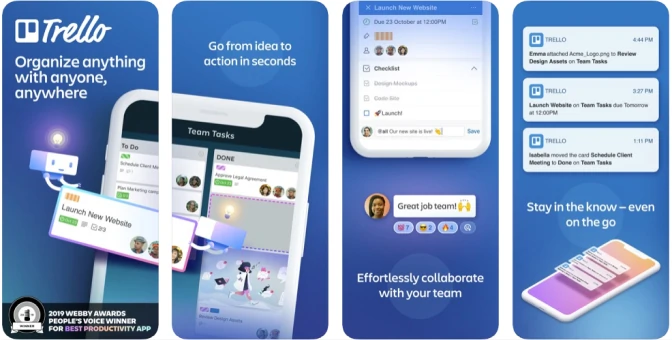 Trello is a popular app that isn't necessarily designed for the classroom, yet it can help you and your students get organized. With Trello, you can easily plan a new lesson plan or organize your thoughts as you are designing a final exam. Trello also offers a terrific mobile app so you can organize your thoughts or course content while on the go. If you have an iOS or Android device, you will be able to use Trello.
Animoto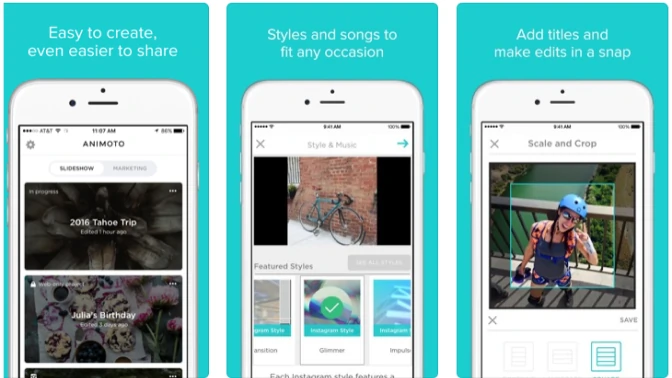 Animoto is an awesome slideshow maker that you or your students can leverage to make cool projects. Teachers can use many of the features in Animoto to create compelling visual content to explain a particular concept or idea. Students can also use Animoto when completing a capstone or other larger project. Ultimately, with Animoto, you can easily add music to photos and video clips, which can add even more personality to your creation.
Evernote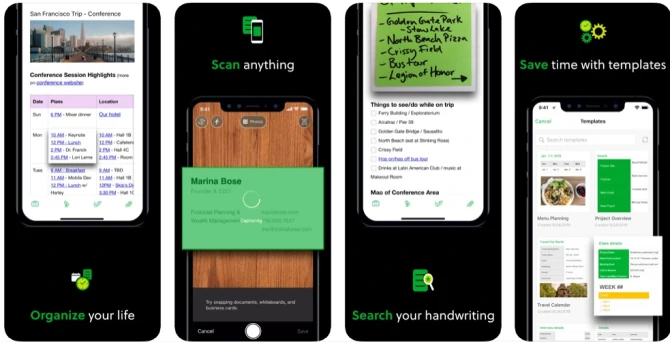 Evernote is a very popular notes and organizer planner that you can use to streamline your lesson planning. With Evernote, you can input typed notes or even scan handwritten notes into collections, which are easily searchable. Evernote also makes it easy to share your ideas, so you can closely collaborate with other educators as necessary.
Elevate – Brain Training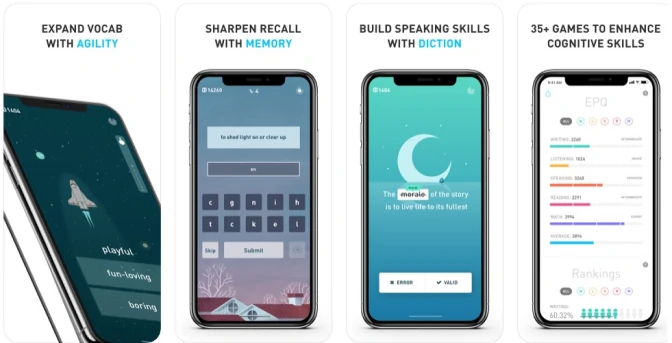 Finally, Elevate is a self-described "brain training" program that can help your students focus, improve their memory, and become better communicators. Elevate, which was selected as Apple's App of the Year, can improve your students' cognitive skills. The app also develops a personalized training program for users, making it one of the more interesting tools to help your students develop lifelong skills.
Start Learning Today
With any of the apps above, you will be able to significantly enhance the educational experience in your classroom. Whether you incorporate some or all of these apps, we are confident that you will be satisfied.
Along with the apps listed above, we invite you to check out Movavi Academic. Movavi Academic offers video technologies for effective classroom training. You can use these technologies to visualize instructions for a particular task, explain concepts more clearly, and instruct remote students. To learn more about how Movavi Academic can help you, please click here.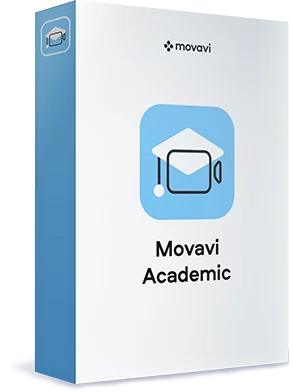 Movavi Academic
Enhance the learning experience
Explain new topics through video

Record lectures and webinars

Create online training courses

Design engaging classroom projects
See other useful how-to guides