Make your work life easier with Movavi Screen Recorder
Communicate effectively
Record video tutorials for colleagues and clients. Share your screen with remote co-workers and give feedback. Explain schematics and diagrams.
Be aware and everywhere
Don't miss meetings or business events. Capture online calls, video conferences, and webinars even if you're not at your desk.
Increase efficiency
Review code, design, or packaging. Create unique marketing content for emails and landing pages.
More about Movavi Screen Recorder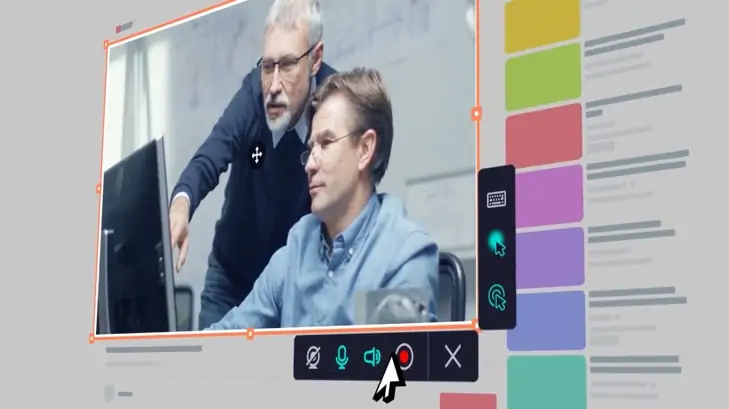 About Movavi
Movavi offers a wide variety of multimedia programs that help you have fun with your videos, music, and photos on any platform and any device. We develop easy-to-use and powerful software that inspires people to edit, enhance, and share their content.
Since its establishment in 2004, Movavi has grown from a startup run by a small group of enthusiasts to an international business with over 400 employees. Our ever-expanding range of products is sold in more than 200 countries.
What can we offer that others cannot?
Multiple-language support
The program is localized into 14 languages, so it's convenient for international teams to use.
Bundles
We're part of Movavi, so Screen Recorder has been developed in close collaboration with our other programs. You can buy any software bundle at a discount and solve multiple business challenges in one go.
Frequent updates
We are constantly improving and providing additional features in our program. With each new release, Movavi Screen Recorder gets smarter, faster, and more useful.
Use cases
Screen Recorder helps me to review bugs and present reports to colleagues. I have noticed that it's much easier to explain something with videos, GIFs and screenshots. Explaining with words can be confusing sometimes.
Yeah, for sure, I like Movavi Screen Recorder. It has a nice interface and high-quality output. And, what's more important for me, I have never needed to request help from their customer support, even though I've been using the program for 18 months already.
As the leader of an international team, I'm used to participating in dozens of online calls every week. If I didn't record them and have the opportunity to rewatch the most important discussions, I would go crazy trying to keep everything in my memory.
What do I like about Screen Recorder? It has an automatic time scheduler. Sometimes I cannot be in a meeting because of different time zones. With the program, I can schedule a meeting recording and keep track of events.
I work in an IT company. We have many remote workers – QAs, developers, customer support managers. I usually record interviews and then show the videos to team leaders to help them decide on candidates.
I chose Screen Recorder because of its simplicity. Click two buttons and I'm recording the screen. I didn't need to ask anyone to help me with installing or configuring the software.
Team

Contact sales to volume prices
Support
Support
None
Standard support
Premium support
Maximum number of users
Maximum number of users
1
1-4
5+
No watermark
No watermark
Screenshot editing
Screenshot editing
System sound recording
System sound recording
Webcam recording
Webcam recording
Editing tools
Editing tools
Share via social networks and upload to YouTube or Google Drive
Share via social networks and upload to YouTube or Google Drive
Export in Full HD
Export in Full HD
Customer support and money back guarantee
If you experience any technical problems, you can contact our Support Center. We also provide user manuals, video guides, and how-to's.
If we are unable to resolve your problem, you can get a full refund of your purchase price within 30 days. Read Refund Policy
Supported formats
Check out the full list of formats supported by Movavi Screen Recorder
Output
MP4, AVI, MOV, MKV, GIF, MP3, PNG, BMP, JPG
Tech specs
System requirements
Processor
Intel®, AMD®, or compatible processor, 1 GHz
Display
1024 × 768 screen resolution, 32-bit color
RAM
2 GB for Windows 7, Windows 8, and Windows 10
Hard drive space
280 MB available hard disk space for installation, 2 GB for ongoing operations
Disclaimer: Please be aware that Movavi Screen Recorder does not allow capture of copy-protected video and audio streams.