How to convert AVI to WMV with Movavi Video Converter
AVI is a popular video format that you can find today. Various Mac and PC users tend to save their videos in this format as the primary media players support it. But some users prefer to use WMV format for their videos. In that case, you will have to convert your AVI files to WMV. For this, you will need software, but what would be the right choice? You can use the online AVI-to-WMV converter for free – it's a great solution when you only have one single file to convert.
If you have multiple files to convert, the better option will be a desktop converter. Movavi Video Converter is a handy solution that you can use to convert AVI to WMV. Follow the below-mentioned steps to learn how to convert AVI to WMV with Movavi Video Converter.
Step 1. Install the AVI-to-WMV converter
Start by installing the Movavi AVI-to-WMV converter with free download. Download the installation file and install the program on your PC following the on-screen instructions. The software is easy to use and can help change video formats, like AVI to WMV, quite fast.
Click on Add Media that you can find in the top left-hand corner. Click on Add Video. Select one AVI file or as many as you want to convert to WMV.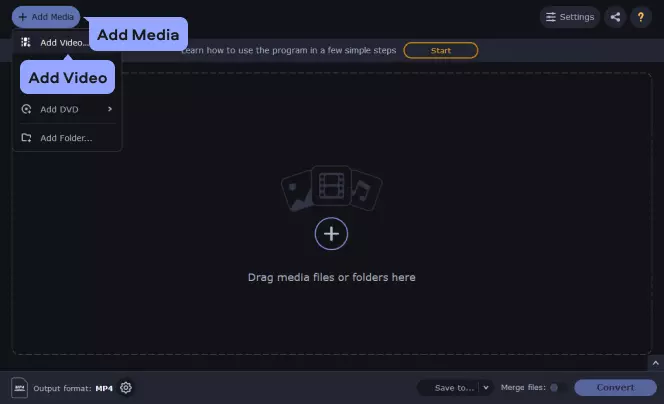 Step 3. Choose the output format
You will have to set the output form as WMV. To do that, click on the Video tab and click on the WMV category. Choose the WMV preset that meets all your needs, based on the resolution and codec you want. Keep in mind that the higher is the resolution, the larger will be the file size.
If you want to alter the advanced format settings, click on the Cogwheel. You can modify the settings and also save your own customized preset for future use.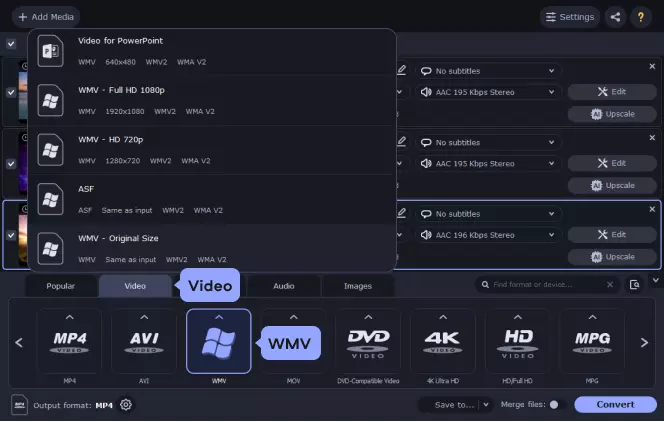 Step 4. Convert .avi to .wmv
Click Save to to select the folder where you will save the converted file. After you have chosen the desired folder, click the Convert button to convert from AVI to WMV. The process will start, and it will take about a few minutes. The time needed to convert the files depends on the files' size and the number of files.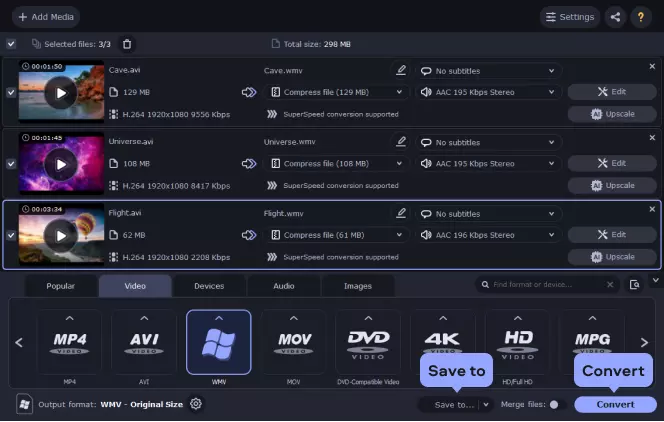 In case you do not want to get any extra software, you can also use the AVI-to-WMV converter online for free above. Here, you will be able to convert AVI to WMV online for free, and that too with just a few clicks. If you have only one file, you can use the online website. If you have multiple files to convert, opt for the desktop version.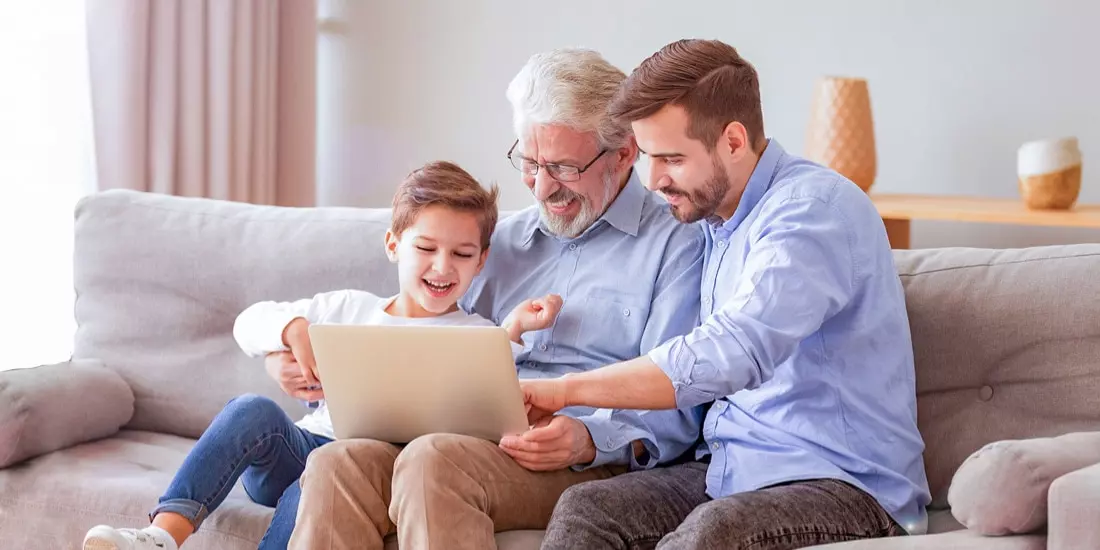 Movavi Video Converter
The ideal way to get your media in the format you need!
AVI vs. WMV
AVI or WMV – which one to go for? We will discuss the primary aspects of the formats so that you can have an understanding of both.
| Comparison parameter | AVI | WMV |
| --- | --- | --- |
| Definition | Audio Video Interleave | Windows Media Video |
| Description | AVI is a multimedia format that comes with the capability of having both audio and video data in the file container | WMV is a multimedia format that is popular for the compression of large videos into smaller sizes |
| Developer | Microsoft | Microsoft |
| Usage | Synchronized playback of video and audio file | Convert large files into small ones for easy online streaming |
| | | |
| --- | --- | --- |
| Pros | It can be played on any PC or using any media player | Small file size compared to the size of stored video information |
| Cons | Limited picture resolution | Linux or Apple players cannot play this format |
| Source | Open | Close |
AVI and WMV are both widely used for various purposes. If you want to compress the size of your video files, converting AVI to WMV is the best option. There are plenty of conversion options you can choose from: use an AVI-to-WMV converter freeware, an AVI-to-WMV converter online, or choose an advanced desktop program. There is a tool available to suit all your needs whether you look for a free AVI-to-WMV converter or a premium one.
Frequently asked questions
How do I convert AVI to WMV on Windows 10/8/7?
Converting AVI to WMV on Windows 10/8/7 is an easy task with Movavi Video Converter.
Download and install Movavi Video Converter on your PC.

Download Movavi Video Converter for Windows

Click Add Media, then Add Video to upload your files.
Select WMV as the output format.
Click on Convert, and the process will finish within a few minutes.
Which is better: AVI vs. WMV?
AVI is an excellent choice as it comes with the better video quality. But the size of the files is quite large. For online streaming, WMV is a better choice.
Can Windows Media Player convert AVI to WMV?
Unfortunately, you cannot convert AVI to WMV with Windows Media Player. For this, you can opt for a video conversion software like Movavi Video Converter for easy conversion of your files. You can opt for online conversion as well.
See other useful how-to guides
Sign up for news and special offers