How to Burn a DVD
Many people like to surprise friends on their birthdays with homemade movies or slideshows. The challenge is how best to deliver this special gift to the birthday girl or guy. The fastest way is to share the video on the web, but what if you don't want anyone else to see it? In this case, the best idea is to record a DVD, gift-wrap it, and give to the recipient directly.
Stuck for ideas on how to create a DVD? Try Movavi Video Suite. This multipurpose video processing software will guide you through each stage of making a birthday DVD – from video montage to creating a custom DVD menu.
Download Movavi Video Suite and Install It on Your PC
Download and open the distribution file. After the simple installation procedure, the program will open automatically.
Add Your Files to the DVD Burning Software
On the main program screen, go to the Data tab and select Burn disc. Note that the DVD burner is provided as a free downloadable add-on to the Video Suite pack. If you don't have the burner app installed, you'll be offered the opportunity to download and install it. After installation is complete, launch the app by choosing the Burn disc option one more time.
In the window that opens, go to the Video tab. Hit the button in the lower left corner and browse for the file or files you'd like to record to DVD. Our smart disc recording tool can read and write almost any type of disc and supports all popular video formats, so you can use it to burn MKV, MP4, MOV, WMV, and AVI to DVD, as well as burn ISO to DVD.
Check the blue line at the bottom of the screen; it shows you how much space the added videos will take on a DVD.
Set Disc Parameters
First type a name for your disc in the upper right corner of the program window. Then move your mouse cursor to the Mode section and select the type of disc. You have three DVD options to choose from: DVD, AVCHD DVD, and VIDEO_TS to DVD. Let's learn more about the difference between these options.
If you pick DVD, your video will be recorded on disc in MPEG-2 format, which is good for all types of DVD players.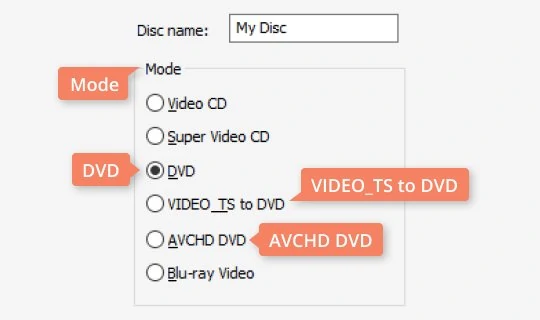 AVCHD DVD is a more advanced video format that provides better image and sound quality, but you may not be able to open it if you have an older DVD player. If you have a recent player and want to keep the original quality of an HD video, choose this option.
VIDEO_TS to DVD – this option will help you correctly copy videos from one DVD to another. Insert the disc that you want to duplicate and copy the content to your computer. Then return to the program and select the VIDEO_TS to DVD option. The program will locate your newly created folder and display the contents.
After choosing the disc type, move to the Options section where you can select the video standard (NTSC or PAL*), set the Quality preset, pick the appropriate Aspect ratio, and choose the disc type – standard or double-length.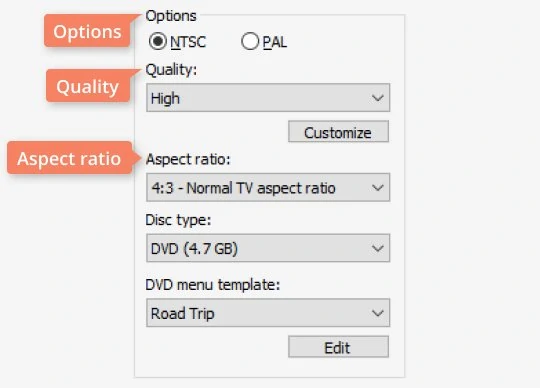 Create a Custom DVD Menu (Optional)
Add some atmosphere to your creation with a beautiful personalized menu! In Movavi Video Suite you'll find a default theme plus tons of free add-on styles.
To explore the available themes, expand the DVD Menu Template list, select Road Trip (this is the name of the default theme), and hit the Edit button. You'll be directed to the menu editing window, where you can check out the appearance of the selected theme and add intro music if you want.
For additional themes, visit our support page. After downloading and installing the theme pack, you'll need to restart the DVD writer app, so save your project by hitting the Save Disc button before restarting.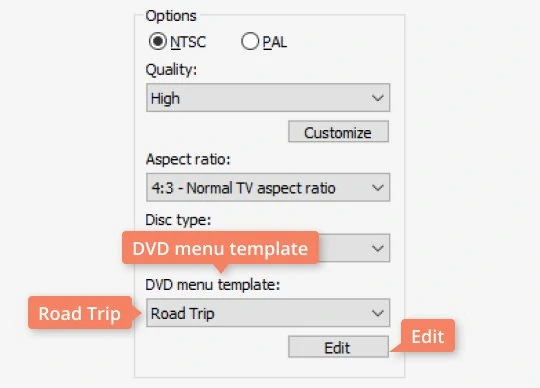 Burn Your DVD
Insert a blank disc (a new DVD-R or empty DVD-RW) into the drive and hit Burn Disc. In the window that opens, select the drive name (if you have multiple drives on your computer such as an internal and an external one), set the appropriate writing speed, and hit Next. Wait while the DVD recording is in progress, and in just a couple of minutes you'll have an unforgettable gift for your friend!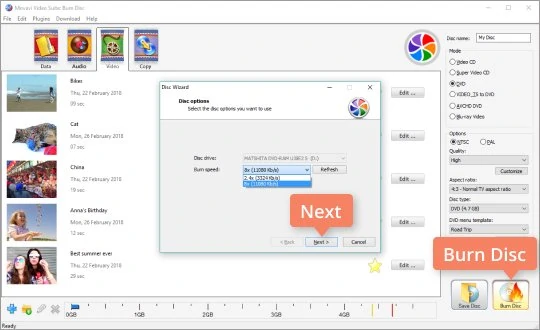 Now you know how to use the disc burning tool included in Movavi Video Suite to make video DVDs. But that's not all – you can also use it as a Blu-ray burner, MP3 audio disc writer, disc copier, ISO disc image creator, and more. But working with discs is just a small part of Movavi Video Suite. This powerful multifunctional program includes many essential apps for creating and processing video: video editor, slideshow maker, media file converter, screen recorder, and much more. Using these versatile tools, you'll be able to create your own movie or slideshow like a pro! Visit the product page to get more info.
* PAL and NTSC are different, incompatible analog video encoding formats and are used in different locations. PAL is the standard in most Western Europe countries, Australia and some African, South American, and Asian countries. NTSC is the standard in the United States, Canada, Japan, and certain other countries.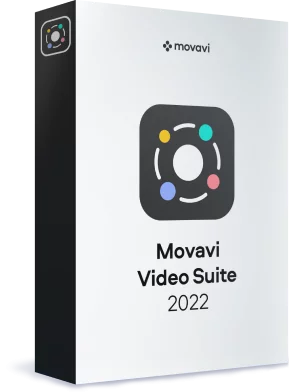 Movavi Video Suite
Everything you need to create and edit multimedia files
Edit videos and create slideshows

Capture screencasts or streaming web videos

Save videos for viewing on mobile devices

Convert media files and DVDs