Movavi Video Editor as a Powerful Program Like Windows Movie Maker
Despite the fact that it's free, Windows Movie Maker makes many users search for apps that provide a better choice of different options for creative editing. Another reason for users to look for alternatives to Windows Movie Maker is that this legendary app in no longer available for download. Alternatives to Windows Movie Maker include, for instance, Movavi Video Editor – another great video editing software that is much more than a mere equivalent of the popular Microsoft application.
In this review, we'll compare Windows Movie Maker 2012 and a program like Windows Movie Maker – Movavi Video Editor. The criteria chosen are as follows:
The interface of both apps is very simple and intuitive. Both present no difficulty in navigating through the menus and tools even for a zero beginner in video editing.
Input and Output Features
In terms of the supported material, however, the products begin to differ.
Comparison parameters
Windows Movie Maker 2012
Movavi Video Editor 2022
Support for most input media formats
Support for most output media formats

Video: only MPEG-4, WMV
Audio: only MPEG-4/AAC

✖

Support for most devices
Support for 4K video
Intel® Media acceleration
Windows Movie Maker allows you to save your files only in either of the two video/audio formats. This is considerably fewer than the number of options available in Movavi Video Editor. Unlike its competitor, the software by Movavi also lets you handle 4K video, which has recently started gaining in popularity. The ability to accelerate the processing via Intel® Media only adds to the advantages of this product.
The recording tools available in the two video editors also differ significantly.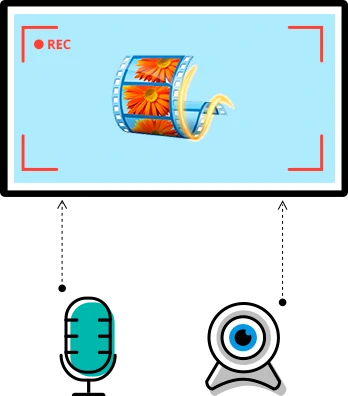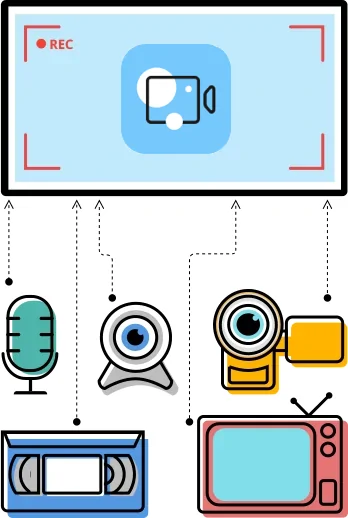 Movavi Video Editor once again offers a wider choice of options, compared to the Microsoft app. If you're only using a webcam for capturing video, there's hardly any difference between the two. In all other cases, you'd do better with Movavi Video Editor. It enables recording media output from an extensive number of devices like webcams, TV tuners, HD cameras, and more.
Comparing the editing tools in both programs shows roughly the same tendency.
Comparison parameters
Windows Movie Maker 2012
Movavi Video Editor 2022
Transitions and effects
FEW
MANY
Caption presets
FEW
MANY
Callouts
Stickers
Chroma key and animation
Footage adjustment (flip, crop, and rotate)
Sound adjustment and editing

Also, new features: noise removal and equalizer

✖

Splitting and trimming
Panning and zooming
Footage stabilization
Auto adjustment
Timeline mode
Mask & Highlight
Although the two apps are quite similar to each other in some respects, there are some differences in video-editing features. The set of features found in Windows Movie Maker is quite basic. Only a limited amount of effects, transitions, and title presets are available there, whereas Movavi Video Editor provides a lot more. Also, cropping is a feature for which there's no substitute in the MS software. The same goes for timeline mode, auto adjustment, mask and highlight, and callouts that are all open to the experimentation of Movavi Video Editor users. What's more, the Movavi program lets you get additional effects packs at Movavi Effects Store.
User support is where the difference between the products becomes even more pronounced.
| Comparison parameters | Windows Movie Maker 2012 | Movavi Video Editor 2022 |
| --- | --- | --- |
| FAQs and how-tos | | |
| Video guides and manuals | | |
| Email | | |
| Live chat | | |
| Forum/Community | | |
Windows Movie Maker lacks any official support in the form of manuals, how-tos, and video guides. And, as we said at the beginning of this article, Movie Maker is no longer available for download. Microsoft also states that websites offering to download Movie Maker for free may contain viruses, malware, or other unpleasant things.
The Movavi website has a variety of materials on various aspects of video editing and other useful functions of the program. Furthermore, Movavi offers an online chat service that's indispensable if you want to find a solution to a technical problem as fast as possible.


Microsoft
Windows Movie Maker
Movavi
Movavi Video Editor
One attractive advantage of the Microsoft program is that it costs you nothing. Meanwhile, Movavi Video Editor is priced at $74.95 , which seems reasonable for all the additional features you get.
In the end, if you're looking for alternatives, Movavi Video Editor can be a perfect replacement for your standard MS app. Try Movavi and you'll get:
Many more media formats to work with
Easy-to-grasp interface
Great deal of editing options and effects
Comprehensive help and support
Download Movavi Video Editor here and set up your own video editing studio in the comfort of your home.
System requirements: Microsoft® Windows® 7/8/10/11 with up-to-date patches and service packs installed (32 bit or 64 bit); Mac OS X® 10.13.6 or higher (64 bit).
Disclaimer: Please be aware that Movavi Screen Recorder does not allow capture of copy-protected video and audio streams.
* The free version of Movavi Video Editor has the following restrictions: 7-day trial period, watermark on the output videos, and, if you're saving a project as an audio file, an ability to save only half the audio length. Learn more