Best DVD Burners for Mac Users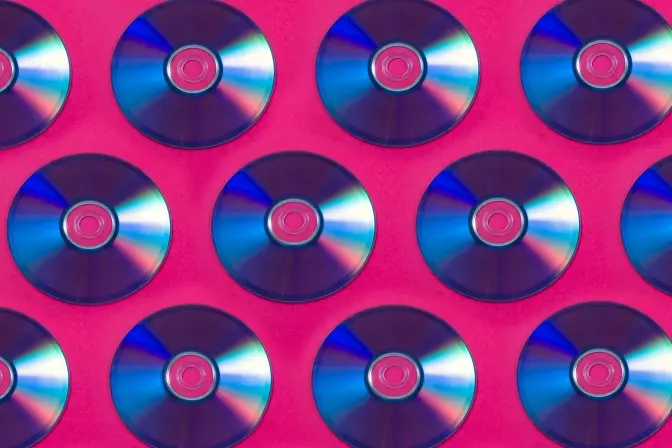 Although streaming video has become more common, DVDs remain a convenient method for creating a video that can be played on almost any TV. DVDs also offer a host of menu options that can enhance a video beyond what a mere video file played on a computer can. Burning those disks, and making the most of the powerful options that DVDs make available requires competent software.
DVD Burning Software for Mac
In this post, we'll take a look at the best DVD burning software for Mac. Some of them may be easy to use, others may offer powerful features, but all of them are worthy of being on this list for one reason or another. Because of that, the DVD burners listed below are presented in no particular order. Since everyone's needs and preferences are different, the best way to find the right product for you is to pick the ones that sound appealing, read the reviews, and download the software.
OS Support: Mac OS X 10.5 and up, Windows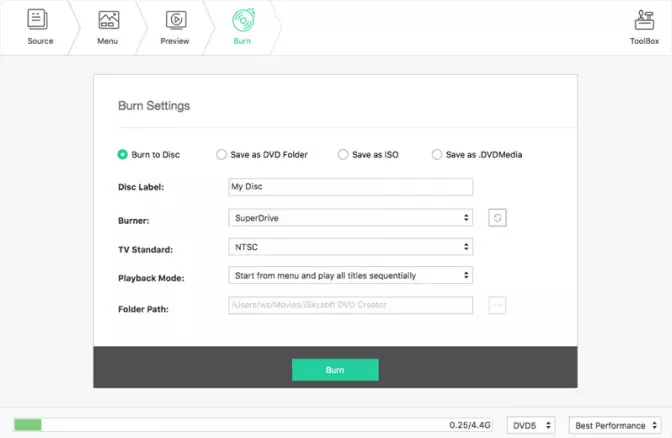 iSkysoft DVD Creator for Mac has a number of powerful features that go beyond simple burning of DVDs. You'll be able to create slideshows, add audio tracks, and craft a compelling menu from a selection of professionally designed templates. Before burning your video, you can rotate, crop, flip and adjust the color values in it. The program can burn your final DVD to disk, but it can also save it as a DVD folder or an ISO file for watching on a modern MacBook Pro or another computer without a DVD drive.
Pros
Templates make creating DVDs easy and quick.
Burning to DVD Folder and ISO frees you from the DVD drive.
Cons
Design options are limited if you want to stray from the templates.
OS Support: Mac OS X 10.9 and up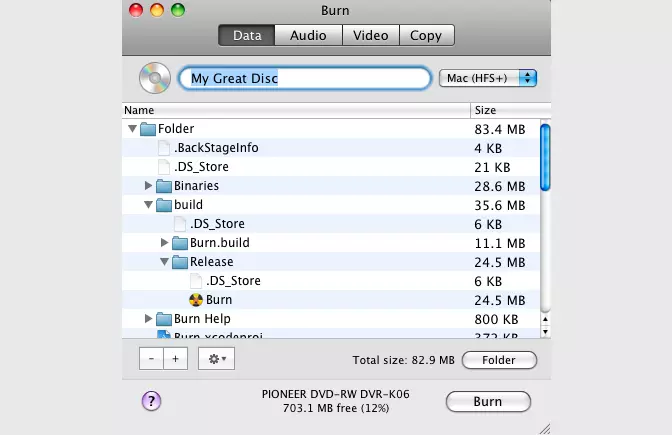 Burn can be used for authoring just about any kind of disk you'd like. In addition to DVDs, you'll be able to burn regular audio CDs, MP3 CDs, DVD audio discs, video CDs, and more. The software is available for Apple computers only, so if you have a Windows computer that you'd like to have the same software on, look elsewhere.
Pros
Free, open-source software.
Simple to use.
Cons
Not a lot of customization options.
OS Support: Mac OS X 10.5 and up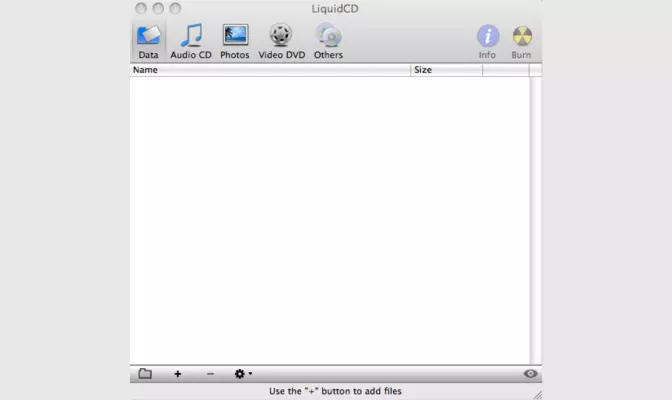 LuqidCD is a handy app to burn a DVD on a Mac. This piece of software is similar to Burn. They are both designed to be easy to use without the frills that would require a more complicated program. LiquidCD can burn to an impressive number of disk formats and read from almost any format you need it to. The software is free to use but is not open-source.
Pros
Can burn to a large number of formats.
Free.
Cons
Can be buggy at times.
Not a lot of advanced options.
OS Support: Mac OS X, Windows, Linux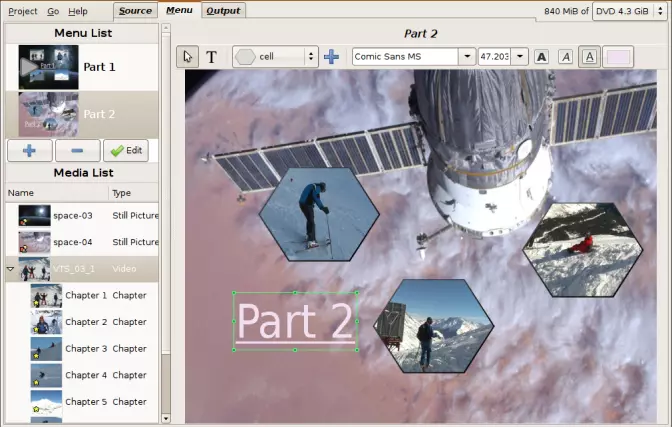 You won't find a download for OS X on the Bombono site but the open-source software compiles easily on Mac OS X if you are technically inclined. For that reason, we have not listed a minimum version number for OS X here. The software has a nice timeline viewer that makes editing your DVDs much easier.
Pros
Free and open source.
Features a simple timeline editor.
Cons
It must be built from the source code.
Not updated in a while.
OS Support: Mac OS X 10.10 and up, Windows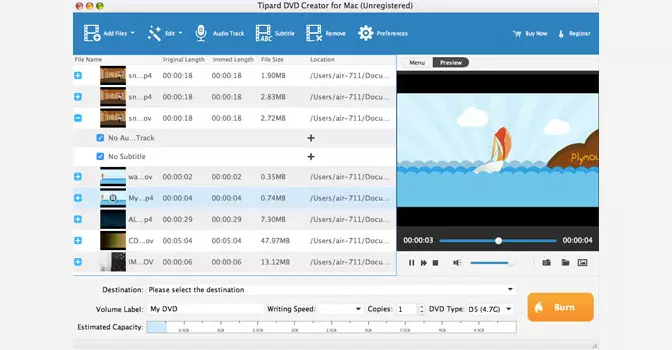 This DVD burner for Macintosh can read from all of the major formats and offers a nice set of features for customizing your DVD menus to look exactly the way you want them to. It offers a number of features for editing your video, such as the ability to trim, crop, change the color, or add background music to the video.
Pros
It has some powerful editing features.
Easy to customize menus.
Cons
Some videos compressed for DVD-5 can have poor quality.
OS Support: Mac OS X 10.4.3 and up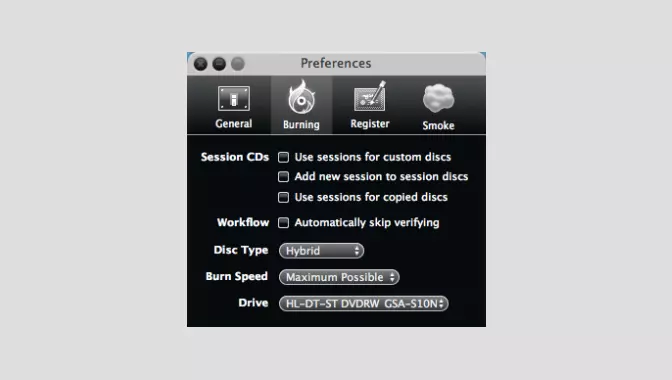 This is one of the more unique DVD writers on the list. It has a feature called discography that lets you search through all of the files that you have ever burned using the program. This can make Disco a key component in a backup strategy that involves burning your files to DVD. This software features an attractive interface. Disco is now free to download after being officially discontinued in 2011.
Pros
Free to use.
Unique 'Discography' feature allows for searching through all of the files you've burned.
Cons
Hasn't been actively developed since 2011.
Less powerful menu creation that some of the other options.
OS Support: Mac OS X 10.4 and up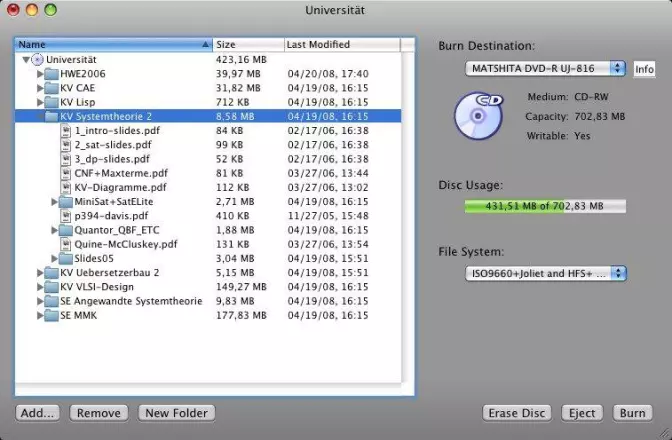 As the name implies, this older program is designed to be simple to use. Like many of the more simple options, it lacks some of the customization options that more full-featured software has. The software hasn't been updated in a while, but the author has mentioned that a new, 64-bit, version of the software is on the way.
Pros
Free and open-source.
Easy to use.
Cons
It hasn't been updated in a while.
OS Support: Mac OS X 10.1 and up, Windows, Linux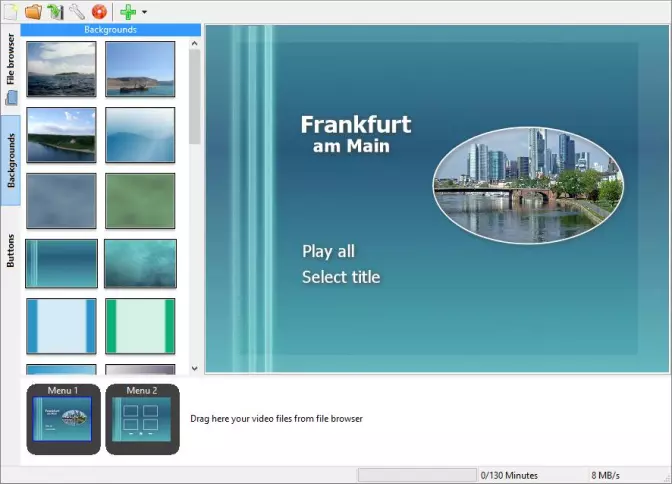 DVD Styler is an open-source program licensed under the GNU GPL license. The program is designed to make styling DVD menus easier, so it has a nice set of features in that area. You can create your own menu from the impressive set of tools or select one from a set of templates. When you install it from a binary, it will ask you to install an ad-supported toolbar, although you can opt-out of that.
Pros
Free and open-source.
Plenty of customization options.
Cons
Not as many features as some of the other options.
Asks to install a toolbar for ads.
OS Support: Mac OS X 10.5 and up, Windows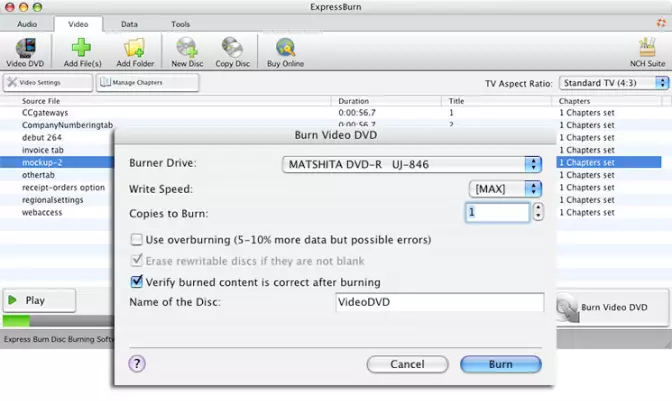 Express Burn has a free version available for non-commercial use, but it can only be used to burn audio CDs. The paid version allows for burning DVD though and has some nice features. It can burn to CDs, DVDs, or Blu-ray and allows you to create and manage the chapters for your DVD menus. For many tasks, the software features a simple drag and drop functionality.
Pros
It is easy to use.
It allows for chapter creation.
Cons
It cannot bypass copy protections when copying DVDs or Blu-rays.
OS Support: Mac OS X 10.11 and up, Windows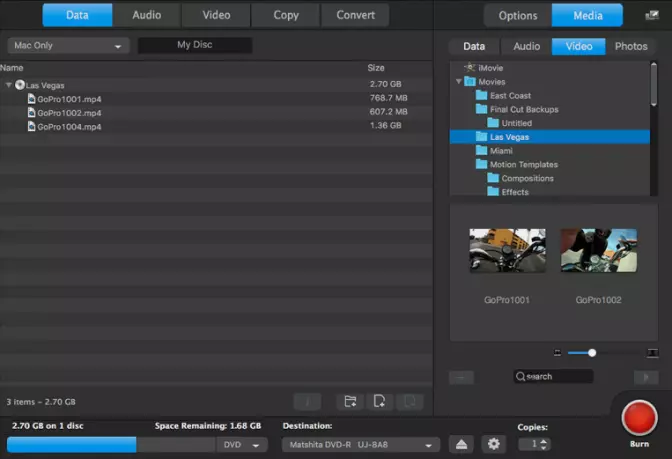 Roxio Toast is one of the most popular burn apps for Mac. It allows you to encrypt that data burned onto your discs using AES-256 bit encryption. It has features for capturing and editing video within the software itself to save you some steps. Toast also features the ability to recover lost files from damaged disks and will let you know what files could not be recovered.
Pros
More advanced capture and edit than other programs.
Powerful tools for creating menus and chapters.
Cons
More expensive than others.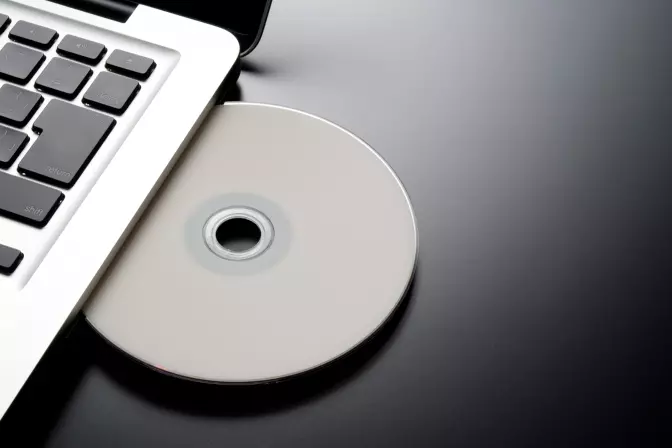 In order to craft the perfect video for burning, you'll need some fantastic video editing software. We invite you to download a free trial of Movavi Video Suite. The software includes a full range of video production tools, from a powerful video editor, to a screen recorder, to converter software that will ensure you always have the file format you need. Movavi's products are designed with the goal of achieving professional quality results while remaining easy to use.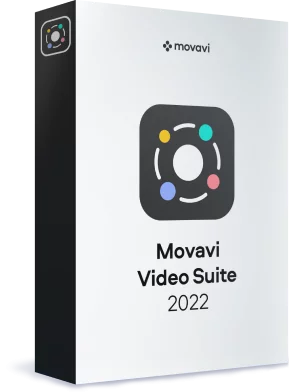 Movavi Video Suite
Everything you need to create and edit multimedia files
Edit videos and create slideshows

Capture screencasts or streaming web videos

Save videos for viewing on mobile devices

Convert media files and DVDs
* The free version of Movavi Video Suite has the following restrictions: 7-day trial period, watermark on the output videos, and, if you're saving a project as an audio file, an ability to save only half the audio length. Learn more
See Other Useful How-to Guides