How to Place a Watermark or Add a Logo to a Video
If you use video content to promote your business, you may want to add a watermark to a video or put your company's logo on it. Adding a logo can increase brand awareness, and watermarking will prevent copyrighted content from being stolen or misused. Movavi Video Suite will help you put a logo or a watermark on your video effortlessly, even if you are new to movie making and haven't yet learned how to watermark videos. This video editing software has a user-friendly interface and a wide range of functions, so it's suitable for both beginners and experienced video makers.
Download Movavi Video Suite and read the steps below to learn how to put a watermark or a logo on your video.
Install Movavi Video Suite
Download the software and follow the installation instruction on your screen. Launch the program after installing.
Add Video to the Program
Select the Edit Video option. Click Add Files and choose the video you want to add your logo or watermark to. You can also drag the file from its folder into the program window.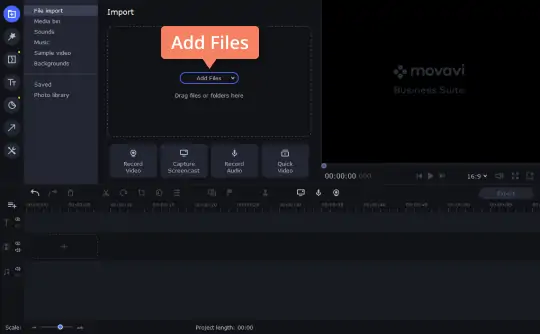 Add Your Logo or Watermark to the Video
Now it's time to upload your logo or watermark to the program. It's best to ensure the image you are going to use is transparent, unless you want it to appear opaque. You can use both static and animated images.
Add the file with your logo or watermark to the timeline. Now start dragging this file up until a new Overlay Track appears. Drop the file onto the Overlay Track, so that it appears on top of the video. By changing the position of the image clip on the Overlay Track, you can change when it appears in the video. To make your logo or watermark appear throughout the entire video, drag the right edge of the image clip to the end of the lower video clip.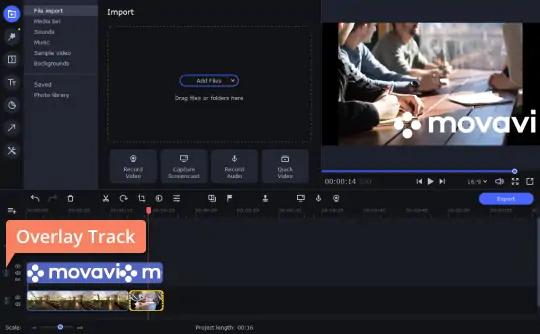 To edit the image, double-click it on the timeline. To the left of the player window, you'll see the open Clip Properties tab where you can change the position and Opacity of your logo or watermark, set the on-screen Duration manually, or add Fade in and Fade out effects.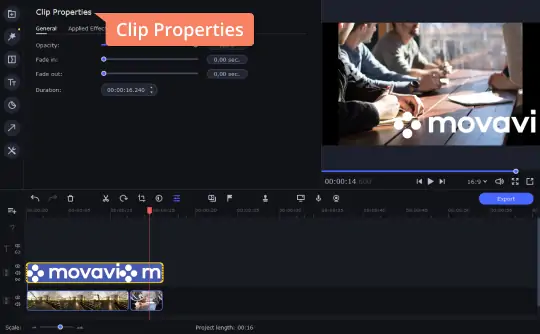 Save the Result
Once you are satisfied with the result, click Export. You'll see a new export window where you can choose the desired output format, set the file name and the folder to save it to, and select the quality of the output file. Finally, click Start.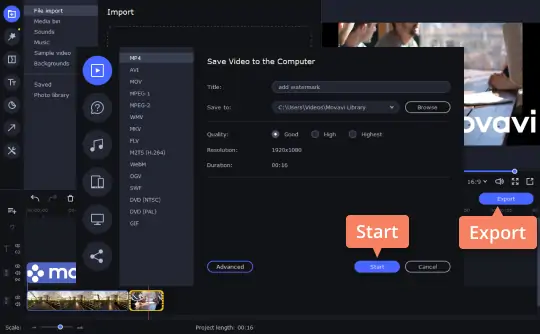 Now you know how to add a logo to a video as well as how to add a watermark in Movavi Video Suite. Try all the features and start creating high-quality videos for your business.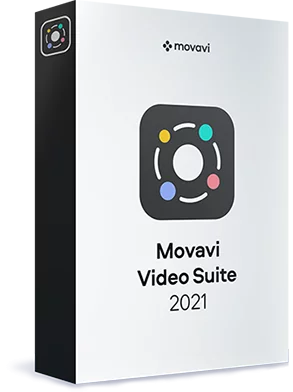 Movavi Video Suite
Everything you need to create and edit multimedia files
Edit videos and create slideshows

Capture screencasts or streaming web videos

Save videos for viewing on mobile devices

Convert media files and DVDs
* The free version of Movavi Video Suite has the following restrictions: 7-day trial period, watermark on the output videos, and, if you're saving a project as an audio file, an ability to save only half the audio length. Learn more