How to Change MP4 to MP3

MP4 or MPEG-4 is currently one of the most popular multimedia formats. Because of the optimum balance between video size and quality, MP4 is used for multiple purposes: encoding large movies or TV episodes, online video streaming such as YouTube clips, and even for audio files. However, not all media players support MP4, so you can't play these files on many devices, even if you only need the soundtrack. Luckily, there's a simple solution: convert MP4 video to MP3, the most widely used audio format. Besides, MP3 files are smaller in size so you can save a lot of space by converting video into audio.
Converting MP4 to MP3 is very easy. All you need is Movavi Video Converter for PC or Mac with support for almost all known media formats and many other benefits. Take any music video and easily turn it into an audio track. To learn how to do this the right way, take a look at our short step-by-step instructions.
Before you start, download Movavi's MP4-to-MP3 converter and try it completely free!
Install the Movavi Software
Once you have downloaded Movavi Video Converter, simply double-click the downloaded file to start the installation and follow the on-screen instructions. Wait a few seconds until the process is complete and then run the program.
Add Files for Conversion
Click Add Media and then Add Video (or Add Audio if you want to convert MP3 to MP4) to open the files you need to encode, and then add them to the program. You can also add the files by simply dragging them from their folder into the converter window.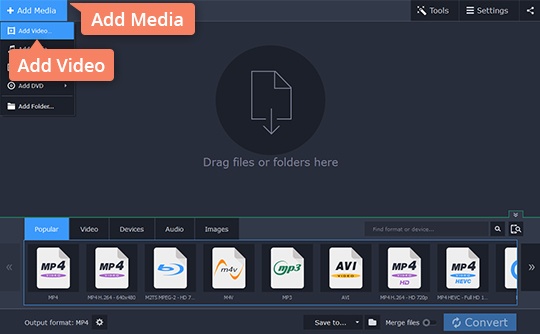 Choose the Output Format
Click Audio in the bottom part of the interface and find the MP3 preset group. Click it and choose your preferred bitrate options. Remember that the higher the bitrate, the better the quality; however, higher quality audio files will also take up more disc space, even with MP3 files.
In the converse case of transferring MP3 to MP4, switch to the Video tab and select one of the MP4 presets.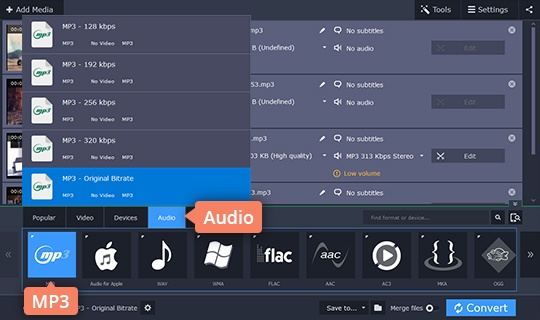 Set a Target Folder and Start the MP4-to-MP3 Conversion
In the Save to field, specify the target folder in which you want to save your files or they will be saved in the default Movavi Library folder. Click Convert to start the conversion. Once the job is done, the folder containing your music files will open automatically.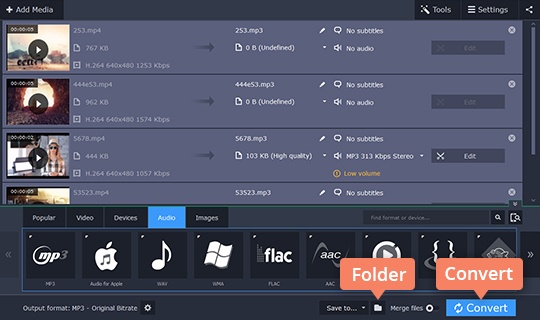 Now you know how to easily convert MP4 to MP3 with Movavi VIdeo Converter! But remember – you can always use the program as an MP3-to-MP4 converter as well, for uploading your audio tracks to YouTube or Facebook, as these platforms don't let you upload audio only files. What is more, Movavi Video Converter is able to change dozens of other media formats and save files for specific models of mobile devices including iPod, iPhone X, iPad Pro, Samsung GALAXY S9, and many more. Movavi Video Converter enables you to transfer video to 180+ file formats, save video for various devices, edit video in numerous ways with simple tools, and upload clips online using a built-in sharing app.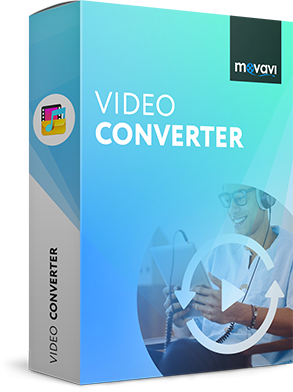 Movavi Video Converter
The ideal way to get your media in the format you need!
Convert video, audio, DVDs, and image files

Enjoy lightning-fast conversion without quality loss

Improve quality, adjust sound, trim and join files before converting

Save video and audio clips for easy mobile access
See Other Useful How-to Guides