Podcasts are popular, and if you're one of the many listeners, you may be wondering how to download them to your computer or mobile device. With so many options available, finding a suitable podcast downloader can be challenging.
This article will describe how you can download podcast episodes on your computer using Movavi Screen Recorder. We'll also talk about using a source for free podcast download on your computer while using podcast apps for downloading on your mobile device.
Read on to find out how to download podcasts to a computer, Android, or iPhone device.
How to Download Podcasts to Computer with Movavi Screen Recorder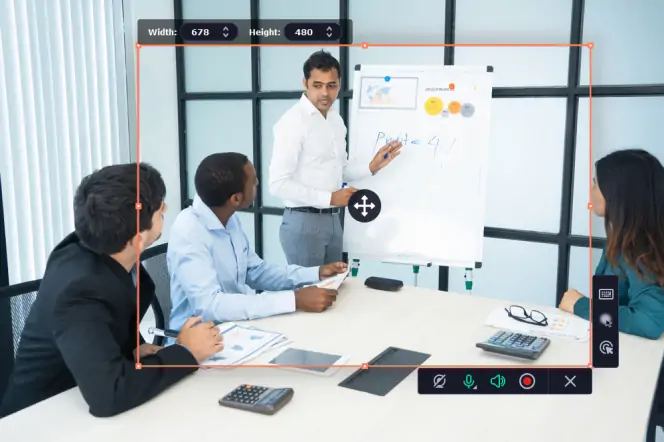 Best for: saving streaming audio on a computer, capturing streaming videos, webinars, and online calls
G2 rating: 4.5 out of 5 stars, 41 good reviews out of 44
Movavi Screen Recorder is an app for downloading podcasts to your Windows or Mac computer. The program will help you save your favorite podcasts to your computer or mobile device and enjoy them any time – while driving, walking down the street, or just spending time anywhere where there's no internet connection. Just download the program and read the guide below to learn how to download podcasts using Movavi Screen Recorder.
Pros:
Multifunctional
Fast and easy to use
User-friendly interface
High-quality output
Supports saving files in many formats, including all HDs
Fully-featured free version
Cons:
Watermark on the video in the free version
Step 1. Install Movavi Screen Recorder
Run the installation file and follow the onscreen instructions. To launch the podcast downloader, double-click the icon on your desktop.
Step 2. Set the Recording Parameters
Open the page containing the podcast you want to download. Then, click the Screen recording button on the program's sidebar and select a capture area.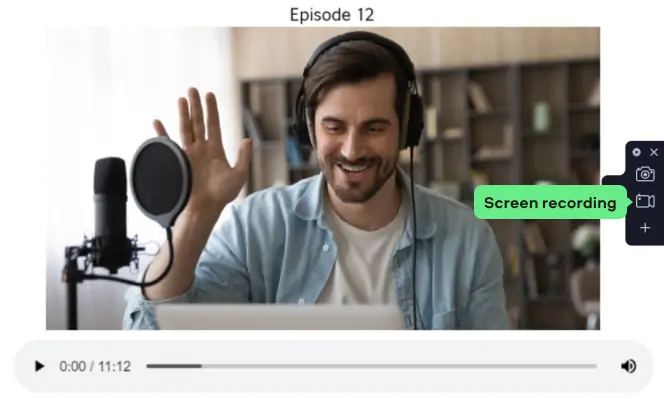 Make sure the System Audio is activated and the Microphone is disabled: this way, the podcast will be recorded, and no extraneous sound will spoil the clarity of the audio.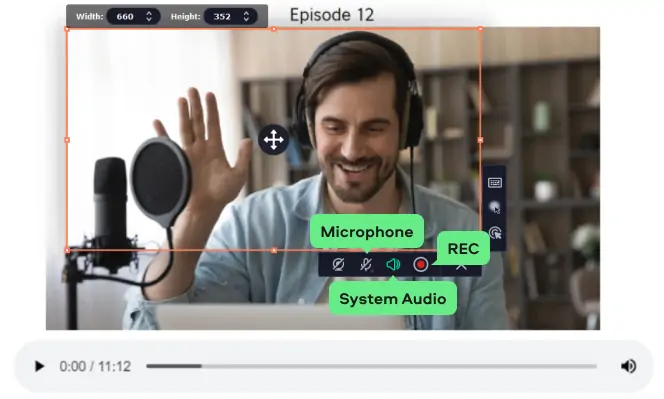 Step 3. Capture the Podcast Audio
When everything is ready, hit REC to begin and then start playing the podcast. Once you've recorded the desired segment, click Stop.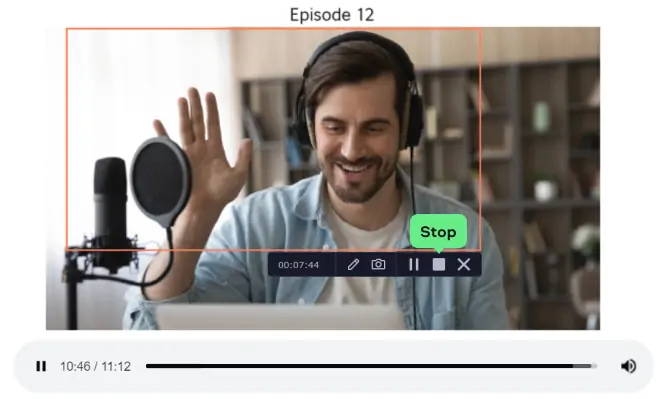 Step 4. Save Your Podcast
After clicking Stop, the podcast will open in a preview window. To save the podcast, click Export. In the new window, enter the file's name and choose the folder you want to save it to. Then select MP3 from the list of formats. Finally, hit the Save button.
And that's it! Now you know how to download podcasts to your PC or Mac computer. Find your favorite podcast, download MP3s, and enjoy listening to the best episodes while driving to work.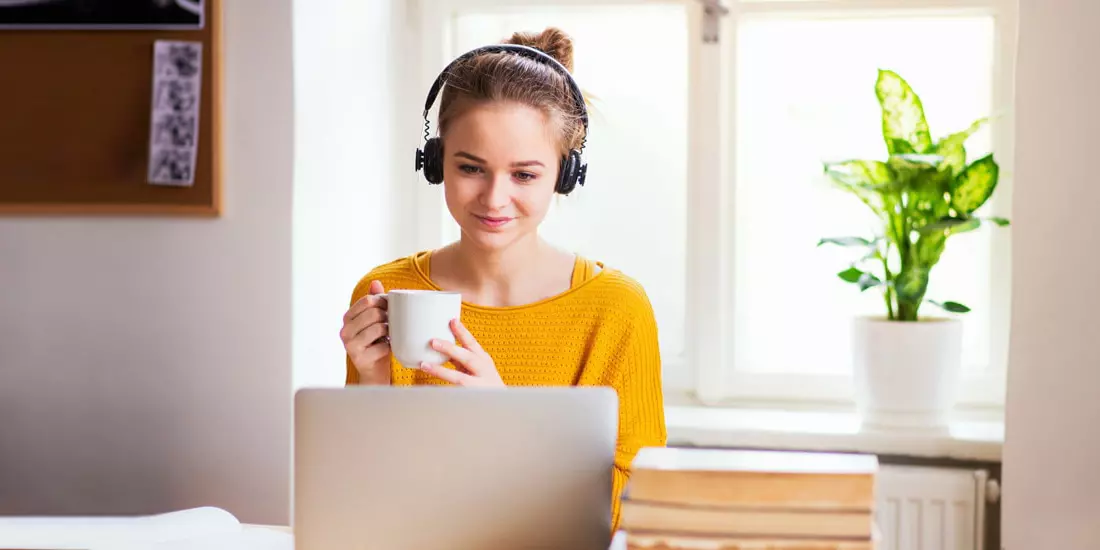 Movavi Screen Recorder
The perfect way to record from your screen
Disclaimer: Please be aware that Movavi Screen Recorder does not allow capture of copy-protected video and audio streams. Learn more
Best Podcast Downloaders for Android and iPhone
Finding the best podcast downloader for your Android or iPhone is not always that easy. Having the right software also means you can download and listen to your favorite podcast later. We've compiled a list of the seven top podcast downloaders for mobile users based on our personal views.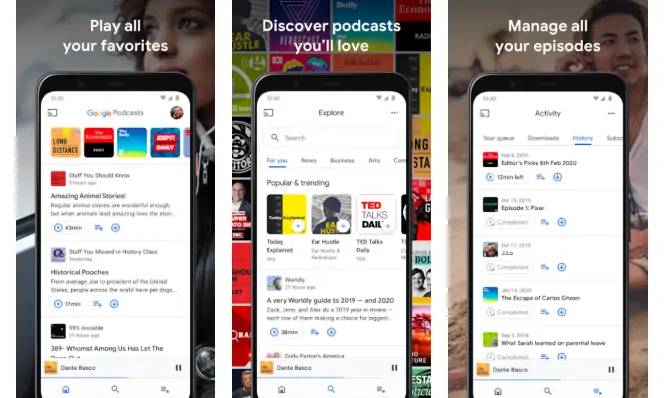 Best for: customizable listening experience, searching for favorite shows, free podcast download on Android, and an ad-free experience
Google Play rating: 4.7 out of 5 stars
Users: 400,000+ reviews, 50,000,000+ installs
With Google Podcasts, how to get podcasts on Android is no big deal! You can find all the podcasts you love, customize the way you listen to them, and listen to them no matter where you are. Managing your podcast listening experience has just become a whole lot easier with this app!
With millions of users installing this app, there's no doubt this company knows what their users want when downloading the trendiest podcasts. This app allows you to subscribe and listen to your favorite podcasts for free.
You can queue up episodes, keep track of all your downloads, and stream for instant playback or keep listening offline later. This app will give you recommendations of podcasts to listen to, and you can use Google Search and Google Assistant to find your favorite podcasts.
Pros:
Trusted by millions of users
Can be used on multiple devices (computer and mobile)
Easy to use
Multifunctional and free features
Customizable listening experience
Cons:
Low-quality interface
No swiping features for ease of downloading
No facility to save podcasts on SD
How to download podcasts with Google Podcasts
Step 1. Download the Google Podcasts App and Launch It
To get podcasts on Android devices, go to the Google Play app, enter "Google Podcasts" in the text box, and choose the app from the list. Tap Install and wait for the app to download. Then tap Open.
Step 2. Find the Podcast
Tap the Search icon in the top left corner, enter the name or the topic of the podcast, and tap Search on the keyboard. Find a podcast you like and tap to select it.
Step 3. Download an Episode
In the Available Episodes section, find the episode you wish to download and select it. On the next screen, tap the Download icon below the name of the episode.
The downloaded episode is now on the main interface page in the Downloads section.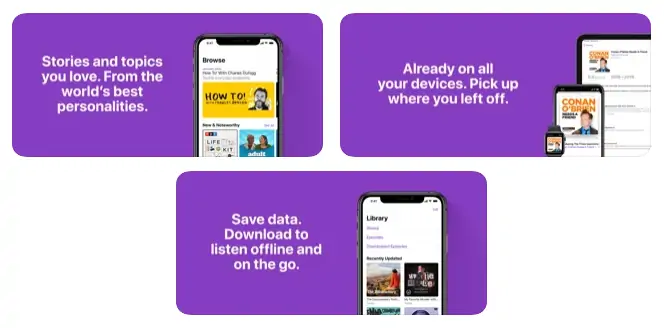 Best for: getting the latest recommendations on trending shows
Apple Podcasts can be used on all your Apple devices and is already available on your iPhone, iPad, and Apple Watch in the App Store. It allows you to listen to all your favorite stories and episodes for free. You can save all your data and download podcasts whenever you want to listen offline. This gives you the freedom to listen to your latest podcast wherever you are, at any time.
Search for free podcasts while exploring a wide range of stories from politics to entertainment, sports, and more. You can stream over 1 million shows and be notified when new episodes are available.
Apple Podcasts editors make your browsing experience easier by sending you recommendations on the most exciting and popular shows, keeping you up to date with the latest trends. Categories and collections curated by the editors are constantly updated.
Pros:
Download feature to Library saves on cellular data
Available on App Store for iPhone, iPad, and Apple Watch
All features free
Instant playback and downloadable for listening later
Cons:
Can't share snippets of episodes with friends
Few options available on playback
Doesn't have a password-protected feeds function
How to download podcasts with Apple Podcasts
Step 1. Download and Launch the Podcasts App
To get podcasts on your iPhone or iPod, go to the App Store and open the Search tab. In the text box, enter "Apple Podcasts" and tap the Search button. Then, tap Get. When the app has downloaded, tap Open.
Step 2. Find the Podcast
Go to the Search tab, enter the name of the podcast (or the topic) you're looking for, and tap Search. Tap See All and choose the desired podcast.
Step 3. Download the Episode
Scroll a bit down and tap Available Episodes. Find the episode you wish to save to your iCloud and add it to your Library by tapping the plus icon. To download the episode, tap the iCloud icon next to it.
To find the downloaded episode, go to the Library tab and choose Downloaded episodes. If you want to listen to the episode using a Mac, you can also download the iTunes podcast.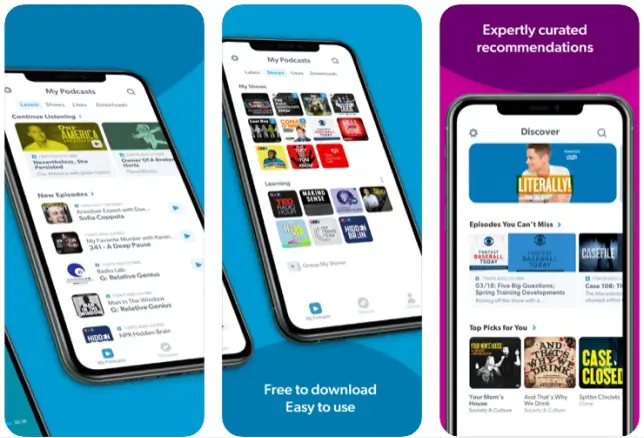 Best for: connecting on Bluetooth devices, customizable storage feature, and paid ads-free experience
Overall rating: 3.7 out of 5 stars
Users: 60,000+ reviews, 5,000,000+ installs
With over 5 million users, Stitcher is a popular podcast app for downloading your latest and most favorite shows. Plus, it's free and easy to use. Downloadable features allow you to pick up from where you left, so you never miss what's happening.
Storing features allow you to custom group your downloads, a nifty feature when looking for a particular show. Other customizable download settings will enable you to search episodes and filter, so you see what you want without the hassle. Fine-tuned playback controls let you listen at your speed too.
Stitcher also recommends the trendiest shows, helping you manage your time while ensuring you're updated on the latest podcasts. Install this app to your Apple or Android device from either App Store or Google Play. While it's a free podcast downloader, you can purchase Premium for ad-free listening.
Pros:
Multifunctional features for most devices
Queue up and rearrange episodes to personal preference
Connect on Bluetooth devices
Functional on web player
Ad-free experience on Premium
Cons:
Annoying ads on free mode
Best for: wide range of podcasts with over 95 million available content
Google Play rating: 4.7 out of 5 stars, 230,000+ reviews, 10,000,000+ installs
Castbox app allows you to download podcasts to Android and iOS devices, all for free. You can listen to over 95 million content whether you're using your Android or Apple iPhone. What's more, it's supported by Amazon so use it on your Alexa device.
If you want to listen while wearing your Apple Watch, turn on "Show App on Apple Watch," and you can hear your podcasts while on the go. Castbox even supports vehicles if you have Apple's CarPlay or Google Android Auto.
Whenever you're at your desk, listen to your favorite podcast on your web player while you're working. With over 10 million users turning to Castbox for easy-to-use podcast listening, you can be sure this app will work for your podcast downloads.
Pros:
Functional on a wide range of devices
AI recommendation engine for trending shows
Free streaming and download
Easy to navigate interface
Cons:
Ads interruption in free mode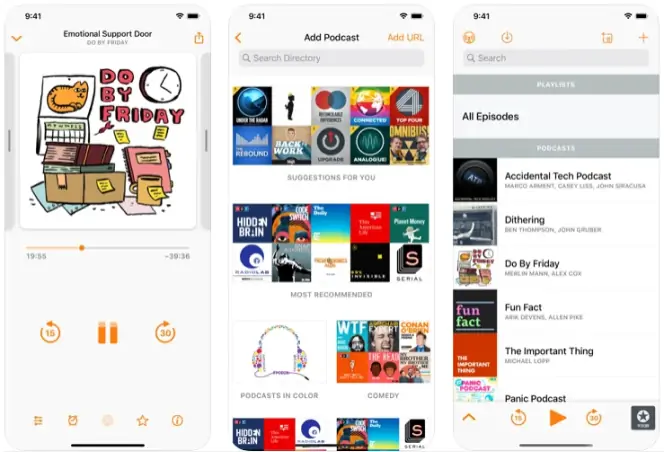 Best for: iPhone, iPads, and Apple Watch users, cheap ad-free experience option, and personalized recommendations
App Store rating: 4.7 out of 5 stars
Users: 25,000+ reviews
The Overcast app is designed only for iPhone, iPad, and Apple Watch users. It's a free app and simple to use. Its SmartSpeed feature means you never have to battle with annoying silences in talk shows. You can boost and normalize conversations with its Voice Boost feature, making it easy to listen whether you're in the car or using the subway.
The free mode does include ads, but you can download Overcast for $10 a year and listen with no interruptions from ads for a nominal fee. You can download and listen anytime, anywhere, even offline. It allows you to search and browse podcasts, plus it gives you personalized recommendations. You can create custom playlists and receive notifications of the latest episodes.
This self-funded, award-winning app with world-class privacy is an excellent option for listening to podcasts without compromising functionality.
Pros:
Sleep timer to automatically stop playlists
Supports Apple CarPlay
Simple and intuitive interface
Customizable and user-friendly
Cons:
Only available for Apple devices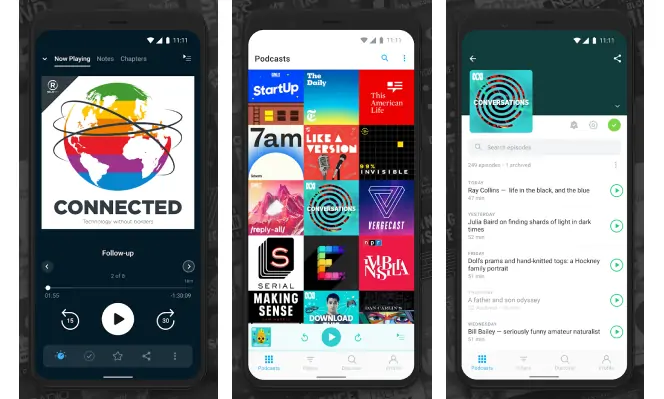 Best for: customizable features, smart speakers supported by Sono and Alexa, and tuning in on favorite topics in an episode
Google Play rating: 4.3 out of 5 stars
Users: 69,000+ reviews, 1,000,000+ installs
Downloadable, for free, on both Google Play and App Store, this app allows you to listen to podcasts on most devices. The interface is clean and intuitive, while the discover page features all the latest shows and curated lists.
Pick up where you left, any time, and with powerful filters, you can customize your top casts giving you the exact episodes you want to listen to. The Episode feature simplifies finding that one particular topic you're interested in. Another great feature is the automatic playback queue from all your favorite shows.
Pocket Casts app also supports smart speakers for Sonos and Alexa. Podcasts and playbacks can be synced across all your devices, making listening easy wherever you go. Auto Archiving makes it easy to store your downloads, and you can manage your playback speed.
Pros:
Easy to listen to and manage downloads
Supports Android Auto and Apple CarPlay
Volume boost without background interference
Optional notifications for new episodes
Cons:
Needs more advanced search features
Fewer playlists available on Up Next
No setting to schedule times
Not available for web player on free mode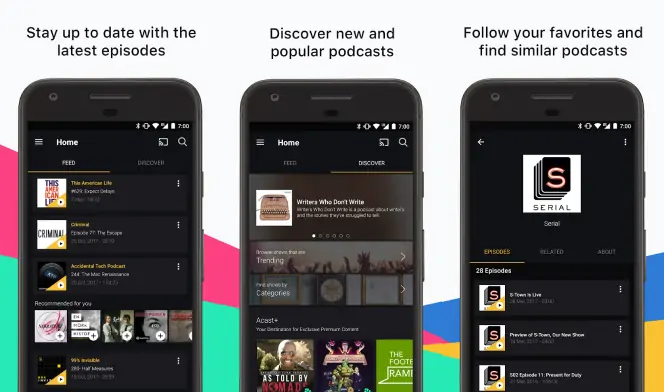 Best for: sharing features on Facebook and Twitter, automatic download of new episodes, and easy browsing features
Google Play rating: 4.6 out of 5 stars
Users: 16,000+ reviews, 500,000+ installs
You can download the Acast podcast app from both App Store and Google Play. You can also listen directly from your browser using this app. Enable notifications, and you'll be alerted when your latest episode has been downloaded to your device.
The app can sync all shows across all your devices, and you can pick up from where you left no matter which device you're using at the time. All podcasts are available on this app, meaning you can stick to your favorites or using the A1-powered recommendations to discover new shows.
You can stream podcasts using either your WiFi or data and save them for later whenever you're out of reception range. What's more, you can use your lock screen to hit play, pause, or skip episodes. If you like sharing snippets with your friends, then the Acast app allows you to do exactly that on Facebook and Twitter.
Pros:
Search and browse by category
Curated lists for new podcasts
Regular updates on favorite shows
Experience images and links embedded in audio
Cons:
Not as many podcasts available
Drains mobile batteries quickly
Free Podcast Download From the Source
Getting a free podcast download from the source is simple. Most podcast apps follow similar steps to downloading a podcast, using tabs for searching and finding trending shows and episodes. Search bars are also used to filter through different podcasts.
Using the tab button, you can subscribe to a podcast which saves you from downloading each episode. Depending on the app you're using, you would tap either on the + symbol or another checkmark next to the selected podcast.
You'll receive notifications whenever a new episode is available for download. You can do this by clicking on Download or Play displayed next to the episode's title. Some podcast apps automatically download episodes when the settings are turned on for this feature.
Frequently Asked Questions
Where can I download podcasts for free?
There is a wide range of podcast apps available for downloading your favorite shows and episodes. You can use either App Store for iOS or Google Play for Android, depending on the device you are using. These apps allow you to download and manage your podcasts automatically.
Are podcasts free?
All podcasts are free as long as you have access to the internet. These free audio programs can be downloaded to your preferred device using one of the many podcast apps available. Most apps are free with the option of paid packages for an ad-free experience.
How do I download a podcast to my iPhone?
To download a podcast on your iPhone, open Podcasts on your device. Use the Browse tab to find your shows and episodes. You can also use the Search tab. Tap the shows you like and click Subscribe.
Move it to your Library. Here, select the podcast or Available Episodes you want to download by clicking on the plus symbol. When this symbol changes to a cloud symbol, press and hold. Choose Download Episode from the pop-up menu and wait for the podcast to download to your device.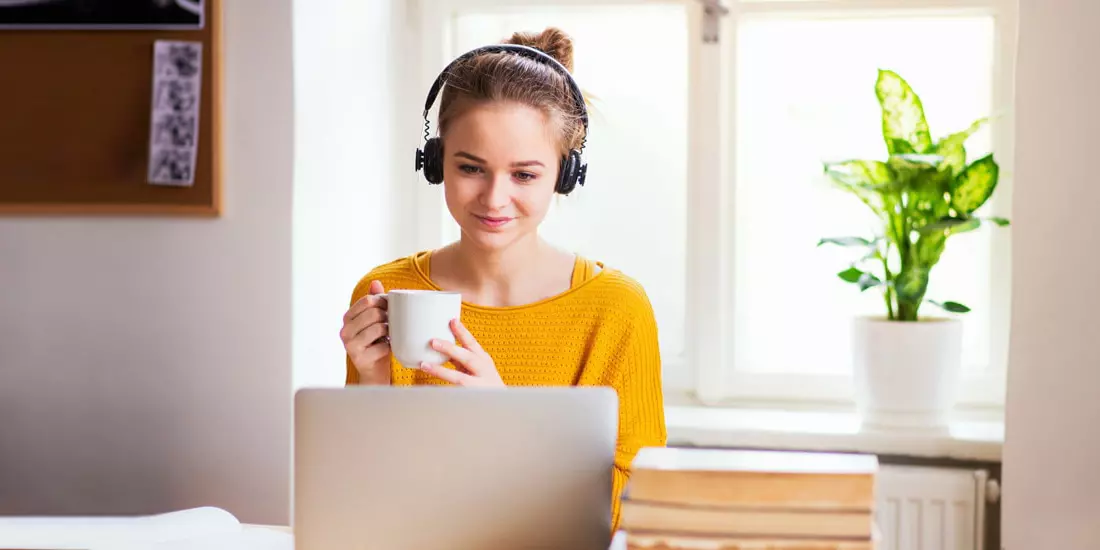 Movavi Screen Recorder
The perfect way to record from your screen
Disclaimer: Please be aware that Movavi Screen Recorder does not allow capture of copy-protected video and audio streams. Learn more
Sign up for news and special offers