How to Start a GoToMeeting Recording
The process of GoToMeeting recording is not much different from any video recording. You can easily capture live webinars on Windows or Mac, save the files in a convenient format, and share the recorded GoToMeetings with colleagues and friends.
In this article, we'll explore four common ways to start a GoToWebinar recording on PC or Mac. Let's start with Movavi Screen Recorder – it's an advanced program with a wide range of settings, high-resolution video recording, and a screenshot capture function.
Benefits of Movavi Screen Recorder:
Works on both Windows and Mac
Offers advanced recording settings: automatic scheduler, specific cursor and keyboard effects, simultaneous recording of separate streams, etc.
Lets you take screenshots during the capture and edit them right in the preview window
Provides high resolution recordings
Includes built-in tips on how to use the program, so it's easy to start recording without spending time learning functions
Let's have a look at Movavi Screen Recorder in use.
Step 1. Download the Program

Download Movavi Screen Recorder for WindowsWindows or MacMac. We recommend you to start with the free trial version.

Step 2. Adjust the Capture Parameters

Launch the program and customize the recording settings. Start with the Settings menu – here you'll find options for scheduling, shortcuts, keystrokes, video and audio formats, etc.

Then return to the main control panel. What's your role in the webinar? If you're a presenter, don't forget to enable Webcam and Microphone. As an attendee, you just need to turn on System Audio to grab the internal sound and turn off Microphone to block external sound.

Step 3. Record the GoToMeeting Session

Are you ready to start recording? Press the REC button, then sit back and enjoy the meeting.

We'd like to remind you that you can take screenshots during the recording process without stopping the video. To take a screen capture, click on the Screenshot icon.

Step 4. Save the Result in Any Format

Using Movavi Screen Recorder, you don't need to convert GoToMeeting recordings. Just choose the most appropriate format for your needs in the preview window.

When you're done, click on the Save button. You can also share the file with others by uploading it directly to YouTube or Google Drive, so others can easily download the GoToWebinar recording.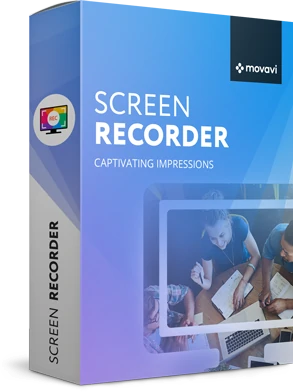 Disclaimer: Please be aware that Movavi Screen Recorder does not allow capture of copy-protected video and audio streams.
Movavi Screen Recorder
Capture video from your computer screen

Grab sound from multiple sources

Use the simple editing tools to make your recording perfect

Save videos in any popular format
Disclaimer: Please be aware that Movavi Screen Recorder does not allow capture of copy-protected video and audio streams.
Record a GoToMeeting Session with the Built-In Function
The obvious way to get a GoToMeeting recording is to use the built-in option in the program itself.
Pros:
You don't need to download another app.
You can grab audio and video simultaneously.
You can record meetings online and save them directly to the cloud without having to spend time uploading.
You may ask – why would I need to install another recording application if GoToMeeting already has this function? The answer is in the program's limitations.
Cons:
Recorded videos are often spoiled by intermittent blank screens.
The size of recordings is often too large for your local drive. If you have less than 100MB of free space on your hard disk, the recording will stop automatically.
There's no option to convert video to MP4 or other format. You'll have to spend time downloading a converter or do an online conversion.
Give the native recording function a try anyway. If it doesn't work for you, turn to one of the alternatives described here.
Another Alternative to Record a GoToWebinar for Free
Last but not least, there's one more popular grabber – CamStudio. It's a handy free tool for creating video and audio recordings, and there won't be any problems with the resolution of your recordings or file size limitations.
But, as with any software, CamStudio also has some disadvantages:
Not compatible with macOS
Complex recording settings
Unintuitive user interface
No editing tools available during recording
To sum up, these are the three main approaches to how to record GoToMeeting sessions. We recommend you start with the built-in function. If it doesn't meet your needs, try Movavi Screen Recorder for free.
How to record a GoToMeeting Session on Android
If you're wondering how to record a GoToMeeting call on your Android device, try Mobizen Screen Recorder. Install the app from the Play Store and follow the instructions below.
Step 1. Launch the App

To open the program from the Play Store, tap the Open button. You can also tap the screen recorder icon in the app drawer. The recording widget will appear in the upper right of the screen.

Step 2. Start the Recording

Open the GoToMeeting app. It's better to start recording before you join the meeting, so you don't miss any information. To do this, tap the recorder's floating icon, then touch the Record button. The recording will begin after a three-second countdown. After that, join or create your meeting.

Step 3. Finish and Save Your Recording

If you want to pause the capture at some point, touch the recording widget and then tap the Pause button. When you are ready to stop recording, tap the widget again and then touch the Stop button. Mobizen Screen Recorder will save the recorded video to your Android gallery.

To sum up, these are the four main approaches to recording GoToMeeting sessions. We recommend you start with the built-in function. If it doesn't meet your needs, try Movavi Screen Recorder for free.