Radio has been used commercially since around 1900. But that doesn't mean you have to stick with the old-fashioned method of listening to it. Have a show you like? You can make it your own without writing to a radio station for a copy anymore. Tools to record radio streams are becoming more user-friendly and available all the time, and we've compiled a list of the best 10 to consider. We're sharing different types, so if you need desktop apps, online tools, or browser extensions, you'll find it all here.
Some of these tools also work for creating your radio shows. You can be the next online radio hit.
Desktop Apps to Record Radio Stations Easily
Picking your ideal tools is all about your habits. Since many of us now listen to radio online, you need a recorder that easily records clear sound while you're busy on your PC. Of course, this is only relevant for those who listen on their PCs, not on an entertainment system in the house.
Best for: Recording video
G2 rating: 4.5 stars, 44 reviews
Yes, this is a screen recorder, but it's effective for capturing audio too. Movavi is also a very dynamic option since you can pick one of many output options after recording. MP4, AVI, MOV, MKV, GIF, MP3, PNG, BMP, and JPG are all supported. For example, if it's a podcast you're recording, use an image of the host as artwork to help organize your files on your PC.
Movavi supports over 10 languages, and there's a free version available. You just have to accept features like having a watermark over any video you record.
Updates to the software come free, and you'll see how easy it is to use when you start. With tips embedded across the layout, simply use your cursor to have them pop up and guide you.
How to Record Radio on Your Windows and Mac Devices
Step 1. Install Movavi Screen Recorder
You can download a version for free, and you simply follow the instructions on the screen.
Step 2. Set Your Parameters
You can start the radio broadcast or other source of video and audio on your desktop. Also, launch Movavi software. You need to pick Screen Recording on the screen's right and position your cursor on the window or tab you want to capture the radio audio from. If required, you can change target areas later on.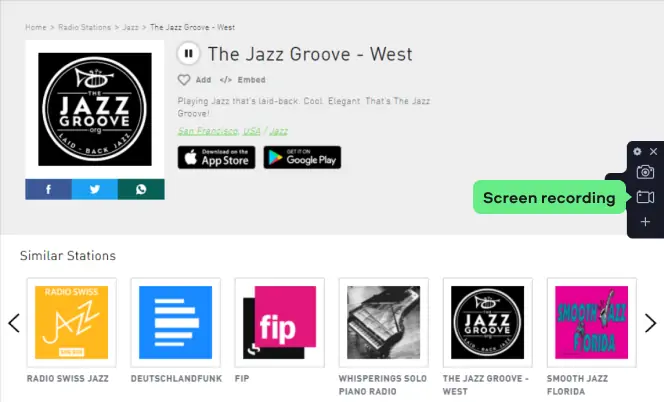 You need to highlight icons for System Audio and Microphone. This allows you to record both your sound and that of the radio source. You can pick a device for recording by expanding the menu above the Microphone icon.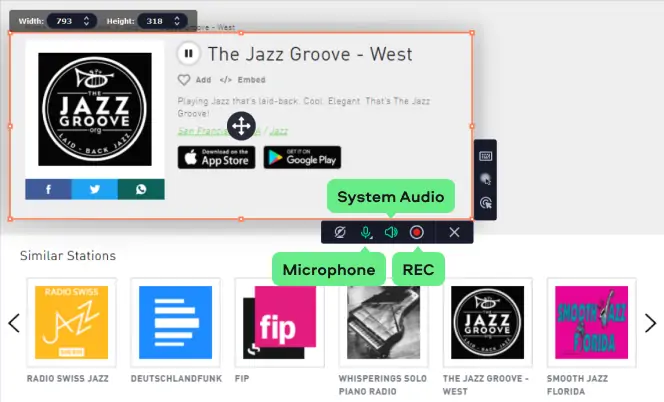 Start the recording by clicking the REC button. Handy features from Movavi include the ability to pause a recording. To control Mac functions, use the control panel's buttons or ⌥ ⌘ 1 and ⌥ ⌘ 2 for pause and stop, respectively. On a Windows operating system, you'll use F9 for pause and F10 to stop recording. Movavi automatically saves in MKV format in a default folder on your computer. It also opens a preview window. Now you can continue with converting and editing if needed.
To perfect your recording, you can cut unwanted segments. Simply use the timeline and the Scissors button. Place the marker at the place on the timeline where the recording must start and end.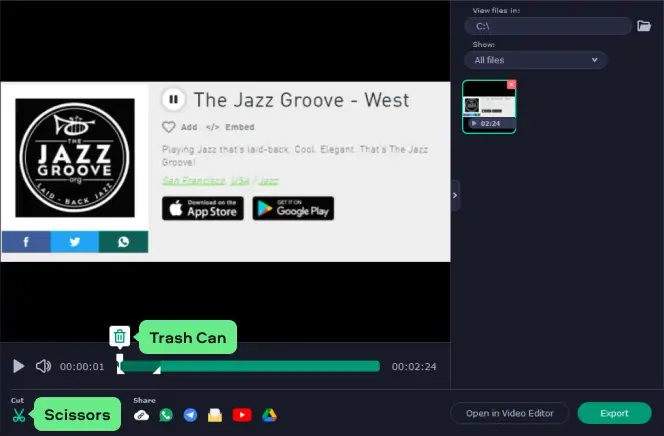 You can send isolated segments to Trash Can while the wanted version you can Export.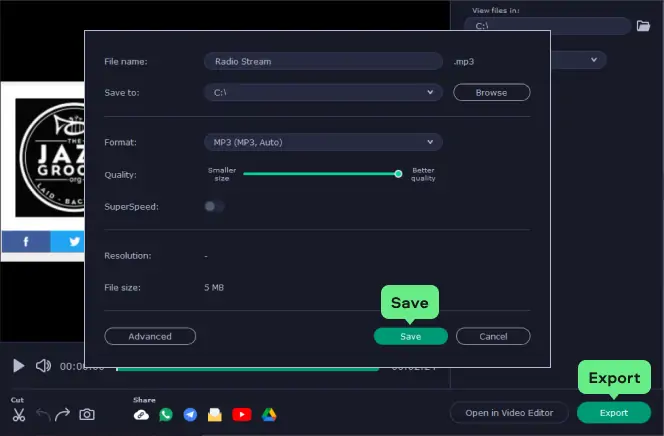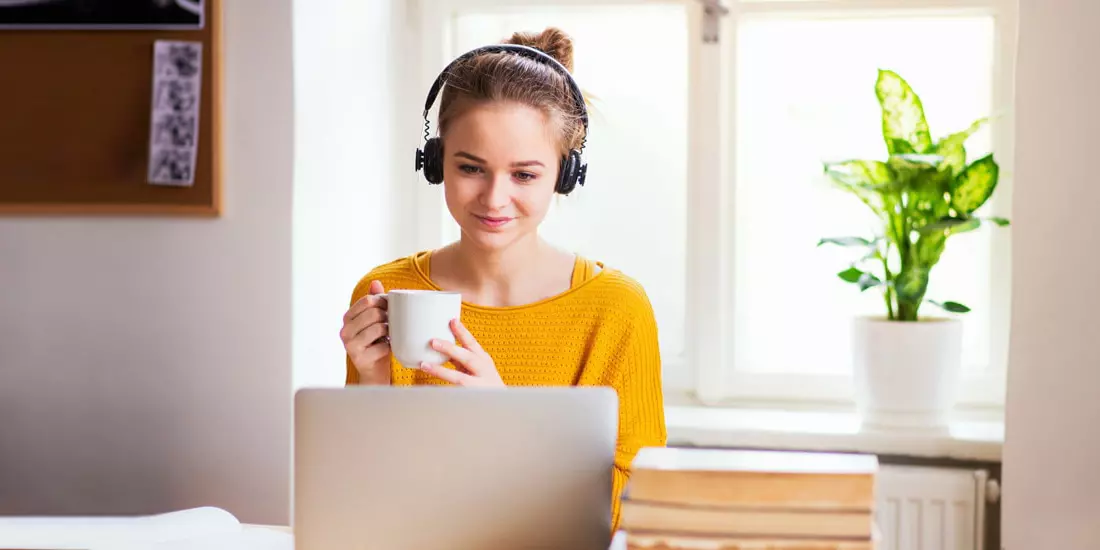 Movavi Screen Recorder
The perfect way to record from your screen
Disclaimer: Please be aware that Movavi Screen Recorder does not allow capture of copy-protected video and audio streams. Learn more
Online Tools to Record Live Radio
Online tools make sense to use when you're listening to online radio stations. Of course, for this, you'll usually need to be connected to the internet for it to work effectively.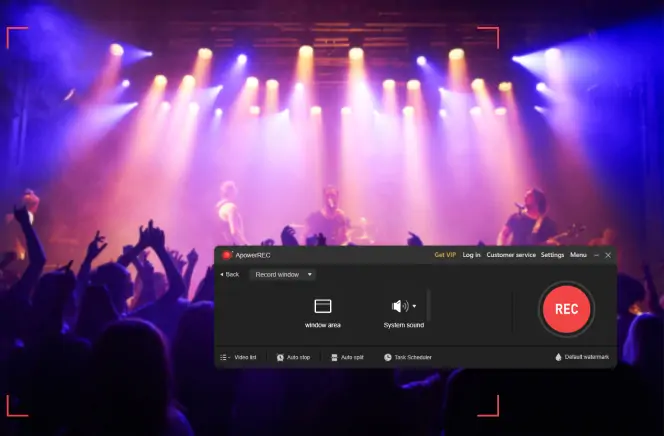 Best for: Recording audio and creating radio content of your own
Rating: 4.3 stars, 149 reviews
A 3-step process allows you to record radio streams with Apowersoft. It also enables a total of seven export formats, and you'll find it compatible with resources like Windows Media Player and iTunes.
This is a tool you can also use on your mobile phone, whether iPhone or Android. We appreciate the tutorials on the brand's website that will help you master it quickly.
If you're looking for a tool to create your audio for streaming radio of your own, this tool makes it easy because you can easily add your voice to tracks.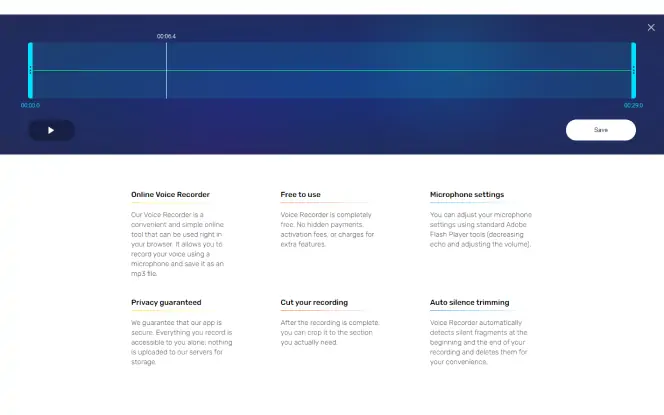 Best for: Creating radio content of your own
Here's one of the best options if you want a radio recorder to help you with your radio show. The free resource allows you to record live radio at a click of a button, and afterward, you'll have a quality MP3 file to work with.
To improve your track, you can adjust the microphone settings, and it's also easy to cut sections. Certain functions happen automatically, simplifying the process. For example, you won't have quiet intros and outros to your tracks because the tool cuts those silences for you.
How to Record Internet Radio with Browser Extensions
One reason to know how to record internet radio with a browser extension is how easily accessible it is. While you're listening to a radio station, if you realize you'd like to record something, only a few clicks will open up the tool and enable you to start recording. No time wasted!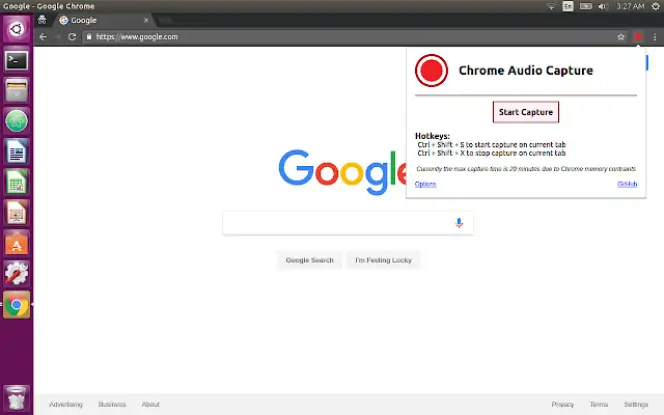 Best for: Capturing audio from browser windows
Chrome web store rating: 4.4 stars, 1241 reviews, 200 000+ users
Chrome Audio Capture is a popular extension to use, and it will copy the audio from the tab you're working on at a specific moment. It works with time limits, so you don't necessarily have to stay and monitor it the whole time. The tool will stop, and then you just have to save it manually. Saving doesn't happen automatically as with some other tools, so make sure you don't lose data because you forgot to finalize the process.
With this tool, you have an output option of MP3 or WAV.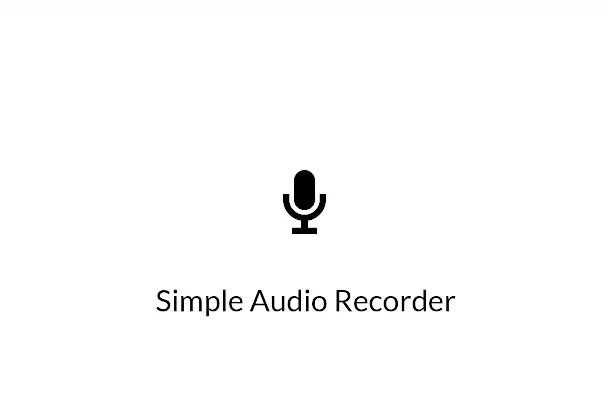 Best for: Creating content for your radio stream
Chrome web store rating: 3 stars, 164 reviews, 100 000 users
Here's another dynamic tool to consider if you're a budding radio presenter. You can record what you want to share with others, which will be captured in a WAV file.
Make sure to understand the limitations of each of the tools mentioned here. Simple Audio Recorder is not a solution to capture other radio stations' audio.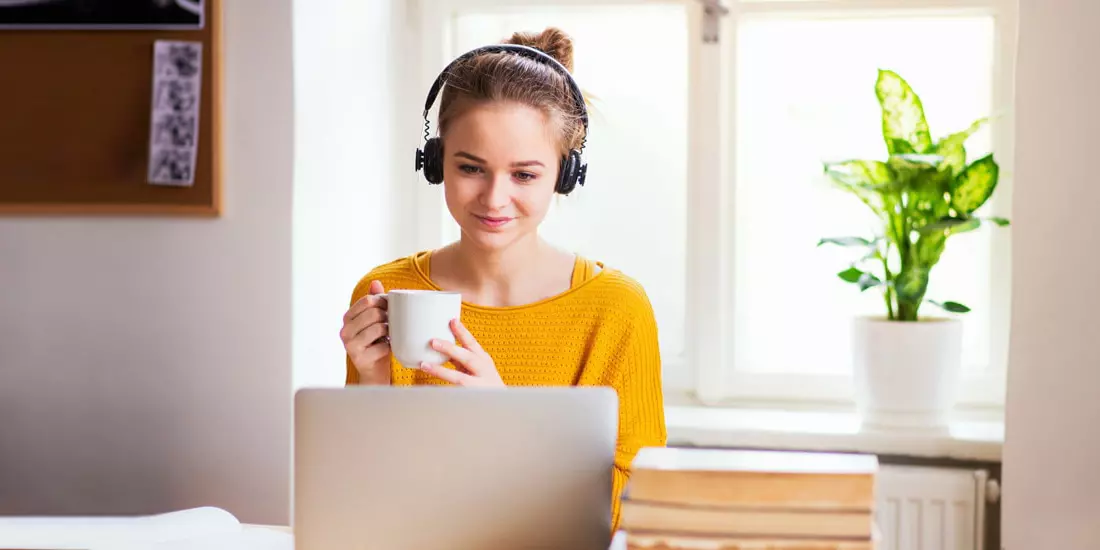 Movavi Screen Recorder
The perfect way to record from your screen
Disclaimer: Please be aware that Movavi Screen Recorder does not allow capture of copy-protected video and audio streams. Learn more
Frequently Asked Questions
Can I record a radio stream?
Recording a radio stream is very easy with the help of audio stream capturing tools. You can do it via a browser extension such as Chrome Audio Capture, but you can also download tools on your PC. This is the case with tools like Movavi and Audacity. A third option is online tools like Apowersoft.
How can I record streaming radio on my computer?
The tools to record radio stations on computers are user-friendly thanks to lots of innovation. When using a resource like Movavi, you will simply download software, activate the radio stream and the record function of Movavi. Depending on the tool you're using, you may be able to pause a recording and skip sections you don't want to record. Once you've finished recording, the tool will convert it to a file format of your choice, and you can even edit it further if needed.
What are the best radio recorders?
It's important to use radio recorders that allow flexibility and deliver quality audio. Software like Audacity and Movavi are market leaders in this area.
You may want additional features, such as editing the tracks. You'll find handy tools in resources like Free Sound Recorder, Nexus Radio, and Jobee.
Just note that you need to pick a radio ripper suitable for your need. For example, RadioSure Free is primarily compatible with Windows, not Mac.
For compiling tracks for your radio show, tools like Simple Audio Recorder and Online Voice Recorder are suggested.
Apowersoft and Chrome Audio Capture are other recorders to try out. Since they have free options, you can test them to discern which you find the most user-friendly and appropriate for your needs.
Sign up for news and special offers