Whether you want to make a backup of your DVD collection or you want to learn how to burn ISO to DVD or Blu-ray, you need the best ISO burner for the job. To help you choose the ISO burner, we've reviewed the best apps on the market.
Program

OS

Best for

Download

Movavi Video Suite
Windows 7/8/10 with updates, Mac OS X 10.10 or higher
Extracting, burning, and copying media on Mac or PC
Active@ ISO Burner
Windows 95/98/ME, NT4, Windows 2000, Windows XP, Windows Vista, Windows Server 2008
Simple CD or DVD burning
PowerISO
32-bit Windows 98/Me/2000/XP/2003/Vista/2008/7/8/8.1/1064-bit
Windows XP/2003/Vista/2008/7/8/8.1/10
Burning ISO to DVD on most Windows machines
ImgBurn
Windows 95/98/Me/NT4/2000/XP/2003/Vista/2008/7/8/10
Easy burning of ISO and BIN files to DVD
WinISO
Windows XP/2003/Vista/7/8
Simple ISO burning for users who don't need multiple format support
ISOburn
Windows 8/8.1/10
Easy burning or copying for veteran users
ISO Workshop
Windows 10 (32- or 64-bit)
Simple ISO to DVD burning in Windows 10
BurnCDCC
Windows 98, Windows Me
Burning ISO to DVD on older PCs
Passcape ISO Burner
Windows XP-Windows 10
Burning ISO files on a PC with Windows Admin permissions
AnyBurn
32-bit Windows 2000/XP/2003/Vista/2008/7/8/8.1/10 64-bit Windows XP/2003/Vista/2008/7/8/8.1/10
Burning ISO image files without installing software on your computer
BurnAware Free
Windows XP/Vista/7/8/10 (32- or 64-bit)
Burning and mounting ISO files from disc data
InfraRecorder
Windows 98 with Internet Explorer 5.0 or later
Copying discs on the fly
True Burner
Windows 7/8/8.1/10
Burning media in a variety of formats
ISO Disk
Windows XP/2003/Vista
Burning ISO archive files quickly on PC
Xilisoft ISO Burner
Windows XP/Vista/7/8/10
Fast and easy ISO burning for users who don't require control over configurations
BlackBox ISO Burner
Windows Vista/Server 2008/7/8/8.1/10
Burning discs and ISOs to multiple formats quickly
How to burn ISO to a disc with Movavi Video Suite
Step 1. Install Movavi's image burning software
Download the installation file. Double-click it and run the installation process using the on-screen instructions. Launch the program.
Step 2. Add the image and launch the burning process
In the Data tab, choose Burn image to disc section and click Launch. If you don't see the Launch button, click Try Out to download the burning module.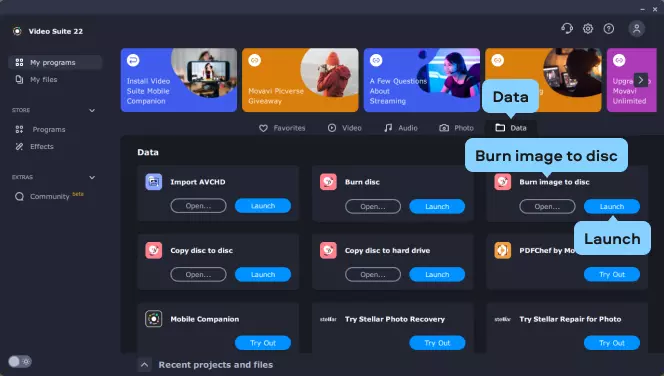 In the new window, hit the Folder icon near the Source string and find the ISO image you want to burn to your disc. Click Open to add the image. Then write down the name of the new disc in the Disc name field. Hit Burn Disc. After a short wait, you're done!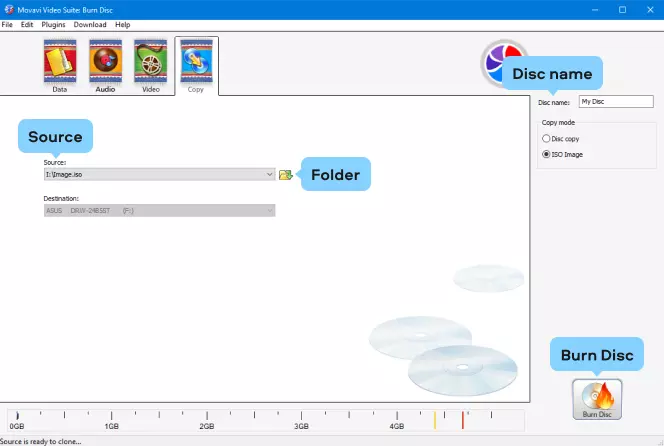 Summary: What is the best ISO burner for Windows or Mac?
Now that you've checked the reviews of the top burners on the market, let's talk about how to choose between them. The best ISO burner for your needs will depend on a few factors, including your operating system and what type(s) of discs and archive files you need to burn. If you're an Apple user and/or if you think you'll need a video editor along with a burner, we recommend trying out Movavi Video Suite.
Ask yourself these questions when choosing burner or ripper software:
What do you need the software for? If you're a video creator in need of a robust tool with editing features, you'll need a more comprehensive tool than a simple burner. If you're backing up Xbox or PS2 games, you'll need to ensure that your burner supports the right data files for your needs, etc.
Will you be working on a laptop or desktop? Determine how much storage and memory you can devote to the software.
Do you need to check your burned data without opening a new player? If you're burning multiple copies from your hard drive or another disc, you may not have time to verify your burns by playing each one individually.
How many discs do you need to burn? If you're burning or extracting large numbers of files and discs, you'll need a burner or extractor with no limit on uses or data.
Answer these questions, and you'll be on your way to choosing the best ISO burner for your video and media needs. While you're considering your options, why not try Movavi?
Frequently asked questions
What is an ISO file?
An ISO file is an archive file that holds an identical clone of data found on a CD or DVD. Because the identical copy is technically an image, ISO files are also sometimes called ISO images. This type of file is used to backup DVDs, Blu-Rays, and CDs, and you can duplicate the content of a DVD or other optical disc to another disc by burning the ISO file to a blank disc.
How do I burn ISO to DVD on Windows 10?
To burn an ISO file to DVD on Windows 10, you'll need an ISO burner. You can use a built-in Windows Disc Image Burner or a special program. We recommend trying Movavi Video Suite. Once you've run your downloaded software and run your installer, the program is ready to use:
Open Movavi Video Suite.
From the Data tab to the left, select Burn image to disc.
Click Launch and then click Try Out to download your burning module.
A new window will open. Click the browse button by the Source box to search for your image file.
When you find the right ISO file, click Open.
Select Burn Disc.
How do I burn ISO to USB on a Mac?
To burn an ISO file to USB on your Mac, we recommend downloading Movavi Video Suite. You can burn an ISO to a folder on your USB drive with the built-in burner feature in the application. Simply follow the prompts and steps to choose your USB device as the destination for your output file.
How do I mount an ISO?
Mounting an ISO file on Windows is a simple process. Just double-click or right-click on the file icon and select Mount from the dropdown menu. If you're trying to mount an ISO on a Mac, go to Disk Utility in the Utilities subfolder of the Applications folder. In the menu, select Open Image File and choose your ISO. It should appear as a mounted file on your desktop.
How do I open ISO files?
To open an ISO file, follow the simple instructions on how to mount an ISO above. Once you've mounted the file, you should be able to double-click the file icon to open it without downloading any specific ISO runner or reader software (other than a media player).
How do I make an ISO bootable?
If your burner software supports the creation of bootable ISOs, you should be able to choose "bootable" in your settings or as a menu option. Once you've selected this option, you can save bootable information to a USB or other destination.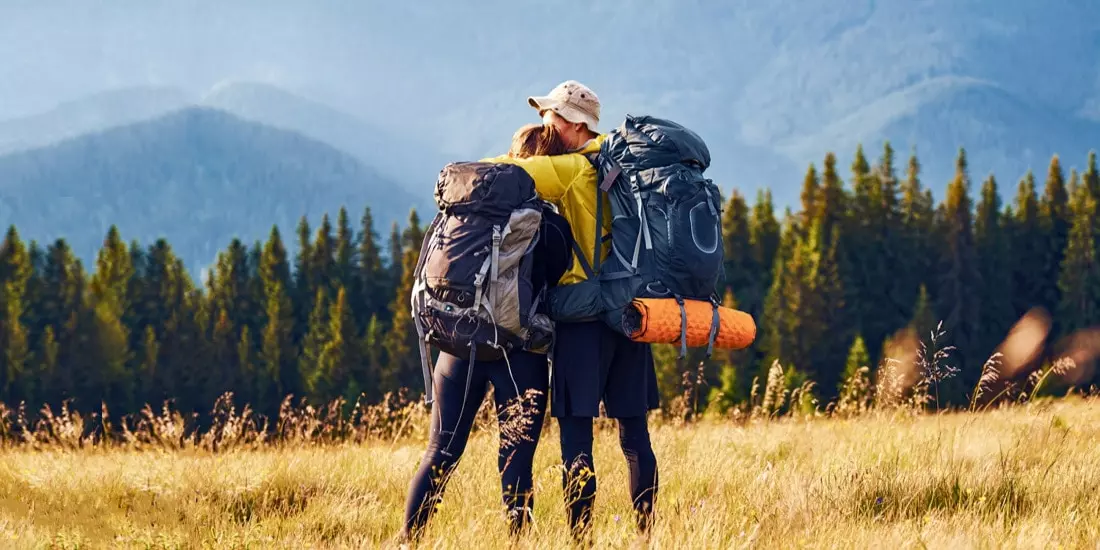 Movavi Video Suite
Everything you need to create and edit multimedia files
See other useful how-to guides
Sign up for news and special offers