What is time-lapse recording? Time-lapse recording, or time-lapse photography, is an interesting hybrid of animation, still photography, and videography. You can use it to create videos in which time is compressed so that everything seems to move much faster than in real life.
To make a time-lapse video, you'll need a still camera or a video recorder and good video software. In our article, you'll find helpful tips on choosing the right equipment, subject, and method for time-lapse shooting. You will also learn two easy ways to create a time-lapse video in Movavi Video Editor Plus.
Tips on Time-Lapse Shooting
Making time lapse-videos requires several preparatory steps. There are three most important things you need to figure out first: what to shoot, with what to shoot, and how to shoot. The tips below will help you decide on each point.
There are some subjects that are commonly chosen for shooting a time-lapse video. Here's a list to start you thinking about ideas for recording a video:
Sunrise/sunset
Moving clouds
City lights at night
Plants and fruit growing
Construction process
Drawing or other creative processes
Opening of flower buds
Starry night
Any beautiful natural landscape
Pros:
Can shoot high-resolution photos in RAW format
Adjustable settings, interchangeable lenses
Tips:
Buy an intervalometer (a device that presses the camera shutter at preset intervals)
Turn off autofocus and focus manually
Recommended shutter speed: 30-50
Recommended aperture: F4-F8
Pros:
Easy-to-use
Always on hand
Tips:
Use the built-in time-lapse tool (available in Samsung Galaxy S6 and S6 Edge, LG G4)
Download a time-lapse app (e.g., Hyperlapse, Lapse It)
GoPro or other action cameras
Pros:
Accessibly priced
Compact and convenient
Tips:
Select Multi-shot mode
Use Time-lapse mode (if available)
Reduce the resolution to 7 megapixels to save space
Shoot a Video and Speed It Up
Making a time-lapse video with this technique is as easy as it sounds: record a long video, then open it in a video editing application and speed the footage up 5 times or more, depending on how fast you want the objects in your video to be moving or how long you want your finished video to be.
Create a Video from Photos
This approach is more complicated but can also be more rewarding: assemble a time-lapse video from hundreds (or thousands) of still images. You may ask: "Why should I bother with taking so many photos when I can just record a video using the first method?" Well, there are at least three good reasons:
Quality. Your final result will look good even if made with consumer-grade equipment because of the high resolution of the photos. With video, your resolution will be lower.
Size. Videos can be space hogs, especially if you're shooting in 4K for a long time (3-5 hours). Still photos will need less space on your memory card and will demand fewer computer resources for post-production.
Fun! There's some old-school magic and mystery in stitching photos together to produce a spectacular video. Why deprive yourself of this experience?
And before you start, here's a list of general recommendations on making a good time-lapse shot:
Use a stable tripod that won't wobble.
Use large-capacity memory cards – you'll need a lot of space.
Think about battery life beforehand if you're preparing to shoot a long take.
But what software to use to create a time-lapse clip? In fact, almost any video-editing program can cope with the task of making a time-lapse video, but we recommend Movavi Video Editor Plus. It's an easy movie maker for both PC and Mac. If you would like to know how to make a time-lapse video with Movavi Video Editor Plus, follow one of the tutorials below.
Shooting a Time-Lapse Video: The Speed-Up Method
If you have a 20-minute long video, the time-lapse effect is easy to perform. The only thing you need to do is speed up your clip. Just follow our time-lapse how-to guide below.
Step 1. Install Movavi Video Editor Plus
Download the installation file for the program, then launch the file on your PC or Mac. Follow the on-screen instructions to complete the process and launch Movavi Video Editor Plus.
Step 2. Import Your Footage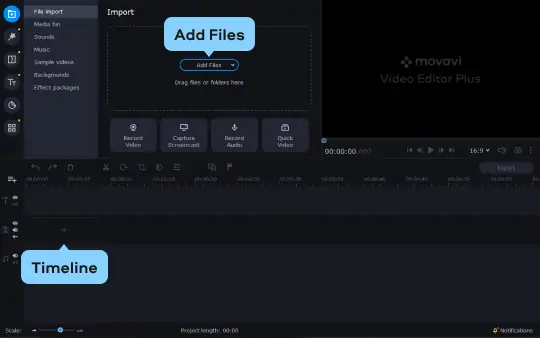 On the File import tab, click Add Files. In the new window that appears, select the video you want to modify, then click Open. The video will appear in the Media Bin. Click on the video and drag it onto the Timeline.
Step 3. Create a video with the lapse effect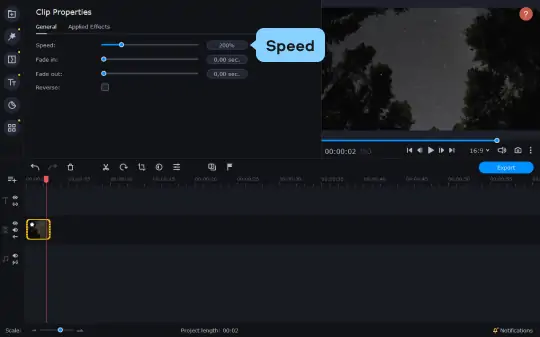 To create a time-lapse effect, simply speed up the video. To do this, double-click the clip on the Timeline. In the Clip Properties, drag the Speed slider to the right to accelerate the video. Use the preview option to make sure you chose the right speed.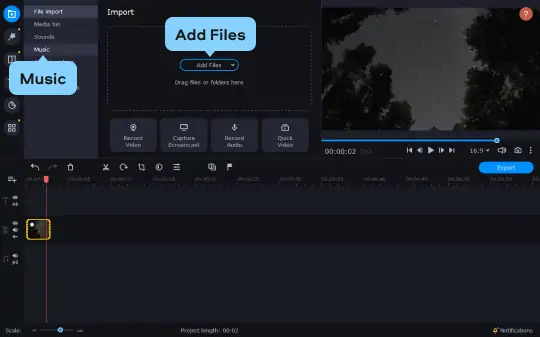 A good soundtrack can't spoil your time-lapse clip. To import a music track, go to the File import tab, click Add Files and choose the appropriate song/melody. You can also select a track from the Music library.
Step 5. Export Your Video
When you are happy with the result, click the Export button. In the new window that opens, enter the file name, select the quality, format, and output folder. Finally, click Start. You will find the video in the specified folder.
This is how to make a time-lapse video by speeding up your footage. Below, you'll find the guide to creating a time-lapse video from photos.
How to Create a Time-Lapse Video from Photos
Want to turn photos into a time-lapse video? If you have a series of high-resolution pictures, a time-lapse video can be easily created by just taking shots at predetermined intervals (e.g., every five seconds). To do this, use an intervalometer or the corresponding built-in function in your device.
Think about the video length beforehand. It's best to record/take photos for at least 10-20 minutes. Remember that your final video will be speeded up, so your footage's duration will be around 10 seconds.
Step 1. Download and Install the Movavi Software
Download Movavi Video Editor Plus for Windows or Mac, open the file you've downloaded and follow the installation instructions. After that, launch Movavi Video Editor Plus.
Step 2. Import Your Footage to the Program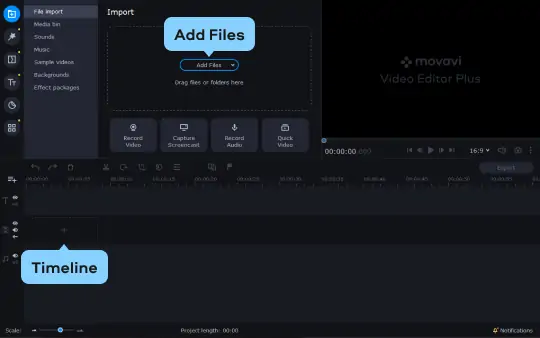 Click Add Files in the File import tab, locate the folder with your photos and upload them all to the program. All your photos will appear in the Media Bin. Drag them onto the Timeline.
Step 3. Create the Time-Lapse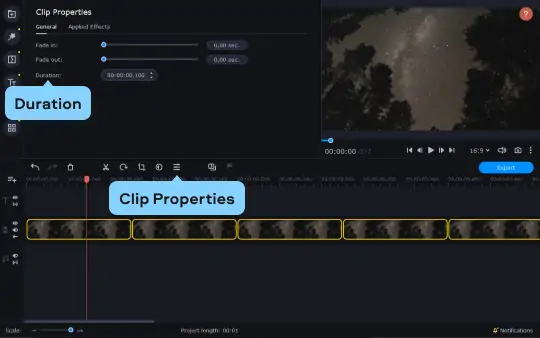 All the frames will be selected on the Timeline. Click the Clip Properties icon and locate Duration in the General tab. Manually change the duration of your frames to 00:00:00.100 (change the milliseconds first, then the seconds).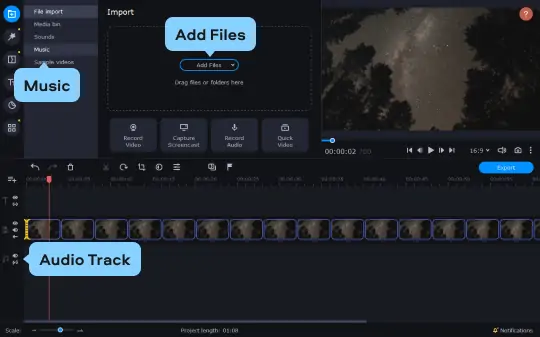 A successful time-lapse video always has an appropriate soundtrack. Go back to the File import tab, click Add Files and choose some atmospheric audio for your soon-to-become time-lapse video. The audio you've added will appear on the separate Audio Track. Alternatively, you can also select one of the built-in tunes: to open the collection, click Music and then drag the desired audio onto the Timeline.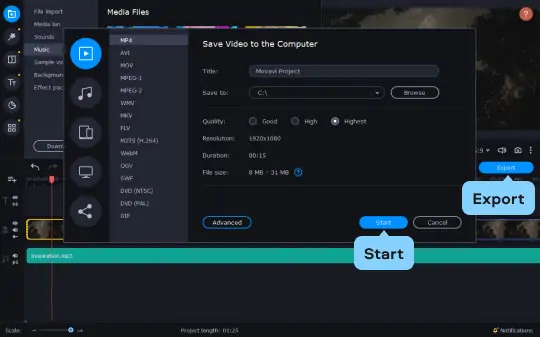 You're almost there! Now, here's when the magic comes in: all that's left to creating a time-lapse video is to convert the sequence of still photos to a video format. To do this, click Export, choose the video format you want, and hit Start. Et voila! You'll be amazed when you see the results.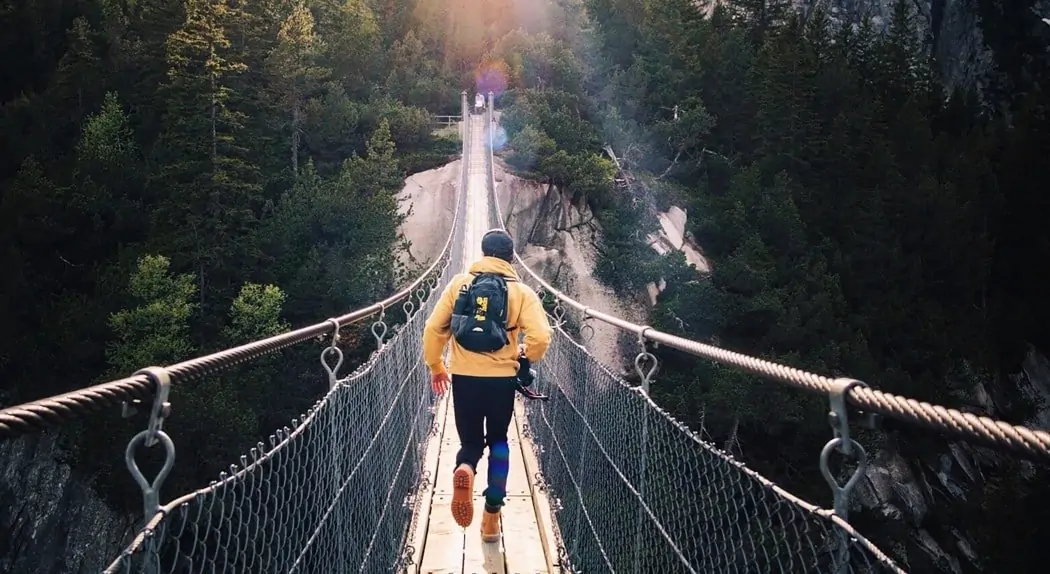 Movavi Video Editor Plus
Make videos. Create. Inspire.
* The free version of Movavi Video Editor Plus has the following restrictions: 7-day trial period, watermark on the output videos, and, if you're saving a project as an audio file, an ability to save only half the audio length. Learn more
See Other Useful How-to Guides
Have Questions?
If you can't find the answer to your question, please feel free to contact our Support Team.
Screen Recorder
An easy way to record from your screen in HD. Make video footage of any application, record online streaming video, webinars, even Skype calls, and save clips in all popular formats.
Movavi Picverse
An intuitive photo editing app that lets you retouch any photo on the fly. Improve quality, add filters and captions, remove unwanted objects, change backgrounds, and more!
Sign up for news and special offers