Download

Download

Movavi Screen Recorder
Specify the settings
Capture the audio track
Save your recording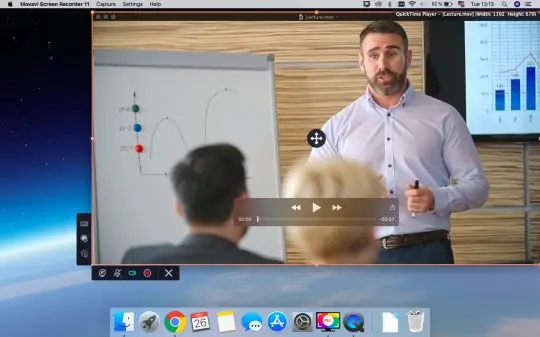 How to Record Audio on Mac with Movavi Screen Recorder
Do you want to record your voice, system sounds, or streaming audio on Mac? The best way to do this is to use audio recording software. You can use an advanced video and audio recorder for Mac, such as Movavi Screen Recorder, or more specialized software. You can also use the recording tools included in programs originally designed for other purposes.
If you want to capture audio on your MacBook or iMac, try the Movavi's video and voice recorder for Mac. This app is perfect for recording audio from any source, as well as screen video. With Movavi Screen Recorder, you can also trim the length of the recorded audio track. Below, you'll learn how to record audio on Mac with the help of Movavi software.
Step 1. Install and Run the Program

DownloadDownload and install Movavi Screen Recorder. The app is compatible with Mac OS Х 10.10 and higher. Run the program and click the Screen recording button on the control panel on the right. During the screen capture, you can record sound as well: voice memos, system audio, music from websites, or microphone input.

Step 2. Adjust the Audio Capture Settings

You will be prompted to choose a screen area to capture. You won't actually need it to record audio, so just select a random area.

Make sure the System Audio button is highlighted if you want to record audio from your computer in Mac OS. If you want to capture audio from a Mac microphone, enable the Microphone option. You can record both your voice and system sounds.

Step 3. Record Audio

Get ready to start playing the audio you want to capture and click Start recording. You can manage the process by clicking the appropriate buttons on the recording panel. You can also use hotkeys: ⌥ ⌘ 1 to pause and ⌥ ⌘ 2 to stop.

After you finish recording, a preview window will appear. Here, you can replay your audio and cut out any unnecessary parts. To remove a section from the middle of your recording, move the marker to the beginning of this section and click Cut, then do the same with the end of the section. If the unwanted part is at the beginning or at the end of your track, you'll only need to make a single cut. After you've marked the unnecessary segment, place the marker on it and click Delete fragment. Repeat if needed.

Step 4. Save the Result

Your audio track is recorded as well as screen activity, but you can save it as just an audio file. To do this, click Save As, select MP3 from the Format list, and click Save.

So, now you know how to record voice on Mac with Movavi Screen Recorder. This program can be used for many different tasks, from recording audio to creating entire screencasts. Give it a try and you'll see how easy video and audio recording can be.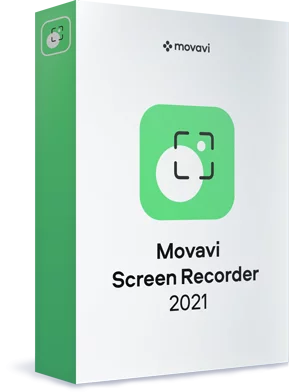 Disclaimer: Please be aware that Movavi Screen Recorder does not allow capture of copy-protected video and audio streams.
Movavi Screen Recorder
Capture video from your computer screen

Grab sound from multiple sources

Save recordings as videos and GIFs

Save videos in any popular format
Disclaimer: Please be aware that Movavi Screen Recorder does not allow capture of copy-protected video and audio streams.
How to Record Voice on Mac Using More Specialized Software
There are programs designed for working with audio only. Audacity is one of them. You can use this free app to record audio on Mac and edit the result, but you can't use it with video. This sound recorder for Mac may be all you need if you capture your voice or record MP3 on Mac regularly but never record from your computer screen. From this part of our guide, you'll learn how to record sound on Mac using Audacity.
To record your voice with this app, run the program, select your audio output device from the Recording Device list on the main toolbar, adjust the sound level using the slider at the upper-left corner, and click Record. Unfortunately, it's less easy to record music on Mac with Audacity, as you have to work through a complex web of system settings to enable system audio recording. But if you have successfully prepared your Mac for sound capture, run the program and select Built-in Input on the Device toolbar. Open the Transport menu and make sure that the Software Playthrough option is not checked. Now you can start recording audio using the panel at the top of the program window.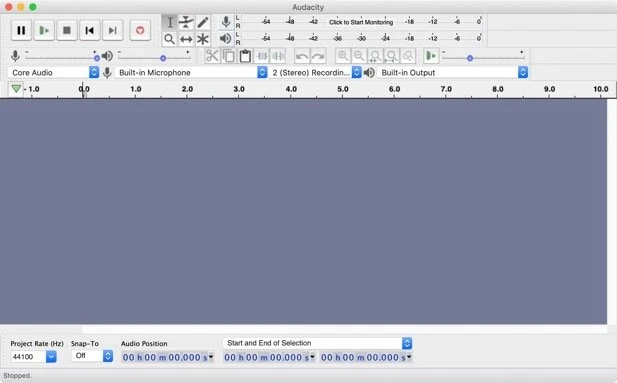 How to Use a Free Audio Recorder on Mac
You can also record music on Mac using some software that wasn't designed for audio capture in the first place, like the QuickTime Player. It lets you easily capture microphone output, but it can't record audio on Mac: from the Internet, online radio, movies, music videos, or other sources.
To use QuickTime as a voice recorder for Mac OS X, run the program, open the File menu, and choose New Audio Recording. A new recording window will appear on the desktop. Click on the small down arrow to select the recording device and hit the Record button. When you click Stop, the digital recording will be automatically saved on your desktop in MOV format. As you can see, the sound capture process with this free audio recording software for Mac is pretty quick and simple.