There are many cases when Mac users may want to record their computer's audio, whether recording a video with internal audio or recording isolated audio tracks playing on the computer. Regardless of the purpose, there are certain ways you can record internal audio on a Mac computer for free using the right software. You may want to record audio on its own or you may also want to record internal audio along with a video. In any case, the right software will help you get the best results from your recordings. However, with so many software options out there, it can be a challenge to find the right one for your purposes. Depending on your specific needs, there are several great options available if you want to record internal audio.
Unfortunately, Mac computers don't make it particularly easy on their own to record internal audio, lacking any built-in ability to record streaming audio via internal sound devices. Thankfully, there are plenty of solutions that allow you to achieve this with easy workarounds.
To help you record desktop audio coming from Mac computers internally, we'll review three different ways to achieve this on your device, including using Movavi Screen Recorder, QuickTime Player, and OBS Studio. Each program can meet different recording needs, based on whether you want to record audio alone or with video. Some software will also offer more features than others, such as those for editing your completed recordings or saving audio as an isolated track. Regardless of what you're looking for, the following software can ensure you're able to record high-quality audio from your computer.
How to Record System Audio on a Mac with Movavi Screen Recorder
If you're wondering how to record system audio on Mac computers, Movavi Screen Recorder makes it easy to capture internal playback. Movavi Screen Recorder is a reliable screen and sound recorder for Mac devices, featuring a user-friendly interface and high-quality recording capabilities. In addition to recording your screen with internal audio, you have the option of isolating audio and recording audio from multiple sources. Movavi Screen Recorder also allows for easy editing of audio files once recorded. While the free version of Movavi Screen Recorder can help you record high-quality audio, you will need to purchase the paid version if you want access to additional features.
To see what customers think of Movavi Screen Recorder, follow the link below to see a review:
You can use Movavi Screen Recorder to quickly and easily record internal audio on a Mac by taking the following steps.
Step 1. Download and Install Movavi Screen Recorder
The first step is to simply download Movavi Screen Recorder and install it on your computer. The simple instructions will guide you through the installation process, which only requires a few clicks.
Step 2. Make Adjustments to Recording Parameters
Next, open Movavi Screen Recorder and select the recording option in the program's sidebar. To record internal audio, deactivate the icons for Webcam and Microphone. Leave the System Audio button on, which should be green. While the program will record the screen along with your audio track, you will be able to save the audio track on its own when finalizing the recording.
To begin recording, click on REC and switch on your computer's audio.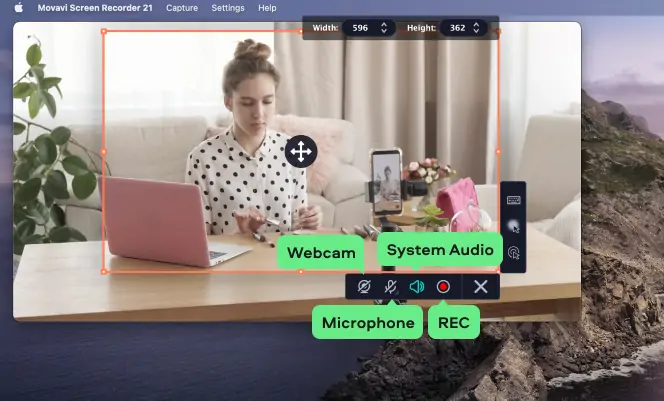 Step 3. Make Edits to Your Completed Recording
After the recording has completed, you can trim your audio to include only the sections you want to keep. All you need to do is use the Scissors and Trash Can icons to cut and remove any excess audio. With only the audio you want to save included in the final track, you're ready to save it to your computer.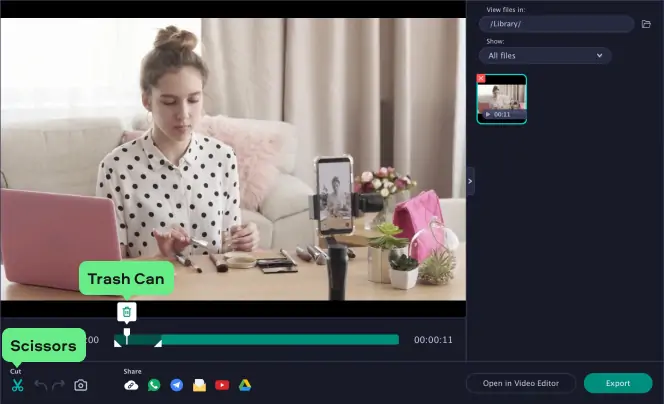 Step 4. Convert and Save the File to Your Device
To save your completed audio file, click on the Export icon and choose MP3 in the next window to save solely the audio track. Before initiating the save process, you can check to make sure you have enough space for the file by viewing File size. Then simply click on Save and wait for the file to save onto your computer.
The key advantage of Movavi Screen Recorder audio is that the original quality is maintained without unnecessary compression. It also saves files at the appropriate size to prevent users from needing to free up hard drive space to accommodate the final MP3 file. However, Movavi Screen Recorder doesn't allow you to record copy-protected video or audio streams.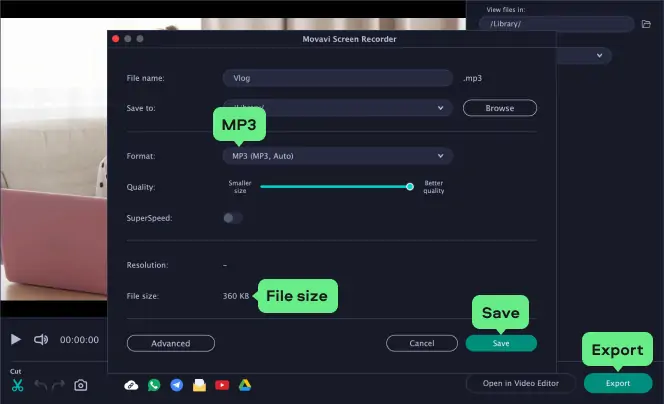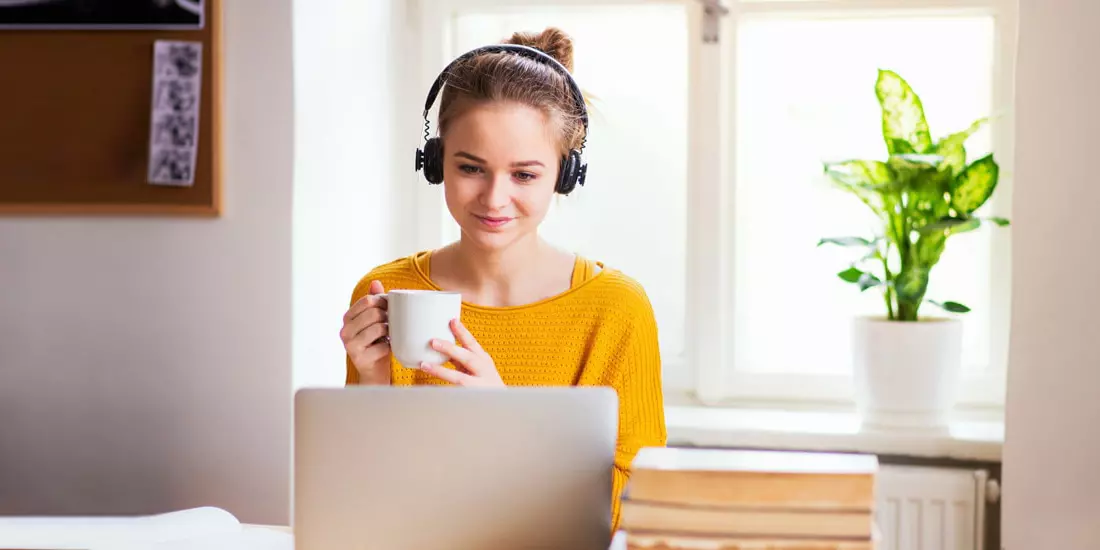 Movavi Screen Recorder
The perfect way to record from your screen
Disclaimer: Please be aware that Movavi Screen Recorder does not allow capture of copy-protected video and audio streams. Learn more
How to Record Computer Audio on a Mac with QuickTime
In addition to Movavi Screen Recorder, you can use MacOS's built-in video player QuickTime to record your computer's internal audio. You can also use the software to record your computer's screen, but keep in mind that by default QuickTime doesn't allow you to record audio from your computer along with your screen, only your microphone. To record internal audio using QuickTime in addition to your screen, you will need to download the Soundflower application, which enables you to change the audio output before recording. On the other hand, if all you want to do is record audio without the video component, you can do so without Soundflower.
QuickTime is very easy to use, but its capabilities are limited compared to other software. QuickTime will compress recordings to make files smaller, which means the quality of the recording will be lower than the original audio. While you can bypass this by selecting the maximum quality mode, the size will likely be too large to store on your computer. Another downside is the lack of any editing features, making QuickTime a bare-bones sound recorder. To edit your files, you will need other editing software.
To help you record internal audio with video on your Mac using QuickTime, follow these steps.
Step 1. Download and Install the Soundflower App
First, you should download and install Soundflower on your device. You can download the macOS version in a zip file that you will be required to extract before installation. If you're running a newer version of macOS, you will need to change the permissions on your computer via System Preferences before you can install the program. After the program installation initially fails, in your Systems Preferences, go to the Security and Privacy section, and you should see a message saying that your computer blocked software by unrecognized developer Matt Ingalls. To change this, click on Allow and you will be able to try installing the program again. At this point, Soundflower should complete the installation.
Step 2. Change the Audio Output Device
Soundflower can reroute your computer's audio, which means you can use it to change your computer's output device to record internal audio while recording with QuickTime. To change the audio output, open System Preferences on your computer and click on the Sound icon. Next, select the Output tab to pull up a list of available output devices. Soundflower should appear on that list with two different entries: Soundflower (64 ch) and Soundflower (2 ch). For your purposes, select the 2-channel version, as the 64-channel version is for more advanced applications.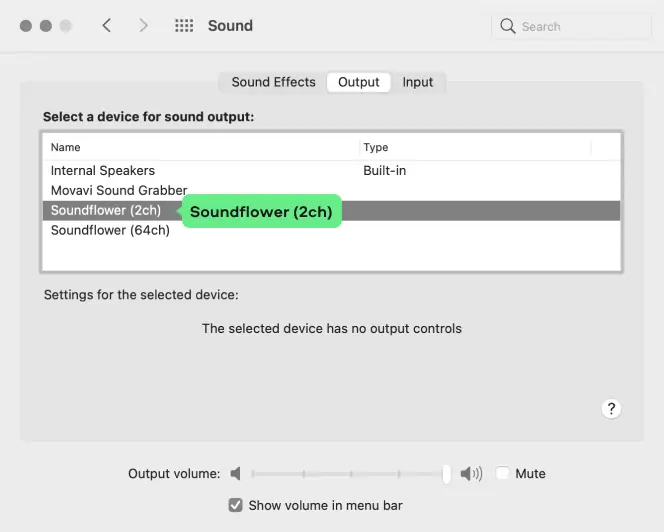 Step 3. Adjust Audio Settings Before Recording
You can now open the QuickTime app and change audio settings in the File menu. In the menu, select New Screen Recording. In the next window that appears, don't press the Record button just yet. Instead, click Options on the right and set your Microphone to Soundflower (2 ch). This is so that Quicktime thinks that the internal audio is microphone input.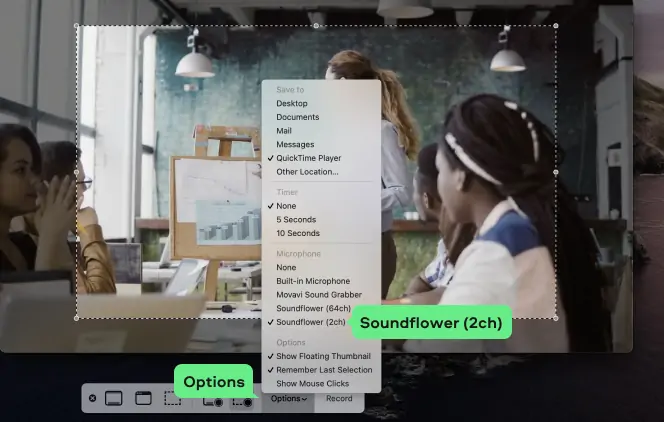 Step 4. Record the Video and Audio
Finally, you can click Record to begin recording your video and internal audio. If a dialog box pops up and asks you for permission to access the microphone, allow it. Once your video has been recorded, change your audio output back in System Preferences to the default setting.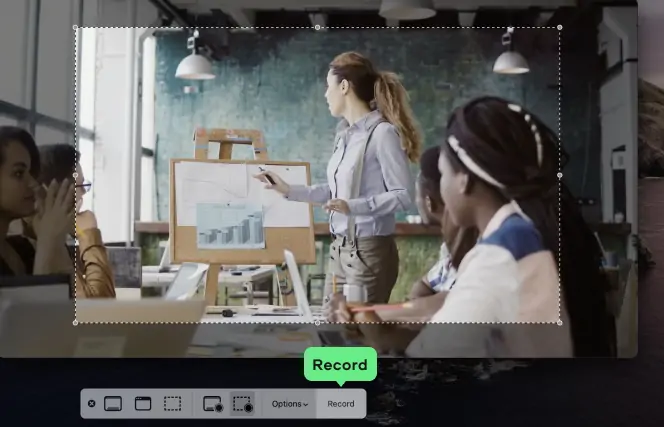 If you want to record audio on its own, you don't need Soundflower at all. Simply take these steps to record an isolated audio track using QuickTime:
Step 1. Check Your Computer's Settings
To begin, open System Preferences and click on the Sound icon and select the appropriate output device, which can be either Headphones or Internal Speakers.
Now, open QuickTime and choose New Audio Recording from the dropdown File menu. You'll then see a capturing panel appear on the screen. Here, beside the Start button, you'll see another dropdown menu that allows you to change the audio output device again. You can then press the red button to record audio.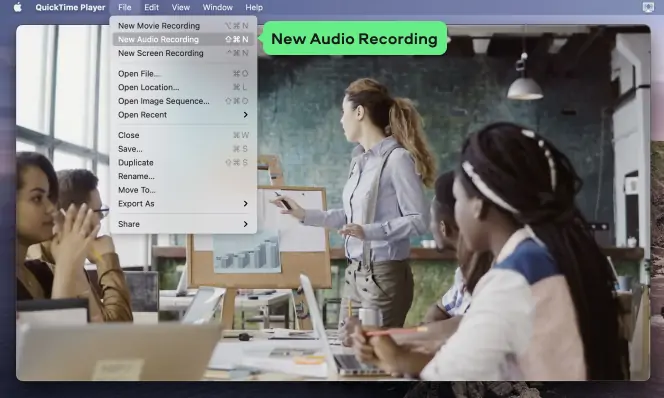 Step 3. Save Your Recorded Audio
Once complete, you can stop recording and save the completed file to your computer. You also have the option to upload the file to the cloud immediately, which we recommend if you want to save more space on your computer.
How to Use the OBS Internal Audio Recorder for Mac
If you want to know how to record computer audio on a Mac with video, OBS Studio makes it easy. OBS, which stands for Open Broadcaster Software, is entirely free to use for both Mac and Windows devices. It's lightweight and easy to use, making it perfect for filmmakers, live-streamers, and bloggers. It's capable of recording audio and video from nearly any source whether external or internal, with the ability to capture internal audio. The only drawback to OBS Studio's recording capabilities is that it doesn't allow you to record audio on its own. Screen recording is required in conjunction with audio. It also doesn't feature an editing feature, and audio-only export isn't possible, either. If you want to isolate audio tracks, you will need to use other software.
To see what customers think of OBS Studio, follow the link below to read a review:
To learn how to record internal audio on a Mac using OBS Studio, you can take the following steps.
Step 1. Install OBS Studio
You can start by downloading and installing OBS Studio on your device. The simple installation guidelines should help you get the program up and running in no time.
Step 2. Set Up a New Scene and Choose Sources
To begin a new recording, create a new scene and give it a title of your choice. Every scene can use a combination of sources, including different audio and video. You can also create different scenes with specific templates and configurations to make future setup easier based on your personal preferences. For instance, you could have a scene setup for close-up shots using your webcam, while another is ready to record your screen with a picture-in-picture shot of your face via webcam.
When you're ready to set up your scene, you can choose the media sources to include. One of these sources will be internal audio if you want to record computer audio. To record internal audio, click on Add a New Source at the bottom of the window and choose Audio Output Capture. You can then select the default device or another output device you wish to use. If it appears to be recording sound and the meters are moving, but no sound is actually heard, you may need to download other software such as Soundflower to reroute audio on your Mac.
Before recording, you may want to check Settings to see if there are any additional customizations you want to make to your recording. For example, you can change the recording format for both audio and video, with the ability to modify file compression, streaming, resolution, and file type options.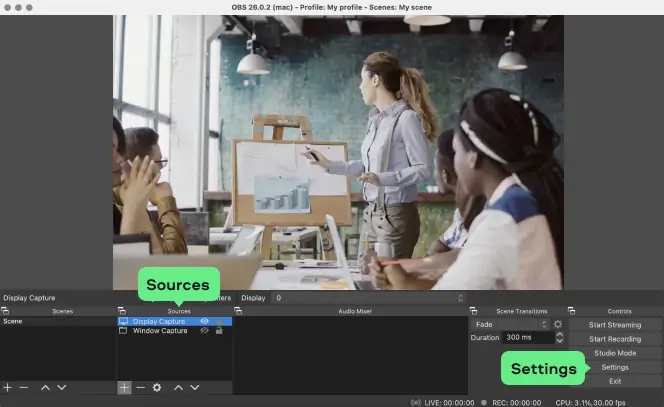 Step 3. Record Your Video and Audio
With everything set up in your scene and sources included, you can begin recording the video. Simply click on Start Recording toward the bottom right corner and click Stop when you're ready to complete the recording.
If your recording includes multiple sources and you have everything set up, it may be worth it to do a test recording before you begin the actual recording. This can help you avoid a lot of potential frustration if you believe everything is ready to go, only for your video or audio to go unrecorded once complete. Simply record a small amount of footage and play it back to make sure your video and audio are captured and of the right quality.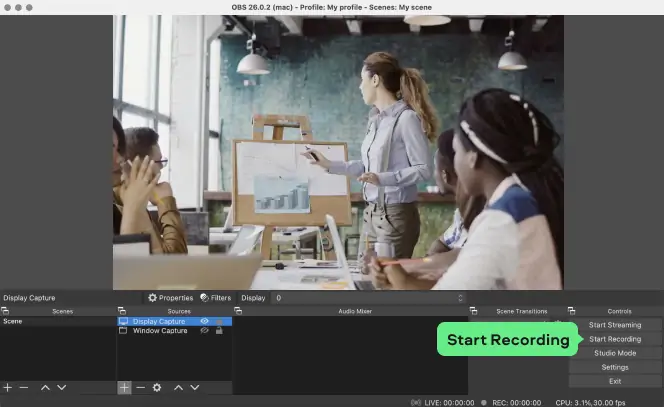 Step 4. Save the Completed File
After you're finished recording, OBS Studio will automatically save your video in a new folder in your documents. You can view your recordings by clicking the File menu and then Show Recordings in the dropdown. You can also choose to save files in another custom folder. All you need to do is click Settings and choose the Output tab. Next, click Recording. You can then type or paste the folder destination in Recording Path, or you can select Browse to choose an existing folder. You should then be able to find the recording on your computer in the designated folder.
Comparison Table
To help you determine which is the best internal audio recorder on a Mac, take a look at the following comparison table.
| Software | Pros | Cons |
| --- | --- | --- |
| Movavi Screen Recorder | Free and easy to use; ability to isolate audio; editing capabilities | Paid version is needed to access all features |
| QuickTime Player | Included on Mac computers; easy to use for basic recording | Can't record both audio and video together; other software is needed for internal audio; no editing features |
| OBS Studio | Free and easy to use; highly configurable; multi-track capabilities | Only records screen and audio together; no editing features; inability to isolate audio tracks |
Frequently Asked Questions
How do I record internal audio on Mac with QuickTime?
QuickTime makes it easy to record internal audio as Mac's default video player. To record your computer's internal audio using QuickTime, you can do so by taking these steps:
Open the QuickTime application.
Choose the Sound settings within System Preferences on your computer and select either Internal Speakers or Headphones, depending on which you would like to record.
Begin recording your audio track by selecting File and clicking on New Audio Recording.
A grey panel will appear on your screen, which you can use for recording. Click Start to begin the recording process and select the output device from the dropdown. Next, click the red record button to initiate the actual recording.
Save the recording to your computer in any folder, and upload it to the cloud to save more space.
How do I record internal and external audio on Mac?
If you want to record either internal or external audio on your Mac, you can easily do so using Movavi Screen Recorder. This software allows you to record audio alone or with screen capture. Regardless, simply follow these steps to record any type of audio:
Download and install Movavi Screen Recorder for free from the Movavi website.
Open the app and adjust capture parameters by clicking on the recording option via the sidebar. To record internal audio, deactivate the buttons for Webcam and Microphone to isolate System Audio. For external audio, leave Microphone active and disable System Audio.
Begin recording your video or isolated audio track by pressing REC.
Edit the recording once completed by using the Scissors and Trash Can features, which allow you to quickly trim audio and video clips.
Finally, convert the file to the format of your choice and save it to your computer. You can do so by hitting Export, and you can choose MP3 to isolate audio. You can also modify the file size to ensure you have enough space to save the completed file. Click Save once you're ready. Enjoy your completed recording and share it on any platform.
How do I record internal audio with Audacity on Mac?
Another program you can use to record your computer's audio is Audacity, which is free to download and install. You can use additional software that's importable into Audacity, or you can use programs like Soundflower to create another audio device that allows Audacity to record internal audio. When using other software to record internal audio through Audacity, take these steps:
Install both Audacity and the software to change the audio output device.
Go to System Preferences and click the Sound icon, where you can change the output device to the software you have installed, whether it's Soundflower or another multi-output device such as iShowU Audio Capture.
With the audio rerouted, you can open Audacity and select the other multi-output device as the recording device.
Record your audio track and save it to your computer.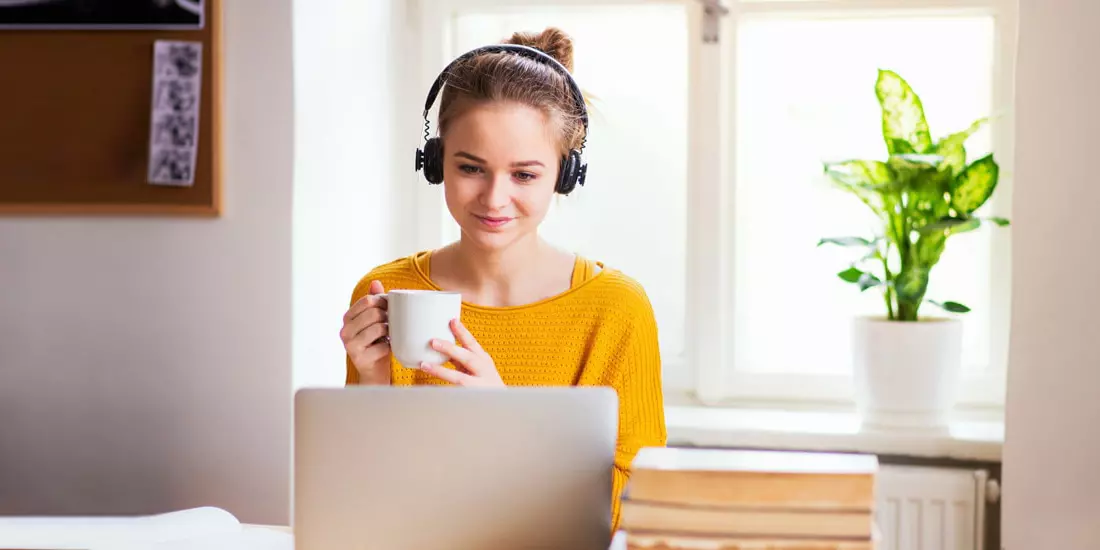 Movavi Screen Recorder
The perfect way to record from your screen
Disclaimer: Please be aware that Movavi Screen Recorder does not allow capture of copy-protected video and audio streams. Learn more
Sign up for news and special offers