The Best Android Video Editors: It's No Easy Choice!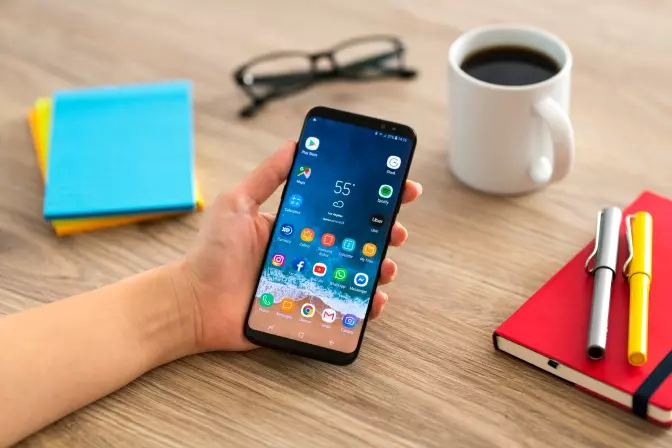 It is not a surprise that video editors for Android – with apps for movie-making on mobile, phone, and tablet – are rapidly proliferating. Mobile phones like Android are now among the world's most used cameras for photos and video. Of course, shooting the clips is creative and fun, but the other half is just as creative and fun: molding them into a polished whole. For that, you need a video editing app.
Here, we have reviewed several movie-making apps for Android, so if you're choosing the one for your tablet or smartphone, take a look at this list, we hope it will help you.
These are some of the features and capabilities to look for in the top Android video editors:
Automatic editing to assemble a project from clips and soundtracks
Manual editing to trim clips
Capacity to add multiple clips together
Capacity to add a custom soundtrack
Feature for inserting title slides
Automatic adjustments of audio tracks for volume
Adjusting exposure, highlights, and shadows
Filters for different looks
Zoom effects
Best Video Editing Apps for Android
The following best video editing apps for Android are not in rank order. Rather, the focus is on features and capacities, including areas of special strength or problems. APK is the Android package file format used by the Android operating system for the distribution and installation of mobile apps such as those described here.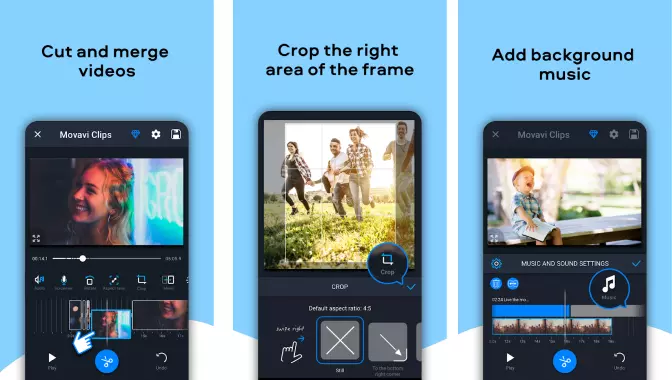 Movavi frequently appears on lists of the top video maker apps for Android and is a free video editor intended to support the creation of outstanding movies on your mobile devices. An easy user interface means you shoot footage, add it to the timeline, cut what you don't want, overlay your music – and are ready to show, share, your movie. You can download Movavi Clips from Google Play and try it. Immediacy is the core of Clips, an app that invites you to shoot what you see, apply any of a wide range of themes and filters, and produce a miniature masterpiece. For times you go for more depth and nuance, Clips supports you in bringing into your project movies captured almost anywhere, with live subtitling, and other unconventional features.
Features:
Cut, crop, and merge your videos
Create videos from photos
Add text, filters, or transitions
Change the speed of your clips, rotate them, or reverse
Adjust sound options
Requirements: Android 5.0 or higher.
Price: free.
4K support: no.
Pros

Easy to use even for beginners
Many editing options
No ads

Cons

The trial version adds a watermark to your video
To read some user reviews on Appgrooves, follow the link below:
Proceed to the Appgrooves website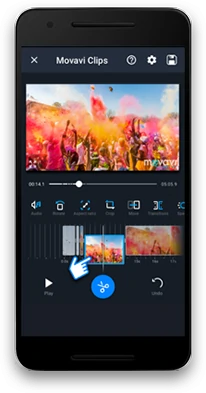 Movavi Clips
Processing and editing videos and photos
Add transitions, music, and stickers

Choose the desired frame fragment

Cut and merge clips

Speed up and slow down videos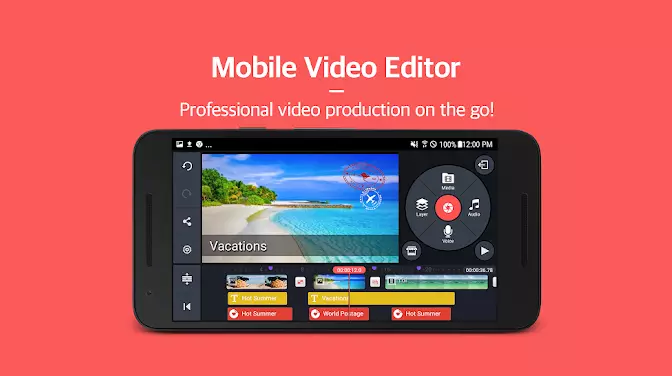 KineMaster tops many lists of the best movie makers for Android, partly because it is one of the most advanced (and complex) apps – often called a "step-up" from other apps. It supports multiple video layers, splicing frames, transition effects, and much more. You can get a 30-day free trial, but after that, there is a monthly charge – or an annual fee. (There is a free version but it has a watermark.) A frequent comment is that it is a "more" video editing app than many users want to master. Its drag-and-drop feature does make it easier to import.
Features:
Trim, resize, and combine clips
Adjust the color settings, add filters or effects
Change the audio track or add sounds
Share videos in social networks
Requirements: Android 5.0 or higher.
Price: free.
4K support: yes.
Pros

Many editing options
Easy to share videos
Enjoyable interface

Cons

Has ads
The full version requires a charge
Click the link below to see the review by TechRadar:
Read the review on the TechRadar website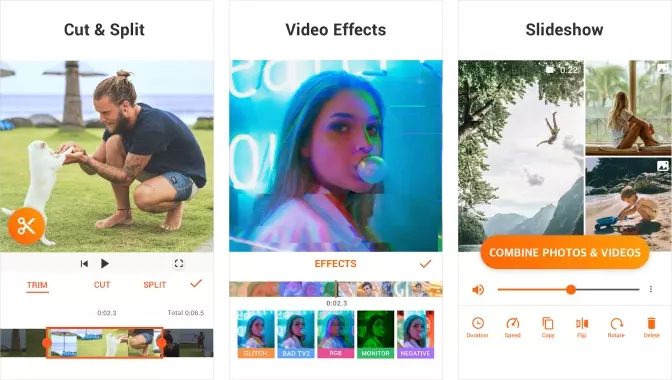 YouCut is a free video editor and movie-maker with the usual inbuilt tools for cutting and splitting, trimming, creating slideshows, and fine-tuning playback speed. It is highly popular in part because it is considered simple to use.
Features:
Adjust colors
Compress an HD video
Get free online music
Create clips without a watermark
Requirements: Android 4.3 or higher.
Price: free.
4K support: yes.
Pros

Doesn't need much space to install
No watermark
Free music

Cons

Some users complain about glitches
Actually needs more space for saving a video than it is shown
Check user reviews on Appgrooves by following the link below: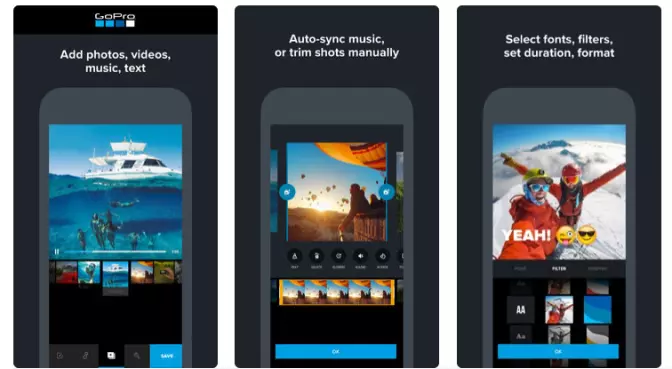 This app will be found high on most lists, as well, and it is free; you don't have to pay for anything. It has features such as automatic video creation from your clips and photos, which can be saved in several formats. It has a quick-share feature to make it easy to put your clips on social media.
Features:
Create slideshows from dozens of photos
Add your music
Use templates
Apply various effects
Requirements: Android 5.0 or higher.
Price: free.
4K support: yes.
Pros

Can add GPS marks to a video
Offers many templates
Auto-detects objects from GoPro videos to frame the most important things

Cons

Adds watermark
Sometimes edits videos automatically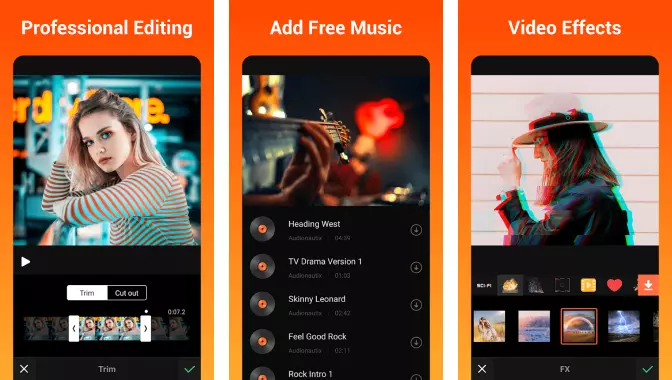 This is another popular app for Android video editing and is free for Android users. The idea is to enable you to produce professional-quality videos right on your phone – but all apps make that claim. It certainly applies to brief clips and limited projects. The VivaVideo library offers users a wide array of effects and themes for the videos. Among other features are a slow-motion video editor and a clip-merging feature for ease of cutting and pasting. A special is its video collage maker based on the clip merging capacity.
Features:
Trim, crop, and rotate your videos
Add transitions, text, or effects
Change sound options
Share your clips easily
Requirements: vary with device.
Price: free.
4K support: yes.
Pros

No watermark
Many editing options
The PRO version is relatively cheap

Cons

Shows ads
Users complain about bugs
Follow the link below to get detailed reviews on Amazon: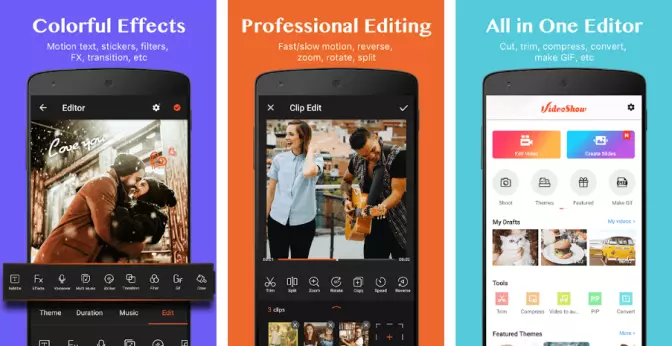 VideoShow is known for having a user-friendly interface for ease of editing. But even a high-end, fairly complex app like KineMaster makes the same claim. Like VivaVideo, it has many dozens of themes you can use in editing. As with all apps described, here, of course, it has the basic trimming and cutting features that are the foundation of all editing. Noted special features are a blurred background option. Audio adjustment, as usual, is included, but using multiple background music in the same video distinguishes it from some apps.
Features:
Edit your videos and photos
Dub videos with your own voice or other sounds
Apply filters, transitions, or other effects
Adjust video or audio speed
Requirements: Android 4.0.3 or higher.
Price: free.
4K support: yes.
Pros

Small app size
Many free soundtracks
Many templates

Cons

Adds a watermark
Shows ads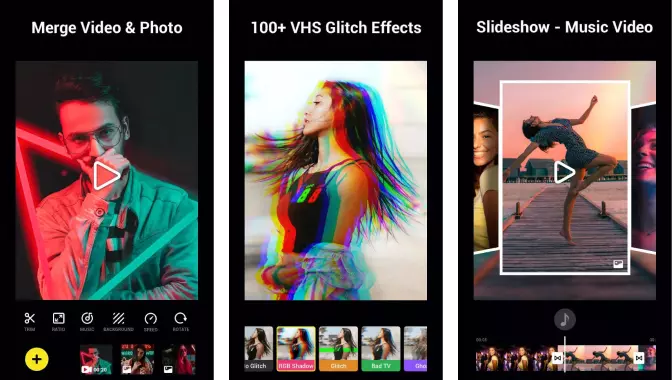 This app for Android boasts a wealth of video effects available to stylize your projects. It gives the effects labels such as Retro, VHS, Pixel, Cyber, and Aesthetics, plus some 100 more. You can shoot "Retro" clips in real-time. The app includes the customary features for customizing your aspect ratio, trimming and cutting, adding background music, and exporting projects in HD to most other platforms.
Features:
Create a clip from your videos and photos
Add effects or music
Change the aspect ratio, cut or join videos
Make an intro easily
Requirements: Android 5.0 or higher.
Price: free.
4K support: yes.
Pros

Great vintage effects
Lots of free audio tracks
Doesn't need much space

Cons

Adds a watermark or asks to watch an ad
Not very many effects in the free version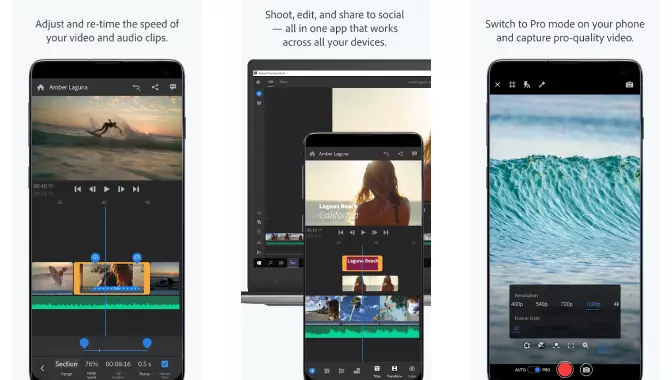 Adobe Premiere Rush is advertised for people who create videos for social networks like YouTube, although, of course, any app can do that "plus." As a cross-platform editing software, it does not have as many features as some apps but is known for an easy interface (a customary trade-off). Cropping, rotating, resizing, color correction, volume control, speech enhancement, and noise reduction are all standard features and Adobe Premiere Rush has them.
Features:
Import your videos, trim, crop, or rotate them
Add transitions or titles using built-in templates
Correct colors
Add music or create a voice-over
Requirements: Android 9.0 or higher.
Price: $10 per month.
4K support: yes.
Pros

The functionality of the mobile version is similar to the desktop one
Can capture videos
Many templates

Cons

Works only on newest smartphones
The free starter plan allows you to export three projects only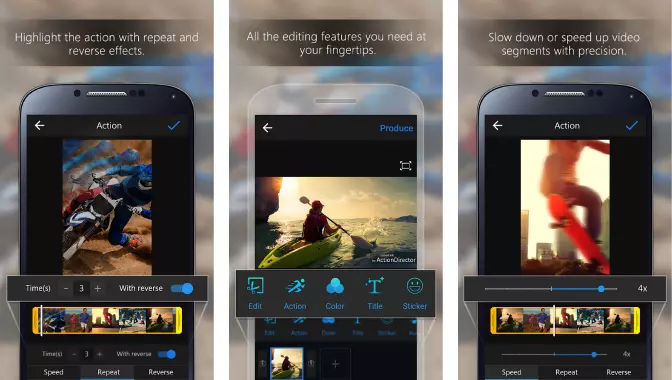 This app is viewed as an "advanced" video editing application for high-tech videos by professionals. It has all the usual features and functions for creating videos, editing them, applying filters and various effects. Its video-making tutorial is integrated into the app, supposedly making editing easy and simple. It has the usual big library of effects and filters for a finished look and availability of slow motion and speed edits.
Features:
Record or import a video
Apply effects or filters
Add your favorite music, stickers, or titles
Change the speed of the video
Requirements: Android 4.4 or higher.
Price: free.
4K support: yes.
Pros

Works well with 4K
Simple to use
Pretty fast

Cons

Can't add an overlay picture
Limited functionality in the free version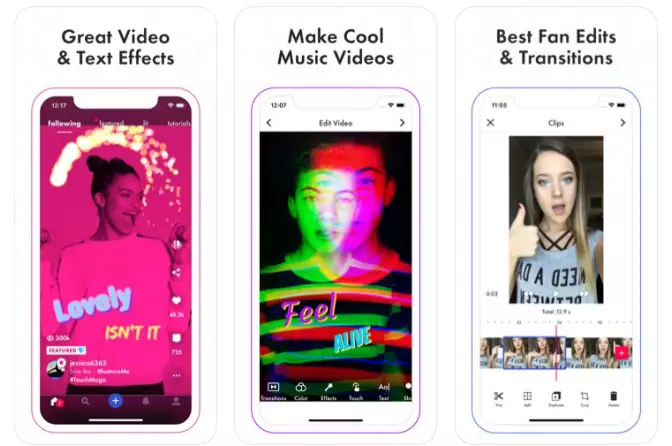 Funimate is found on many lists of best video editing apps, with the emphasis in its name on "fun." It is highly popular for permitting the "instant" transformation of your videos into exciting posts for social media. Its video effects library, of course, offers themes and filers for short videos and a feature for making looping videos. Funimate is free, so you get some advertisements as part of the package. There is no premium version to shut them out – but that has not dimmed the app's popularity.
Features:
Create funny videos
Apply shapes and color them
Add text and animation
Add music
Requirements: Android 5.0 or higher.
Price: free.
4K support: no.
Pros

Has many funny effects other apps don't usually have
Doesn't need an Internet connection
Great music collection

Cons

Shows ads
Adds a watermark
Read more about Funimate on Common Sense Media:
Get to the Common Sense Media website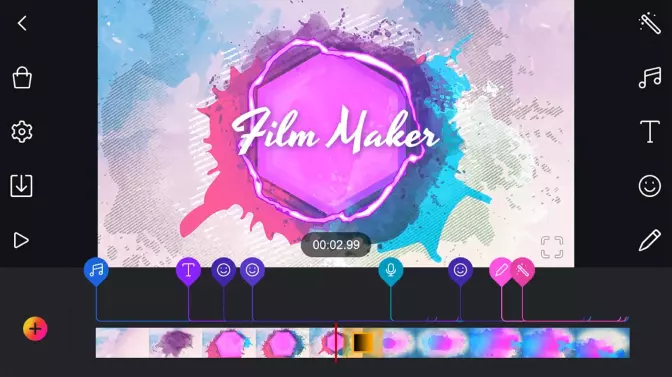 In addition to the usual editing features, themes, and such, Film Maker Pro emphasizes the management of multiple projects and files, sharing, and exporting via its File Manager view. Video clips, audio tracks, voiceovers, and text overlays all can be included in a project. A color-coded timeline view further simplifies management. It has fade-in/fade-out options and auto-save to back you up.
Features:
Add a video, split it, trim, or duplicate
Apply filters, effects, or transitions
Add stickers, text, or blurring
Make overlays
Requirements: Android 5.0 or higher.
Price: free.
4K support: yes.
Pros

Allows to work on multiple projects
Has an auto-save option
Offers intro templates

Cons

Contains ads
Users complain about crashes
You can find additional information provided by users on Appgrooves: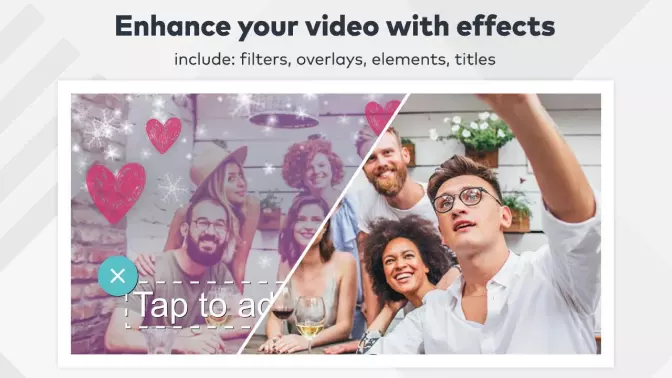 This is a favorite of Android users, too. It has all the usual video editing functions required from trimming and cutting to adding music. It does emphasize the availability of different video formats, especially for different social media. Thus, there is a 1:1 format for Instagram and 16:9 videos for YouTube. It's a free app but will tempt you with in-app purchases. The features you want for basic good work are free, but purchasing the program does give you the option to remove the watermark at the end of the video.
Features:
Preview your clips in real-time
Add text, music, effects, or transitions
Use themes from the built-in library
Share with friends
Requirements: Android 4.2 or higher.
Price: free.
4K support: no.
Pros

Real-time preview of a video
Clear interface
Many free materials available for download

Cons

Adds a watermark
Some compatibility issues might appear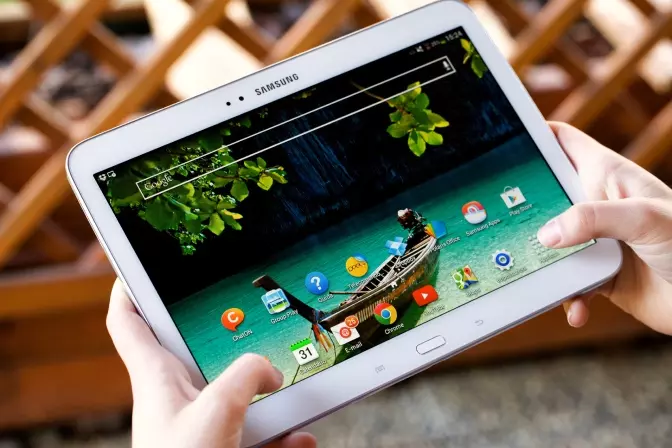 Movavi Quality in All Video Editing
In creating the Clips software program for video editing on mobile devices, from phones to tablets, Movavi reviewed in-depth the best features and functions and related issues, an easy user-interface and many more. Check back here regularly for information, insights, and updates on the range of resources – including our entire spectrum of software programs – to lend your multimedia projects professionalism, power, and the perfection that is possible with outstanding tools.
Frequently Asked Questions
📱 What Is the Best Free Video-Editing App for an Android Phone?
It depends on what you exactly need to do and also on your version of Android OS. Consider trying one of these programs, all of them are great at video editing.
Movavi Clips
KineMaster
YouCut
Quik
VivaVideo
VideoShow
Glitch Video Effects
Adobe Premiere Rush
Action Director
Funimate
Film Maker Pro
FilmoraGo
📽 What Is the Best Video Editor App?
If you are looking for a multifunctional video editor for your Android or iPhone, check the list below. The apps from the list below might be useful.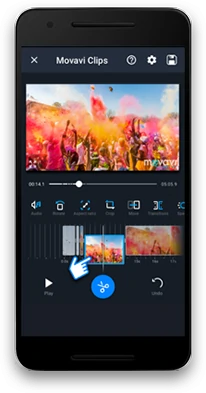 Movavi Clips
Processing and editing videos and photos
Add transitions, music, and stickers

Choose the desired frame fragment

Cut and merge clips

Speed up and slow down videos
See other useful how-to guides