Live streaming software has become exciting, affordable, and super easy to use in recent years. And it's now a vital tool for connecting live streamers around the world. This guide reviews the 15 best streaming software programs for beginners, experienced users, and mobile gamers.
Software

Best for

Main features

Download

Gecata by Movavi
Windows gamers
Game mode, no performance loss, hardware acceleration
Streamlabs OBS
Free streaming software for beginners
Selective recording, in-game overlay
Twitch Studio
Streamers who live stream on Twitch
Integrated with Twitch, customizable templates
NVIDIA ShadowPlay
GeForce graphics card owners
Instant replay mode, NVIDIA highlights
| | | | | |
| --- | --- | --- | --- | --- |
| OBS | Best stream software for multiscreen setups | Streamlined settings panel, modular 'dock' UI, easy-to-use configuration options | | |
| XSplit Broadcaster | All-in-one streaming and recording tool | Support for all top platforms, vast GUI customization, flexible plugins and extensions | | |
| Lightstream | Streaming directly from Xbox and PlayStation | Cloud-based, console streaming, host remote guests, drag-n-drop editor | | |
| OneStream | Creating and scheduling pre-recorded videos to go live across multiple platforms | Cloud-based streaming, multicast to 40+ networks, unified chat, team management | | |
| Wirecast | Capture, produce and stream high-quality content to the internet | Unlimited capture, archive live video inputs, remote guests, built-in graphics and title library | | |
| vMix | Creating pro-level HD productions from modest desktop PC with little experience | Touchscreen web interface, 100+ built-in animated titles, tickers and scoreboards, built-in audio mixer | | |
| FFmpeg | An ultra-lightweight free streaming software | Open-source, command-line utility, broad compatibility | | |
| Restream | Maximizing the number of reachable people | Compatible with OBS, vMix, etc., Chat overlay, Restream Pairs | | |
| Omlet Arcade | Build virtual worlds with others across the globe | Minecraft multiplayer mode, mobile tournaments, stream overlays, create or join communities and clubs, squad streaming | | |
| IRLTV- Stream Live To Twitch | Stream to Twitch.tv audiences from iPhone | Twitter integration, view chat, after stream stats, viewer interaction, blur camera view | | |
| StreamTube | Live broadcasting to YouTube and Facebook | One-tap start, easy editing w/ advanced filters and logos, Zoomx15 feature | | |
OS: Windows 7 and newer
Price: Free version and three paid plans from $25.95
Best for Windows computers
Rating: 6 out of 10 stars, 307 reviews
Gecata by Movavi is very good video game streaming software available for Windows computers. It features lightweight streaming and game recording with rapid speed and simple steps. It is pretty easy to use. It supports a wide range of video formats and is highly compatible with hardware, including NVIDIA intel hardware acceleration, with which 4K videos at a maximum rate of 120fps. Though it requires purchase, a free trial version is available for download.
Main features:
Stream on any of the top platforms
High-quality desktop screen recorder with no lags 4K/120fps
Simple one-click capture and hotkeys to control recording
2-way sound capture (save audio streams separately)
Hardware acceleration encodes video 400% faster
Free updates and support
Pros:
It's easy to use.
It allows for the streaming of multiple video formats.
High Definition 4K video streaming and recording is available.
Supports multiple languages.
Cons:
Its trial version watermarks video recordings and has a very limited trial period.
🧐 What is live streaming software?
Software is code that contains instructions and data. Its job is to instruct a computer – the hardware – how to work. Live streaming software tells your device how to stream your live videos. Tech-heads call this type of software encoding programs. It converts your video input into a recognizable digital format so that viewers can play it across platforms in real-time.
🤔 How can you use video game streaming software?
Gaming and e-sports are live streaming genres that excite millions around the world. That's why there's a growing number of platforms dedicated to gaming. Some of the top favorites are Twitch, YouTube Gaming, and Facebook Gaming. You can stream gameplay to a few select friends or build an entire global community. And the right streaming software puts you in complete control of WHERE to stream and HOW to stream. However, live streaming is not limited to gaming and sports. Here are different types of live streaming:
💡 Award shows
💡 News
💡 Concert/Festival
💡 Friend's live vlog
💡 Tutorial
💡 Interview/Q&A
💻 How do you choose streaming software?
First, know the operating system (OS) and device you want to use the live streaming software with. The way to choose the best streaming software is to recognize your needs, wants, and expectations. If you're looking for paid software, get your max budget down first, as it will help you narrow down your choices. Other considerations should be:
Video quality
Streaming and editing capabilities
Streaming platform integrations
Tech support availability
Community features (live chat, alerts, etc.)
The rest of this guide reviews the top 15 streaming programs cross-device and operating systems (OS). That includes PC, macOS, and mobile devices. Our reviews are easy to scan for OS, pricing, and the standout features of each product.
✨ Best streaming software for beginners
For those that are just about to commence the live streaming journey, it is better to use highly simplified applications that will guide the user through the process rather than complex applications that may frustrate them in the live streaming journey. This section of the article will present software that will make streaming as seamless as possible for those just starting the live streaming journey. Free streaming software for beginners is considered in the section below: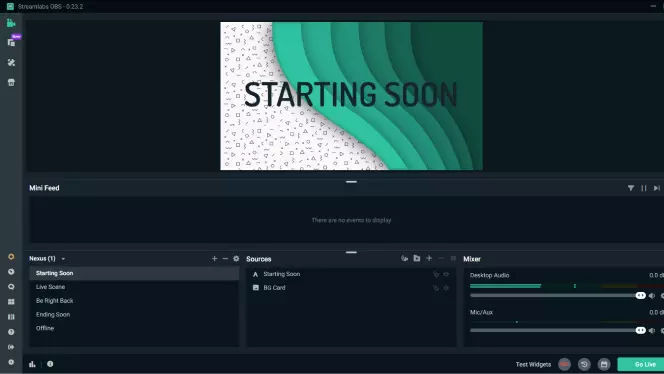 OS: Windows 7 and newer; macOS (open beta)
Price: Free
Best for live streaming by beginners
Rating: 4.5 of 5 stars, 985 reviews
Streamlabs Open Broadcast Software is a simplified form of streaming software. Its simplified layout makes it more suited for beginners who may find the OBS interface challenging to deal with. It is free for use and available for multiple devices, including Mac, Android, and Windows. Streamlabs' use is more simplified because of the presence of its integrated features that allows a user a seamless. It is connected to the Streamlabs website, enabling it to import additional tools for recording and editing.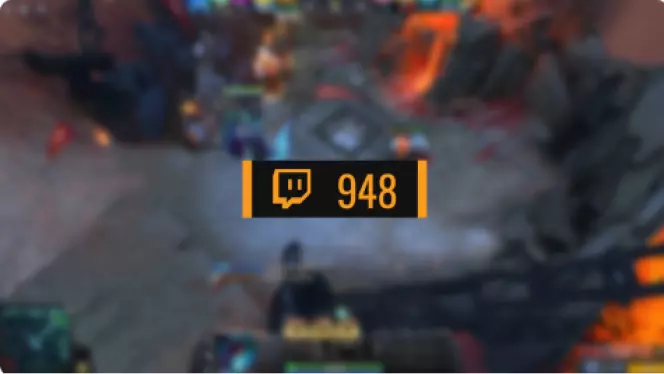 Main features:
Selective recording
Layout editor
Video highlighter
Replay buffer
In-game overlay
Live stream remote control app
Pros:
Easy installation process.
A simplified user interface.
It is free.
It has lots of integrated features to enhance the user experience.
Cons:
It has a high space requirement on the CPU.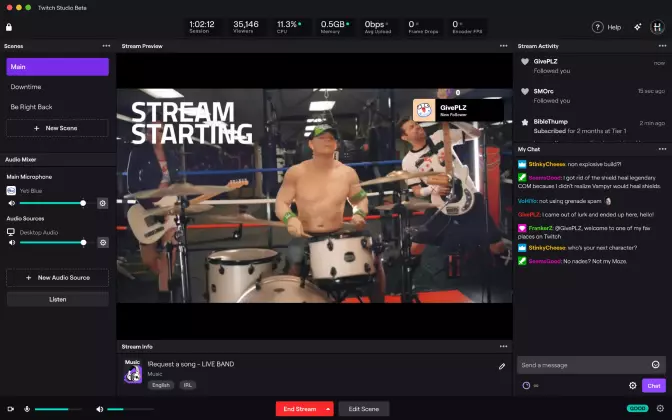 OS: Windows 7 and newer; macOS 10.14: Mojave
Price: Free
Best for beginners who will require a guided installation and streaming experience
It is a streaming software that is suited for beginners. It possesses features that provide do-it-yourself solutions to the streaming process. Those that make it easiest to connect with other members of the streaming community where you can share experiences. It has inbuilt features that enable it to detect the appropriate bitrate for each streaming experience automatically. It is free for users; although it has fewer customization features when compared to other streaming software, it is an appropriate software to get started with live streaming.
Main features:
Integrated with Twitch
Simple, guided setup
High-quality stream
Customizable templates to personalize streams
Built-in desktop audio capture
Pros:
Highly simplified installation process.
It is less technique sensitive due to its automated features.
It does not require any additional setup after its installation.
It is free and best suited for beginners in live streaming.
Cons:
It possesses only basic features, therefore not suitable for experienced users.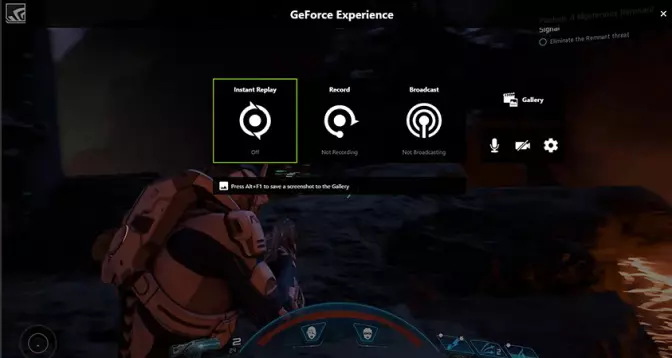 OS: Windows 7 and newer
Price: Free
Best for recording short clips from a game or a game's highlights. It is not suitable for live streaming
Rating: 3.5 of 5 stars
NVIDIA cards are one of the best GPUs for personal workstations for gamers and design professionals; NVIDIA ShadowPlay is integrated with many modern NVIDIA cards and will not require a download if you're using these cards. It is appropriate only for gamers, not for other types of streaming. It allows gamers to stream and record their gaming sessions. It is free for use and provides for 4k recording.
Main features:
Broadcast games to Twitch, YouTube, or Facebook Live with two clicks
Instant replay and record mode via hotkey (saves last 30 seconds)
NVIDIA highlights auto-captures key moments, clutch kills, and match-wins
Capture 15-second gifs and 8k screenshots
Pros:
It is free.
It has a direct sharing feature that enables you to broadcast to different social media pages.
It has instant replay features that can be used to record essential highlights.
Cons:
It is pretty limited in its live streaming capacity – as it is only appropriate for gamers and only compatible with NVIDIA GPUs.
🤓 Best live streaming software for professionals
Unlike beginners, professionals already have an in-depth knowledge of streaming videos and games, and they are already accustomed to using at least one software in carrying out this task. Unlike beginners, functionality other than ease of use is the more important feature. Professionals need applications that will give a broad range of customizable features. The best streaming software for PC are considered below: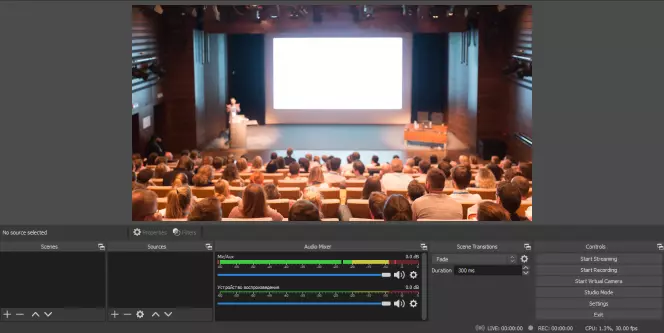 OS: Windows 8, 8.1, 10; macOS 10.13+; Linux
Price: Free
Best for professional live streamers in search of free software with advanced customizable features and are willing to set up everything manually
Rating: 4.5 of 5 stars, 44 reviews
OBS is also known as Open Broadcast Software, is an open-source streaming software that is available for free for users globally. It is one of the most frequently used streaming software with multiple customizable inbuilt features. It also has a large community of users who can help troubleshoot if any challenge is encountered during its use. One of its unique characteristics is its multi-view feature that enables users to view the entire stream layout. Due to the complexity that results from multiple options that users have during its configuration process, it not an ideal tool for people that are new to live streaming.
Main features:
High-performance video/audio capture and mixing in real-time
Streamlined settings panel with a wide choice of configuration options
Easy-to-use configuration options
Option to set hotkeys for almost every type of action
Rearrange layouts with the modular 'dock' UI
Switch seamlessly between unlimited scenes via custom transitions
Preview scenes in Studio Mode before going live
Intuitive audio mixer with filters for noise suppression, gain, etc.
Best free streaming software for regular updates
Pros:
It is free to use.
It is available on multiple platforms – Mac, Windows, and Linux.
It has a big community that provides support and regularly updates its features.
It has a wide range of customizable features and affords users a lot of freedom.
Cons:
It can be very complex to use, especially for users new to live streaming.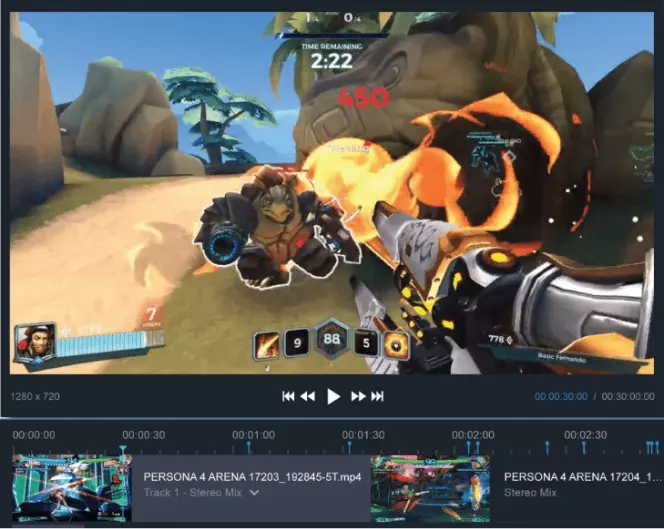 OS: Windows 7 (SP1 64-bit) and newer
Price: Free version + premium plans starting from $15/Mo.
Best for those who appreciate dedicated customer service support and its advanced premium settings
Rating: 4.1 of 5 stars, 41 reviews
This is a fantastic streaming software for professionals which offers both free and premium services for users. Its free version might suffice for people just getting started in live streaming. Its main restriction relates to the number of scenes you can stream – a maximum of four scenes. This would meet the need of many streamers; however, streamers who desire variety and need more customized settings will find this quite limiting. Its free version also produces a watermarked recording. These restrictions can be overcome by subscribing to the premium version, which costs a $199 one-time bill or a $5 monthly bill. One of the unique advantages it has is the 24/7 customer support it offers to its customers.
Main features:
Support for all top platforms
Powerful drag and drop GUI with limitless customization
Chroma key compositing
Custom scene transitions
Preview editor (Premium)
Audio source, local streaming, stream delay (Premium)
Flexible plugins & extensions
Project scene (including active scene) to another display or monitor (Premium)
Pros:
It is easy to use from the setup stage to the streaming stage.
It offers 24/7 customer support, especially to premium subscribers.
A wide range of additional customizable features.
Cons:
It is available in the Windows version only, leaving out Mac and Linux users.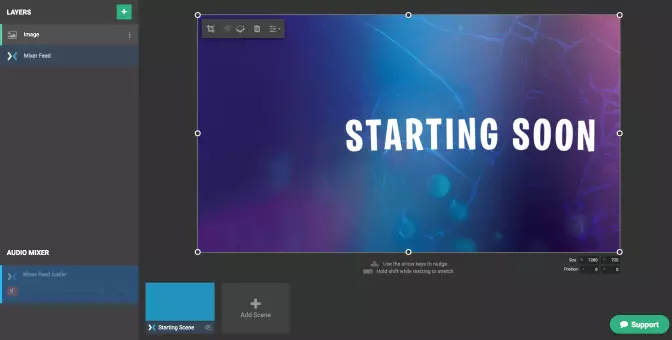 OS: Supported web browser on any PC, Mac, or tablet
Price: Free trial; Gamer/Creator plans starting at $8/Mo.
Best for talk show streaming and podcasts and will be the ideal software for the mobile streamer
Lightstream utilizes cloud-based technology for its streaming services, thereby reducing hardware requirements. Its setup is relatively easy as users are guided through the process, and it can be integrated into other streaming tools. It is more suited for podcasts and talk shows though it works just fine for game streaming. It allows users to feature guests by sending them links that directly pull their video and audio into your stream seamlessly. It has both free and premium versions, while its free version has limitations such as the highest quality of 30 FPS and 720p, a maximum streaming time of 3 hours. Its premium version comes at the cost of $89 per month and offers advanced features like headless mode, among others.
Main features:
Creative browser suite, nothing to download
Drag-n-drop editor for unlimited creative control
Powered by the cloud (sync & storage)
Remote control with your phone
Personalized console streaming from PlayStation and Xbox
Custom RTMP destinations (Creator plans)
RTMP sources, max 4 per scene (Creator plans)
Option to invite and host remote guests via link (Creator plan)
Pros:
It does not require any additional software download, and you can stream directly from your browser.
A guided installation process.
It is relatively easy to add a guest if the streaming is meant for a podcast or talk show.
Cons:
A costly premium version.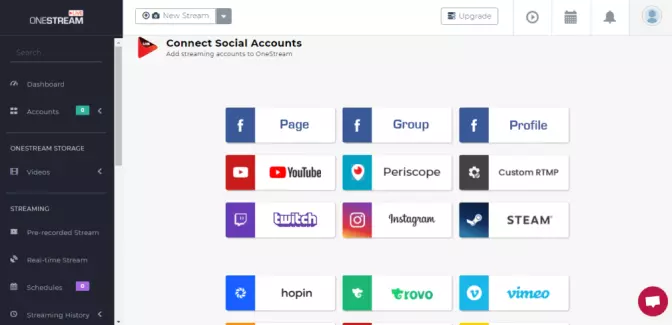 OS: Supported web browser on any PC, Mac, or tablet
Price: Free version + three paid plans starting from $10/Mo.
Best for streaming prerecorded videos on social media
Rating: 3.9 of 5 stars, 2155 reviews
It is a cloud-based streaming software that allows the streaming of prerecorded videos across various social media platforms. It features both free and premium services. Its free service allows for the broadcast of up to 5 minutes of prerecorded video and a registered social media account. It has different categories of premium subscribers. Subscribers who will like to stream long prerecorded videos will need to subscribe to the standard plan that costs $45 per month and allows a maximum of 60mins per live stream. It offers various customizable options, including the addition of watermarks, logos, and thumbnails. It does not require any software installation, and it can stream videos that have been stored in an online medium like Google Drive and Dropbox.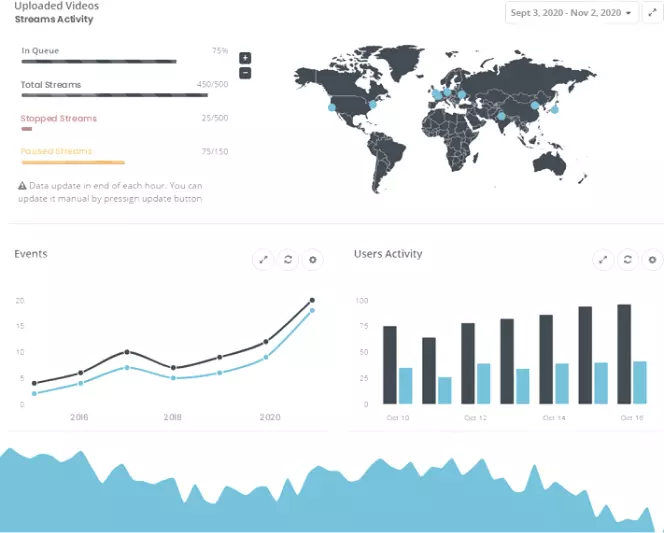 Main features:
Cloud-based streaming
Multicast to over 40 streaming networks (paid plans only)
Schedule video streams 60 days in advance
Real-time streaming using any streaming software (Standard and Pro plans).
Embed live streams (Professional plan)
Playlist Streaming (Professional plan)
Add captions/subtitles to any pre-recorded live stream (paid plans only)
Unified chat to manage incoming comments, messages, replies
Team management (Standard and Pro plans)
Pros:
It can stream directly from online sources.
It does not require any software installation.
It gives a variety of customizable live stream video options.
Cons:
Its premium rates are pretty high and have limited streaming time.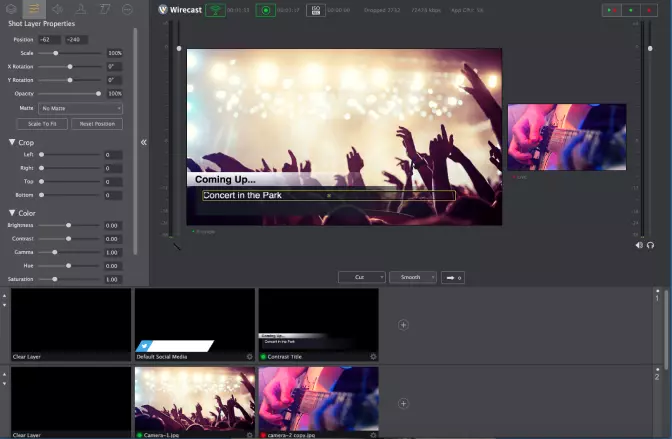 OS: Windows 10 version 1809 or newer, macOS Mojave 10.14 or newer
Price: Free trial (30 days); two pricing plans, Wirecast Studio $599, Wirecast Pro $799
Best for streaming for audiences in different parts of the world
Rating: 4.4 of 5 stars, 28 reviews
It is premium live streaming software that is user-friendly and easy to use. It supports a broad range of input options – video and audio files, webcams, cameras, phones, and tablets through the Wirecast cam. Wirecast supports multi-bitrate streaming, which allows the live stream to be accessible to users with different internet speeds. It also allows simultaneous live streaming of different videos, games, etc., from the same system. It is directly integrated with Twitter and works across multiple platforms. It also has both free and premium versions. Its free version allows for the streaming of watermarked videos or games. While the premium version offers two options – Studios and Pro. The Pro offers additional features and comes at a higher price than the studio. Every update requires a new purchase.
Main features:
Unlimited video captures
Archive live video inputs
Remote guests
Multi-viewer output
Built-in graphics and title library
PTZ camera control (Pro plan)
Pro Audio FX (Pro plan)
Sports production (Pro plan)
Virtual sets and backgrounds (Pro plan)
Pros:
It allows for multiple simultaneous streams.
There is dedicated customer support to offer support for any challenges encountered in the course of use.
It allows for multi-bitrate streaming, thereby reaching a bigger audience.
It has additional customizable features.
Cons:
It is costly to use, with every update requiring a new purchase.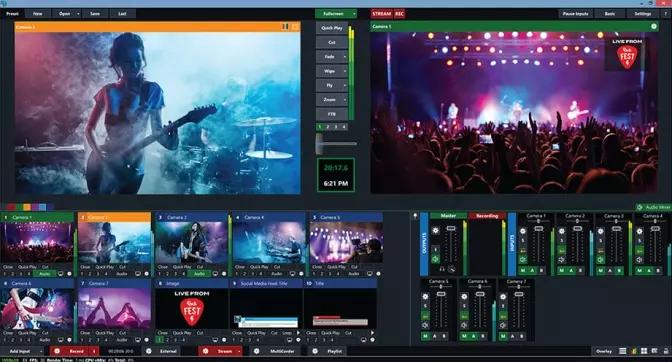 OS: Windows 7 and newer; Mac (via Boot Camp)
Price: Free Trial (60-day); Lifetime & Subscription license options from $50/Mo.
Best for dual purpose of video production and streaming
Rating: 4.2 of 5 stars, 20 reviews
It serves the dual purpose of a video production tool and live streaming software. It is easy to use and remains a software of choice for professionals with intermediate proficiency. It supports input from a wide range of hardware sources. It features different transition effects that can add color to your live stream. It also possesses a live conferencing call feature. It allows multiple input sources that will enable you to display different camera views during live stream sessions. It offers both trial and premium versions. Its trial version lasts up to 60 days, while its premium version offers about six different packages, the most basic being the Basic HD which costs $60 only.
Main features:
Real-time streaming/recording
Touchscreen web interface
100+ built-in animated titles, tickers, & scoreboards
Custom animated titles & import PSD's (4K & Pro license)
PTZ or Pan/Tilt/Zoom control (4K & Pro license)
PlayList to auto-play multiple videos successively or to switch tasks
Instant Replay (4K, Pro license)
Professional color correction
Pros:
It offers a relatively long trial period.
A broad range of video editing features.
It produces high-quality videos for end users.
Cons:
Its most advanced features come at a very exorbitant cost, more than $1000.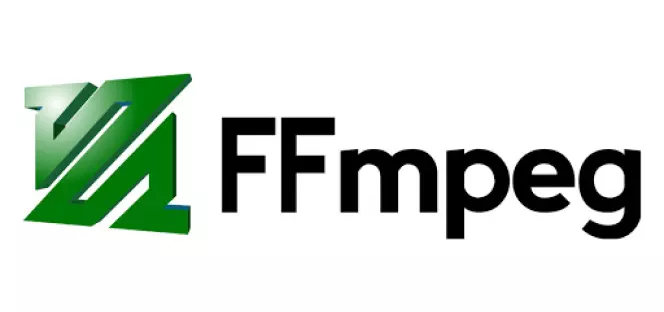 OS: Windows, macOS, Linux
Price: Free
Best for users conversant with command-line functions
Rating: 4.6 of 5 stars, 18 reviews
FFmpeg is free, open-source multipurpose multimedia software. It serves multiple purposes, including – playing, converting, encoding, recording, and streaming multimedia files. It uses command lines instead of a graphic user interface which makes it quite technical to use. Due to its highly technical nature, it is more suitable for professionals who are more conversant with using command lines. Its streaming functions allow input from a broad range of hardware, and it can be used in streaming complex live production that requires a mix of different videos. It requires a complex process of installation and use.
Main features:
Open-source software
The command-line utility gives greater control over system functions
Works as an input recorder, encoder, and converter
Handles most requested video processing tasks
Wide compatibility
Mixes live productions
Pros:
It is free.
It offers a lot of customizable features for streaming.
It is pretty reliable for use.
Cons:
It requires high technical know-how.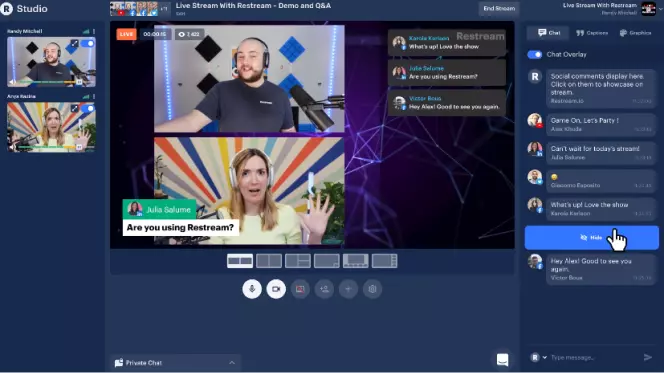 OS: Browser-based live streaming (including mobile browsers)
Price: Free version; Standard & Pro plans starting from $16/Mo.
Best for multistreaming
Rating: 4.6 of 5 stars, 357 reviews
Restream.io is an online service that allows you to stream to sites where your audience views video. Its main feature is the ability to stream your videos to multiple sites at once. In fact, Restream supports more than 30 streaming sites including Facebook, YouTube, LinkedIn, Mixcloud, Twitch, Picarto, and Steam.
Apart from multistreaming, Restream offers a wide variety of video management tools. You can optimize your live video streaming quality by tweaking frame drops, frames per second, and bit rate. Restream also allows its users to stream video feed from multiple cameras at the same time.
Main features:
Unlimited streaming minutes
Compatible with OBS, vMix, etc.
Streaming to Facebook groups or pages (paid plans)
Restream Pairs (Pro plan)
Stream pre-recorded videos (Pro plan)
Full HD 1080p in Studio (Pro plan)
Video storage (Pro plan)
Pros:
You can stream your content to over 30 social platforms at once.
Restream.io is entirely cloud-based and requires no installation.
It's possible to stream from multiple cameras at the same time.
You can record your live streams for up to 20 hours.
Cons:
Restream doesn't support 2K and 4K video streaming.
The service watermarks your broadcast content until you upgrade to the Professional plan.
📱 Mobile video game streaming software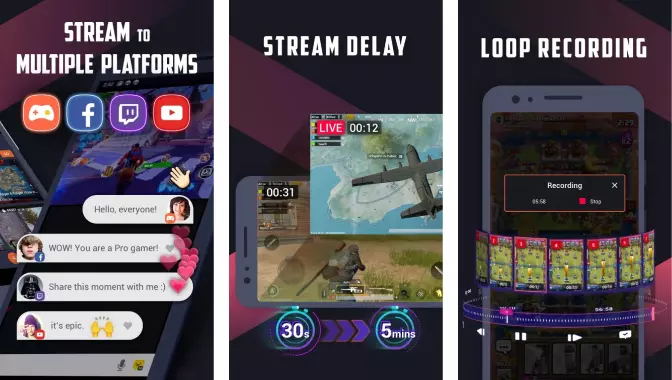 OS: Android 5.0 and higher; iOS 11 and higher (made for iPad)
Price: Free – offers in-app purchases
Best for streaming online games from Android and iOS
Rating on Google Play: 4.4 of 5 stars, 700,000+ reviews
Omlet Arcade is a mobile app that enables users to broadcast their mobile gaming experience via twitch, YouTube, Facebook, etc. It is free for use and supports a wide range of online games, and has a community with which you can interact and even play games. It is available to both android and iOS users.
Main features:
Free live streaming to popular platforms
Minecraft multiplayer mode
Mobile tournaments
In-game voice chat
Stream overlays
Best stream software to create or join communities/clubs squad streaming
Pros:
It features voice chats that enable you to communicate with other players and viewers.
Allows for multiplayer mode.
Enables live streaming to your platform of choice.
Cons:
It features a lot of ads which can be pretty disruptive.
For gamers, the satisfaction that comes from the experience is not complete if they cannot show their gaming prowess to their friends. Sometimes these friends are present to watch physically, but at other times, they are miles apart. In this case, streaming becomes the tool with which this objective is achieved. A live-streaming app is necessary to get this done; either you are doing it through your mobile device or a system. We will consider the best application options for getting this done below: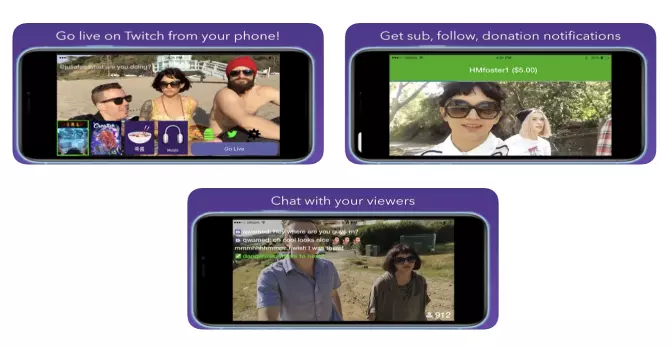 OS: iOS 9.0 or later (designed for iPhone)
Price: Free – offers in-app purchases
Best for streaming videos and images from iOS and Android
Rating on AppStore: 4.1 of 5 stars, 211 reviews
IRLTV is one of mobile apps available on the play store and apple store, enabling users to stream directly from their mobile devices via Twitch. It has automated features that make it select the best server, and it has high broadcast resolution and a fixed bitrate that enables it to broadcast quality images. It has both free and premium versions – the premium version offers additional pro features at a monthly subscription rate of $2.99.
Main features:
Quality streaming
Twitter integration
Mobile broadcasting
View chat
After-stream stats
Pros:
Integrated social media features to notify your followers of your live stream.
High-quality video transmission.
Automatically detects the best server.
Cons:
Charges monthly subscription fee for advanced features.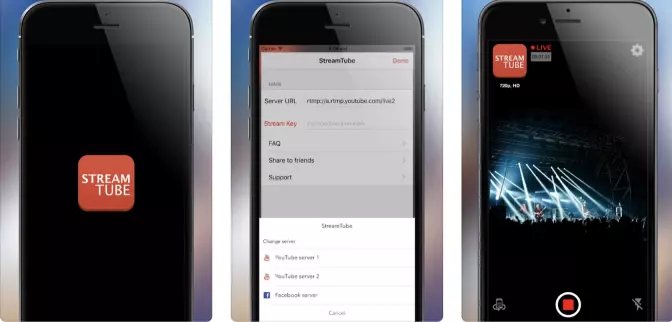 OS: iOS 9.0 or later; macOS 11.0 or later; Mac w/ Apple M1 chip (iPad, iPod touch)
Price: Free
Best for iOS users
Rating on AppStore: 2.8 of 5 stars, 14 ratings
It is software used to broadcast from iPhones and iPads to streaming channels like Facebook and YouTube. It has video editing features like the addition of filters and provides variety like changing camera views, landscape, and portrait streaming.
Main features:
Simple one-tap start
Adjustable stream quality as needed (HD/SD)
Easy editing w/ advanced filters and logos
Zoomx15 feature
Capture stills while live streaming
Landscape & portrait streaming
Pros:
Seamless broadcast from iOS to YouTube/Facebook
Video editing functions
Free for use
Cons:
It is impossible to see the viewer's comments during a live stream.
StreamTube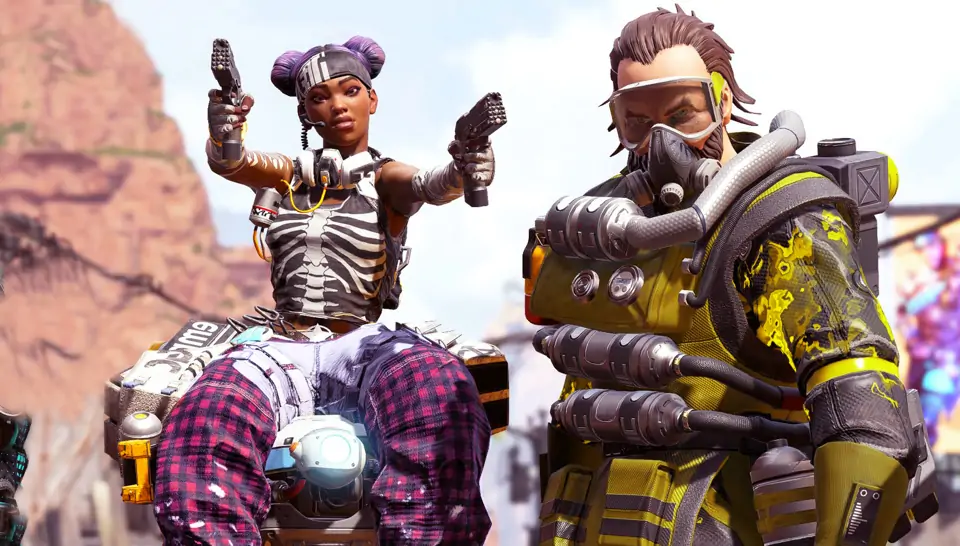 Gecata by Movavi
Simple and solid game recorder and streaming program
❔ Frequently asked questions
🏆 What is the best program for live streaming?
The best program for live streaming depends on what exactly you are trying to achieve and how the software suits your purpose at that time. The following that excellent programs that you should always consider:
Gecata by Movavi
Streamlabs
Twitch Studio
NVIDIA ShadowPlay
OBS
OneStream
Wirecast
XSplit Broadcaster
vMix
Lightstream
FFmpeg
Omlet Arcade
IRLTV
Streamtube
Restream
⚖ Is OBS better than Streamlabs?
Streamlabs is an upgrade to OBS, and it is essentially the revamping of OBS to give a more simplified software with a better user interface. This makes it easier to use, but it also has the drawback of higher CPU requirements. On the other hand, OBS is open-source software that is regularly improved to deliver a better live streaming experience. However, it can be pretty complex for use, especially for beginners.
📺 What software do streamers use?
Depending on the streamer's need, there are many software options available for streamers to use. This includes:
OBS
Gecata by Movavi
Twitch Studio
Streamlabs
FFmpeg
NVIDIA ShadowPlay
OneStream
Wirecast
XSplit Broadcaster
vMix
Lightstream
Restream
Sign up for news and special offers