The Top 11 Best Game Recording Software
Playing a video game is so much more fun when you can share it. Whether you're a sniper, a speedrunner, or a Minecraft modder, screen recording software makes it easy to show off your skills. And the best game recording software does it with virtually no effort.
There are all kinds of game capture software out there, and of course, they all claim to be the best gaming software that's ever been invented. But some are better than others, and the best game recorder for you will depend a lot on what games you're going to play and what kind of PC you're running.
The best screen recorders for games right now
Let's discover the apps that claim to be the best screen recorder for games.
Disclaimer: like many sites, we'll get a small commission if you click through and buy one of our recommendations. That doesn't influence our recommendations: we want you to find the best screen recording software no matter who makes it.
The Top 11 Best Screen Recorders for Games
The best game recording software for Windows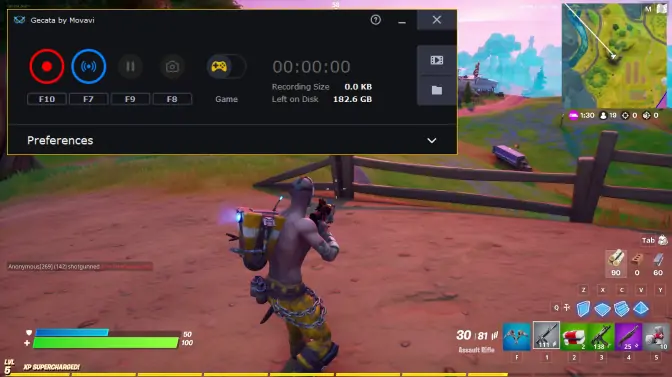 Gecata by Movavi is a lightweight streaming and game recording program for Windows PCs that promises one-click, lag-free operation. You can stream and record at the same time, it's easy to overlay your webcam and everything is easy to control with hotkeys so you don't need to interrupt the gameplay. Gecata supports multiple formats, can take advantage of NVIDIA and Intel hardware acceleration and can record 4K video at up to 120fps, and because it saves your audio streams separately, it's really easy to edit out any bloopers without affecting the in-game audio.
Compatibility: Windows 7/8/10
Price: free trial, full version $30.95
Pros
4K video recording
Multiple video formats
Cons
Free version watermarks recordings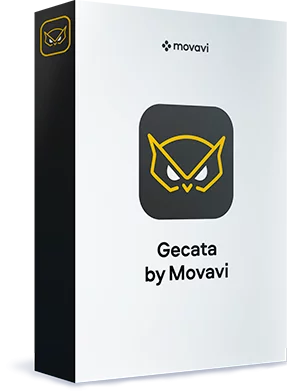 Gecata by Movavi
The best way to preserve your gaming achievements.
Capture HD game videos at up to 120 FPS

Record sound from microphone and speakers

Add webcam video to the game footage

Save video in MP4 for easy uploading to YouTube
The best game capture software for beginners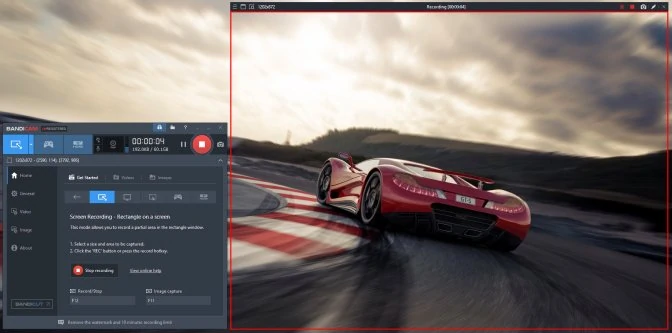 Bandicam doesn't stream but it offers lots of options for screen capture and recording, including the ability to capture from external devices such as smartphones and games consoles and the obligatory webcam support. It runs at up to 4K UHD resolution and can capture up to 480fps, and you can use it to capture not just the full screen but specific areas too. Chromakey support means you can make yourself appear in the in-game action if you've got a green screen handy. If you want to livestream, this isn't for you, but it's an excellent program for recording games on Windows.
You can also read a third-party review of Bandicam at Capterra.com.
Compatibility: Windows XP, Vista, 7/8/10
Price: free trial; full version $39
Pros
Multiple codecs and compression options
External device recording
Unlimited recording time (paid version only)
Cons
Free version adds watermarks and time limits
Recording only, not streaming
Feature-packed gameplay recording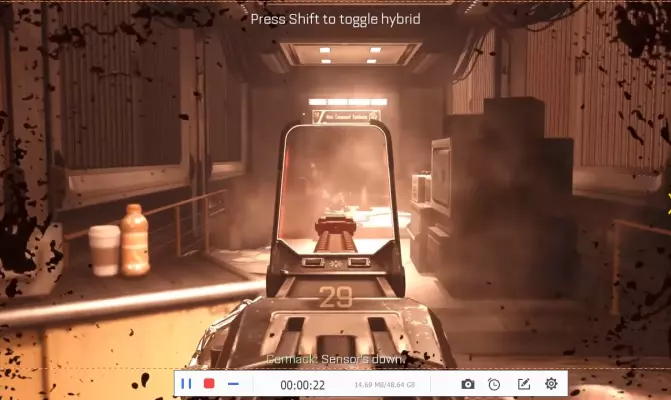 Screen Grabber Premium enables you to record full screen, a selected area, just your webcam, or even just a small area around your mouse, and it outputs in all the key formats, including MP4. The built-in editor enables you to add text, lines, call-outs, and other on-screen items, which is useful if you want to create a tutorial rather than just capture your gameplay, and the app can also record audio from anything that's playing on your PC or Mac. The interface is pretty minimalist but it's clear enough and straightforward to use.
One thing that's different about Screen Grabber Premium is the pricing: if you don't shell out for the lifetime licence, your money only pays for a year of using the app.
You can also read a review at MacUpdate.com.
Check out the MacUpdate review here
Compatibility: Windows 7/8/10, macOS 10.8 and higher
Price: free trial; from $29.95 a year or $42.95 for lifetime licence
Pros
Multiple format support
Easy to use
Webcam overlay
Good audio recording
Cons
Free trial limits video to 3 minutes
An old favourite that may be worth considering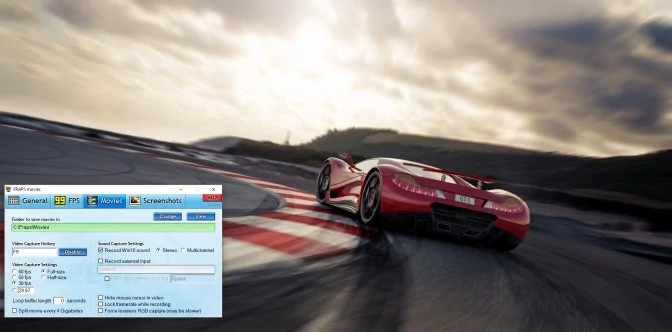 You can tell Fraps has been around for a while: how many screen recorder apps still list Windows XP and 2003 in their compatibility list? This is an old app – the most recent release came out seven years ago – but its age is actually a bonus if you're running older versions of Windows or need a screen recording app with very modest hardware requirements. The free version is very limited, though, and the screenshot feature saves to BMP which means it's only slightly more modern than having someone draw it on parchment with a quill.
The free version is very limited but does enable you to monitor your game's FPS rate and run performance benchmarking, which it's very good for. However, we don't think this is going to be the best game capture software for many people.
You can read a full review of Fraps at PC World.
Compatibility: Windows XP/2000 or later
Price: free version; full version for $37
Pros
FPS counter and benchmarking
Cons
#CommissionsEarned
Easy screen recording software for Windows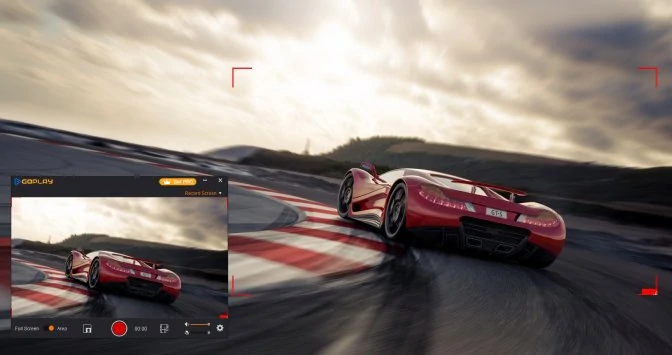 GoPlay offers a familiar mix of gameplay recording, picture in picture for your webcam, and the ability to capture some or all of your screen. One of the things that makes GoPlay stand out here is its editing features, which enable you to trim, copy and merge videos as well as apply special effects. There are good subtitling features too, and for audio the noise removal tools can help clean up poor quality recordings.
GoPlay is subscription-based, which is increasingly common in the game capture software market, but unlike many others, its shortest subscription isn't a year: it's a month, which currently costs £4.79. That means you can get the whole app for a single project without committing to an ongoing subscription plan.
You can read a review of GoPlay at Techradar.
Compatibility: Windows 7/8/10
Price: free trial; 1 month $4.90, lifetime licence $39.90
Pros
Good editing and effects
Multiple format support
4K/60fps support
Cons
Really lightweight game capture software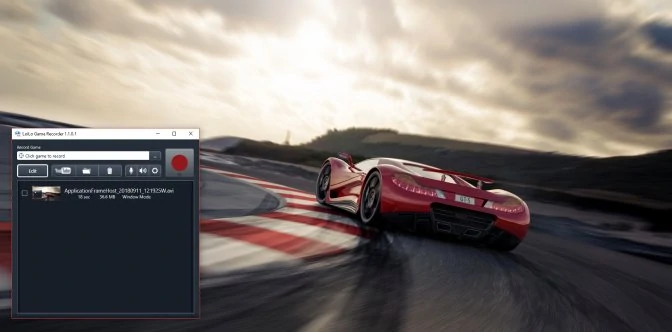 LoiLo comes from the same stable as the excellent LoiLoScope video editing app, and the developers are providing it for free in the hope that you'll love it so much you'll want to get the editing programme too. You can't complain about the price tag, but the app may be a little too simple for some: there's no picture-in-picture or fancy annotation features, just a big red button to record gameplay and audio. LoiLo Game Recorder will happily create Full HD recordings but the format is Motion-JPEG rather than the more common and more efficient MP4. If you don't want to pay for your screen recording software, then this will do the job, but it lacks the features you'll find in most paid-for products.
Compatibility: Windows 7/8
Price: free
Pros
No time limits
Tiny system requirements
Really simple
Cons
May be too simple for you
#CommissionsEarned
The advanced screen recorder and gameplay recording software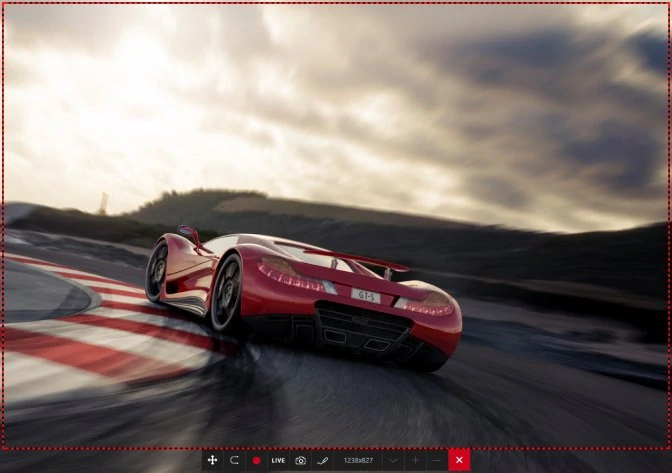 Action! Screen Recorder is one of the most versatile game recording programs you can buy. It offers screen recording and life streaming to Which, YouTube, Facebook, and other platforms, it records HD directly to MP4 format, it has a green screen mode, and it can record from your webcam or external capture devices and it can record at up to 4K for MP4 and 8K-plus for AVI if you have an AMD Eyefinity or NVIDIA 3D Vision setup. It can even remove the background of clips via Intel's RealSense technology. It's not the best game capture software for modest or older PCs but it's good for higher-spec setups.
Compatibility: Windows Vista/7/8/10
Price: 30 days free, licences from $19.77
Pros
Multiple streaming services
HD / 4K / 8K depending on hardware
Lots of features
Cons
Trial limits you to 10 minutes
Needs a decent PC to perform well
A superb screen capture program for streaming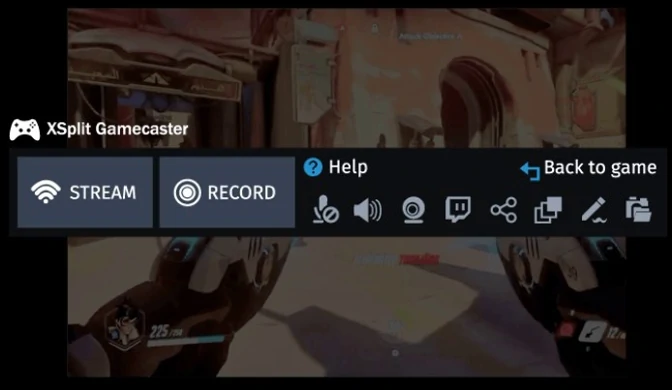 Gamecaster is brilliant for live streamers: it enables you to start streaming to Twitch, YouTube, or Facebook in 1080p quality with the minimum of fuss. The app doesn't just stream and support picture-in-picture, too: it also enables you to engage with your audience via chats and other interactions. It can record and stream at 720p or 1080p HD but not 4K.
Gamecaster is really easy to use, and you can personalise its appearance with over 300 game-specific themes. You can also create your own. It's only currently available for Windows but a Mac version is in development. On Windows, you'll need at least a 4th Generation Core i5/i7 and 8GB of RAM.
There's a detailed review at G2.com.
Check out the G2.com review here
Compatibility: Windows 7/8/10
Price: free version; pricing starts at $24.95
Pros
24/7 support
Superb for streaming
Chroma key support
Cons
Advanced features require a subscription
A lot more expensive than many rivals
Very fast screen capture for DirectX and OpenGL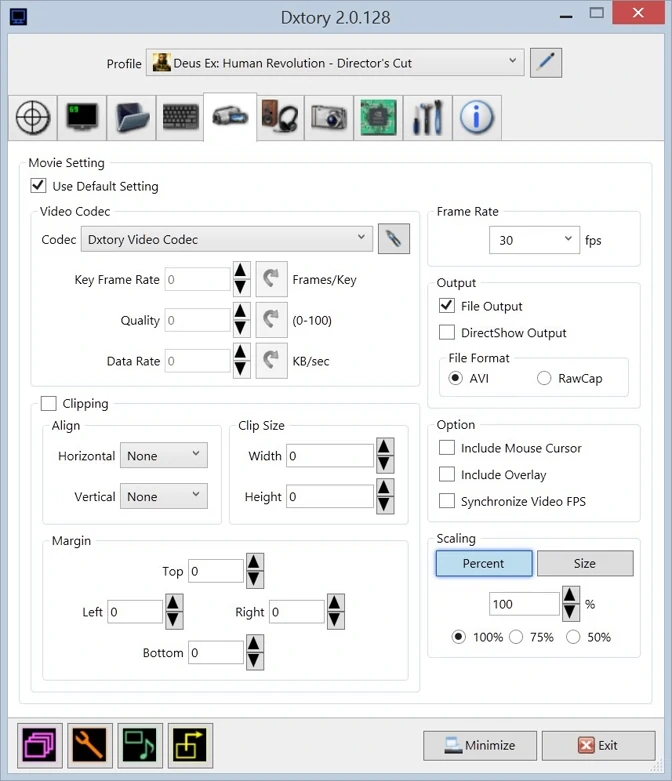 It hasn't been updated for a couple of years – the most recent version was launched in 2017 – but Dxtory works with Windows 10 and DirectX up to version 12. Its minimalist design and clear interface aren't exactly pretty but it's straightforward to use, records from multiple audio sources simultaneously and works with a ton of video codecs. Just be aware that Dxtory saves your video uncompressed so long sessions can be space hogs, especially if you're recording at the maximum 120fps.
Compatibility: Windows 7/8/10
Price: free trial; full version for $35.50
Pros
Great customisation options
Multiple audio stream recording
Fast and lightweight
Cons
No streaming
Not the simplest
Some reported issues at high FPS rates
The best screen recorder for GeForce graphics cards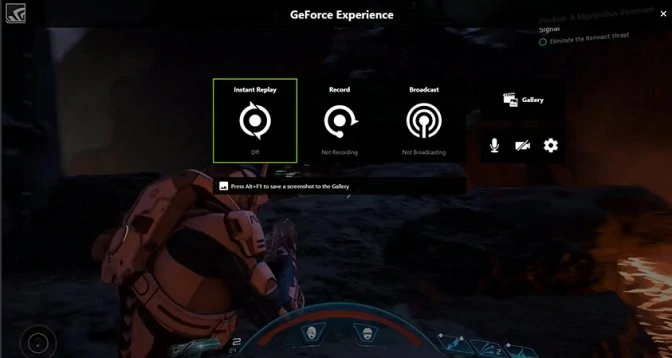 If you have a GeForce card, NVIDIA reckons this is the game recording program for you. It's designed specifically to work with your graphics card, and it delivers a Swiss Army knife of recording and game streaming features, including easy broadcasting to Facebook Live, Twitch, and Youtube. We particularly like Instant Replay and Record, which enables you to capture things you weren't expecting to capture: if you've just done something spectacular you can hit the hotkey to save the last 30 seconds of gameplay, ready for sharing. If your hardware supports it, you can record 4K HDR at 60fps or 8K at 30fps. You can also create GIFs and take screenshots at resolutions of up to 8K. If you have a GeForce this should be the app you try first.
PC World reviewed ShadowPlay in depth.
Compatibility: Windows 7/8/10
Price: free
Pros
All the features are free
No time limit for recording
No watermarks
Cons
The best open-source screen capture program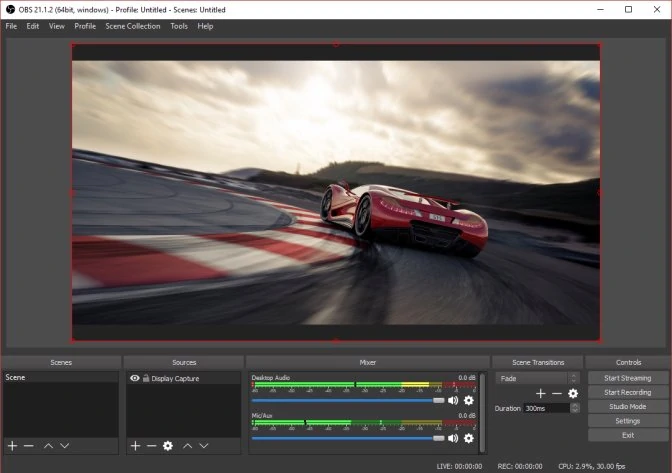 OBS Studio is available for Windows PCs, Mac and Linux. It's open-source, which means it's maintained by a community and distributed completely free; you can thank companies including Twitch and Facebook for sponsoring it. As you'd expect from those sponsors, OBS Studio works with your favourite game streaming service as well as being a good screen recording program.
OBS Studio may be a bit scary for beginners but for power users it's brilliant. It offers real time capture and mixing of multiple audio and video sources, including webcams, it has a nice audio mixer with noise suppression and VST plugin support, it's very customisable and it's constantly being updated. It works with multiple formats and it's a really interesting alternative to NVDIA's ShadowPlay.
You can see a comparison of OBS and ShadowPlay here
There's also a detailed review at Techradar.
Compatibility: Windows 8/10, macOS 10.13 and higher, Linux
Price: free
Pros
Works with key streaming services
No watermarks or limits
Superb mixing and editing
Cons
What features should you expect from good gaming software?
Good game recording software is able to record video at the same speed as your gameplay, and that speed is measured in frames per second (FPS). 60fps is the standard for PC gaming, although older titles or slower PCs may run more slowly. Speeds beyond 30fps are good but it's not good to go below that. The program should be straightforward to use and shouldn't require lots of messing around to do things like overlay your webcam over the gameplay or send video to YouTube or Twitch. And in the majority of cases, the best screen recorder for games is going to be a Windows PC program because that's where the best games are.
Frequently Asked Questions
💻 What Is the Best Video Game Recording Software?
We think you'll find the best video game recording software in our round-up, which includes these apps:
Gecata by Movavi
Bandicam
Fraps
GoPlay
LoiLo
Action!
XSplit Gamecaster
Dxtory
NVIDIA ShadowPlay
OBS Studio
The best game capture software will differ from person to person and computer to computer, so for example, if you want to record your gameplay on Linux, then your choice basically comes down to OBS Studio; if you want to livestream, then a screen recorder that doesn't support streaming isn't going to be very helpful.
🆓 What Is the Best Free Recording Software for Gaming?
If you have a GeForce card, you should look at NVIDIA ShadowPlay: it's designed specifically for NVIDIA's technology and it's really good. For any video card, OBS Studio is brilliant but there is a little bit of a learning curve if you're new to screen recording software. If you just need something quick for recording, LoiLo and Fraps are both worth a look.
🎦 How Do You Record Yourself Gaming?
Game recording software or screen recording software enables you to record yourself gaming. If you want to include yourself in the video – for example, by having a little Picture-In-Picture window in the corner of the screen – you'll also need a program that supports your webcam. Most do.
The specific process is different from app to app, but here's an example from Gecata by Movavi:
Install the game recorder on your PC and launch it.
Adjust the recording settings and click on the Microphone and Webcam icons to record sound and video from your mic and webcam as well as from your came.
Choose the Game mode from the drop-down menu. This ensures that your screen recorder software will start as soon as you launch the game and end automatically when you exit the game.
To start recording, just click on the REC button.
That's it!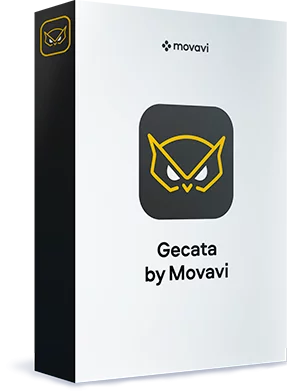 Gecata by Movavi
The best way to preserve your gaming achievements.
Stream and record HD game videos at up to 120 FPS

Grab sound from microphone and speakers

Add webcam video to the game footage

Save video in MP4 for easy uploading to YouTube
Read Other Useful Articles