Top 5 Video Game Streaming Platforms in 2020
The video game industry is thriving and the community of both professional and amateur gamers is now a world – and an industry – all its own. Game streaming sites and platforms are used by gamers worldwide to share their gameplay live, to gather feedback, to grow a community, and to earn money for gaming. Some of these platforms are free, others are not, and choosing a good service that is right for your live stream may be challenging for a beginning streamer. We've created a list of our top 5 video game streaming sites so you can see the differences for yourself and start broadcasting your gameplay right away.
Looking for an app to record your gameplay? Try Gecata by Movavi – an easy-to-use screen-recording program for Windows.
Best Video Game Streaming Platforms
New programs, sites, and platforms for game streaming arrive every day – and they fall in and out of fashion, merge (as Hitbox and Azubu became Smashcast.tv), rebrand (remember when Beam became Mixer?), and, oh, boy, do they multiply. In this article we've tried to reduce the list to the most popular and the most promising.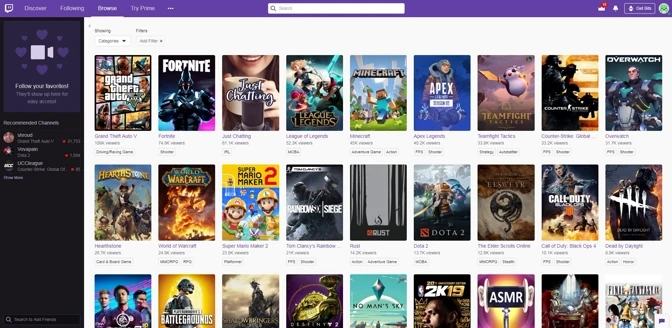 Twitch has already held an undisputed leading position among the top gaming streaming sites for some time. It is a huge social network for gamers and said to be the most popular live game streaming site, both easy-to-use and functional. The very concept of game streaming started to gain popularity after Amazon purchased Twitch back in 2014, and today its audience includes millions of gamers, including more than 15 million daily active users and nine million channels.

Twitch can be used for free and is compatible with most popular video streaming services. There are video playlists and useful navigation functionality, such as tags and collections. The site lets you chat with other users, subscribe to their channels, and stay updated through product announcements.

If you're new to video game streaming, chances are you're going to feel lost amidst the sea of daily content and, if you're a streamer yourself, you'll know it is extremely difficult to stand out on Twitch: the competition there is so high that even prominent streamers have to go live regularly and work tirelessly on their streams in order not to lose money and subscribers. That is one of the reasons why, regardless of Twitch's reputation, even top gamers today are starting to look around for alternative independent game streaming sites.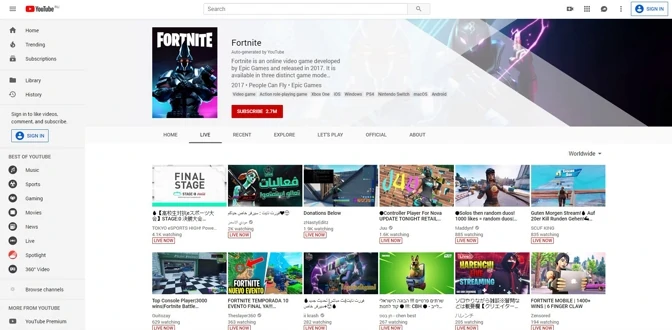 Back in 2015, YouTube Gaming was Google's attempt to challenge the Amazon-owned Twitch. Since then, the platform has changed and grown into an impressive project with its own personality. It shares a lot with Twitch in terms of functionality, and its layout is quite intuitive because in many ways it resembles YouTube itself. Being a part of YouTube, it gives you a good opportunity to bring all your video content together in one place. The chat is well integrated in streams, and the platform lets you stream games and add Let's Plays in 4K at 60 FPS. The site also enables streamers to build a good revenue stream thanks to its association with the Google AdSense advertising platform.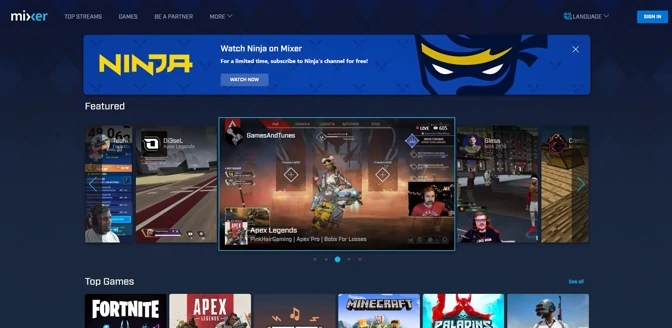 Since its acquisition by Microsoft in 2016, Mixer has gained much both in terms of reputation and community. One of its draws is the fact that it is integrated with Xbox One and Windows 10 dashboards, opening new streaming opportunities for gamers using these platforms.

Mixer is not only a streaming platform, but also a diverse community with its own paid virtual currency called Embers (equivalent to Twitch's Bits) that can be used to buy premium skills: animated stickers, full-screen effects, and the opportunity to customize your messages in chat and donate to your favorite streamers.

The platform lets you co-stream with up to four other gamers, which is a really cool feature that is quite rare among other sites. Mixer is also known for its impressive speed, good real-time analytics, statistics, and great design. All of this has turned Mixer into one of the most popular alternatives to Twitch.

While Mixer's community is still quite small (about 69,000 streamers compared to 1.5 million on Twitch), it has already acquired a certain status and attracted professional gamers: recently, the gamers' community caught fire when Ninja, one of the most popular game streamers in the world, decided to leave Twitch for Mixer. The story brought in a new wave of attention to Mixer and raised its reputation considerably.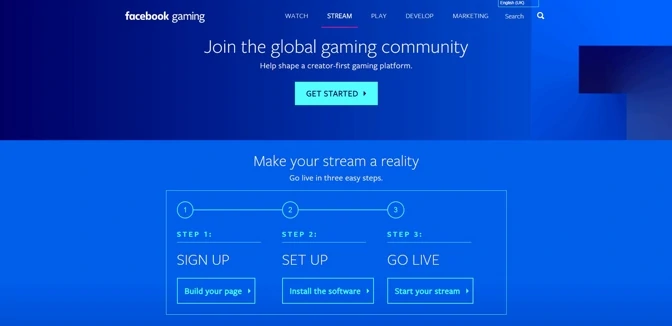 It is no great surprise that, after the giants like Amazon, Google and Microsoft made their way into the live game streaming business, Facebook also decided to join in the fun. Having the biggest online community on hand and a domain that needs no introduction, Facebook seems to be firmly on track to compete in this new field.

Just as in the case of YouTube Gaming, having a ready-made web environment known to almost everyone is a huge asset in the development of a new service. The familiarity of having your streams two clicks away from your Facebook page is probably one of the biggest reasons Facebook Gaming has become so popular so quickly.

But it seems that Facebook Gaming is working hard not just on the size of its audience but also on the quality of its gaming content, as far as can be judged from the news about its deals with Paladins, Heroes of the Dorm, and global e-sports company ESL.

Recently, Facebook launched Level Up, a program that provides Facebook streamers with powerful tools to help them build audiences and make money. Level Up provides its members with personalized help from Facebook Support, as well as the option to stream in 1080p at 60 FPS; it also provides access to a special virtual currency called Facebook Stars and other features designed to help build a community around your channel.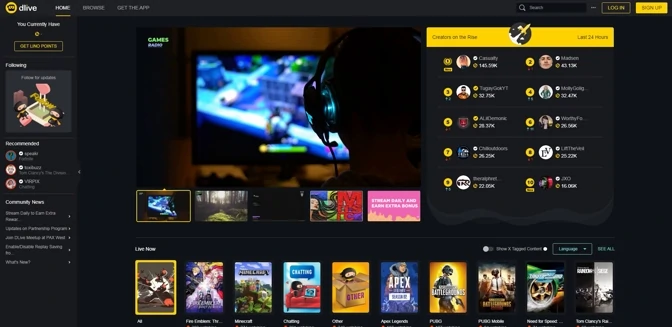 DLive is a relatively new player in the market, but it has already established itself as a streaming platform that is innovative in terms of monetizing and community building strategy.

DLive claims to take no cut of the revenue that comes from the streamers through subscriptions or digital donations and promises that it never will. The platform says it gives 90.1% of all subscription and gift revenue directly to the creators. The other 9.9% is gathered in a pool that rewards the most active members of the DLive community on a daily basis. To give you an idea of just how impressive that is, it is enough to say that Twitch keeps 50% of channel subscription revenue.

The platform had been given a really impressive head start with support for PewDiePie, a prominent gamer and YouTube #1 individual creator with 93 million subscribers. "DLive is great for me because I'm treated like a real partner just like all of the other streamers on their unique platform," said PewDiePie in explaining his decision to stream on DLive.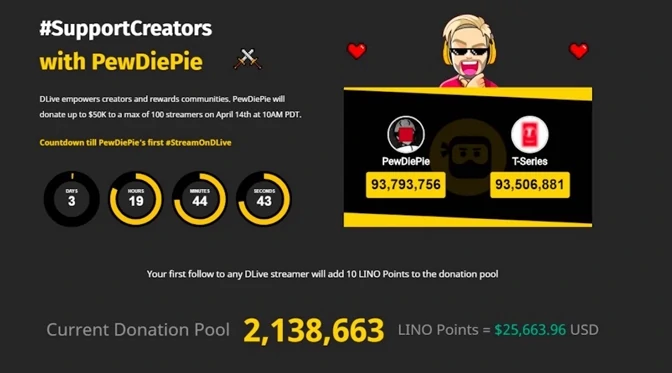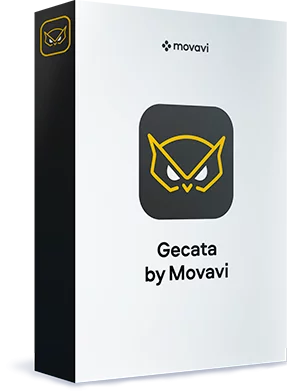 Gecata by Movavi
The best way to preserve your gaming achievements.
Stream and record HD game videos at up to 120 FPS

Grab sound from microphone and speakers

Add webcam video to the game footage

Save video in MP4 for easy uploading to YouTube
Read Other Useful Articles