If you are looking for similar software to OBS for recording or streaming your screen activity or both, read on. There are plenty of screen recorders available. In this guide, we have narrowed down the best OBS alternatives for all your recording and streaming needs.
Best OBS Studio alternatives: recording tools
OS: Windows and Mac
Price: $57.95
G2 rating: 4.5 out of 5, 47 reviews
Movavi Screen Recorder is software similar to OBS – it lets you record and share screen activities, online calls, video tutorials, and more. It has a wealth of features to let you record only what you want, from your screen to your webcam output or audio only. As well as simple editing tools, it lets you draw on videos during the recording process and schedule recordings. You can try Movavi Screen Recorder for free before you buy, and there's an affordable one-time fee if you decide to purchase the software.
Features
Keyboard sharing
Webcam output capture
Audio only recording
Captures online calls and other screen activities
Create screencasts
Free minor updates
Supports a wide range of formats
Pros
There are versions for Windows and Mac
The editing tools are simple to use
Minor updates are free
You can choose to record audio only or both screen and audio
Recording scheduling makes it easy to plan online tutorials or classes
You can share your keyboard and mouse clicks with viewers
It's possible to capture your webcam output without recording the screen
Cons
There is no free version
It may take a little while to learn your way around the program
Verdict. Movavi Screen Recorder is ideal for teachers, students, gamers, remote workers, or anybody who wants to grab record video tutorials, online calls, and other screen activities.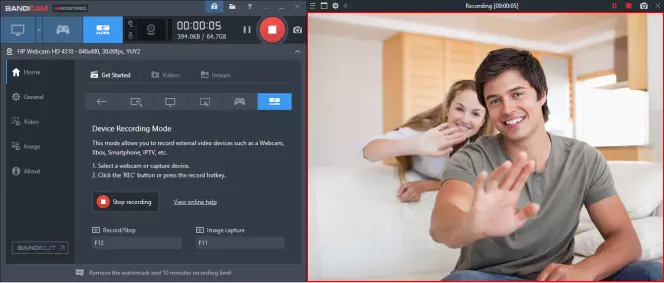 OS: Windows only
Price: $39.95 for 1 PC, $59.96 for 2 PCs
Software Advice rating: 4.36 out of 5, 47 reviews
Bandicam is a lightweight screen recorder for Windows that lets you record anything on your PC screen. It's a lower resource option than some other video capture programs. Notable features include scheduled recording and real-time drawing. It's free to download and use the unregistered version of Bandicam, but the unregistered version does have a recording time limit of 10 minutes per file, and videos are watermarked.
To learn more about Bandicam, check out our review of the program.
Features
Webcam overlay
Chroma Key for webcam overlay
Mouse effects
Mix your own voice
Pros
It's affordable for use on a couple of PCs
It has a high compression rate and keeps the video quality as close to the original as possible
It's lightweight
You can save your screen recordings in a variety of formats such as MP4 or AVI
You can record external video devices like a smartphone or webcam
It allows you to record games with 4K UHD video
Cons
The price of the software increases the more PCs you want to use it on
It's for Windows only
For editing, you'll need to purchase the Bandicut Package
Verdict. Bandicam is ideal for professional or personal use and will best suit those looking for a screen recorder that can record anything, including external video devices – particularly gamers and teachers, or those on a budget.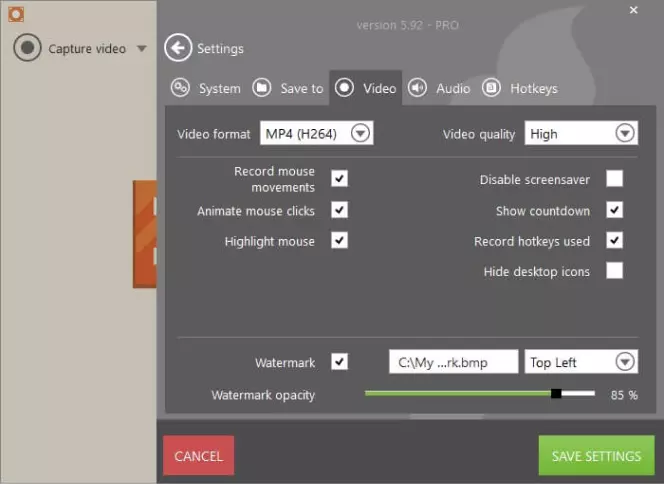 OS: Windows, Mac, Android
Price: free version, the pro version costs $29.95
Capterra rating: 4.4 out of 5, 20 reviews
Icecream Screen Recorder is a free screen recording program that's easy to use and lets you record any part of your screen or save it as a screenshot. You can even record streaming videos and live webinars, record your screen with webcam overlay, or record your system audio and microphone. There's a free version available that has a 5 minute recording time limit and watermarks on all videos, or you can upgrade to Pro, which lifts limits on video recording times.
Features
Add your own watermark
Record full-screen 3D games
Annotate feature lets you add shapes, arrows, and text
Record full screen or a specific area
Share to Dropbox, Google Drive, and YouTube
Trim recordings
Scheduled screen recording
Pros
It works with Windows, Mac, and Android
Pro is an affordable price
You can schedule recordings
You can easily trim and annotate recordings
The simple interface makes it easy to use
You can record all or part of your screen
Cons
It supports only a few video formats across both the free and Pro versions (AVI, MP4, MOV, and WebM)
The audio can become distorted when editing videos
Verdict. Icecream Screen Recorder is a good OBS alternative for a Mac and Windows for individuals and small businesses and will be particularly useful for educators teaching online.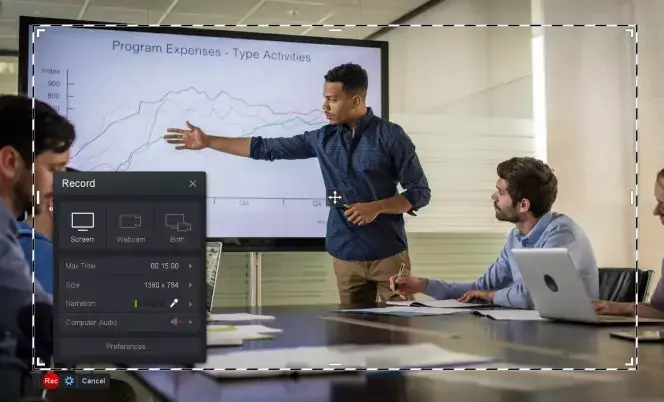 OS: Windows, Mac, Android, Chromebook
Price: there's a free version. Deluxe costs from $1.65/month, billed yearly. Premier costs from $4/month billed yearly. Team plans are available for 10 computers or more from $9.50/month.
PCMag rating: 4 out of 5
Screencast-O-Matic is screen recording software that lets you create and share screencast videos. With features like a stock and sound effects library and a range of video editing tools, it's easy to create videos – and you can also easily markup screenshots with text, arrows, highlights, and more. There's a free version – although some features such as video hosting and video editing tools aren't available in the free version – and you can choose from two paid plans if you decide to upgrade.
To learn more about Screencast-O-Matic, check out our review of the program.
Read the Screencast-O-Matic review
Features
Video hosting
Custom video player and thumbnails
Green screen filters
Record computer audio only
Easy sharing
Pros
It works across Windows, Mac, Android, and Chromebooks
It's easy to use
Editing is fast and responsive
It's simple to share videos on YouTube and other sites
You get a branded, ad-free site and video hosting plus a custom video player with the Premium version
Cons
It can be slow and clunky
The library could use more content
There's a wide range of editing tools, so it takes time to learn
Verdict. Screencast-O-Matic is a good OBS alternative for a Chromebook. It's suitable for everyone, from individuals looking for free video recording software to professionals and companies who want to host videos on their own site or upload to YouTube and other sharing sites.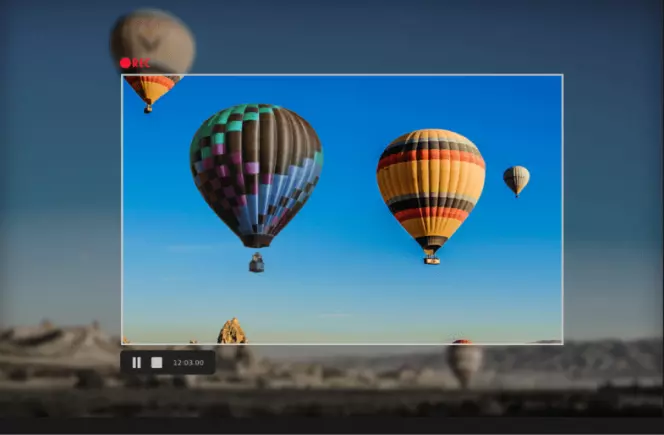 OS: Windows only
Price: the Express version is free. Pro costs $49 for 1 PC and $74 for two PCs, with licenses available for up to 20 PCs.
TechRadar rating: 5 out of 5
FlashBack Express is a free screen recorder for Windows that has a full editing suite. You can easily capture all or part of your screen, or use multi-device capture to capture multiple screens across your devices. Recordings can be saved in a wide variety of formats and you can edit your videos using the included tools. If you want to try the Pro version, you can do so free for 10 days.
Features
Easy sharing to YouTube
Schedule recordings
Multiple screens simultaneous recording
Multi-track full editing suite
Add audio commentary
Pros
Recordings can be scheduled
Free tech support is offered
There are no watermarks on videos
There are no time limits on video length
Cons
To save recordings in formats other than MP4, AVI, or WMV, you'll need to upgrade to Pro
The full editing suite and video effects are only available in the Pro version
Verdict. FlashBack Express is a good choice for those looking for a lightweight screen recorder with basic editing features, including individuals, gamers, and professionals searching for a free program.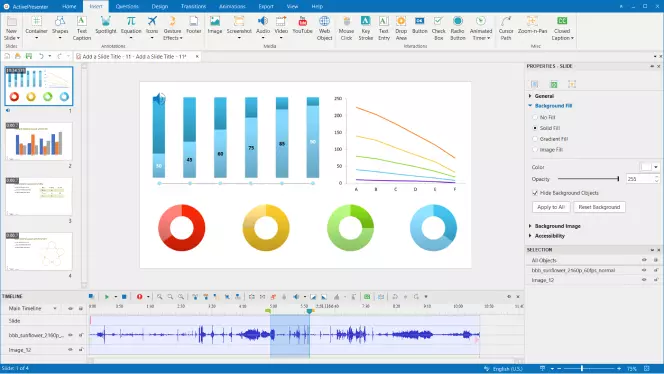 OS: Windows and Mac
Price: free edition, the standard edition costs $199 per license and the pro edition costs $399 per license
Capterra rating: 4.7 out of 5, 28 reviews
ActivePresenter is an all-in-one screen recorder, video editor, and eLearning authoring software. It offers audio and video editing tools as well as the option to export to video or HTML5. There's a free version that has all features enabled but has a watermark on created content, or you can upgrade to the Standard or Pro edition.
Features
Smart capture
Full motion recording
Dark mode
Green screen effect
Webcam recording
Pros
It's better for eLearning than some other software, with plenty of tools for authors and educators
There are excellent editing tools
It's user-friendly and easy to get started
You can export to a range of formats
Cons
The video editor can be a little confusing to use at first
It doesn't offer as many video effects as some other software
Exporting videos can be slow
Verdict. ActivePresenter is aimed at educators, online video marketers, and training agencies. Its free version is ideal for those on a budget who are just getting started creating content.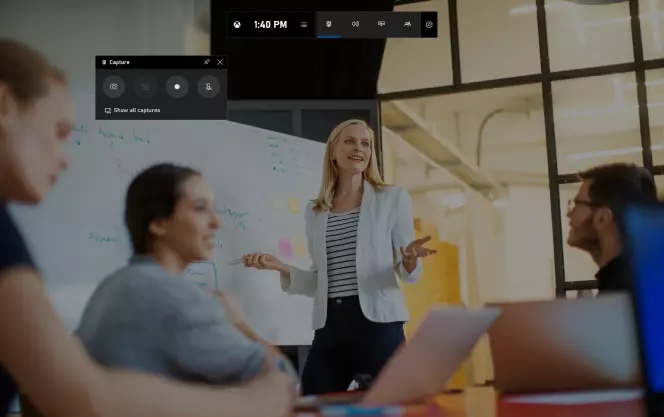 OS: Windows
Price: free
PCMag rating: 3.5 out of 5
Xbox Game Bar is a gaming screen recording that comes built-in to Windows 10. It is very easy to use and can record up to 2 hours of gameplay.
Features
Designed for gamers to record video gaming clips
Record up to 2 hours of screen activity
Pros
User-friendly
Good quality videos
Cons
Not many recording features
Verdict. A good choice for games wanting a free, user-friendly video clip recording solution.
Best streaming alternatives to OBS Studio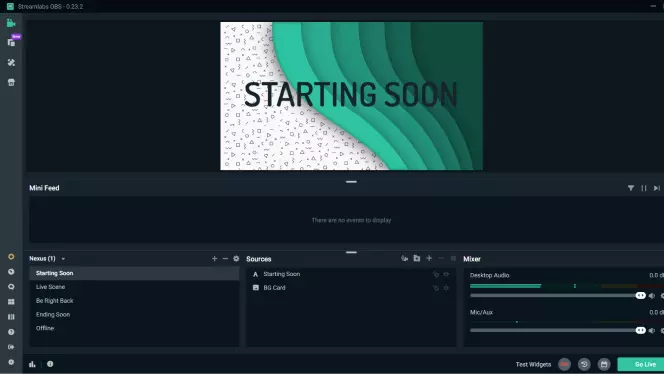 OS: Windows only
Price: free version. No pricing information is provided on the Prime version – you'll need to contact Streamlabs for more information.
Trustpilot rating: 4.4 out of 5, 1419 reviews
Streamlabs Desktop is free live streaming and recording software that's open-source and available on GitHub. Users can also choose to upgrade to Prime, which offers a custom tips page and the ability to stream to multiple platforms simultaneously. It's easy to broadcast your live stream to YouTube, Facebook, or Twitch – and you can control your live broadcasts remotely with the iOS and Android apps. It's not the most lightweight app and can be quite resource-intensive to run, so might not be suitable for all machines.
Features
Layout editor to personalize an interface
Selective recording
Replay buffer to save live stream replays
Dynamic in-game overlay
iOS and Android apps
Pros
There's an incredible range of features
The dynamic in-game overlay lets you chat and view recent events on one screen
Selective recording lets you choose the source for your recorded videos or live streams
Cons
Features like pro themes and simultaneous streaming to multiple platforms are only available if you upgrade to Prime
There's no price on their site for Prime, so you'll need to contact support to find out more.
Getting started can be a steep learning curve for beginners
Verdict. Streamlabs Desktop is a good alternative to OBS Studio for those looking for free streaming software – but it's also an excellent choice for streamers looking for advanced features like simultaneous streams and pro themes to boost their business.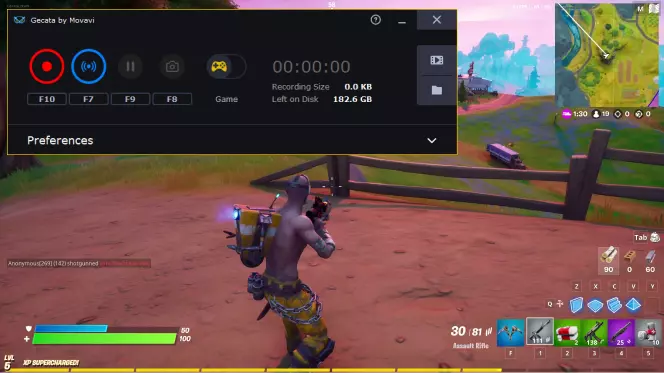 OS: Windows
Price: $35.95
Steam rating: 400 mostly positive reviews
Gecata by Movavi lets you record and stream simultaneously. It is easy-to-use – use hotkeys to control your recording without leaving the game. Additionally, you can overlay your webcam video to your recordings. The program's lightweight design means it works well even for low-end PCs.
Features
Records while you stream
Webcam overlay
Multiple audio options
Pros
Lightweight
Very easy to use, which makes it perfect for beginners
Hotkeys to control the recording
Supports all popular games
Cons
Verdict. An excellent choice for gamers who want to record and stream simultaneously.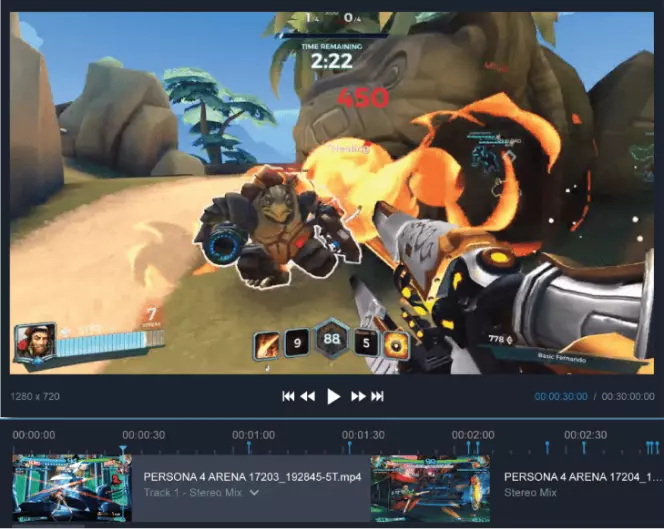 OS: Windows only
Price: free version. Premium costs $24.95 for three months, $59.95 for 12 months, $149.95 for 36 months, or $199 for a lifetime license.
Capterra rating: 4.1 out of 5, 50 reviews
XSplit Broadcaster is live streaming and recording software that's designed for game developers and content creators. There's a free version, or you can upgrade to Premium. With features like simple drag and drop editing, unlimited scenes, and video production features like Chroma Key and Express Video editor, it's easy to create professional videos. There's a free version, or you can upgrade to Premium for additional features like unlimited scenes, local streaming, and the preview editor.
To learn more about the app and its differences from OBS Studio, check out our article:
Read the XSplit vs. OBS review
Features
Upload multiple media files to YouTube quickly
Local streaming
Stream & record in 4K 60fps and beyond
Projector mode
Engagement tools like YouTube Super Chat and Twitch Cheers alert
Stream management features like scene preview editor and scene and source transitions
Pros
It's easy and intuitive to use
You can stream up to 720p at 30fps without a watermark and up to 1080p at 30fps with a watermark in the free version
There's 24/7 support and lifetime updates
Choose from a range of licenses, from 3 months to a lifetime license
Engagement tools help you reach your audience
Cons
You're limited in streaming quality and fps with the free version
It can be quite resource-intensive, which can slow down games and cause lag
There's a lack of customization options
Verdict. XSplit Broadcaster is suitable for game developers and content creators looking for free streaming and broadcasting software. The Premium version is ideal for those who are growing their audience and want access to additional features and engagement tools.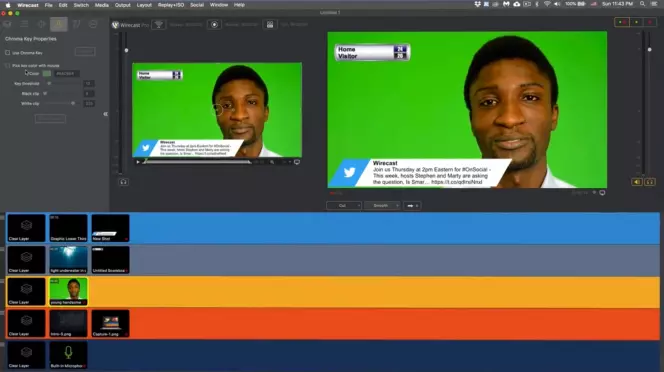 OS: Mac and Windows
Price: free trial, Studio costs $599, and Pro costs $799
G2 rating: 4.4 out of 5, 32 reviews
Wirecast is professional live event streaming, broadcasting, and producing software aimed at professionals in the education, entertainment, sports, and religious industries. There's a fully functional free trial and you can choose to purchase either the Studio or the Pro version. It's possible to stream and record simultaneously and with social media integration and live viewer counts, audience engagement is a breeze. There are also over 100 built-in graphics and titles and a stock media library with over 500,000 assets.
Features
Unlimited sources
Unlimited destinations including Facebook Live, Twitch, and YouTube
ISO recording
Professional audio
Expanded output options
Chroma Key, QR codes, and Playlists
Pros
The free fully functional trial isn't time-limited
There is a choice of two versions to purchase
There are plenty of tools for audience engagement
There's a huge library of assets and built-in graphics and titles
You can stream to multiple platforms simultaneously
It offers a wide range of capture, production, and streaming tools for pros
It works with Windows and Mac (originally Mac OS X)
Cons
The free trial doesn't allow ISO recording and it adds audio and video watermarks
The interface isn't that user-friendly and there can be a learning curve
Verdict. Professional users live streaming in the sports, entertainment, education, or religious industries will get the most use out of Wirecast.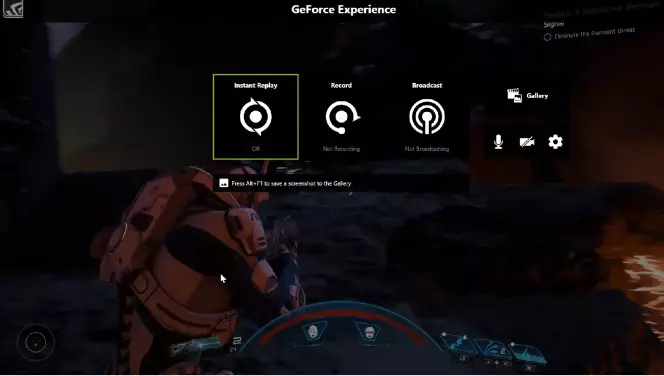 OS: Windows
Price: free
PCWorld rating: 3.5 out of 5
NVIDIA Shadowplay allows you to both record and stream your gameplay, but not simultaneously. Easily streams without affecting your system's performance, making it a great OBS Studio alternative.
To learn more about the program and its differences from OBS Studio, check out our article:
Read the ShadowPlay vs. OBS review
Features
Take, share, and save screenshots of your favorite streaming moments
Instant replay that records the last 5 minutes of your game
Live streaming to Facebook Live, YouTube, and Twitch
Pros
Easy-to-use
Free
Lightweight
Cons
Only functions with NVIDIA graphics card
Mixed performance
Can't record and stream simultaneously
Verdict. Well-suited for gamers who are looking for software like OBS for live streaming but prefer a more user-friendly, lightweight option.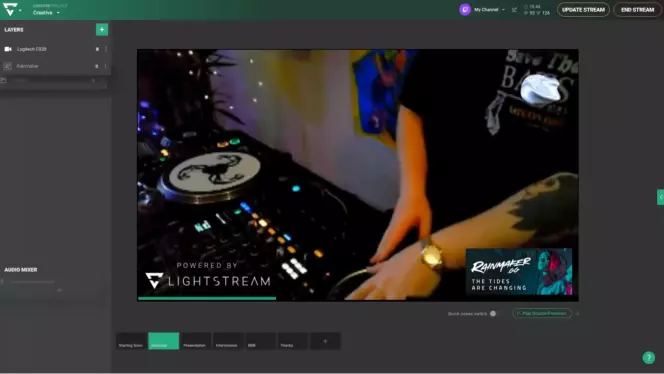 OS: cloud-based – access from PC or laptop browser or the browser on your mobile device
Price: free 7-day trial. Plans start at $7/month for the Gamer plan and $20/month for the Creator plan. Plans are priced based on maximum streaming resolution.
Cuspera rating: 4 out of 5, 43 reviews
Lightstream Studio gives you a complete creative suite right in your browser, with no software to download. Enjoy unlimited streaming hours, cloud sync and storage, and a simple drag-n-drop editor for layout and design control, as well as disconnect protection and the option to remote control your streams from your phone. There's a free 7-day trial and a choice of two plans. Every plan includes unlimited streaming hours, cloud sync and storage, Auto Live, and Disconnect Protection, and plans are priced according to maximum streaming resolutions.
Features
Live chat support
Auto Live
Third-party integration
Remote guests
Cloud capture for console streams
Branded overlay and interactive widgets
Pros
There's no need to download any software as you access the program through your browser
You can control your broadcast from your desktop or the mobile browser on your phone
You can capture and stream from your Xbox or PlayStation
It's easy to stream to your favorite platforms like YouTube and Twitch
Cons
Plans increase in price depending on the streaming resolution
The cheapest two plans only provide 720p resolution – you'll need to upgrade to the most expensive plan for 1080p
The plans can be expensive depending on your maximum streaming resolution
You need to be connected to the internet to access the software, as it's cloud-based
Verdict. Lightstream Studio is an excellent, affordable option for console gamers who are looking for programs like OBS to live stream or anyone who prefers cloud-based streaming rather than having to download and install software.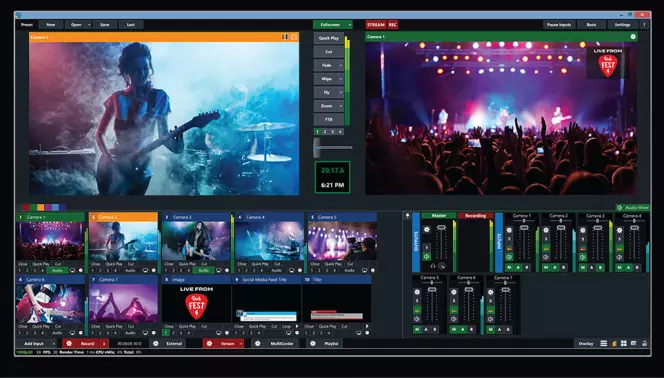 OS: Windows
Price: to be confirmed directly with vMix
G2 rating: 4.2 out of 5, 23 reviews
vMix lets you use multiple inputs, like cameras, audio, and mixed media to record and stream simultaneously.
Features
Live video mixing effects and filters
Overlay
Live streaming and recording
Pros
Good customer support
Cost-effective
Cons
The steep learning curve to get started if you are a tech beginner
Uses a lot of bandwidth
Can't stream to more than 3 different streaming services at the same time
Verdict. A great option if you are looking to live stream and record simultaneously.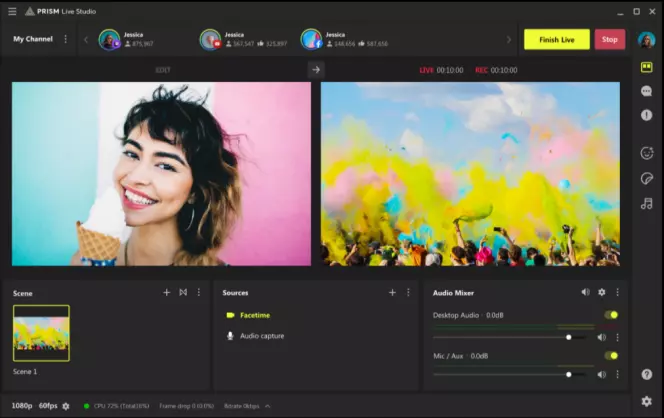 OS: Windows
Price: free
This live broadcasting application is easy-to-use thanks to its intuitive interface and allows you to add text, media, and facial effects to your video stream.
Features
Live filters and effects
Easy live streaming to Twitch, YouTube, or Facebook Live
Pros
Free
Easily hide the watermark
Free live filters and effects
Editing tools
Cons
Needs a good connection to avoid lags
Problems and bugs following updates
Verdict. A great option if you are looking for apps like OBS but prefer a more intuitive interface and minimal CPU usage.
When choosing the right screen recording and streaming solution, there are a few criteria to consider:
User-friendliness: check that you can easily master the software and get the most out of it.
Features: make sure that the software has all the features you need for the project you are working on.
Pricing: decide on a budget and compare the different software options.
CPU usage: check to see if the software will negatively impact your system performance.
User feedback: browse user reviews and ratings online.
Customer support: verify the level of customer and technical support available.
Ben is a writer from the UK with qualifications in Media and Music Technology, he specializes in software reviews and tutorials. Ben has been blogging about media and tech subjects since he was a teenager from his base in the East of England.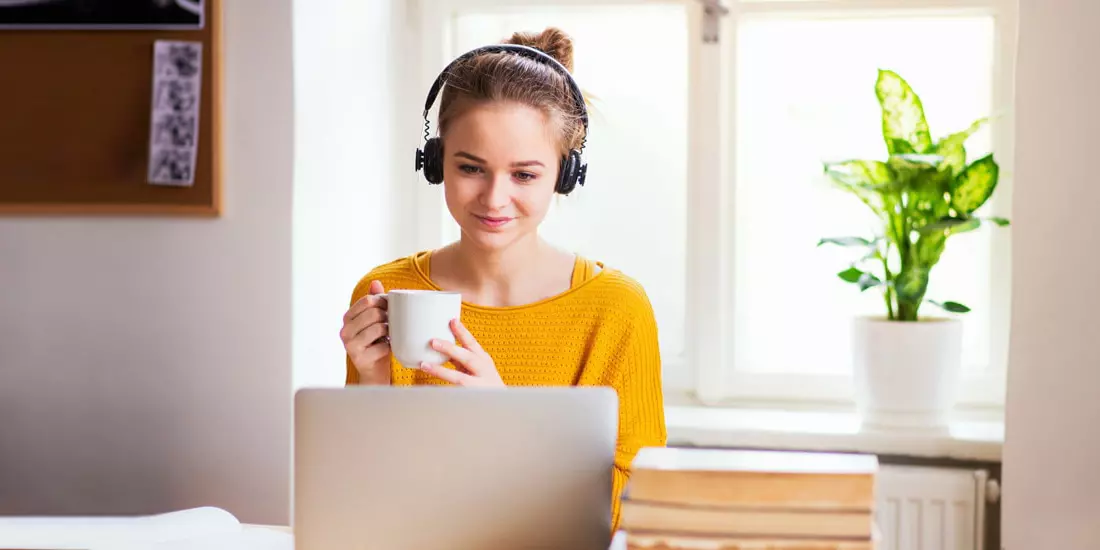 Movavi Screen Recorder
The perfect way to record from your screen
Frequently asked questions
Is Streamlabs OBS better than OBS?
Streamlabs OBS is basically very similar to OBS – but it's an updated version with additional functionality. The software is free to use and easy to install and provides an enhanced user experience. It's only available for Windows, but you can find Streamlabs OBS Mac on Bootcamp. Both OBS and Streamlabs OBS are free and open-source, so you can always try both to see which you prefer.
What software do most streamers use?
While most streamers use OBS Studio, it is sometimes difficult to use. If you need a more user-friendly option, the best OBS alternative is XSplit or Gecata by Movavi.
Which is better OBS or XSplit?
Both OBS and Xsplit are excellent recording and live streaming solutions. Ultimately, you will need to choose based on your priorities. OBS comes out on top in terms of performance, customization options, and its free. But XSplit offers higher quality audio and video, is more user-friendly and has more features. To learn more, follow the link below.
Can you record on Streamlabs without streaming?
Yes, and it's easy to do. When you open Streamlabs, you will see two buttons: the Go Live button and the Rec button. You'll want to click on the Rec button to record your screen without streaming. Your recording will be saved to your Videos folder, which you can find by typing "Videos" into the Windows search box at the bottom left of your screen.
Sign up for news and special offers