The Best Video Editing Apps for Your Android or iPhone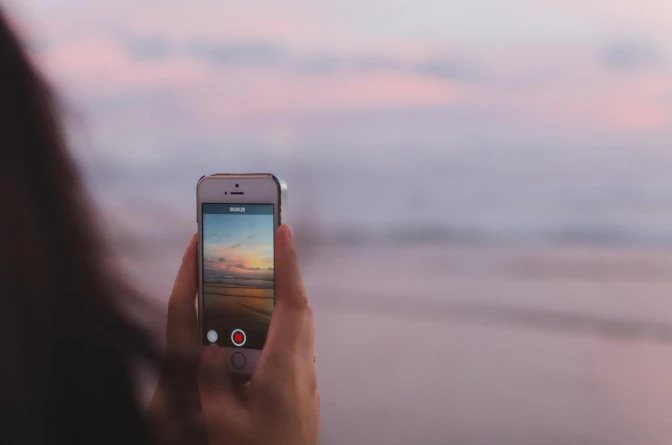 Whether you are an amateur or a seasoned video creator, you need the best video editor app for your Android or iPhone to get the job done. A top video editing app should allow you to add music to your video or Instagram post without a watermark. It should also enable you to include photos as you create a cool movie for both an iPad and a cell phone. Here are the top video editing apps for your mobile.
The Best Android Video Editors for Making Videos
If you are always on the move and would like to create great videos from your cell phone, iPhone or iPad, consider the following video editing apps.
Movavi Clips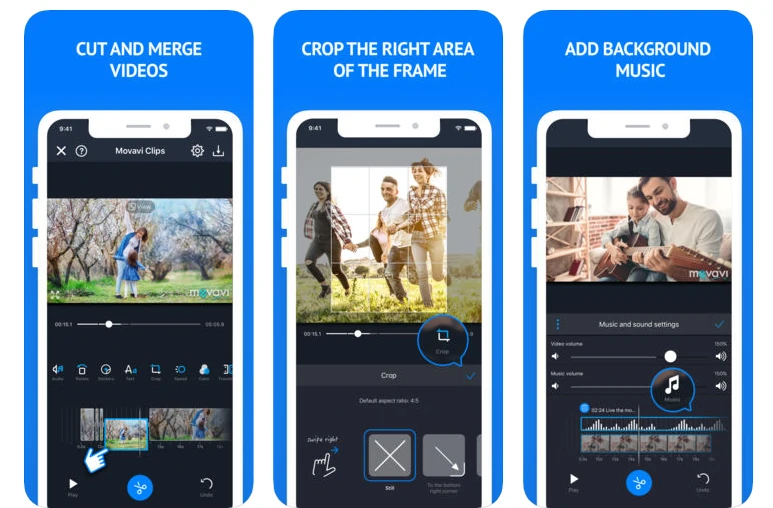 Filmmakers want a video editor that has all the essential features. Movavi Clips fits this bill perfectly with its intuitive interface and quick and precise video cutting abilities. You will also love the fact that this video editing app does not inundate you with ads, so you can edit your video clips comfortably even when you are online. Whether you are a professional or new in business, Movavi Clips won't disappoint. You can download it free but be sure your iOS or Android device meets the basic requirements (version 10.0 or later for iOS).
As one of the best video editor app for iPhone, installing it to your device means you will be adding music and videos to your Instagram stories with ease. To learn more on how to add videos to your Instagram posts, click on the following link:
How to post a video on Instagram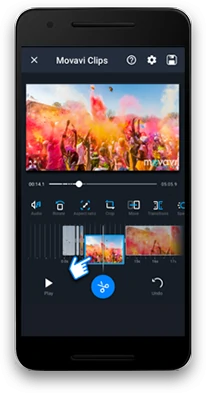 Movavi Clips
Processing and editing videos and photos
Add transitions, music, and stickers

Choose the desired frame fragment

Cut and merge clips

Speed up and slow down videos
InShot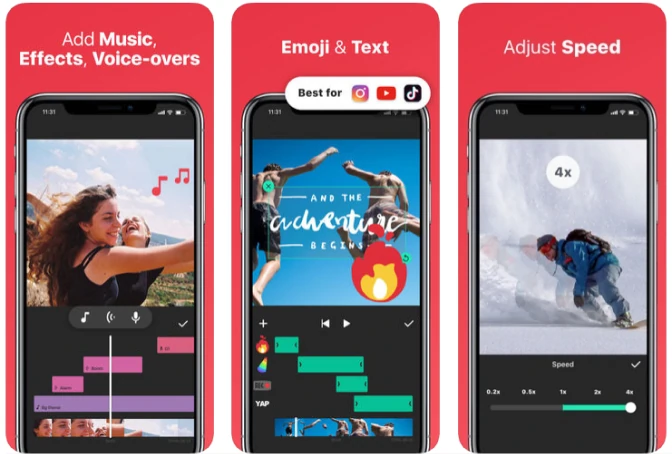 Due to its simplicity and lightweight design, InShot could be one of the best video editing apps for Android out there, so you may want to try it. You can create your videos with ease, edit them and post them directly to YouTube, Instagram, IGTV and other social media apps. This video editor app has the following main features:
Video trimmer, cutter, and splitter: cut off unwanted parts of your video clips, split your clip into several parts, and join them to create your film.
Video merger and joiner: merge several clips into one. Helps you to combine multiple clips and compress them into a short movie for YouTube, Instagram or WhatsApp.
Video filters and effects: customize video contrast, brightness, saturation, as well as full video effects such as glitch and stop motion.
Add music to the video: make use of the free featured music or add your songs, adjust the volume and set the fade in fade out options.
Video speed control: increase or decrease the speed of your video to create the desired effect.
Add texts and stickers: make your video more exciting by adding different texts and stickers.
WeVideo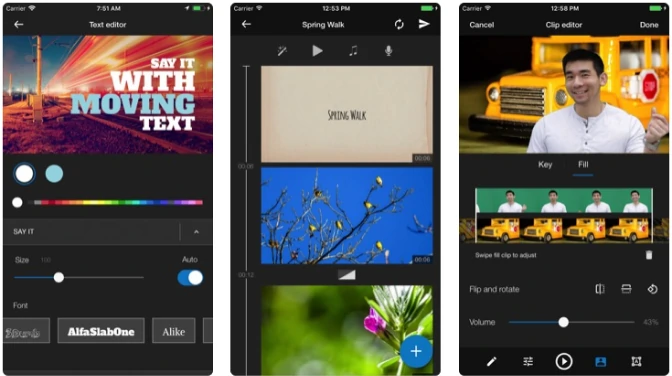 Featured in The Next Web, TechCrunch, CNET, Wired and others, WeVideo has the potential to become one of the best Android video editors. Though it contains ads and in-app purchases, this video editing app is the easiest to use, especially for upcoming movie creators. Don't expect too much from this free video editor, and if you are a professional, you may have look elsewhere. But if you have a weak financial muscle, you can settle for the basic editing features of this app. If you need to accomplish basic video editing tasks, this app is all you need. You could consider upgrading to its premium version to enjoy enhanced video editing tools.
Adobe Premiere Clip
If you are an iOS user but want a piece of the Adobe software, Adobe Premiere Clip is your best bet. Just like its brother, the Rush, this editor is cross-platform, meaning you can access from both Android and iOS devices as well as on your computer. It's also free, so don't expect pro features such as multi-track editing. You can import special effects from Adobe CC tools, but you won't need to make any subscriptions. Adobe Premiere Clip has the following advantages:
Powerful video editing tools: trim and combine video clips, add transitions and slow-motion effects and adjust contrast and brightness.
Great sounds: choose from the provided soundtracks or add your music to your videos.
Easy to share: save your finished video clip to your gallery or export to YouTube, Facebook or Twitter.
Sync videos to music: add your music to the video and sync it to the beat of the soundtrack.
KineMaster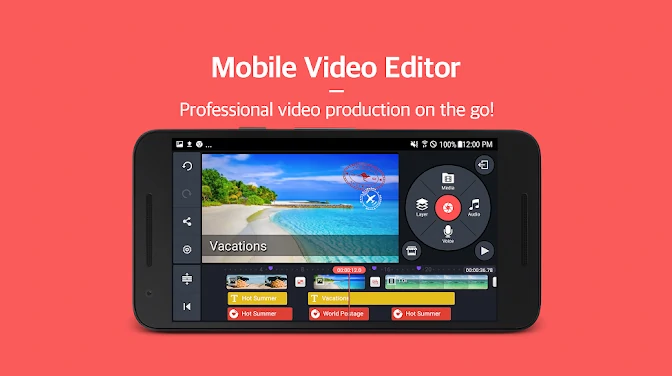 As the name suggests, this video editing app is suitable for professionals. It supports multi-track editing, 4K videos, and direct export to YouTube. This feature-rich editing app has a free version, but you would do well to avoid it since it adds a watermark to any video you create. To remove these watermarks, you will have to pay your subscription. Here are its main features:
Support for multi-layering of videos, pictures and special effects
Add background music, voice-overs and sound effects to your video clips
Support for 4K videos at 30FPS
Trim, splice and crop your clips
Blending modes to create beautiful effects on your videos
VideoShow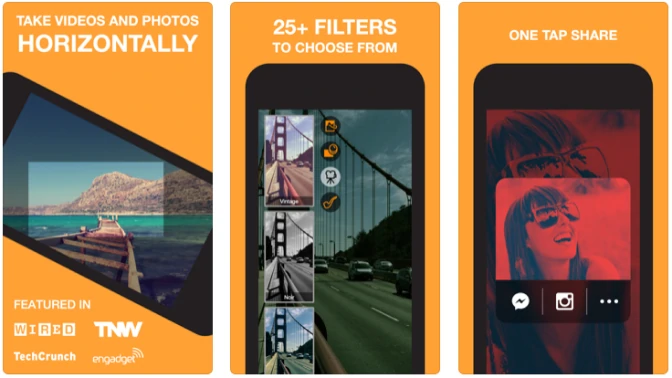 VideoShow is one of the top video editing apps you can find on the app market, and it offers excellent video editing features and functionalities. It is especially suitable for young video creators because creating a video from pictures, sound, stickers, and music is easy and fun. Different filters are also available, and you can personalize everything by including live dubbing to video clips from a wedding or Valentine's Day celebrations. Its main features include:
HD export with no quality loss
Hundreds of fully licensed free music
Create videos without watermark and ads
Exclusive license to make original videos
User-friendly with a variety of video editing features
PicPlayerPost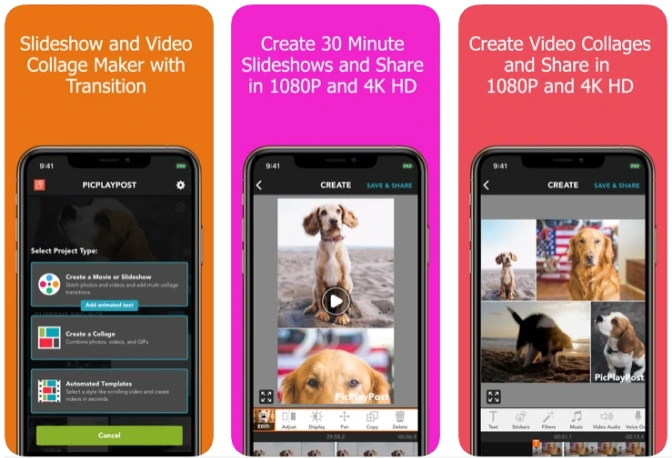 If you have a soft spot for video and photo collages, PicPlayerPost will be the best video editor app for you. This app will let you create video collages with music for Instagram and GIF so that you can have fun with your film creator. You may also appreciate that you can download it free, but you will have to contend with in-app purchases or subscriptions to enjoy premium features. PicPlayerPost is most suitable for short clips for animated wallpapers and lock screens. Other key features of this app include:
GIF maker
Side by side picture and video maker
Mirror effect app
Add your personalized watermark and font colors via in-app purchases
Share videos via social media apps
You may be a professional video creator or a novice in the field, but using the best video editor app for iPhone or Android devices will be crucial for your success. The best Android video editor, and the best video editing apps maker should avail all the essential features to enable easy and hassle-free video creation. The best video editing apps maker should have the following:
Support for 4K videos
Export directly to social media platforms such as YouTube and Instagram
User-friendly user interface
Multi-track editing
Cross-platform so you can use it on all your devices
If you need the best video editor app for both iPhone and Android phone or for iPad, consider downloading and installing Movavi Clips to your device.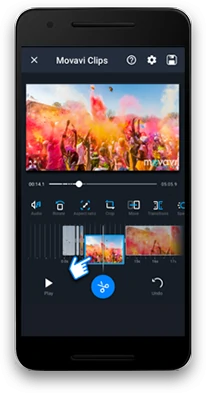 Movavi Clips
Processing and editing videos and photos
Add transitions, music, and stickers

Choose the desired frame fragment

Cut and merge clips

Speed up and slow down videos
See Other Useful How-to Guides