How to Make a Home Movie in 4 Easy Steps
Do you have a load of video clips captured on your mobile device or camcorder? We can help you turn them into a spectacular movie in just four simple steps! Get Movavi Video Editor and take advantage of the best video editing tools developed for making beautiful films from basic videos and photos!
Here are the four steps to make your own movie.
Install Movavi Video Editor
To install our movie maker on your computer, just download the program installation file, then run it and follow the installation instructions.
Add Media Files
In the welcome window, choose Create project in full feature mode. Then add the files you want to use in your film by clicking the Add Media Files button. The media files you've uploaded will be automatically added on the Timeline at the bottom of the program's window. You can change the order of the files by dragging them around in the program's working area.
To make an inviting opening for your movie, add an animated clip or motion background from our stock video footage collection (hit the Sample video button, or simply follow the link).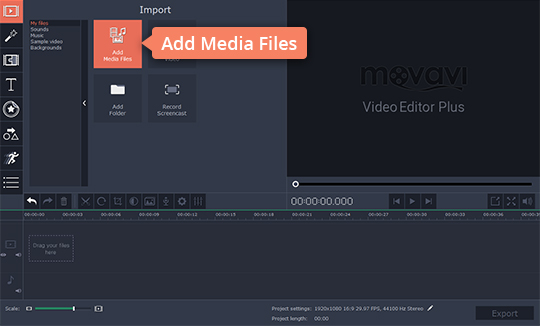 Add Transitions, Music, and Titles
To add fades, open the Transitions tab. Choose the transitions you like and drag and drop them onto the Timeline between your video clips. For more information, read the article about the article about adding transitions to video clip.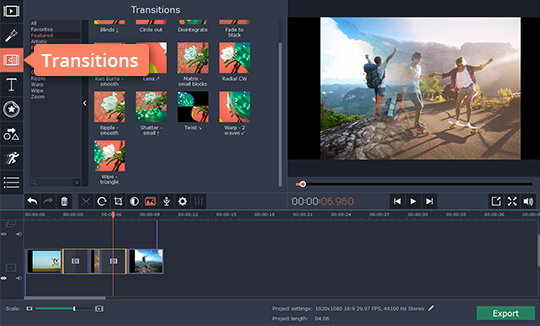 To add music to the video, click Add Media Files and upload a piece of music of your choice. The audio file will be added on a separate Audio Track on the Timeline.
Click the Titles button, select the title type you like, and drag its icon to the Timeline. All the titles will be added on the Titles Track. You can stretch them over the whole track to have the titles appear during the whole movie or just over a part of it. Double-click on a title to customize the font, size, color, and other parameters. Learn more about adding titles to a video.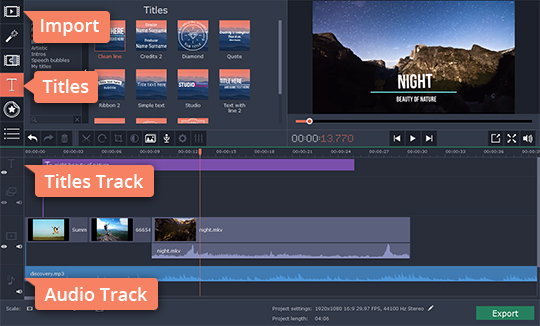 Export Your Movie
To prepare the movie for your audience, click the Export button and choose one of the options form the tabs in the left part of the pop-up window. Finally, to save your video, click Start.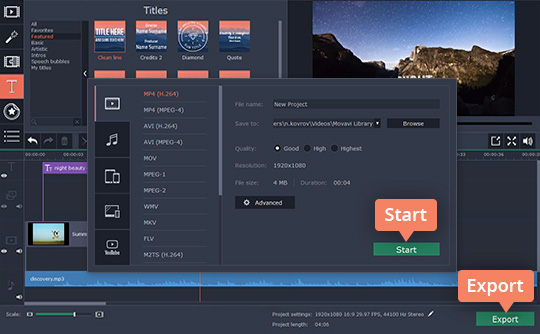 That's all there is to it! In four simple steps, you've learned how to make your own movies using Movavi Video Editor. Just use video from the clips you have shot, add your favorite music, and enjoy your movie.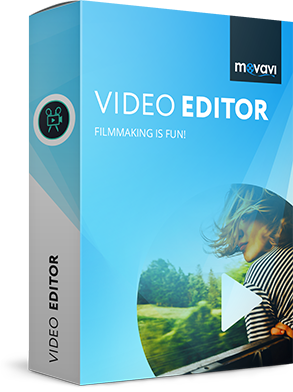 Movavi Video Editor
Creating videos has never been so easy!
Edit video clips, images, and audio on a timeline

Add transitions, filters, titles, and callouts

Use special effects like Chroma Key and Slo Mo

Export videos in any popular format
See Other Useful How-to Guides