Cyberlink video editor review
Before diving into the meat and potatoes of this review, here's a collection of the reviews as well as key pros and cons we noticed and along with some observations collected from other Cyberlink reviews.
Rendering is quick and error-free
Includes plugins and premium effects
The interface is very easy to pick up
Supports 4K and HEVC/H.265
Access to millions of stock videos and photos through Shutterstock and iStock Getty Images
New features are updated and added regularly
Editing 360 video equates with the ease of editing standard video within the platform
You can speed up your editing with customized hotkeys
It comes with many effects, but most of them do not reach commercial or professional standards
Many of the advanced editing tools are not as flexible as its competitors
Lacks a bit in color correction tools
The Mac version doesn't contain as many features as the Windows version
Cyberlink PowerDirector 365 and 20 merge the sometimes murky territory between professional and consumer-level video editing. PowerDirector video editors of the past have offered support for emerging tech and formats, and nothing has changed with the newer versions.
Much like for Office 365 or newer Adobe programs, Cyberlink is consistently adding new features every month – last month featured AI wind removal, speech enhancement, and sky replacement. And if you opt for the Director Suite 365, you'll also get audio and photo software that's also updated on a regular.
Cyberlink video editor comes equipped with enough tools and features to create high-quality digital movies with all the bells and whistles. And the program allows editors to render their work quickly all in an easy-to-use interface.
If you're asking, "Is PowerDirector good?" It's definitely good and a difficult video-editing program to beat in terms of competition.
Yes. When downloaded directly from the official CyberLink website, you can trust that PowerDirector is a safe download. The software has no viruses, malware, or spyware and will not threaten your computer's safety.
Cyberlink has been around since 1996 and is a key player in the world of audio and video production, facial recognition software, and media conversion. The company is on the 20th version of PowerDirector – along with PowerDirector 365 online – and it is some of the most popular video editing software on the market.
So, is PowerDirector safe to download? Absolutely!
Cyberlink PowerDirector system requirements
Here's a table that gives you an overview of the system requirements for Cyberlink PowerDirector 365 & 20. They're overall pretty standard for a high-end video editor, but double-check your system to be sure you won't have any crashing issues.
Parameters

Windows

Mac

OS

Windows 7 or higher (64-bit OS only)

Mac OSX 10.14

Processor

Intel Core™ i-series and above or AMD Phenom II and above

Intel Core™ i-series or Apple M1 (with Rosetta support)

Graphics processor (GPU)
For standard video: at least 128 MB VGA VRAM
For 360-video: must be DirectX 11 compatible
For standard video: at least 128 MB VGA VRAM
For 360-video: no data available
Memory

4 GB required – 6 GB or above recommended

4 GB required – 6 GB or above recommended

Hard disk space

7 GB of free space

7 GB of free space

Screen resolution

Requires 1024 x 768 with 16-bit color or above

Requires 1024 x 768 with 16-bit color or above
Key features of PowerDirector video editor
The PowerDirector interface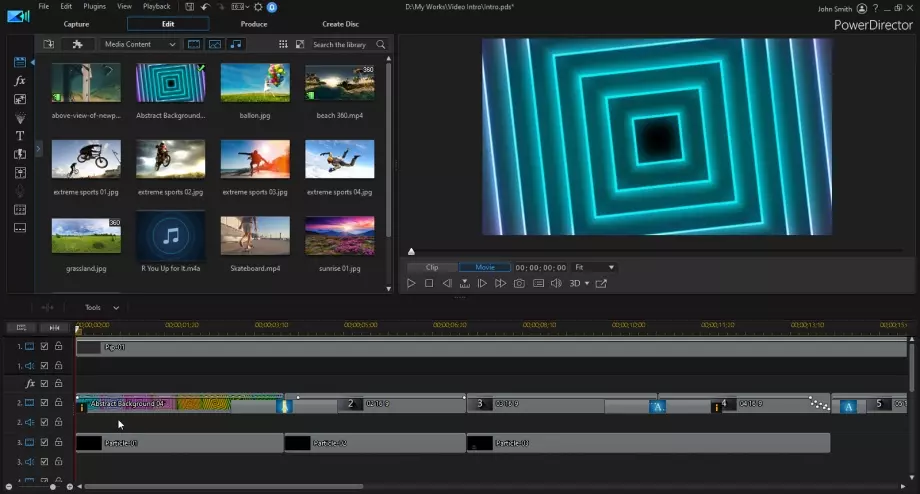 One of the highlighted features from Cyberlink PowerDirector 18 Ultra and Cyberlink PowerDirector 19 Ultra was the software's intuitive interface. And PowerDirector 20 and 365 continue this tradition.
It's difficult for any program to provide a comprehensive set of tools in a cohesive manner and without clutter. And while PowerDirector may not rank as high in simplicity as something like Adobe Premiere Elements or iMovie, it's definitely neat and tidy.
The company is consistently updating the interface and rearranging things to make it easier to use. For example, the Capture mode is now a menu option instead of on the main screen as it isn't being used as much as some other features.
When you first open the program, the interface gives you choices for editing modes, including Storyboard Mode, Full Mode, Slideshow creator, Auto Mode, and learning Center. But if you want to disable these options and go straight to Full Mode every time, there's a checkbox to eliminate the selections.
From this screen, you also select your aspect ratios – they cover everything from standard 16:9 and cinematic 21:9 to other social media and mobile-friendly ratios.
Within the interface, you can double your preview windows to see both the source video and the edited version, which can be a huge timesaver for switching between windows.
In Storyboard mode, users can insert effects, audio clips, and transitions, all without going back into a timeline view. There is also a search function to find media easily. This also allows you to narrow the search to only audio, video, or photos.
Also, you can customize your timeline for easy navigation, and it comes with a quick-add button for inserting new tracks – up to 100.
Last, in editing mode, they've added features that allow you to better organize your media for easy drop-and-drag into either the timeline or source panel. Tagging features are a huge plus when you've got a lot of clips to work with on a project.
Using CyberLink PowerDirector to edit videos is a breeze with all the features included in this category. Naturally, you're able to join, trim, and cut clips directly in the timeline. If you drag any clip to the end of your timeline, it will automatically snap to the previous clip for simple viewing.
Dragging a clip to the middle of the timeline brings up a tooltip box with options to Crossfade, Insert, Insert and Move All Clips, Overwrite, or replace. Using the Insert option helps you to line things up with ease. There's also a Trim Tool, which has a range down to an individual frame, and a multi-trim tool that allows you to place several in and out marks on your timeline.
One of the best features of PowerDirector is the Precut tool. This feature allows you to trim and cut clips before you insert them into your timeline. This is a real upgrade from previous versions, as this is the method preferred by professional editors.
PowerDirector has an entire section dedicated to Fix/Enhance options that include audio noise reduction tools and buttons to enhance sharpness and color. In general, PowerDirector 20 and 365 make it much easier to fix color and lighting. You can independently adjust a range of settings to make things perfect.
A key professional editing tool from top software allows you to move groups of edited clips around as one unit. PowerDirector now features a Nested Project feature that lets you create a project and then insert an existing project into it. The interface tabs them above your timeline and then you can edit both projects separately or insert the other project as picture-in-picture.
Transitions, keyframes, and effects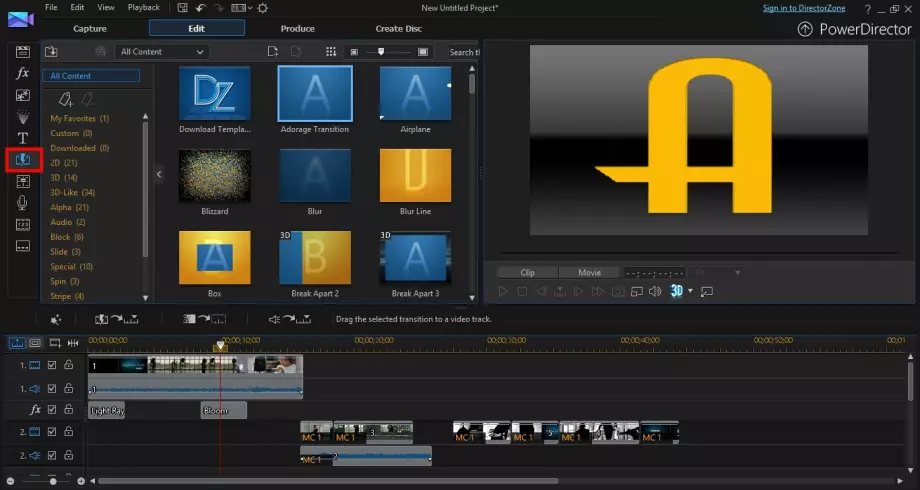 There are a lot of fans of keyframe editing out there, and PowerDirector has all the tools you need to make it happen. You can insert any effect or edit into a keyframe, and you can even use the Hold function to get even more creative with your effects.
PowerDirector comes with over 100 special effects and transitions to choose from with the ability to add or purchase more. Cyberlink is always adding additional effects from multiple companies into their library.
Starting with iMovie, pre-made templates and themes for video editing have become a popular trend for both consumer and professional software. They help editors to fill in gaps – including audio and transitions – and create professional-looking productions in no time.
With PowerDirector, you get Express Project, which is a feature you can access directly from the startup screen. With the Magic Movie Wizard, this combination allows novice editors to go through a step-by-step process to create the content they want. You can even download additional Express Projects created by third parties.
The process has two steps: Drag an open, middle, and end clip to your timeline and then fill the tracks with other media. It's not as intuitive as some of PowerDirector's competition, but it's a viable feature that will help you create solid and coherent movies.
ShutterStock and iStock stock material
When you subscribe to either Director Suite 365 or PowerDirector 365, you get access to stock photos, images, videos, and audio from Shutterstock and iStock from Getty Images.
There are Shutterstock and iStock thumbnails in the source panel of the interface that directs you to a search window for their libraries. This allows users to find clips and audio from their impressive stock easily, but know that the subscription doesn't open up the entire library.
360-Degree footage editing on PowerDirector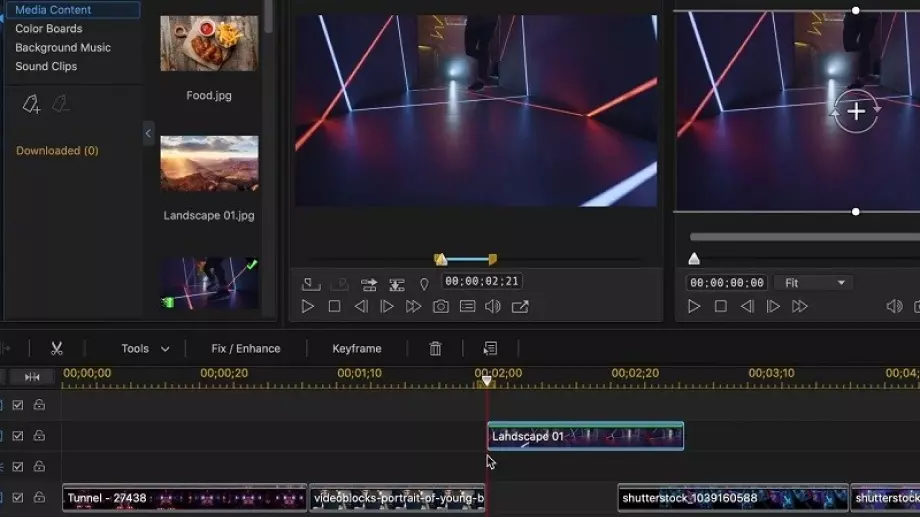 Editing 360-Degree footage is growing popular as videographers are using the technology more often. Adding a 360-degree clip to a Project in PowerDirector prompts a pop-up that asks about your output – 2D or 360.
When you choose to edit in 2D, you're able to choose the point-of-view from the video and then move the angle from three axes in the preview. You can also use keyframes to switch between multiple viewpoints and use an Ease In feature to create more natural motions with videos.
Though we'll talk about both features below, it's important to note that you can use both the stabilization and motion tracking features with the 360-degree video editing in PowerDirector. However, you can't mix non-360-degree and 360-degree videos in the same project.
Tools for GoPro and other action cameras
Like most editing software, PowerDirector can handle footage from GoPro cameras and action cameras like it. The software has an Action Camera Center you can load when you click the Designer button after selecting a clip. This feature gives you effects tailored for action cameras like fisheye, camera shake correction, freeze-frames, and sports-related speed ups, slowdowns, and replays.
PowerDirector features motion tracking
In the world of video editing, motion tracking features allow effects or text to follow something you specify within a clip. Overall, it makes this process simple and easy without having to layer multiple effects on top of one another.
With PowerDirector, it's a three-step process of creating a target box, hitting the Track button, and then choosing your effect or text that you want to follow the box. It's even easier with texas as you can make them flow with an extensive selection of colors, sizes, and fonts.
When you're working with footage shot from different angles, PowerDirector has a great Color Match feature. This allows you to select two clips and scrub a single frame you want both clips to match. This was a new feature in PowerDirector 19 that had a little difficulty at first. But like any new technology, it's become even better with each update.
There are also LUTs – lookup tables – available for PowerDirector, which will help you create uniformity in your productions. It supports many file formats, so you're able to add LUT packs from third parties as well.
The Director Suite 365 also features a ColorDirector application that allows you to insert a larger variety of cool color effects outside of the standard color grading.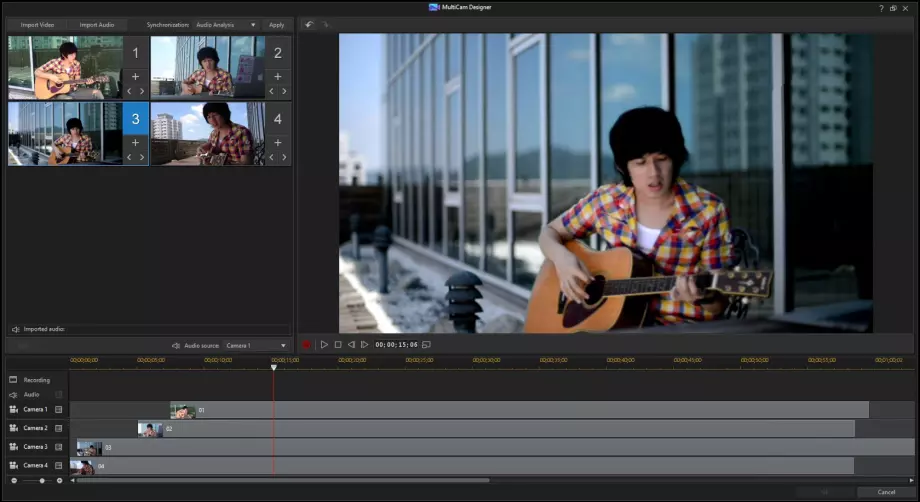 The idea of taking footage from different equipment and from multiple angles is no longer a professional-only issue because everyone is shooting on everything nowadays. Cyberlink is on top of this concept, as PowerDirector allows you to edit up to 100 multicam tracks at once.
This is mainly an audio feature, as the primary interface only allows up to 4 video sources. But with this feature, you can sync clips based on an Audio Analysis feature that locks clips together based on their audio. Once the clips sync, you can switch between the angles and create sub-clips with split points.
After setting up the clip, the sequence will appear on the main timeline. But don't worry if you mess up: you can reopen the sequence afterward and make adjustments.
If you like to put people in funky backgrounds, PowerDirector's chroma key tools will do the trick. Previously, they simplified the controls to this feature and things have gotten even better in the new version.
Just know that there's a reason professionals use green for their chroma keys. While PowerDirector has a great tool here, it can't do miracles – always stick to a green screen.
Editing for picture-in-picture
With PowerDirector, it's possible to edit PiP directly in the timeline by inserting preset PiP grids. From there, a PiP designer prompts, and this feature makes things exponentially easier when compared to a lot of the competing software.
You can also use the Video Collage Designer plugin to open templates, which turns the entire process into an easy drop and drag feature.
PowerDirector has support for 4K video editing. Specifically, the program supports the XAVC-S standard used in Sony cameras, but that also opens up support to some specific cameras from other brands as well.
When you open an audio track in PowerDirector, it shows up in waveform lines which you can click and drag to adjust. Where PowerDirector excels is its Audio Room feature that allows you to adjust tracks with effects like Normalize to even audio levels.
PowerDirector also has a Voice-Over Recording Room just for voiceover artists. But this also allows editors to go in even more depth with their audio edits with advanced functions like distortions and other special effects. You can even insert some third-party effects as well.
If you want even more advanced audio features, you'll need to get the Director Suite 365 that includes Audio Director.
There are two types of pricing for PowerDirector software: lifetime and subscription. The lifetime licenses are available for PowerDirector Ultimate and Ultra. If you need PowerDirector 365 or Director Suite, you'll have to get a subscription plan.
Pricing is one of the most important factors when deciding between PowerDirector Ultimate vs. Ultra or PowerDirector 365 vs. Director 365. Review the features below – especially cloud storage – and you can make an informed decision based on your needs.
PowerDirector has both a free download and full version available, so you can test out the software before making the full purchase. All the prices below relate to the full version.
Price: $99.99 – lifetime license
Cloud storage: 25 GB per year
Features:
Includes editing tools to correct distortions, match color, and includes a titles creator and sketch designer
Plugins:
6 packs of premium plugins and effects
100 sound clips and 50 background music tracks
Customer support: standard
PowerDirector 20 Ultimate
Price: $139.99 – lifetime license
Cloud storage: 50 GB per year
Features:
Editing tools included in PowerDirector 20 Ultra
Adds advanced editing features, including green screen capabilities, motion tracking, and mode blending
Allows you to import professional video formats like HLG, HDR10, HEVC, and ProRes 4:2:2. Also allows file imports in AVC 4:2:0 and MXF
Plugins:
8 packs of premium plugins and effects
100 sound clips and 50 background music tracks
Additional 2 packs of third-party plugins and effects
Customer support: standard
Price: $54.99 annual plan or $19.99 per month
Cloud storage: 50 GB
Features:
Standard and Advanced Editing tools included in PowerDirector 20 Ultra and Ultimate
Import professional video quality formats and files
Access to Shutterstock video clips, photos, images, and background music
Access to stock images and photos from Getty Images
Access to Cyberlink Premium plugins and effects
Plugins:
6 packs of premium plugins and effects
100 sound clips and 50 background music tracks
Additional 2 packs of third-party plugins and effects
55+ plug-in & effect packs, plus over 170 audio tracks & over 580 sound clips. Each with unlimited use.
Customer support: priority
Price: $103.99 annual plan or $29.99 per month
Cloud storage: 100 GB
Features:
Standard and Advanced Editing tools included in PowerDirector 20 Ultra and Ultimate
Import professional video quality formats and files
Access to stock content from Shutterstock, Getty Images, and Cyberlink Premium Plugins
Additional applications:
PhotoDirector 13 Ultra ($99.99)
AudioDirector 12 ($129.99)
ColorDirector 10 ($54.99)
Plugins:
6 packs of premium plugins and effects
100 sound clips and 50 background music tracks
4 additional packs of third-party plugins and effects
Over 90+ plug-in & effect packs and an additional 170+ audio tracks & 580+ sound clips. All with unlimited usage.
Customer support: priority
Similar products to Cyberlink PowerDirector
You've read the overview, pros & cons, key features, and pricing. But if you still want to shop around, here's a list of some comparable to the PowerDirector editing software.
Movavi Video Editor Plus
Adobe® Premiere® Elements
Vegas Movie Studio Platinum
Magix Movie Edit Pro Premium
VideoProc Vlogger
Movavi vs. PowerDirector
This table summarizes Movavi vs. PowerDirector with key comparison parameters for important features.
Comparison parameter

Cyberlink PowerDirector

Movavi Video Editor Plus

Supports the most popular input and output formats
Supports 4K
Intel media and graphics acceleration
Video capture from webcams, camcorders, TV tuners, and VHS
Audio capture
Footage and clip adjustments – crop, trim, split, rotate, flip
Stabilization features
FAQs, tutorials and how-tos, video guides, and manuals
Email, live chat, and forum/community support
Title presets

30+

40+

Built-in music

10+

30+

Lifetime license price

From $99.99

$

74.95
Subscription price

From $54.99 per year

$

54.95 per year
If you're still asking, "Do I need Cyberlink PowerDirector?" know that it's a great software that's worth trying. Cyberlink offers a trial version to download for free, along with some competitive pricing options for each version of their program.
If you do the trial and it doesn't seem like it's for you, no worries. Some people don't like the level of the effects included, the limitations of the advanced editing and color correction tools, or that the Mac version doesn't have as many features as Windows.
There are many other excellent alternatives available in 2021 – like Movavi Video Editor Plus – that may give your videos an even higher level of professionalism and viewability.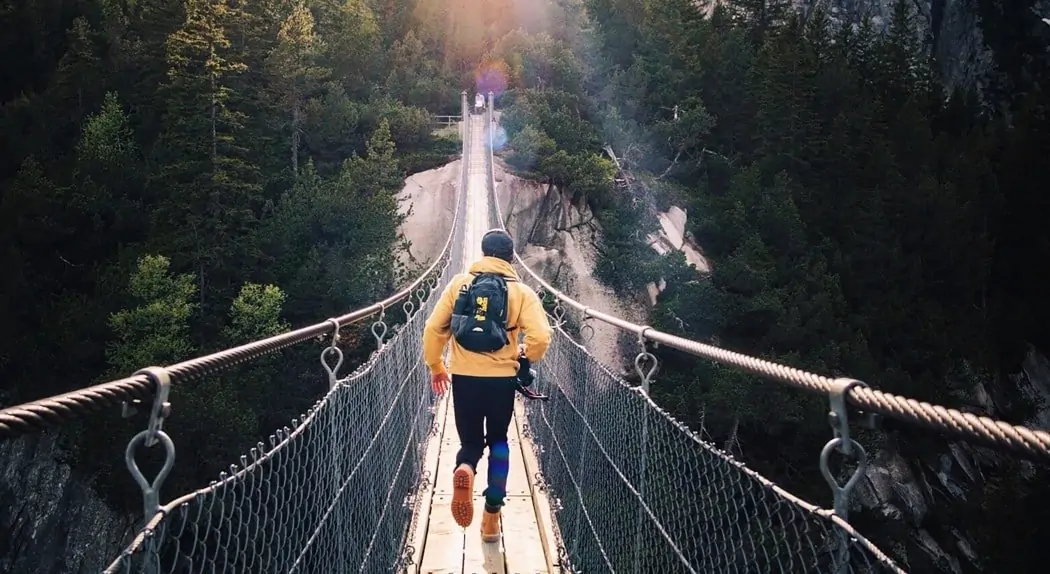 Movavi Video Editor Plus
Make videos. Create. Inspire.
* The free version of Movavi Video Editor Plus has the following restrictions: 7-day trial period, watermark on the output videos, and, if you're saving a project as an audio file, an ability to save only half the audio length. Learn more
See other useful how-to guides
Sign up for news and special offers