Top 5 GIF Croppers
If you want to create and crop a GIF, you need a special program or an online tool to do this. There is a large number of ways in which you can crop an animated GIF, so it is not easy to choose the best one. In this article, we will give the definition of a perfect GIF cropper and introduce the top five tools for cropping a GIF to help you find the option that is most likely to meet your needs.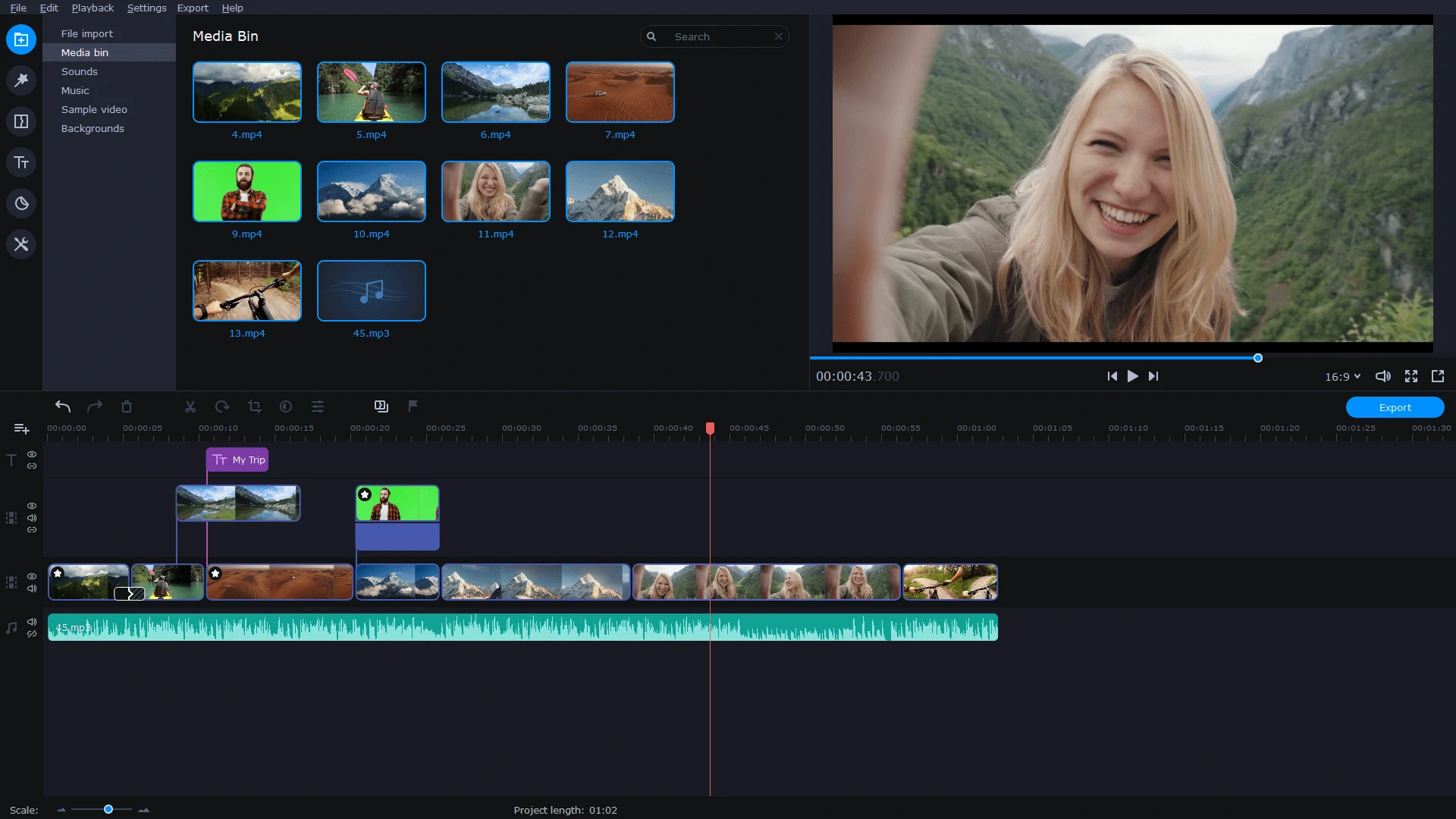 Best Tools to Crop GIFs
Before choosing a GIF cropping tool, you should decide which features you need most. First, this program or online tool must include a converting option, so that you could turn a common video file into a GIF. Preferably, this converting tool should support as many video formats as possible. It should also be easy to use even for those who don't know how to crop a GIF and have never done this before. If you don't want to spend too much time on making a simple GIF, the chosen tool has to process files as quick as possible. One more important element of a perfect GIF cropper is multifunctionality; it is highly convenient when you want more than working with GIF files. In the following article, you will learn about a GIF cropper that can also help you edit video, audio, and images, convert media files, record screen, and more.
| Program | Pros | Cons |
| --- | --- | --- |
| Movavi Video Editor Plus | Various editing features; wide format support; simple interface | No option to share on Facebook directly from the app |
| Wondershare Filmora | Wide range of editing tools; sharing option | Takes up more space on hard drive (compared to simple GIF croppers) |
| Gifs.com | User-friendly interface; option to upload GIFs to Twitter, Facebook, Pinterest, and other websites | No preview option |
| Ezgif | Many editing tools | No option to share on Facebook or Twitter directly from the website |
| Iloveimg.com | Simple and user-friendly interface | Only basic editing options; no preview available |
Movavi Video Editor Plus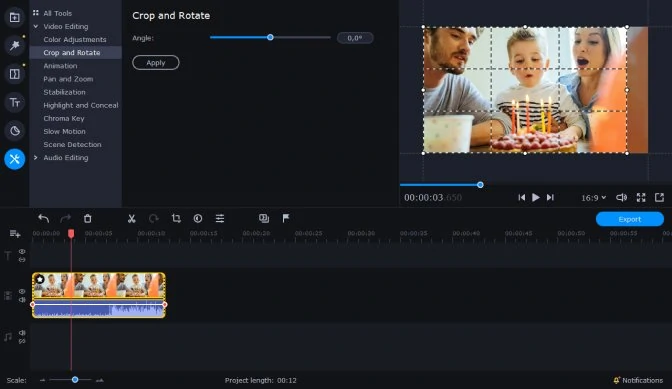 Movavi Video Editor Plus is a multifunctional tool for editing media files, including GIF images. With its help, you can create a GIF from any video file and edit it the way you like: crop, rotate, reverse, change colors, apply filters and effects, add your own text, and more.
To crop a GIF in Movavi Video Editor Plus, first import it into the program by dragging it into the working area or clicking Add Media Files. After that, click the Crop button on the toolbar above the working area. Adjust the cropping frame so that the unnecessary parts are outside it. You can also drag by the corners of the cropping frame to adjust it. When you are ready, click Apply. You can also read our guide to learn how to crop GIFs and videos.
Pros:
You can select the crop area for your GIF and preview the result before export.
The program has a wide range of editing options. You can crop and rotate GIFs, reverse them, change speed, adjust visual parameters, add text, and more.
You can make GIFs from video files in any popular formats.
Cons:
You can't share multimedia files on Facebook directly from the program.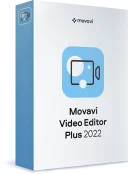 Movavi Video Editor Plus
Your next step in video-making
Edit video clips, images, and audio on a timeline

Add transitions, filters, titles, and stickers

Animate objects using keyframes, use more built-in media

Export videos in any popular format
Wondershare Filmora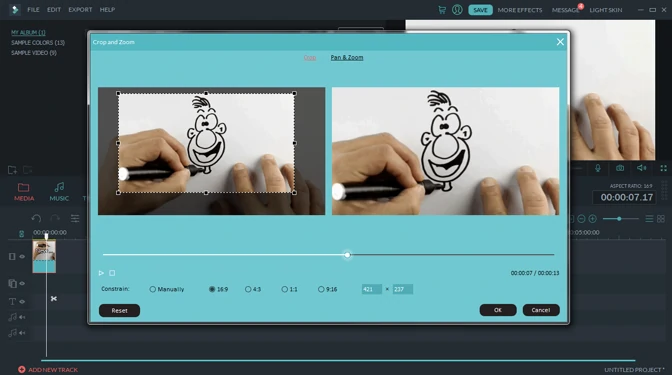 This program is designed for video editing and includes a GIF cropping feature as well. It lets you create GIF files from videos and edit them: crop, rotate, reverse, add text, and more.
To crop a GIF using Wondershare Filmora, add the GIF file into the program or simply drag it onto the timeline, right click on the added GIF, and select Crop and Zoom. Adjust the cropping frame the way you like. You can preview the resulting GIF by hitting the Play button. If you are satisfied with the result, click OK. Now open the Export menu, select Create Video > GIF, and click the Export button.
Pros:
The program lets you adjust the crop area and preview the resulting file before saving.
The program includes a full-featured video editor allowing you to turn a video file into GIF and vice versa, add captions to your GIF, apply effects, and more.
After editing media files, you can share them directly to Facebook.
Cons:
The program requires more hard drive space than simple GIF croppers.
Gifs.com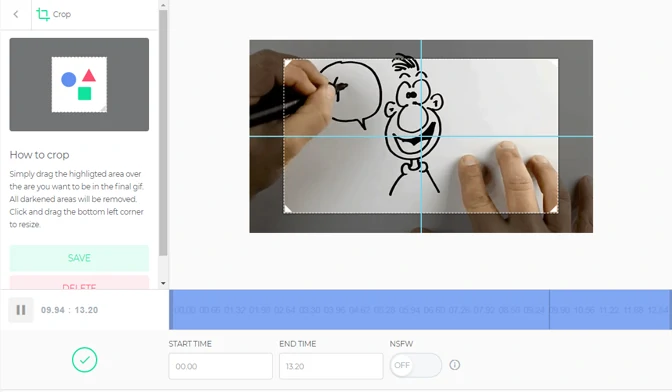 This website presents an online tool for editing GIFs. Here, you will also find various GIFs created by other website users.
To crop a GIF on gifs.com, upload your file to the website or insert the URL of the image. Click Crop and select the area of the GIF which you want to keep. Click Save > Create GIF. Now you can save the GIF image on your computer or share it on social media.
Pros:
The website is well designed, the interface of the online tool is user-friendly.
You can flip and blur the GIF if necessary.
After editing, you can upload your GIF to Twitter, Facebook, Pinterest, and other websites.
Cons:
You can't preview some of the applied effects.
You need to register and sign in to the website if you want to export your GIF.
Ezgif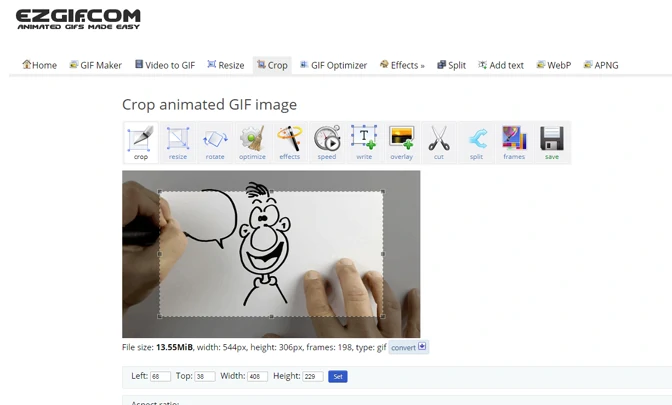 This is one more popular website for editing GIFs online. It also allows you to work with PNG and WebP files.
Cropping GIFs is quite easy with ezgif.com. First, upload a GIF from your computer to the website or simply paste its URL and click the Upload button. Select the Crop tool and drag the cropping frame over your GIF. You can set custom height, width, and aspect ratio. When you are ready to save the result, click Crop it.
Pros:
This online tool includes multiple editing options: you can rotate and resize your GIF, adjust its speed, or add captions and overlays.
Cons:
You can't upload the result to Facebook or Twitter directly from the website.
The quality of the output GIF image can sometimes vary.
Iloveimg.com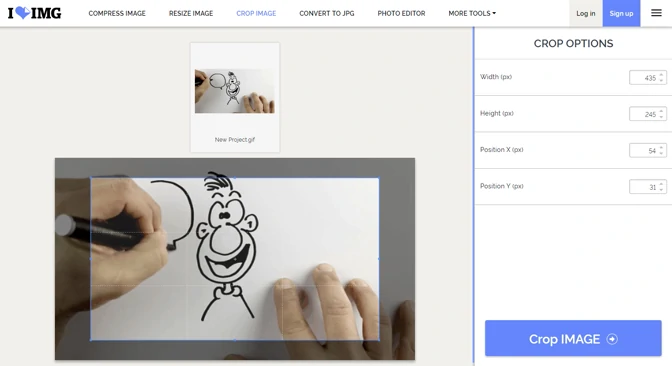 This is a very lightweight GIF cropping tool that lets you easily crop GIFs in no time, but does not offer you a wide choice of editing features.
How to crop GIFs using iloveimg.com? First, you should upload the image to the website from your desktop, Dropbox, or Google Drive. Crop your GIF by dragging the rectangle frame over the desired area. Click the Crop image button. The new GIF file will be automatically downloaded on your computer. You can also use the image link for sharing.
Pros:
This online tool is simple and very user-friendly.
The tool is very lightweight and works quickly.
Cons:
Some editing features are not included, and the tool can only perform simple tasks like cropping GIFs.
You can't preview the resulting GIF image right away. To watch your GIF, you have to download it first.
It is up to you which GIF cropping program to choose. We hope that this article was useful for you to see which software or online tool best suits your needs. Cropping GIFs can be very easy if you use the appropriate tool!
Frequently Asked Questions
💻 How Can I Turn a Video into a GIF?
Follow the link below to read a guide to making GIFs.
This review will help you choose the best tool to convert a video to GIF:
📁 How Do I Reduce File Size of a GIF?
Use the tips from this article to reduce the size of a GIF file: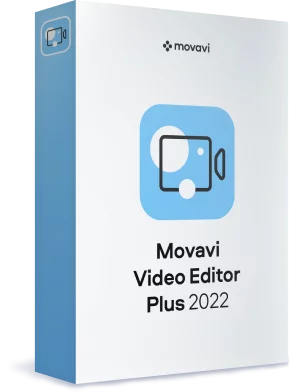 Movavi Video Editor Plus
Your next step in video-making
Edit video clips, images, and audio on a timeline

Add transitions, filters, titles, and stickers

Animate objects using keyframes, use more built-in media

Export videos in any popular format
* The free version of Movavi Video Editor Plus has the following restrictions: 7-day trial period, watermark on the output videos, and, if you're saving a project as an audio file, an ability to save only half the audio length. Learn more
Read Other Useful Articles