Movavi Video Converter vs. Freemake Video Converter Review
Freemake Video Converter is one of the most widely used conversion tools – mostly because it's free. If you compare it with shareware programs, however, you'll soon realize that it has only a bare minimum of features. For those who want more, there are Freemake Video Converter alternatives, of course. One of them is Movavi Video Converter that offers faster conversion and dozens of additional features.
To help you determine whether you'd do better to choose Freemake Video Converter or download Movavi's app, this review will compare the two programs on the following criteria:
The menus and control panels in both apps are quite simple and don't really require any previous experience of working with programs like this. Even if you've never used video conversion software before, it's pretty easy to find your way around both Freemake Video Converter and Movavi Video Converter. The latter is perhaps more intuitive as you can add files to the program by simply dragging and dropping them into the main window.
In terms of conversion functionality, the two programs differ more considerably. The extent of this difference is shown in the table below:
| Functionality | Freemake Video Converter 4 | Movavi Video Converter 19 |
| --- | --- | --- |
| Support for most input media formats | | |
| Support for most output media formats | | |
| Support for most portable and fixed devices | | |
| Automatic device detection | | |
| No quality loss conversion ("SuperSpeed") | | |
| NVIDIA® NVENC acceleration | | |
| NVIDIA® NVDEC acceleration | | |
| Intel® HD Graphics acceleration | | |
| AMD® hardware acceleration | | |
| Image-to-video conversion | | |
| Video-to-GIF conversion | | |
Both tools support a wide variety of formats, letting you rip DVDs and export virtually anything in MP4, AVI, MKV, FLV, 3GP, MP3, WMA, OGG, FLAC, etc. to the format you need. You can save your files for a mobile or fixed device, from the latest iPhone or Android-based device to Sony PlayStation or Xbox.
However, the way each of the tools performs the conversion itself is very different – with Movavi Video Converter providing far more options to accelerate the process (including SuperSpeed mode for the fastest conversion without quality loss) and a generally higher conversion speed. Movavi also gives you the ability to detect your connected device and suggest appropriate presets automatically as well as convert videos to GIF, which can be used to easily make funny pictures to share with your friends.
See a detailed comparison of conversion speed in both programs below: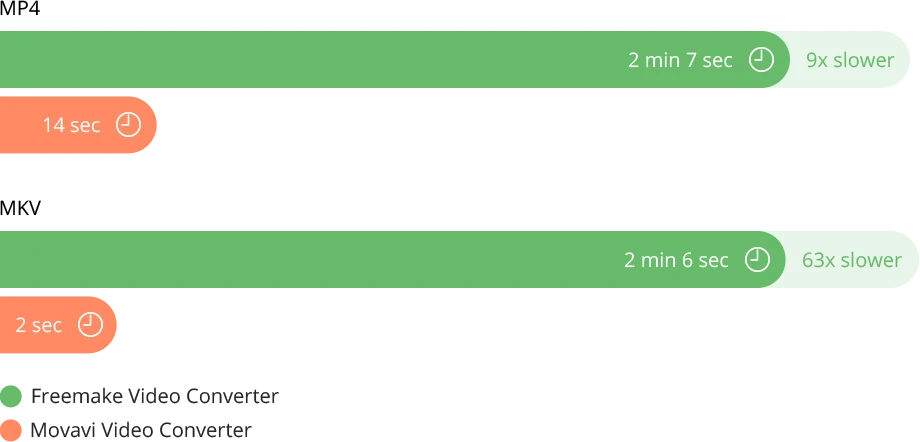 Being able to customize the movies and audio clips you work with is a nice option to have in a converter. This is possible in both applications, though on entirely different levels. See the following table for details:
| Functionality | Freemake Video Converter 4 | Movavi Video Converter 19 |
| --- | --- | --- |
| Cutting clips | | |
| Joining clips | | |
| Cutting multiple fragments with frame-by-frame precision | | |
| Stabilizing footage | | |
| Audio adjustment | | |
| Audio extraction | | |
| Audio removal | | |
| Adding subtitles | | |
| Adding watermarks | | |
| Adding effects | | |
| Making snapshots | | |
The editing features available to Movavi Video Converter users are much more extensive: not only can you cut, join, and rotate your videos, but also crop and flip them, adjust the color and audio settings, stabilize footage, extract or remove audio tracks, add effects and subtitles, make snapshots, and so on. The Freemake app, on the other hand, offers only the most basic functions.
The level of attention towards user needs is another key aspect of assessing any software product. This is where Movavi Video Converter once again outshines its competitor:
| Functionality | Freemake Video Converter 4 | Movavi Video Converter 19 |
| --- | --- | --- |
| FAQs and how-tos | | |
| Video guides and manuals | | |
| Email | | |
| Live chat | | |
| Forum/Community | | |
The official sites of both Freemake and Movavi feature FAQs and how-tos that explain various aspects of their respective products. In the case of Movavi, though, there are numerous video guides and manuals with detailed instructions on how to use the converter more effectively. These receive timely updates as the program evolves.
Unlike Freemake, the Movavi website also has an online chat that can provide immediate troubleshooting advice to help users in dealing with any problems that may pop up – such as if the app is not responding or not working properly because of a virus or for some other reason.

Freemake is free and, therefore, seemingly costs nothing, but that does not mean that it's free from ads. Right in the center of its main window, there's a huge ad for its premium version – Freemake Video Converter Gold Pack. On the other hand, the full setup of Movavi Video Converter is priced at $39.95, very reasonable when you consider what you get – a professional yet easy-to-use tool for converting videos that also includes lots of editing options.
Need only a simple conversion app? Then you should probably stick with Freemake. But if you want something faster and more sophisticated, give a chance to Movavi Video Converter. It allows you to:
Convert files at a higher speed
Take advantage of SuperSpeed mode
Detect your device automatically
Edit your files in a variety of ways
Get comprehensive support
Just download Movavi's app to use it offline, install it on your computer, and you're good to go.
The links provided are completely safe and checked for malware/spyware.
System requirements: Windows 10 or 8/7/Vista/XP (32 bit or 64 bit); Mac OS Х 10.6 or higher (64 bit).
Disclaimer: Please be aware that Movavi Screen Recorder does not allow capture of copy-protected video and audio streams.