How to Convert Video to MP3

Converting between different video formats is something many conversion software packages can handle. However, there are times when you want to extract just the music from a video file. Here are some common situations you may encounter:
Do you want to save the music from a movie?
If you've watched a movie, liked a song in it, and cannot find it anywhere else, you can upload the movie file to Movavi Video Converter, separate out the song, and save it as an MP3 file.
Do you want to save a concert or a lecture just as an audio file?
Sometimes you only need the sound from a video file. With Movavi Video Converter, you can convert videos to MP3s and upload them to your phone or MP3 player.
Do you want to turn a cartoon or movie into an audio play?
If you're taking a child on a long trip, saving their favorite cartoon or movie as an MP3 file may just be enough to keep them entertained. This can easily be done with the Movavi video-to-MP3 converter.
Are you interested in learning how to extract audio from video? In this guide, we'll show you how with either a video-to-MP3 converter online or a desktop program.
How to Use Movavi's Video-to-MP3 Converter
Let's look at the desktop Movavi Video Converter first. This software lets you not only change the file format, but also cut out parts of a video so you convert only the elements you want.
Download our Video Converter for Windows or Mac right now and find out how to convert a video to MP3 in four simple steps with this handy guide.
Install the MP3 Converter
Download the app from the Movavi website and install it on your PC or Mac. This fast, easy-to-use software supports more than 180 formats, so you can go beyond converting video in MP4 or VOB to MP3 and other audio formats to also transfer your files to WMV, AVI, or DVD and other video formats with high-quality results, resize and enhance films, clips, and home video.
Choose a File for Conversion
Launch the converter. Click the Add Media button in the upper left corner and then Add Video. Choose one or more video files that you want to transform to MP3.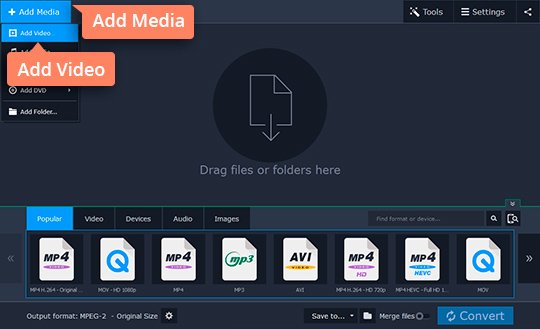 Choose the MP3 Format and Settings
Click the Audio tab and open the MP3 group. You will see a number of presets with different bitrate parameters; you can either choose the MP3 - Original bitrate preset, which copies all the parameters from the original, or a different bitrate, which will impact the output audio quality. Remember that, the higher the bitrate and quality, the larger the resulting file will be. You can also save extracted soundtracks and songs to other popular audio formats such as OGG, WAV, FLAC, and more.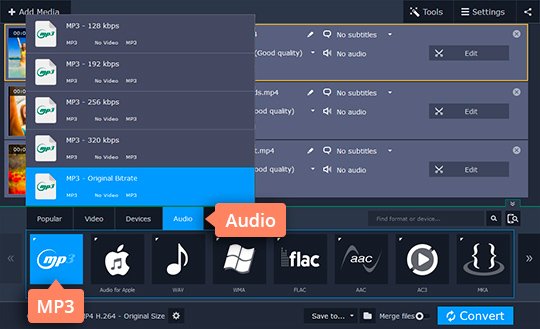 Convert the Video to MP3 and Save It
Choose the folder in which you want to save the converted files by clicking the Folder icon and hit Convert to convert the video file to MP3. The process can take anything from one to several minutes, depending on the file size and the number of files being transferred.
When the conversion is complete, the extracted audio will be saved, and the folder with the MP3 file will open automatically.
That's all there is to it! Now you can turn videos into MP3 music files or change any other media format in just a couple of clicks!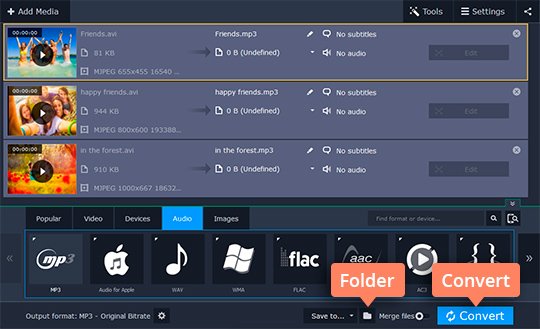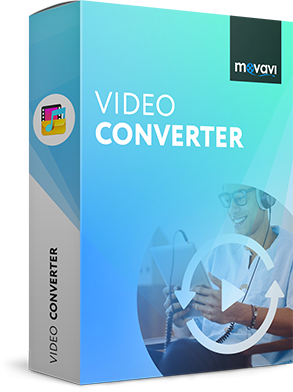 Movavi Video Converter
The ideal way to get your media in the format you need!
Convert video, audio, DVDs, and image files

Enjoy lightning-fast conversion without quality loss

Improve quality, adjust sound, trim and join files before converting

Save video and audio clips for easy mobile access
Differences between Desktop and Online Converters
Online Video Converter
Long-time wait
Up to 100 MB file size
Popular formats supported
Slow conversion speed
Movavi Video Converter
0-second wait
No size limits
180+ formats, presets for 200+ devices
Fast audio extraction
Online user support
How to Use a Video-to-MP3 Converter Online
Another way to extract audio is to convert video to MP3 online. This is a good option if the video file is smaller than 100 MB and you only want to convert one file. If you have more than one file, it's best to use a desktop converter, since it can work on multiple files simultaneously.
Go to the Conversion Website
Click the link below to go to the online conversion site.
Upload the Video File
Click Add Your File to upload a video from your computer. If the file you want to convert is in your Dropbox or Google Drive storage, click the Arrow icon next to the button and select the appropriate option. The file you upload should be smaller than 100 MB, as noted above.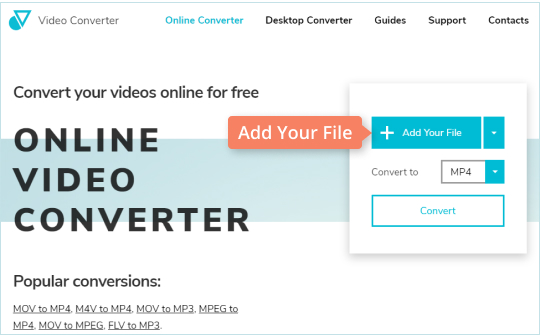 Select an Audio Format
After the upload is complete, select the target output format. The default suggestion is MP4 but other options are available. Click on the format, open the Audio tab, and select MP3.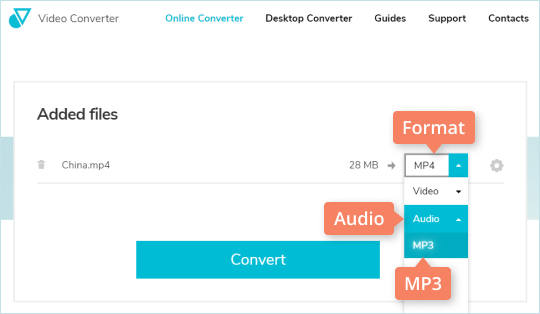 Launch the Conversion Process
Click the Convert button. As soon as the conversion is done, you will be able to download the MP3 file to your computer.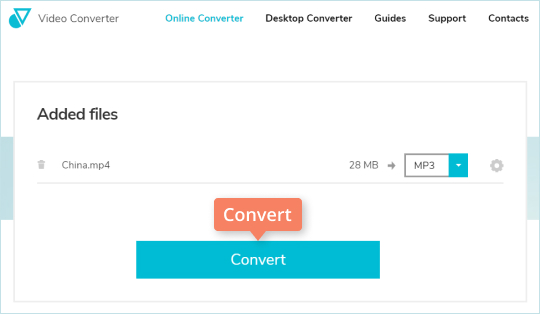 See Other Useful How-to Guides