How to Convert AVI to MPEG or Vice Versa
Are you looking for a stable AVI to MPEG video encoder? Download Movavi Video Converter and see how fast and easy converting from AVI to MPEG can be!
Movavi Video Converter can be used in many different ways and for multiple tasks. With the help of Video Converter, you can easily convert AVI to MPEG, MPEG to AVI, and many other audio and video format options. Just add your files to the program, choose from the 180+ output formats, and let Video Converter take care of the work. All you need to do is download the appropriate version and follow the guide below.
Get the Movavi Software
Download the Video Converter program, open the downloaded file, and run the installation. Once setup is complete, the converter will open automatically.
Select the Files for Conversion
Click the Add Media button, then Add Video and select the AVI files you want to convert.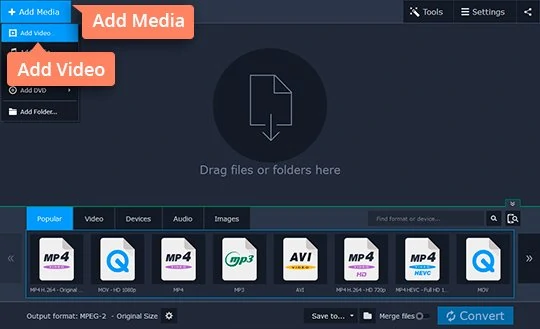 Choose the Format for Your Output Files
Find MPG under the Video tab. Click this item to open the list of MPEG output options and choose the appropriate preset. If you want to store the converted video on your PC or Mac, we recommend you choose MPEG-2. If you want to make a video CD, choose either VCD (Video CD) or SVCD (Super Video CD) with the appropriate TV standard (PAL or NTSC).
If you plan on burning the videos to a DVD, use the DVD-Compatible Video presets to convert to a DVD-friendly MPEG-2 format.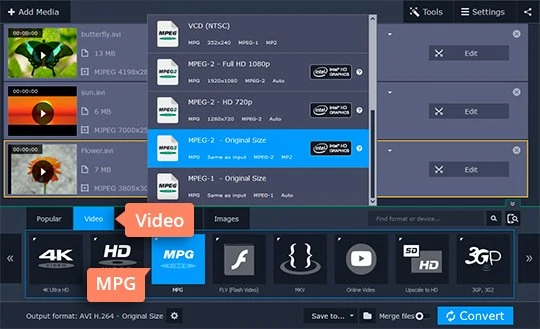 Change AVI to MPEG
Before starting the conversion process, specify the folder where you want to save your newly created MPEG files. You can choose a path in the Save to field or click the Folder icon to select an existing folder. Next, hit the Convert button to run the conversion. Wait a few minutes for the format transfer to finish; you'll see your MPEG files in the window that opens automatically once the process is done.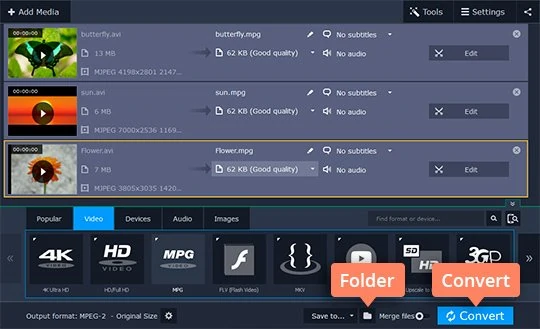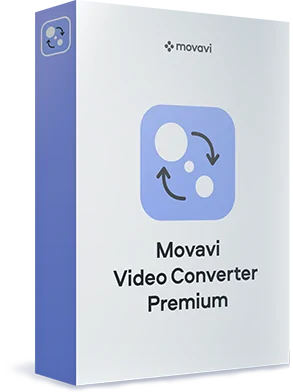 Movavi Video Converter
The ideal way to get your media in the format you need!
Convert video, audio, DVDs, and image files

Enjoy lightning-fast conversion without quality loss

Improve quality, adjust sound, trim and join files before converting

Save video and audio clips for easy mobile access
Frequently Asked Questions
What Is the AVI Format Used for?
AVI stands for Audio Video Interleave. It's a widely used format developed by Microsoft to store both video and audio in a single file. These videos are of high quality, so AVI is one of the best formats for storing multimedia on a computer.
Where Is the MPEG Format Used?
MPEG (file extension .mpeg or .mpg) is a popular format for the videos you find on the internet. Thanks to a specific type of compression, MPEGs are easier to stream and faster to download than video files in other popular formats.
Is AVI Compatible with Macs?
No, it's not: the free version of QuickTime, the default video player on Macintosh computers, does not support all types of AVI files. The easiest way to overcome this problem is to convert your AVI files to a Mac-friendly video format such as MPEG, MOV, MP4, or M4V.
How Do I Convert AVI to MPEG on a Mac?
First, download and install Movavi Video Converter on your computer.
Run the program and follow these instructions:
Click Add Media and choose Add Video. In the dialog box that appears, select the AVI files you want to process.
On the Video tab, select MPG and choose one of the presets.
Hit Convert to transform your AVI files to MPEG.
Is AVI Better Than MPEG?
No, not better, just different. The quality of a video depends on the codecs used to encode files, so, in some cases, AVIs be of worse quality than MPEGs. Still, under normal circumstances, AVI is uncompressed and is of high quality, which makes it one of the most appropriate formats to store videos in. Unlike AVIs, MPEG videos are compressed. This makes the MPEG format perfect for streaming videos online and storing on servers since the files don't take up too much space. So these two formats are just usually used for different purposes.
See other useful how-to guides