How to Convert WebM to MP4 with Movavi
Movavi Video Converter is a great WebM-to-MP4 converter to download and use. With this program, you can change WebM files to MP4 in no time, even if you've never done it before. The app also supports dozens of other formats, including HD. To try these and other powerful features in Movavi Video Converter, download the appropriate version for Windows or Mac and follow the steps below.
Step 1. Install the Program
Run the downloaded file and follow the on-screen instructions.
Step 2. Add Files for Conversion
Click the Add Media button in the program interface, select Add Video, and add a WebM file or any other format that you want to transform into MP4. You can add more than one file to take advantage of the built-in batch conversion feature.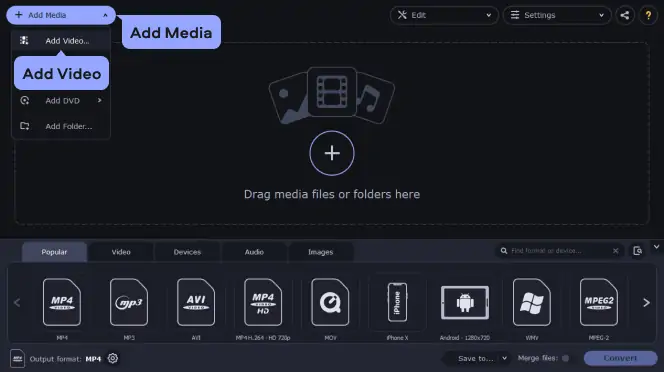 Step 3. Edit the WebM Files before the Conversion Process (Optional)
You can first edit your videos in the app's editing tool. Access it via the Edit button in the right part of the file info section.
Try changing the parameters in the Stabilization tab to improve your shaky footage videos. Adjust the sound volume in the videos or even lessen background noise in the Audio tab. Set the brightness, contrast, saturation, and many other parameters in the Adjustments tab. Apply different filters to your videos in the Effects tab. Insert subtitles in Subtitles or add a particular watermark in the respective tab. Trim details you don't want, rotate your footage, or cut its edges in the tabs Trim, Rotate, and Crop.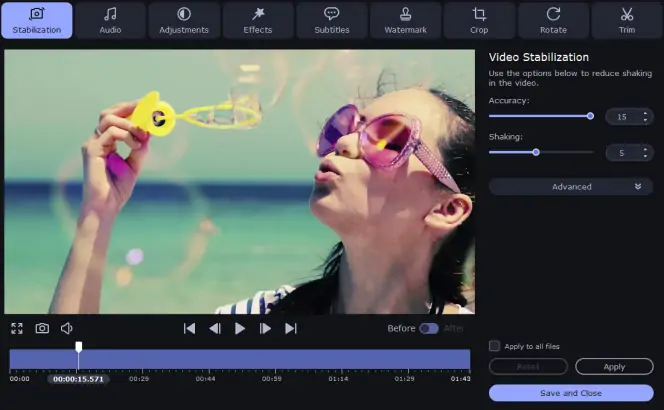 Step 4. Specify the Output Format
Expand the Video tab at the bottom of the program window and click MP4. You'll see a list of presets for MP4 videos – choose the one that suits you best. To ensure the file is compatible with your mobile device, open the Devices tab and choose the preset for your device.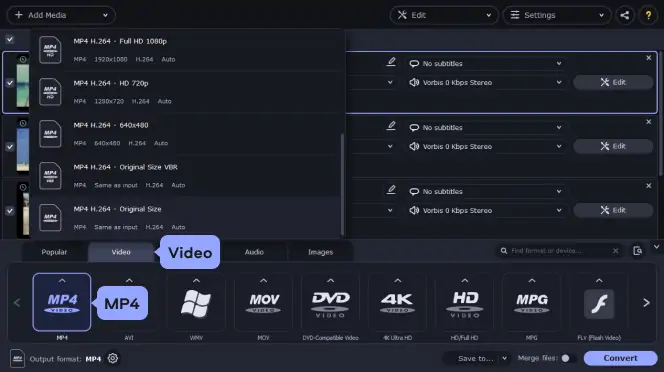 Step 5. Compress the WebM Files (Optional)
You can also use the converter to shrink large files quickly. Click the size value indicated in the file description. A dialog box will open, in which you can choose the size, quality, and bitrate values. Click the Convert sample button once you're finished to check how the resulting file will look like.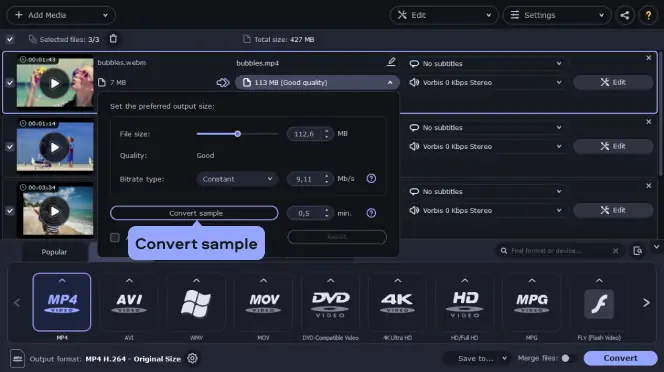 Step 6. Start Converting WebM to MP4 and Save the Results
When you have set all the parameters, click the button with the Save to button and choose the directory for your output files. You can use the default folder or select another. Finally, click Convert to transfer your file(s) to MP4 or any other format you like.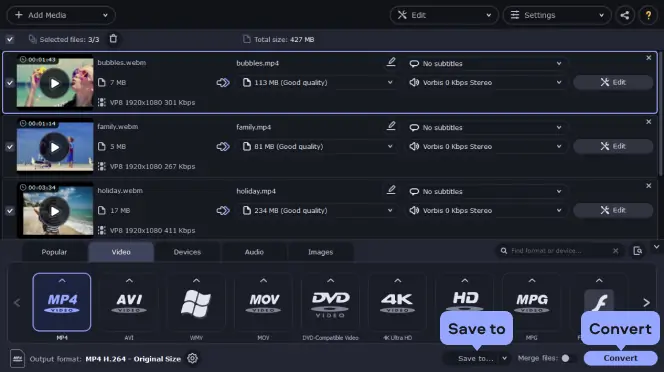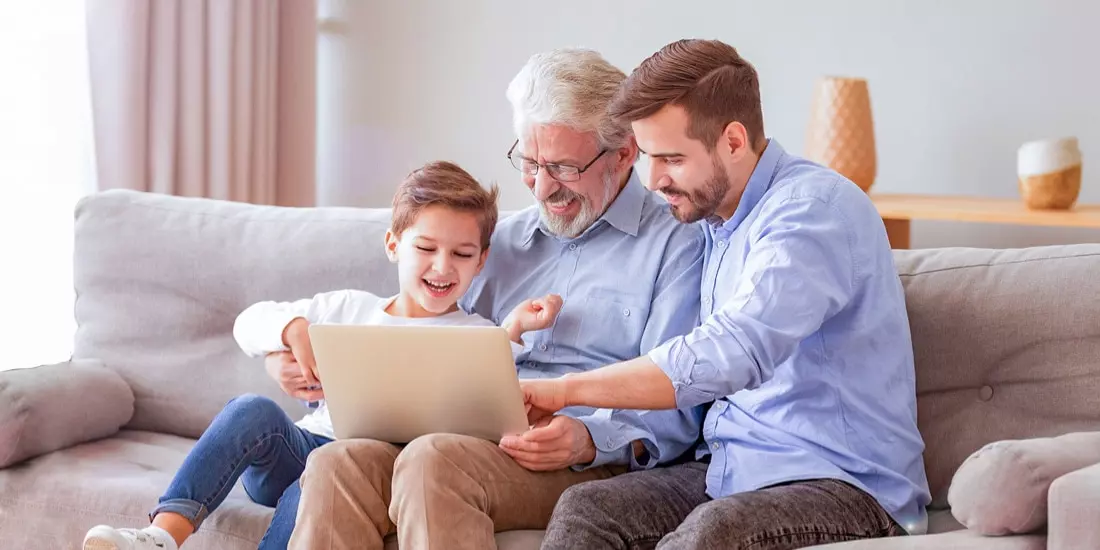 Movavi Video Converter
The ideal way to get your media in the format you need!
Websites to Convert WebM to MP4 Online
When it comes to converting WebM to MP4, there are many tools at your disposal. Whereas that's good, it also constitutes the primary challenge of choosing a WebM-to-MP4 converter. Each .webm to .mp4 converter has unique features. Some are online tools, and with others, you'll have to download a desktop version. The key is to select the WebM video converter that best suits your needs.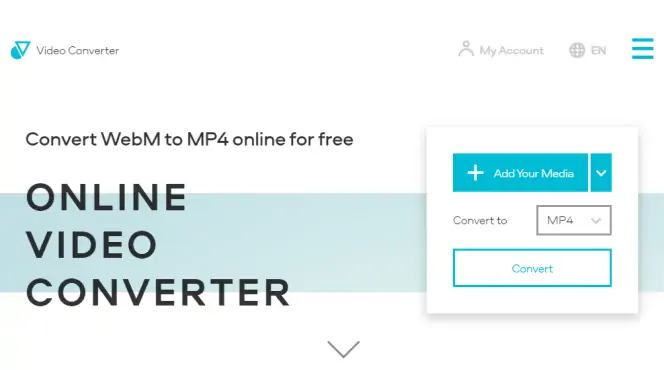 One of the best tools to use when converting WebM to MP4 is Online Video Converter. As the name suggests, it is a web-based tool that you can access using your favorite browser. The conversion process is relatively easy, and you can manage it without prior video conversion experience. All you need to do is add the WebM file from your device, Google Drive, or Dropbox. From there, select MP4 as the output format, use the settings features to enhance the quality, and then click the Convert button.
Other than being an easy-to-use online WebM file converter, Online Video Convertor has a host of benefits. It has a free version that allows you to change WebM to MP4 and convert tens of other formats. If you need advanced conversion features, there's a subscription option available. The only challenge with Online Video Converter is that you can only convert small files with the free version.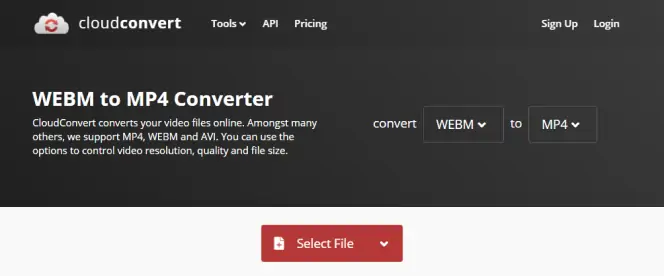 CloudConvert is a cloud-based tool for converting WebM files to MP4. This tool is ideal for professional use as it offers high-quality conversions. To access all the features of this tool, you will have to pay a one-time payment of $8. However, it has a trial period, and there's also a trial version if you do not need advanced capabilities. There is online support on how to convert WebM to MP4 as well as documentation.
With CloudConvert, you'll be able to convert WebM to MP4 online, and it has an advanced API. Along with videos, you'll also be able to convert over 200 formats of images and documents. There are varying payment plans, including one-time and pay as you go packages.
To learn more about CloudConvert's features, see this G2 review.
CloudConvert reviews on G2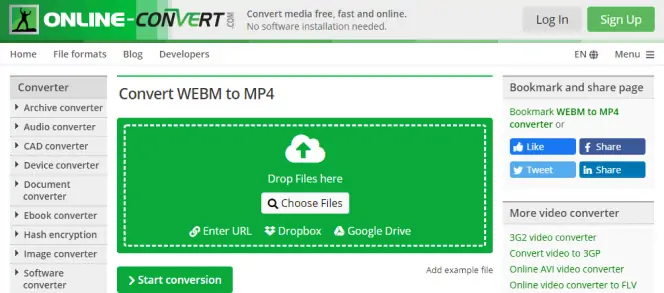 Online-Convert is another tool that allows you to convert WebM files to MP4 without installing an application on your device. It has a straightforward and easy to use interface. To begin conversions, you can enter the video URL or add the videos from Google Drive or Dropbox. From there, select MP4 as the output format and choose preferred settings to enhance output quality.
Along with its ease of use, Online-Convert has reliable customer service. The service is free to use, and you do not have to worry about watermarks on your videos. Unfortunately, this tool is only suitable for basic conversions.
For more information about Online Converter, check out the reviews on TrustPilot below.
Online-Convert.com reviews on TrustPilot
Supporting the conversion of many file formats, Zamzar is a reliable free WebM converter. You do not have to download a WebM converter as this tool is accessible online. Zamzar is relatively easy to use, and you do not need to have prior conversion experience to use it. The email feature available is one of its unique features. It allows you to convert WebM files to MP4 through an email attachment. Once your conversion is complete, you'll receive an email notification.
Though Zamzar has a free version, you may need to upgrade to a paid subscription to convert files larger than 50 MB. The conversion speed is also slow sometimes, and it could be delayed for up to one hour if there's a lot of traffic.
To learn more about Zamzar, read Lifewire' Zamzar review.
Zamzar review by Lifewire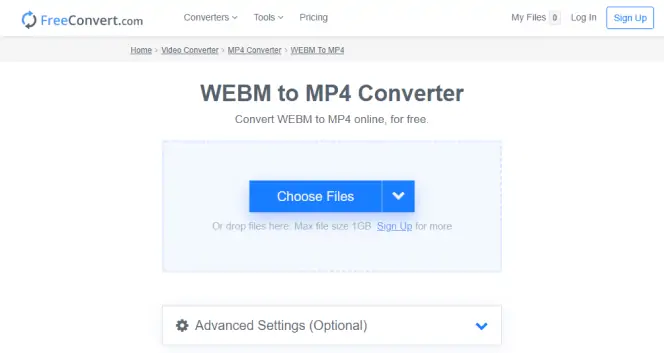 FreeConvert is a converter that uses both custom software and open source to deliver high-quality conversions. You can access it through any browser, and it's free to use this WebM-to-MP4 converter online. Once you upload your files, use the 'Advanced Settings' option to customize parameters. Proceed to select MP4 as the desired output format and then initiate the conversion.
To guarantee privacy and security, the files you upload will be protected with 256-bit SSL encryption. Further, files are only stored for two hours. Along with WebM to MP4, it also allows you to convert a host of formats. The maximum file size for video conversion is 1 GB. However, you set up batches of up to 20 videos at a go.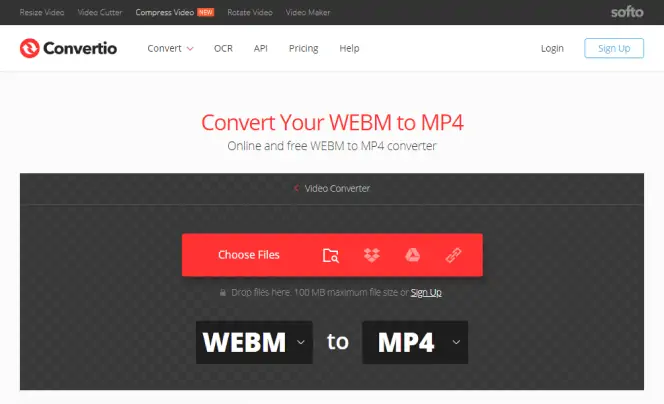 Are you worried you do not know how to convert a WebM file to MP4? Don't be. Convertio is an online tool that makes it fairly easy, even for first-time users. Once you upload the video, set MP4 as your desired output format. This tool allows you to customize various aspects of the video, such as quality, aspect ratio, and resolution. With desired parameters in place, initiate conversion and then download the file after completion.
With Convertio, you can upload files from a computer, iPhone, or Android device, as well as Google Drive or Dropbox. In total, it supports 37 video file formats, making it a reliable option for all your conversion needs. If you need to perform many conversions, you can create a batch reducing the need to keep adding videos separately.
Read Convertio reviews on TrustPilot to gain a better picture of what to expect.
Convertio reviews on TrustPilot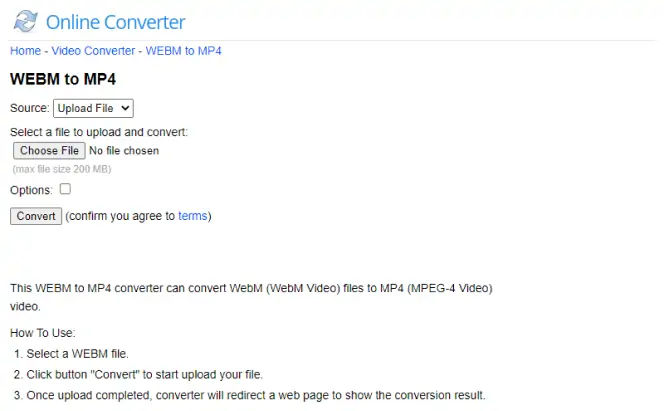 Online Converter allows you to convert WebM to MP4 free. The straightforward and easy-to-use interface makes this tool suitable for beginners. Upload your file, choose MP4 as your output format and then click the Convert button. When the conversion is complete, a new tab where you can access the video will pop up.
Online Converter is free and easy to use and also supports other video file formats. However, it's only suitable for basic conversions and cannot convert protected or encrypted video files. You may be required to cancel conversion and start again as the response time can be prolonged.
Free WebM Converters for Desktop
Besides using an online converter, you can also download and install software on your device to convert WebM to MP4. Similarly, there are plenty of options to choose from. Your task is to determine which has the perfect blend of features for your needs.
How to Convert WebM to MP4 for Free with Movavi's Converter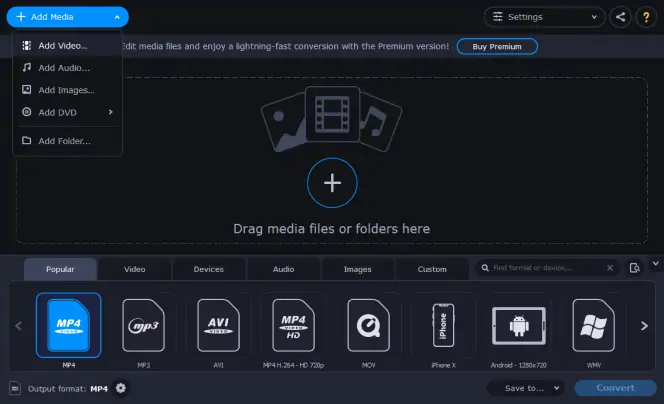 OS: Windows, macOS
Movavi Free Video Converter is a conversion tool that's available for both Mac and Windows users. You can use it to convert a WebM file and over 100 other formats. One key feature of this software is that you reduce the videos' size without compromising output quality. Along with fast conversion speed, Movavi comes with exceptional customer support in case you need assistance.
How to convert WebM using Movavi:
Download Movavi Free Video Converter from the web page linked below.
Movavi Free Video Converter
Install and run the program.
Drag the desired WebM file and drop it into the app window.
Select MP4 as the target format.
Set desired conversion parameters.
Click Convert.
How to Convert WebM to MP4 with VLC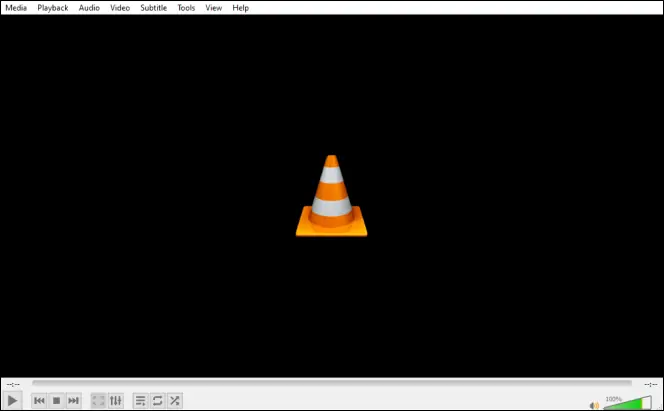 OS: Windows, macOS, Linux
Popularly known for its media playing function VLC is another WebM-to-MP4 converter free to use. It is an open-source tool available to desktop and mobile users. To convert WebM to Mp4 with VLC, you'll need to:
Download the installation file from the website linked below.
The VLC website
Open the downloaded file, follow the on-screen instructions to install the player, and launch it.
Click Media, then choose Convert / Save.
In the dialog window that opens, click the Add button to import your WebM file for conversion.
Click the Convert / Save button in the lower-right part of the dialog box.
In the next window, select MP4 as the target format.
Choose the destination folder for your converted file and type the file name.
Click the Start button to launch the conversion.
If you would like more info on VLC, check out the review below:
VLC review by TechRadar
How to Use the HandBrake WebM-to-MP4 Converter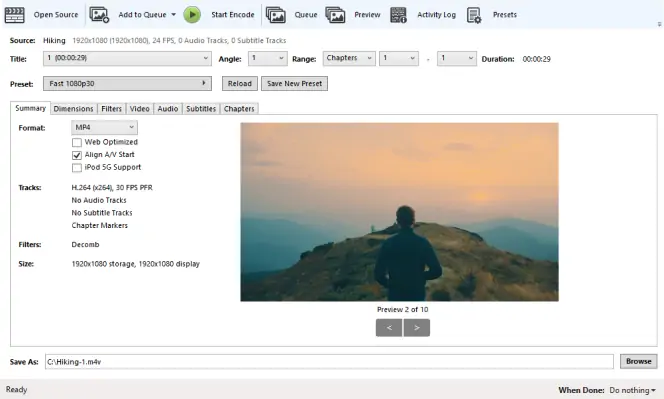 OS: Windows, macOS, Linux
HandBrake is an open-source video converter that supports a wide range of formats and codecs. It is free to use and accessible to Linux, Mac, and Windows users. This tool has a wide range of features that make it ideal even for advanced users. However, its ability to convert and compress large files quickly is its main feature. Consider using it if you have a bunch of WebMs to convert to MP4 or another format.
HandBrake WebM-to-MP4 conversion goes as following:
Download the installation file from the official website of the program.
The HandBrake website
Install and run HandBrake.
Click the Source button in the top left and select the video file.
To convert more than one file, select Folder (Batch Scan).
Go to the Format tab and choose MP4.
Proceed to select a destination and name for the converted video on the Save as section.
Click Encode to initiate the conversion.
If you want to know more about Handbrake, check out the review below:
Handbrake review by TechRadar
How to Change WebM to MP4 with AVC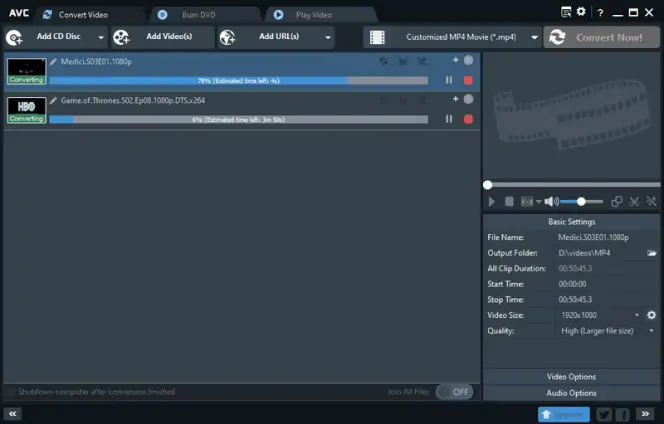 OS: Windows, macOS
For WebM to MP4 conversions, Any Video Converter is one of the most reliable tools. In addition to being free, its straightforward interface makes it easy to use. More importantly, it offers fast conversions. With tools such as flip, rotate, crop, and merge, you can adjust your video files as desired.
How to convert WebM files to MP4 using Any Video Converter:
Download the program from the website linked below.
The AVC website
Open the downloaded file and install the program.
Run the program and click Add Videos to import the WebM file.
Select MP4 as the output format.
Initiate conversion by clicking the Convert Now button.
Access the converted video via the Open Destination File Location.
For more info on Any Video Converter, check out the review below:
Any Video Converter review by TechRadar
How to Choose a WebM-to-MP4 Converter
Now you are spoilt for choice when choosing a WebM file converter. Before you even assess specific programs, you should determine whether an online solution or downloaded software is better for you. With online solutions, you do not need to worry about your computer meeting the desired specifications or storage space available. However, they're not ideal if you need to convert large files or want high-quality videos.
Once you cross that step, you can now look into specific software and assess the features. Things to consider include:
The level of quality you need
Supported formats
Whether you need advanced editing capabilities
Conversion speed
Whether you are willing to pay for a subscription
Considering all these factors, Movavi Video Converter is an ideal option. You can use it to convert over 100 formats, including WebM and MP4. It also offers additional features to help improve output quality. Movavi provides both lifetime license and subscription options. You'll get a free trial period to see how it works.
WebM vs. MP4: What's the Difference?
Is WebM better than MP4? Not always. Both WebM and MP4 are suitable for video storage and streaming. Still, WebM files tend to be a little smaller than MP4 files and are easier to embed into browsers, while MP4 is more of a device-friendly format supported by many device manufacturers. Here's a short table about MP4 vs. WebM distinctions.
| Comparison parameter | WebM | MP4 |
| --- | --- | --- |
| Introduced | 2010 | 1999 |
| File extension | .webm | .mp4, .m4a, .m4p, .m4b, .m4r, and .m4v |
| Audio codecs | Vorbis, Opus | MPEG-2/4 (HE)-AAC, MPEG-1/2 Layers I, II, III (MP3), AC-3, Apple Lossless, ALS, SLS, and others |
| Video codecs | VP8, VP9, AV1 | H.264/MPEG-4 AVC, HEVC/MPEG-H Part 2/H.265, MPEG-2 Part 2, MPEG-4 ASP, H.263, VC-1, Dirac, and others |
| Supported by | Many browsers and players | Almost any device, including Apple |
Frequently Asked Questions
What is a WebM File?
WebM is an open-source video format that's a suitable alternative to other formats such as MP4. With assistance from Google, it has been around since 2010 and is intended for internet and HTML5 use. WebM is a container format for video and audio files. VP8 and VP9 are the video codecs within the container, whereas Vorbis and Opus are for audio. WebM files have the .webm extension.
How to convert WebM to MP4 on a Mac?
If you need a WebM converter for Mac, Movavi Video Converter is the ideal tool. It is both functional and easy to use. Here's how to go about it:
Download Movavi Video Converter for Mac.
Install and run the program.
Open the destination folder of your video and drag the file to the app window.
Select MP4 as your output file format.
Adjust video output quality as required using advanced settings.
Click the Convert button to initiate the conversion.
Is WebM better than MP4?
Both WebM and MP4 are containerized media formats for audio and video files. WebM is royalty-free and a much newer file format designed for internet use. Each format has features that make it unique. If you are considering using WebM or MP4, it's not a question of which is better but which best serves your objectives. For a royalty-free format, WebM is an excellent choice. However, if you want a format to reach a broad audience regardless of their network, device, or processing power, you're better off with MP4.
What can play WebM?
Since it's specifically designed for internet use, you can play WebM files on most modern browsers such as Opera, Google Chrome, Edge, and Firefox. If you are using Safari browser on a Mac, you can play WebM files via VLC with the VLC for Mac OS X plugin.
Does YouTube use WebM?
YouTube supports a wide range of files, including WebM. Other acceptable formats on the platform are MP4, MPEG4, WMV, CineForm, 3GPP, ProRes, and many others.
Sign Up for News and Special Offers