How to Change MP4 to WebM
WebM is a relatively new open-source video file format that's been designed specifically with the web in mind. If you have an MP4 video that you want to embed into a web page or upload to YouTube, it may be better to convert the video to WebM.
The first part of this article is a step-by-step guide to MP4-to-WebM conversion. To learn the difference between MP4 and WebM, take a look at the comparison section. If you have any questions, check out the FAQ section.
How to Convert MP4 to WebM
If you need to turn your MP4 files into WebM files, all you need is an appropriate piece of software – like Movavi Video Converter. This program will help you change the format of your videos quickly and easily.
Download the Movavi application for Windows or Mac, read this short guide, and you'll be converting MP4 to WebM in no time.
Install the MP4-to-WebM Converter
Launch the app distribution file and follow the instructions to complete the installation.
Add MP4 Clips for Conversion
Go to Add Media > Add Video and select one or more MP4 files you want to convert.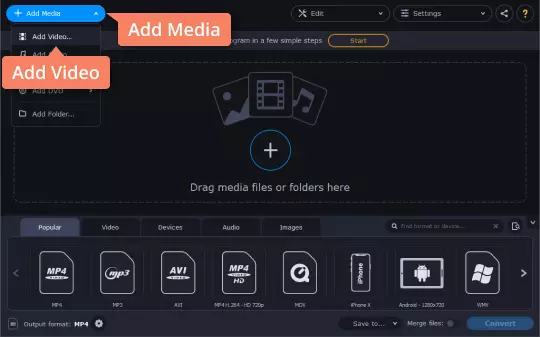 Choose WebM as the Output Format
Open the Video tab in the lower part of the app window, click WebM, and select your desired preset. You can also use the specific preset for your device by choosing it on the Devices tab.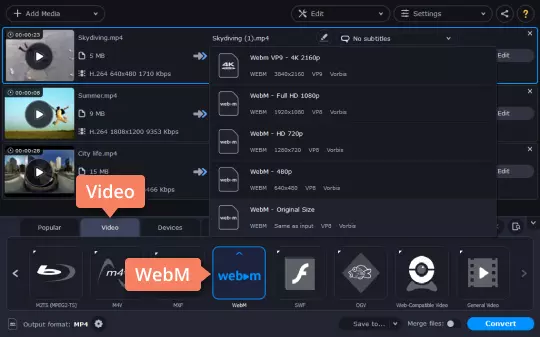 Convert MP4 to WebM
Click the Save to button and choose the destination folder for your output videos. When you're done, click Convert.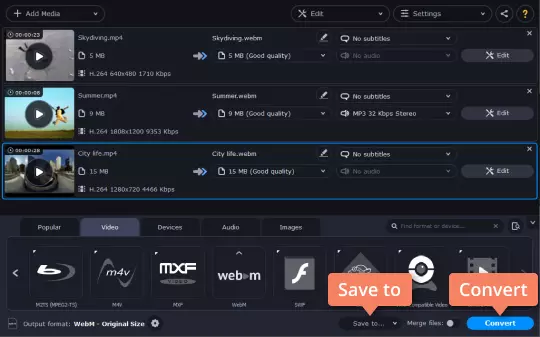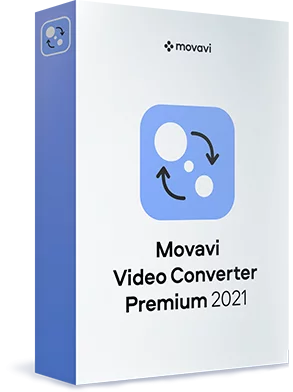 Movavi Video Converter
The ideal way to get your media in the format you need!
Convert video, audio, DVDs, and image files

Enjoy lightning-fast conversion without quality loss

Improve quality, adjust sound, trim and join files before converting

Save video and audio clips for easy mobile access
WebM vs. MP4: Which Is Better
Both WebM and MP4 are lossy formats supported by HTML5. However, WebM is specifically designed for embedded videos and offers slightly better quality than MP4. MP4 is more universal, but it's not open-source. For a more detailed MP4 vs. WebM comparison, take a look at the table below.
| Comparison parameter | WebM | MP4 |
| --- | --- | --- |
| File extension | .webm | .mp4, .m4a, .m4p, .m4b, .m4r, and .m4v |
| Availability | Open-source | Proprietary |
| Supported audio codecs | Vorbis, Opus | MPEG-2/4 (HE)-AAC, MPEG-1/2 Layers I, II, III (MP3), AC-3, Apple Lossless, ALS, SLS, and others |
| Supported video codecs | VP8, VP9, AV1 | H.264/MPEG-4 AVC, HEVC/MPEG-H Part 2/H.265, MPEG-2 Part 2, MPEG-4 ASP, H.263, VC-1, Dirac, and others |
| Supported devices and OS | A number of browsers and players | Almost any device |
Frequently Asked Questions
A WebM file is compressed video saved in the WebM format. It's an open-source, royalty-free video standard developed by Google specifically for embedding videos into web pages; major web browsers such as Chrome, Mozilla, Opera, etc. support WebM.
Both video formats have their advantages. WebM is great for embedded videos, but only a few OSs and Android devices support it natively. MP4 is more widely supported, so you can easily use it with many video-editing programs and playback software. The degree of compression is almost identical for both formats.
MP4 or WebM: Which Has the Better Quality?
WebM uses V8 and V9 video codecs, which offer better video quality and compression ratios than the H.264 used by MP4. In other words, a WebM file has better video quality than an MP4 file of the same size.
YouTube supports all popular video formats for upload: MOV, AVI, MP4, WMV, and WebM. To see a full list of supported formats, visit the Google Help website.
WebM is a container format that stores compressed video and audio, so it's a lossy format. Lossy compression reduces the quality of the video, as well as its size, but it does make WebM videos very suitable for embedding into web pages.
See Other Useful How-to Guides