How to Save Overwatch Highlights on Your PC
Overwatch is well-known for producing great highlights. Whether it's a team kill soloed by Genji or a D.Va ult flying right into the well on Ilios, we love watching this on Rapida and Best of Overwatch.
Want to be one of those lucky guys on YouTube? Record your gameplay, save the finest moments, and send them to your favorite channel. Or you can even create your own show. With Gecata by Movavi, everything is possible. Our team is dedicated to bringing you screen recording software that doesn't require a degree in videography. You won't need to search for optimal settings for frame rates and resolution – this app is ready to capture the gameplay in high quality as soon as it's installed.
Check out the video below to see how to record Overwatch with Gecata or read the instructions further down the page.
Here's how to record Overwatch on a PC with Gecata by Movavi.
Install and Launch the Software
Download the installation file from this page, launch the file, and follow the on-screen instructions. When the installation is done, click Start.
Adjust the Basic Recording Settings
With Gecata, you can record not just your gameplay and system sounds but also your webcam and sound from your mic. To use these features, click the Microphone and Webcam icons, and make sure the devices are active. If you have multiple microphones or webcams, select the ones you want to use from the lists above the icons. Make sure that Game mode is selected in the main window. In this mode, recording will start as soon as you launch the game and will end automatically when you quit it. Now we're ready to start!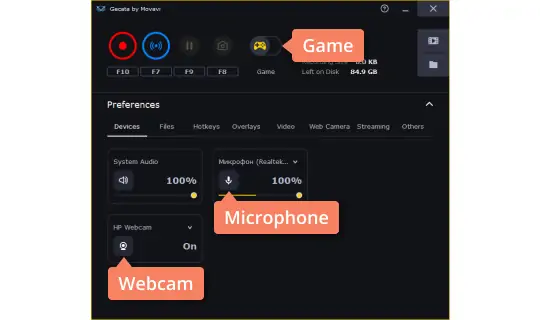 Record Your Gameplay
To make sure you don't miss any highlights, we recommend you record entire game sessions. To do this, click Start Recording before you launch the game, then open the Battle.net launcher and start Overwatch. When you exit the game, the recording will stop automatically, provided you were using Game mode. Alternatively, you can click the Stop button in the Gecata window to stop recording at any time.
You can also start, pause, or stop recording right in the game by using the hotkeys. Press F10 to start or stop recording and F9 to pause or resume. Other useful hotkeys are F8 (to take an instant screenshot) and F11 (to display an overlay showing your FPS, duration of the recording, and space left on your hard disk).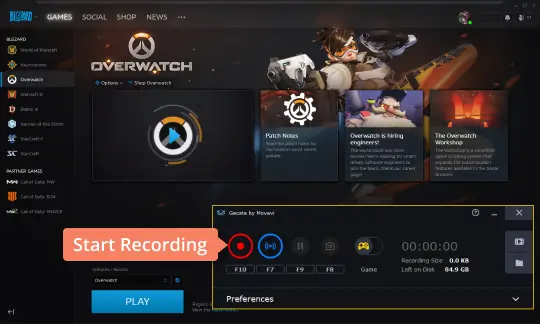 How to save your Overwatch highlights? Whenever you stop recording, the program saves the video to a folder on your computer. By default, it's Videos\Gecata by Movavi. You can access it by clicking the Folder icon. You'll find all your Overwatch recordings there, saved in MP4 format.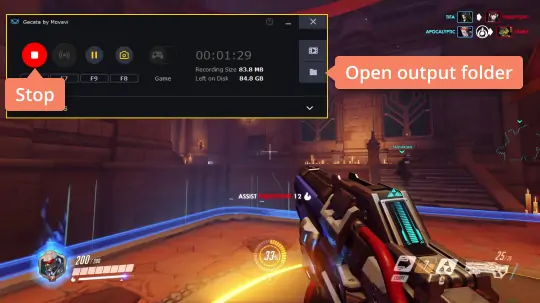 Now you know how to record Overwatch gameplay. Share your highlights online for everyone to see and marvel at!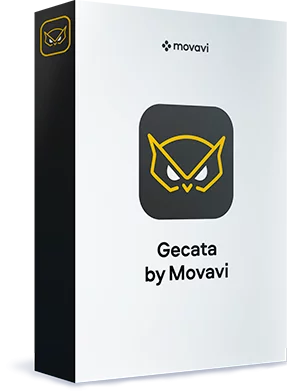 Gecata by Movavi
The best way to preserve your gaming achievements.
Stream and record HD game videos at up to 120 FPS

Grab sound from microphone and speakers

Add webcam video to the game footage

Save video in MP4 for easy uploading to YouTube