14 Best Free IP Camera Software
Are you looking for free security camera software for your IP cameras? IP cameras are affordable, wifi-ready cameras that can be used as surveillance systems for homes and businesses. But purchasing the right camera is only half of the job. You need software that enables your camera and helps you detect intruders and record their actions. Fortunately, you don't need to empty your bank account to download great IP camera software. Here are the 14 best free IP camera software on the market.
To edit your video, you can use Movavi Video Editor Plus. Follow the link below to learn more about the app.
Best Free Security Camera Software
| Software | OS | Mobile Version | Best Suitable for |
| --- | --- | --- | --- |
| Security Eye | Windows XP or higher | No mobile app | Best all-around option |
| Xeoma | Windows XP or higher, Mac 10.9 or higher, Linux | Android, iOS | Best for feature junkies |
| Anycam | Windows Vista or higher | No mobile app | Best for simple security |
| Perfect Surveillance | Windows XP or higher | No mobile app | Best for file size fanatics |
| Genius Vision | Windows XP or higher | No mobile app | Best for intelligent IP capture |
Security Eye – Best All-Around Option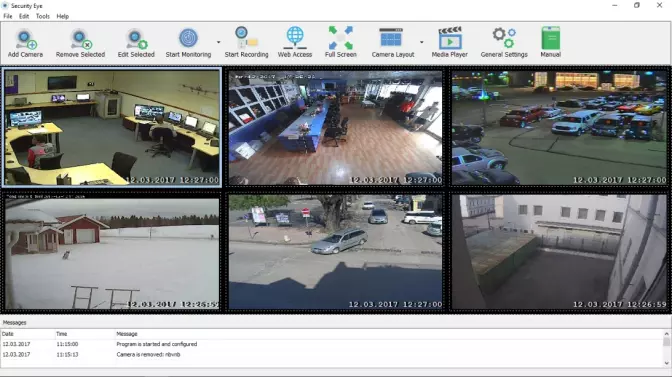 Rating: 9/10
OS: Windows XP, Vista, 7, 8, 8.1, 10
Mobile Version: No mobile app
Main Features: Security Eye is an end-to-end IP camera solution that's completely free to download and use. Due to its agnostic, freeware nature, Security Eye supports virtually every IP camera and webcam on the market – making it ideal for multi-cam setups. Key features include robust motion detection software, a world-class task scheduler that allows you to set up specific recording times, SMS alerts, a video player (which lacks some key features), and fantastic video recording tech that can capture up to 64 cameras simultaneously.
Pros:
Completely free
Great motion detection software
Can combine any number of IP cameras or webcams to build a robust security landscape
Supports +1,200 models of IP cameras
Comes with a free video player
Task scheduler makes it easy to configure security recording timings
Can get alerts via SMS or email
Can save to the cloud or locally
Cons:
Not available for Mac or Linux operating systems
Simple video player
No mobile app
Xeoma – Best for Feature Junkies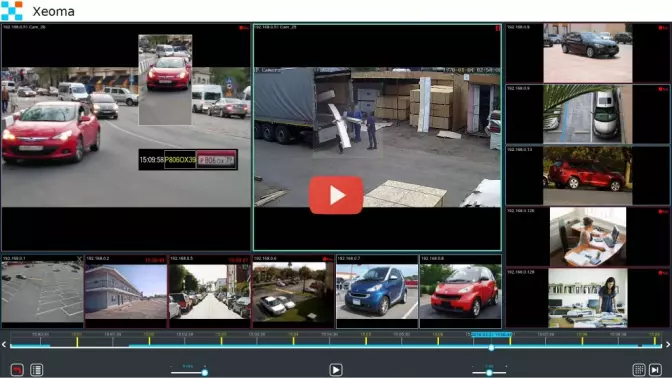 Rating: 8/10
OS: Windows XP, Vista, 7, 8, 8.1, 10, Mac 10.9 or higher, Linux 32 and 64-bit, Linux ARM
Mobile Version: Android OS 4.4 or higher, iOS 6 or higher
Main Features: Xeoma is a smart, feature-rich IP recording solution that's available on virtually every platform (they even have a list of "unofficially supported" platforms like Linux Kali, Fedora, and RancherOS). Xeoma can handle +2,000 cameras on a single computer, and they provide access to IP cams, webcams, analog cams, and CCTV cams. The list of features packed in this solution is mind-blowing. Xeoma has motion detecting software, weather algorithms, face detection, license plate detection, archives, SMS alerts, a great scheduler, emotion recognition, crowd detection, gender, age, mask detection, and plenty of other software-driven detection algorithms.
Pros:
Amazing suite of recognition tools
Can handle a wide variety of cameras
Never-ending list of features
Superb motion detection
Multiple recording formats
Cloud compatible
Mobile app support
Cons:
Has ads on the free version
Can be complicated to set up and use
Non-ad version is relatively expensive for home users with prices starting at around $12/month
Anycam – Best for Simple Security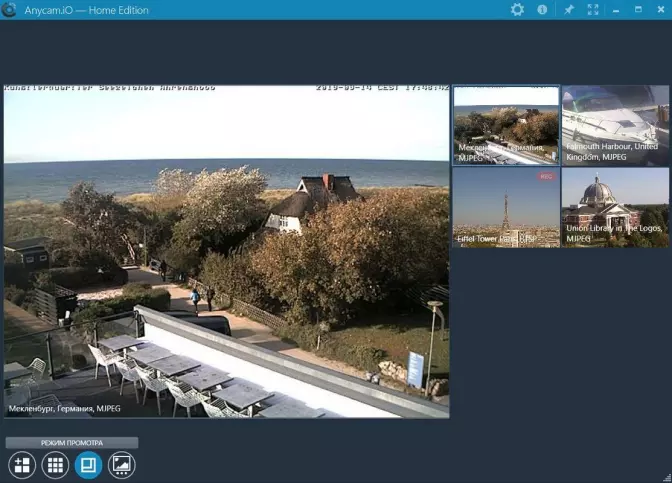 Rating: 7/10
OS: Windows Vista, 7, 8, 8.1, 10
Mobile Version: No mobile support
Main Features: Anycam is a no-nonsense security software with IP camera support and an extremely simple interface. Like other solutions on this list, Anycam comes with a video playback feature, a camera scheduler, and simple motion detection software. But that's about it. Anycam doesn't pack nearly as many features as Xeoma, but that's not necessarily a con. Out of all the solutions on this list, Anycam has a straightforward interface and setup. So you may lose out on features, but you gain ease-of-use.
Pros:
Incredibly simple, tile-based interface
Easy to use
Can connect to virtually any IP camera
Cons:
Lacks some features
Free tier only allows one camera
Subpar motion detection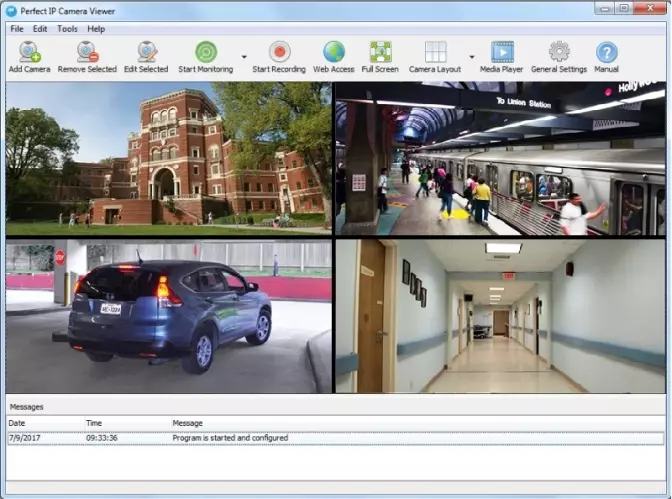 Rating: 6/10
OS: Windows XP, Vista, 7, Windows 8, Windows 10
Mobile Version: Not available
Main Features: Perfect Surveillance offers a suite of software aimed at the IP camera market. IP Camera Recorder, IP Camera Viewer, and Webcam Monitor are all three distinct downloads, so this solution takes up a little more space than its competitors. While Perfect Surveillance offers the standard capture and motion detection features, it does lack a single unified interface – which may make it less-than-ideal for complex, multi-cam setups. That being said, having the option to download just a capture software or monitoring software is perfect for IP lovers looking for simple and discrete software.
Pros:
Can download precisely what you need to save space
Has motion detection
Works with multiple IP cameras
Cons:
Requires three different downloads to get monitoring, replays, and viewing
Less feature-rich than competitors
Genius Vision – Best for Intelligent IP Capture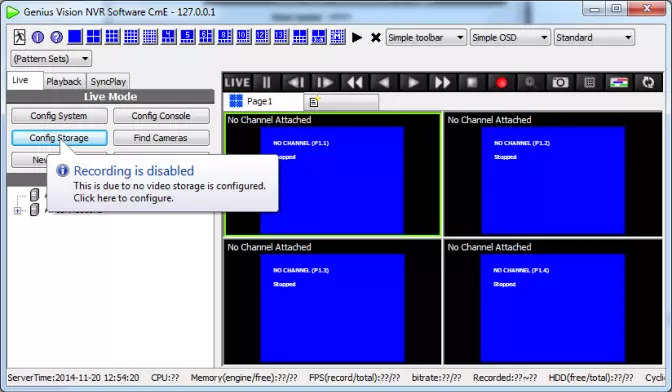 Rating: 7/10
OS: Windows XP, Vista, 7, 8, 8.1, 10
Mobile Version: Not available
Main Features: Genius Vision's Community Edition is jam-packed with intelligent capture features. You can expect features like tripwire detection, foreign object recognition, virtual electronic fencing, tamper detection, motion detection, smart search, and integrated Google Maps in this free-to-use solution. Also, you get the basics like video replay and support for multiple IP cameras. This is one of the smartest IP capture solutions on the market, but it does lack the power and usability of some of the upper-tier options on this list.
Pros:
Incredibly smart capture technology
Decent motion detection
Great camera support
Cons:
Watermarked videos
Sub-par interface
Can't handle as many simultaneous cameras as other solutions on this list
iSpy – Best for Niche Operating Systems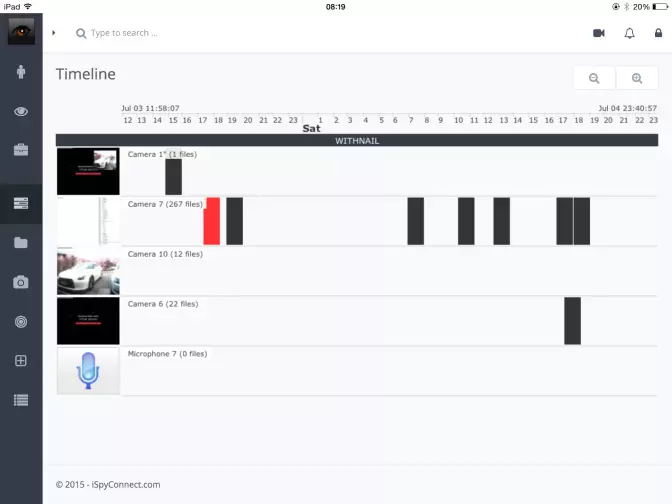 Rating: 8/10
OS: Windows XP, Vista, 7, 8, 8.1, 10, Mac 10.9 or higher, Linux 32 and 64-bit, Linux ARM
Mobile Version: Android OS 4.4 or higher, iOS 6 or higher
Main Features: iSpy is a dynamic IP camera solution that incorporates replays, capture technology, and great recording features with one of the most robust OS selections on the market. This software works on almost any OS – seriously. You can even run it on a Raspberry Pi or a Docker interface. Expect great motion detection, rich capture technology, and remote access features. Plus, you can choose from multiple recording video files, including MP4, VP8/9, GPU, and RAW.
Pros:
Supports virtually every known OS
Tons of features
Lots of file conversion options
Easy to use
Can set up IFFT triggers and use with home smart tech systems
Cons:
Decent smart capture technology
ZoneMinder – Best for Privacy Lovers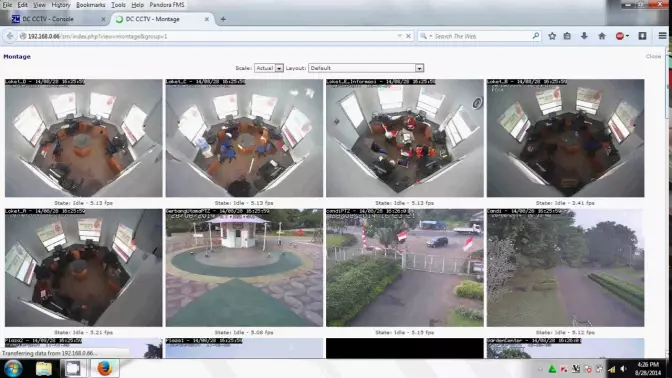 Rating: 9/10
OS: Windows, Debian, RedHat, Ubuntu, Gentoo, Custom
Mobile Version: Android, iOS, and custom
Main Features: ZoeMinder is a privacy-centric IP detection tool that's great for developers. Not only is this the first open-source tool on the list, but it gives you complete back-end control of your data. ZoneMinder also has API support and can handle virtually any third-party integration. With basic features like video capture, recordings, events, and motion detection, ZoneMinder brings customizability and privacy-centric practices to the forefront of the IP market.
Pros:
Total customizability
Privacy-centric solution
Includes basic features and semi-intelligent capture
Can plug in open-source AI to make this solution super-smart at detecting intruders
Cons:
Complicated to set up
Best for those with a development background
SmartViewer – Best for Simple Setups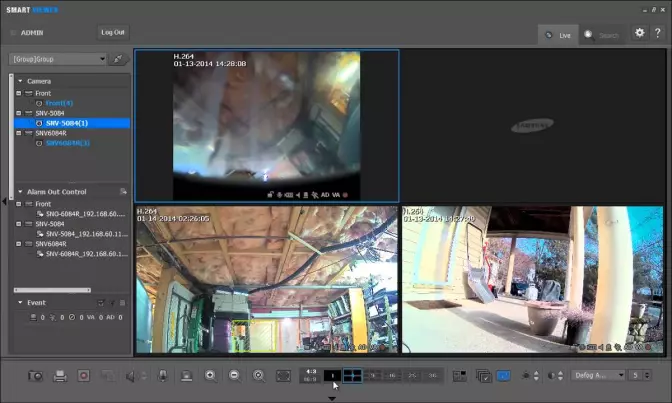 Rating: 6/10
OS: Windows only
Mobile Version: None
Main Features: SmartViewer is a lightweight IP camera solution that can handle up to 72 connected cameras. This is incredibly simple and basic software. It can handle basic capture and playback, but it (purposefully) lacks many of the features of other software on this list. If you're looking for something bare bones, this is your best bet.
Pros:
Super lightweight
Easy-to-use
Cons:
Lacks features
Not very intelligent
No built-in motion detection
iVideon – Best for Aesthetics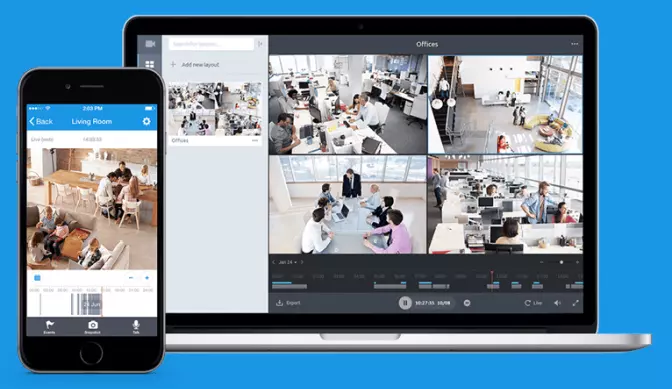 Rating: 8/10
OS: Windows 7, 8, 8.1, 10, Mac OS
Mobile Version: Not available
Main Features: iVideon is an IP camera manufacturer that also provides a well-tuned app for their cameras. Fortunately, you can connect any camera to their app, so you don't need to purchase their cameras to take advantage of the iVideon software. This is, by far, the most beautifully-designed app on this list. With motion detection, cloud recording, hard drive recording, and built-in sound detection, this is one of the most feature-rich solutions out there.
Pros:
Beautiful solution
Great motion detection capabilities
Superb sound detection
Cons:
Not as intelligent as other solutions
ContaCam – Best for No-Nonsense Recording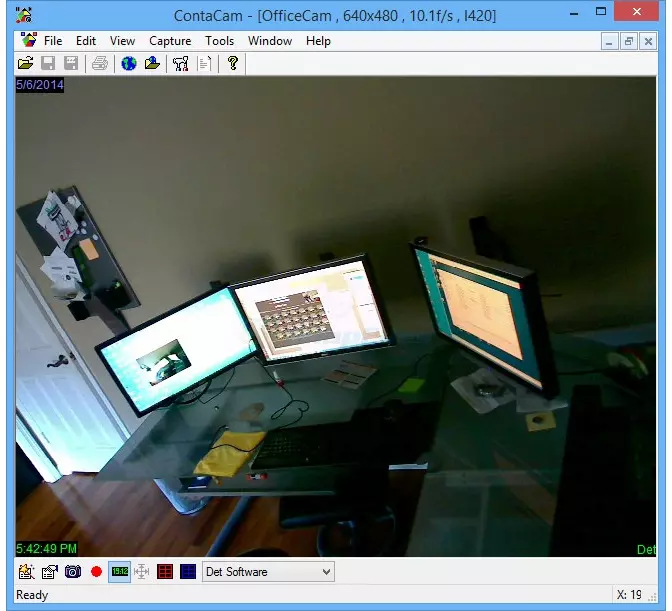 Rating: 5/10
OS: Windows 7, 8, 8.1, 10
Mobile Version: Not available
Main Features: ContaCam is a simple, no-frills CCTV and IP camera recording solution with some great features and a stripped interface. Believe it or not, this solution packs some pretty modern features (despite its lackluster website). You can integrate with Dropbox for storage, leverage AI-driven motion detection, and use various IP and CCTV cameras. If you're looking for a no-nonsense solution, this one may be ideal for you.
Pros:
Incredibly simple
Dropbox integration
Works with a variety of IP and CCTV cameras
Cons:
Subpar interface
Old-school
Lacks some of the features of competitor solutions
Luxriot Evo – Best for Large Setups and Business Users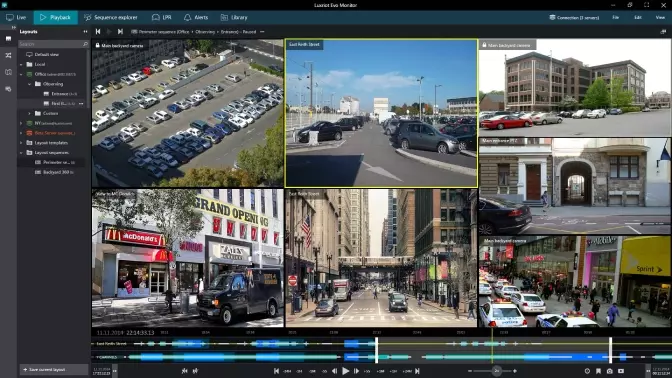 Rating: 7/10
OS: Windows 7, 8, 10
Mobile Version: Not available
Main Features: Luxriot Evo is a camera-agnostic solution that supports up to a mind-blowing 5,000 cameras. Not only does Luxriot Evo have a great setup wizard and a robust health monitoring feature, but it also has great features and a sleek interface. When it comes to scalability and management, this is the best freeware on the market. So, it's great for businesses. If you're looking for universal usability for large-scale systems, Luxriot was purpose-built for you.
Pros:
Can handle up to 5,000 simultaneous cameras
Easy-to-use setup wizard
Built-in health monitoring
High-quality playback
Cons:
Subpar capture intelligence
Scaled pricing
Only for PC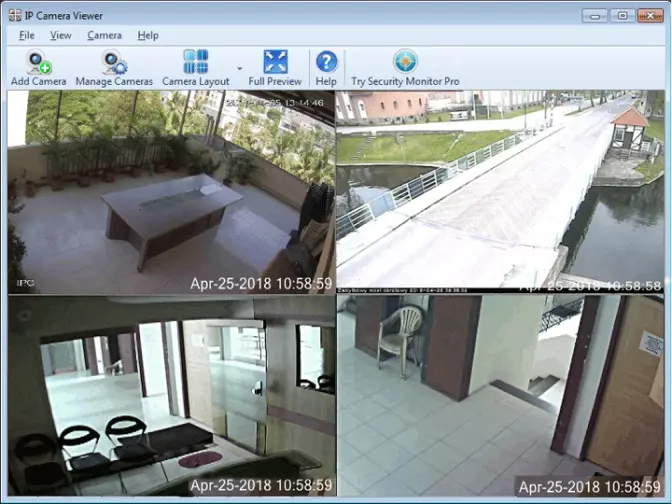 Rating: 5/10
OS: Windows 7, 8, 10
Mobile Version: Not available
Main Features: Deskshare IP Camera Viewer is an IP camera viewing solution with minimal features and an extremely basic interface. While the free tier only supports camera viewing, upgraded tiers bring scheduling, motion detection, DVR, and other rich features. One of the best features is the zoom and camera orientation. You can zoom and orient your cam directly from the software itself, and this works even with cameras that don't have built-in zoom.
Pros:
Simple interface
No-nonsense camera viewing
Great zoom and orientation feature
Cons:
Lacks any file saving, recording, or scheduling features in the free tier
No motion detection
Lackluster UI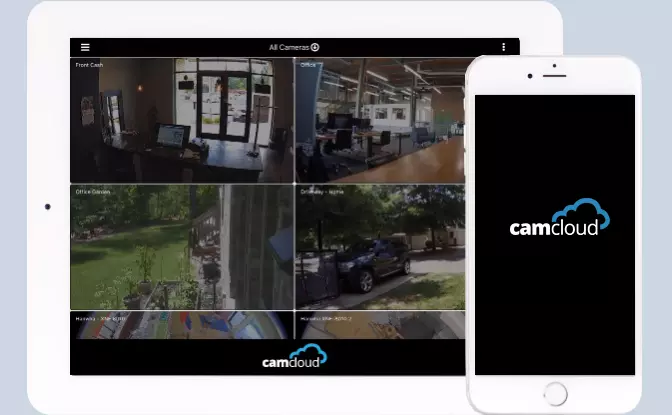 Rating: 8/10
OS: Windows 7, 8, 10
Mobile Version: No version for wireless devices
Main Features: Camcloud VMS is a hardware-free smart video surveillance solution built to take advantage of cloud-driven AI and recording features. Currently, Camcloud can connect with any open-source detection AI, so that you can create an incredibly intelligent capture and surveillance solution out of this free software. One of the advantages (and drawbacks) of Camcloud is its cloud-first architecture. All of your videos are downloaded directly to the cloud. The free tier only supports 4 hours of footage from one camera, so this is one of the weakest free tiers on the list. But the short NVR recording times are edged out by Camclouds incredibly powerful, dynamic, and AI-driven capabilities.
Pros:
No need for hardware
Supports a variety of IP cameras
Universal support for capture AI
Cons:
Free tier only supports 4 hours of stored footage
Free tier only supports a single IP camera
Requires a fair amount of initial setup
Reolink – Best for the Beautiful Interface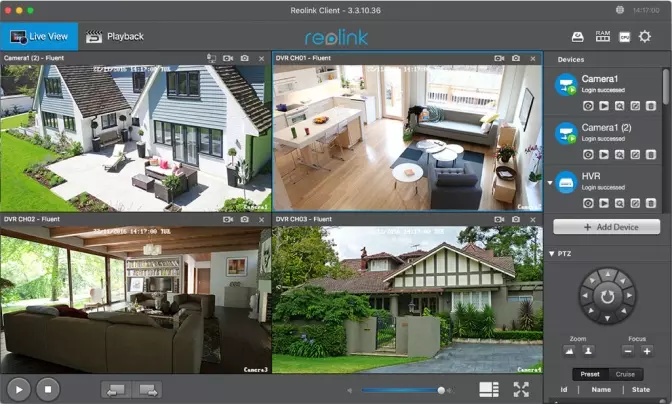 Rating: 7/10
OS: Windows XP, 7, 8, 8.1, 10
Mobile Version: Android and iOS
Main Features: Reolink's client app is a free-to-use IP surveillance system built to handle various IP cameras. While this might sound a little surprising (after all, Reolink is an IP camera creator), this software provides a ton of tangible value to non-Reolink cameras. This is an attractive solution. The interface is modern, trendy, and extremely easy-to-use. While Reolink lacks some AI integrations of other options on this list, it's one of the best plug-and-play software on the market.
Pros:
Works with non-Reolink cameras
Fantastic interface and beautifully-designed central monitoring station (CMS)
Easy to set up, use, and download
Supports P2P cams
Cons:
Lackluster AI integrations
Frequently Asked Questions
What is the best Android app for IP cameras?
Using an app directly from your wireless device can be a convenient and cost-effective way of monitoring IP cameras for many users. Unfortunately, many of the solutions above have no mobile app support. Here are a few of the best Android mobile apps for IP cameras.
tinyCam Monitor Pro: At $3.99, tinyCam Monitor Pro is a bargain. You can view, monitor, and adjust cameras directly from your Android device, and it comes jam-packed with intelligence features like AI face recognition, motion detection, and object detection. You can even cast your screen to tablets, TVs, and smartwatches.
TrackView: This child-safety-centric monitoring solution offers IP camera monitoring with built-in GPS tracking and two-way radio to help you monitor pets and children.
AtHome Camera: Home Security: When it comes to apps, AtHome Camera: Home Security features some of the best motion detection techs on the market. The patented "human sensing" intelligence uses AI and deep learning to detect people. It even sends you a nifty animated GIF to your home screen when it detects a person or intruder.
How to choose the best IP camera software for you?
Finding the best free IP camera software isn't easy. Different software works for different people, so there's no clear-cut "best" software on the market. It really comes down to what you need, what you like, and what you want.
We highly recommend choosing software the meets all of the following requirements:
The software supports your IP camera.
You have an easy time using the software.
The software gives you the features you need to build a robust monitoring center (e.g., zoom, motion detection, etc.)
You like the additional features on the software, and they make sense for you and your cameras.
The software intelligence features make sense for your needs (e.g., you may need a license plate or AI face identification if you run a business, while simple intelligence features may be better for home use.)
Remember, there is no perfect IP camera software. But there is perfect IP camera software for you.
Movavi Can Help You Edit Your Security Footage
IP camera software is great for detecting, monitoring, and recording intruders. But you need a simple and effective way to edit your IP camera footage to increase viewability and add clarity to your recordings. Movavi Video Editor Plus is an industry-leading video editing software that lets you quickly splice and edit your security recordings. Whether you need to adjust contrast levels to increase clarity or join together multiple video segments to quickly showcase an incident to security teams, Movavi is an easy-to-use, free-to-download, and feature-rich way to enhance your home or business security posture.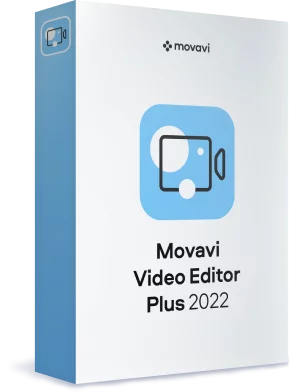 Movavi Video Editor Plus
Your next step in video-making
Edit video clips, images, and audio on a timeline

Add transitions, filters, titles, and stickers

Animate objects using keyframes, use more built-in media

Export videos in any popular format
* The free version of Movavi Video Editor Plus has the following restrictions: 7-day trial period, watermark on the output videos, and, if you're saving a project as an audio file, an ability to save only half the audio length. Learn more
See Other Useful How-to Guides