A Look at the Best Subtitle Editors
Subtitles make it much easier to understand what is going on in the movie when you're watching it in a language you don't know or just started to learn. It's great when subtitles are synchronized with audio and have appropriate size and color. But sometimes you need to edit subtitles, which can be a tedious process. The right software will reduce the tedium of creating subtitles and will let you work more efficiently. In this post, we'll take a look at some of the best programs for amateur and professional subtitling.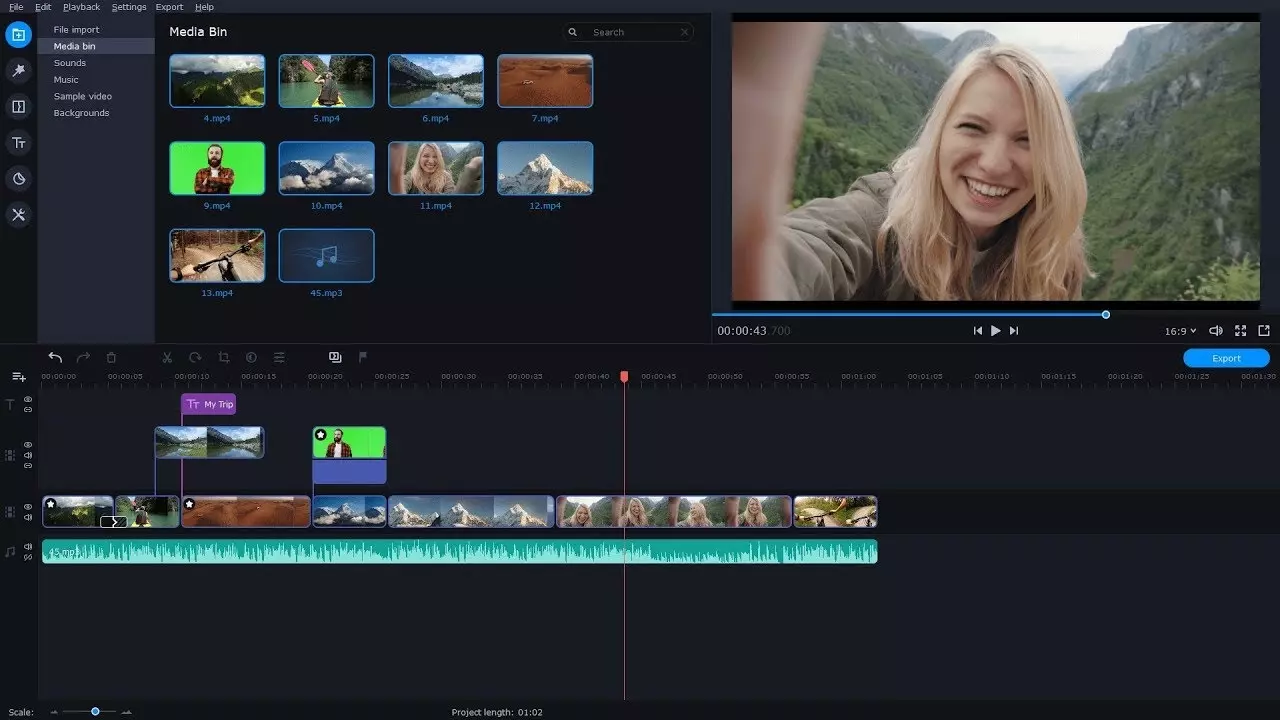 Top Software for Subtitle Editing
This is a list of the top software that you can get online and download for subtitle editing. That means that every product on this list is a worthy competitor. Because they are all great pieces of software in their own right, they are presenting in no particular order. Still, everyone has preferences, and we hope this list will help you pick the subtitle maker that is right for you.
Price: $59.95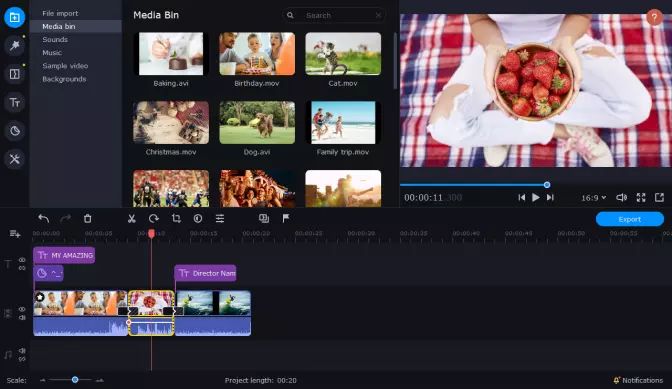 Movavi Video Editor Plus gives you the option to easily add and edit subtitles for your video files. In addition, it comes with powerful video-editing tools to cover all of your video creation needs.
Movavi Video Editor Plus is designed to be as easy to use as possible, while still offering the user a large selection of professional-quality effects. The software is available as an app for Windows and Mac. There is a free download available so you can try Movavi Video Editor Plus before you buy it.
Key features
Lets you create, add, and edit subtitles
Can change the position of subtitles on the screen
Tools for editing the color, font, size of subtitles
Easy synchronization of subtitles and video
Pros
Has all the necessary tools for video editing
Easy to use even for beginners
Wide format support
Fast processing
Cons
Trial version is available for 7 days only and has functional limitations
OS: Windows and Mac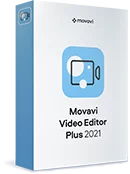 Movavi Video Editor Plus
Your next step in video-making
Edit video clips, images, and audio on a timeline

Add transitions, filters, titles, and stickers

Animate objects using keyframes, use more built-in media

Export videos in any popular format
Price: free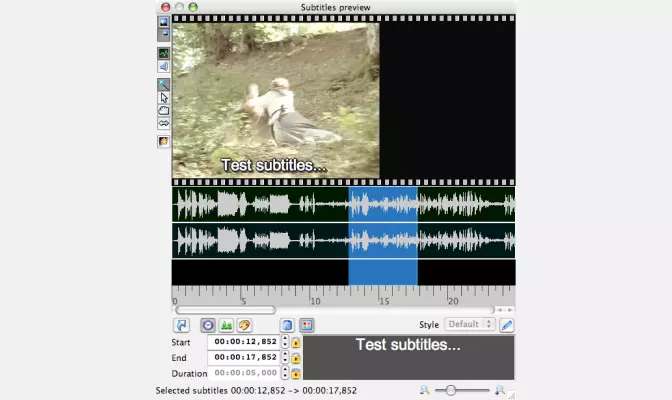 This open-source subtitle-editing freeware is licensed under the GPL. It requires the latest version of the Java Runtime Environment to run. It features an optimizing algorithm to help fix timing inconsistencies and will allow you to automatically handle frame rate conversions that would otherwise throw off the timing of all of your subtitles.
There is an easy installer for Windows, Mac, and Linux that includes the requirements. Because it is a Java program, it will run on any system that can run the Java Runtime Environment. For platforms other than the three mentioned, however, the user will be responsible for making sure the requirements are met.
Key features
Translation mode is available
Can change the color of subtitles
Automatic updates
Pros
Can add and edit subtitles in the playing mode
Can be integrated with a spell-checker
Supports all popular subtitle formats
Cons
Need to additionally install MPlayer to view subtitles
OS: Windows, Mac, and Linux
Price: free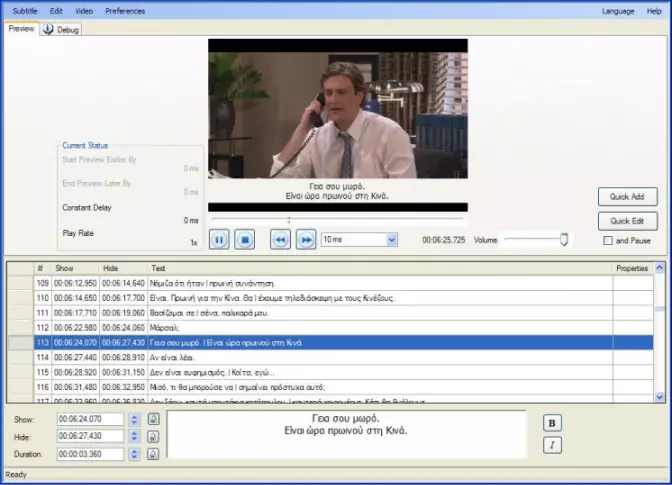 This subtitle editing software is also open-source. Open Subtitle Editor uses the .NET Framework rather than Java, as Jubler uses. To run Open Subtitle Editor, you will need to have .NET Framework version 4 or later. Since the software relies on Windows Media Player to work, it only runs on Microsoft Windows operating systems.
Open Subtitle Editor allows you to do subtitle editing tasks such as adding and removing subtitles, translation, re-syncing, and editing of the existing text. You can also use the software to create subtitle files from scratch. It is licensed under the GNU GPL.
Key features
Allows to create subtitles from scratch
Tools for editing the text of subtitles
Option to resync subtitles
Pros
Simple interface
Easy-to-use
Cons
Requires installation of .NET Framework 4 (web installer)
Lacks editing features
OS: Windows
Price: free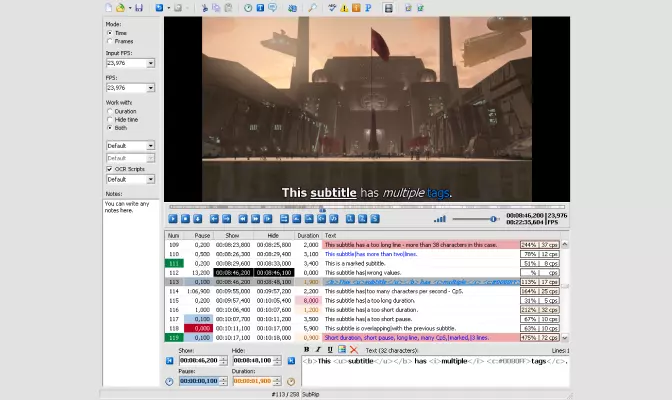 Another open-source, GPL licensed subtitle manager is Subtitle Workshop. This one features a user-friendly interface that is available in multiple different languages. Its tools for timing and text manipulation are customizable so that you can create an interface that allows you to operate in the workflow that is most convenient for you.
Subtitle Workshop will allow you to quickly set durations, adjust lines, check your spelling, and automate frames per second changes. It allows you to detect, mark, and fix timing or text errors using a comprehensive set of automatic and manual tools. It can also be extended using Pascal script files.
Key features
Supports over 60 subtitle formats
Automatic/manual detection and fixing of timing and text errors
Supports style and color tags
Spell checking
Customizable shortcuts
Pros
User-friendly interface
Multi-language support
Translation mode
Cons
Can be a bit complicated for beginners because of the variety of tools
OS: Windows
Price: $24.95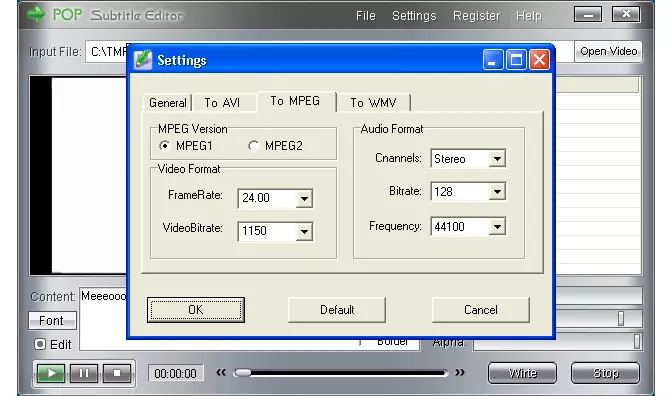 The next program on our list, POP Subtitle Editor, is a subtitle creator for MP4, WMV, AVI, or QT video files. POP Subtitle Editor is only available for Microsoft Windows platforms. It allows you to easily edit the styling of your subtitles, including their font, color, size, and position. As with all powerful subtitle software, you can edit the subtitles while previewing the video to avoid the need to go back and forth checking your work. POP Subtitle Editor allows you to export video files with your subtitles with one click.
Key features
Can change the font, size, color, and position of subtitles
Lets you edit the start and end time for subtitles
Pros
Cons
Can't change the text and start/end time after they are accepted by the program
OS: Windows
Price: $149.90 for all Aura4You software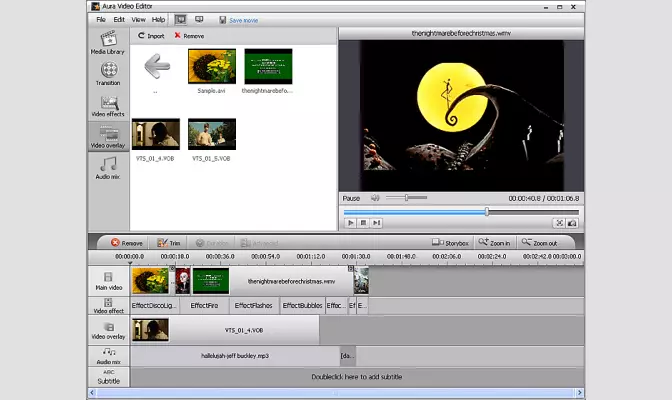 This Windows-only software is more than just a subtitle adder. Aura Video Editor is a full video editing application. The software allows you to import video files in over 30 different formats. You can export the files in MKV, FLV, and 8 other popular formats. Using Auro Video Editor, you can trim and arrange video clips, create a slideshow from photographs, and add music to the final product.
The program features a simple interface with drag-and-drop functionality. When you are done editing your video, you can opt to burn the final result to DVD or Blu-ray in addition to saving it out to the 10 digital video file formats that are supported.
Key features
Can create movies from videos, photos
Has multiple effects and transitions
Simple drag and drop option
Real-time preview of edits
Pros
Separate subtitles track
User-friendly interface
Lightweight
Cons
Supports only popular formats
OS: Windows 8, 7, XP, Vista
To read user reviews, click the link below.
Read the reviews on Download.cnet.com
Price: $78.90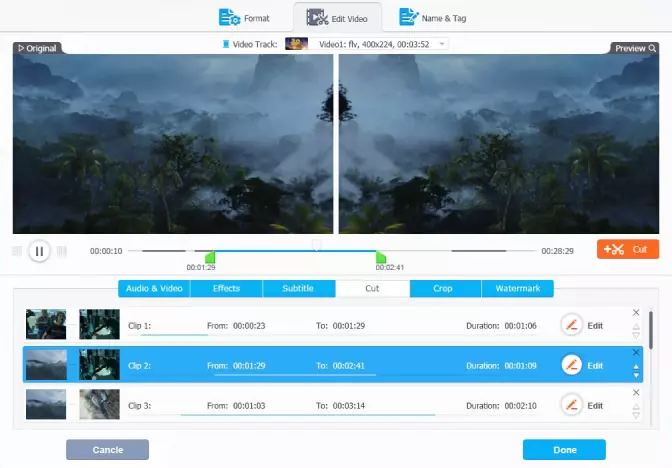 Like Aura Video Editor, VideoProc is more than a simple subtitle editor. This full video editing package is hardware accelerated so you can take advantage of your GPU for smooth editing of video files up to 4K resolution. Unlike other software on the list, VideoProc is not free software. You can get a free trial, though, so that you can see if VideoProc is worth the price before you have to spend any money. The software is available for Windows and Mac computers.
Key features
Various video-editing features
Option to enable/disable subtitles
Can hardcode or softcode external subtitles
Pros
Online subtitles search
Can export subtitles from a video
Can change subtitles position and font (but only when you hardcode subtitles)
Cons
Supports only 3 subtitle formats (.ass, .ssa, .srt)
OS: Windows and Mac
You'll find user reviews on the website linked below.
Price: free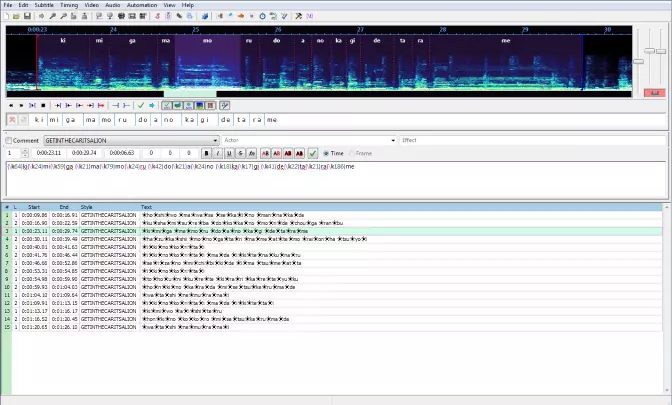 This open-source software is available for Windows, Mac, and UNIX operating systems. Aegisub Advanced Subtitle Editor includes powerful tools for styling and editing subtitles files, including a real-time preview for checking your work. The software includes audio waveform viewers to make getting the timing of your subtitles files just right even easier.
Aegisub supports some features that are not available in the SRT file format. Because of this, you can not save directly to SRT if you are using some features that would be lost by saving to that format. It does allow you to export to that format after you have finished editing though.
Key features
Synchronization of subtitles with audio
Real-time preview
Tools for styling subtitles
Translation assistant
Pros
Can be integrated with a spell-checker
Automatic saving and backups
Shows audio waveform
Cons
Can be complicated for inexperienced users
OS: Windows, Mac, Unix
Price: $20/month for the Pro version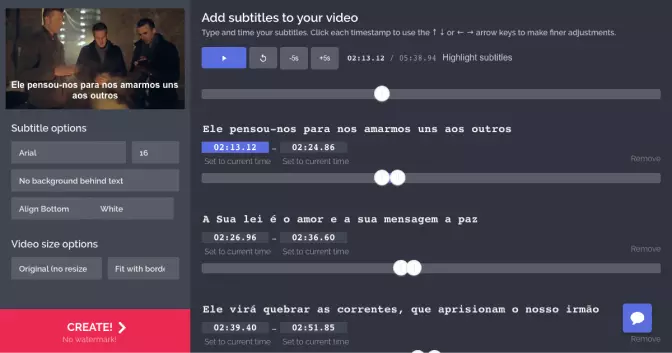 Kapwing is a full-featured online video editor that includes subtitle-editing tools. It's easy to start working with this service since the interface is quite simple and you don't have to sign in at the beginning. Kapwing lets you do all the necessary manipulations with subtitles, like changing their timing, appearance, and position. You can upload an .srt file or create new subtitles right in the editor. Kapwing is not just subtitle making software, it also has various video-editing tools. Another useful function Kapwing provides is creating a workspace to work with your colleagues.
Key features
Can change the font, style, and position of subtitles
Lets you edit text color, including background and outline color
Option to upload a video from your computer or paste the URL of a video
Allows to create a workspace for collaboration
Has many video-editing tools
Pros
Easy to create new subtitles
Intuitive interface
Can start editing without registration
A sample video with subtitles is provided
Cons
Supports only the SRT format
The free version has some limitations
OS: Any, works online
Here's a link to user reviews on the G2 website.
Price: free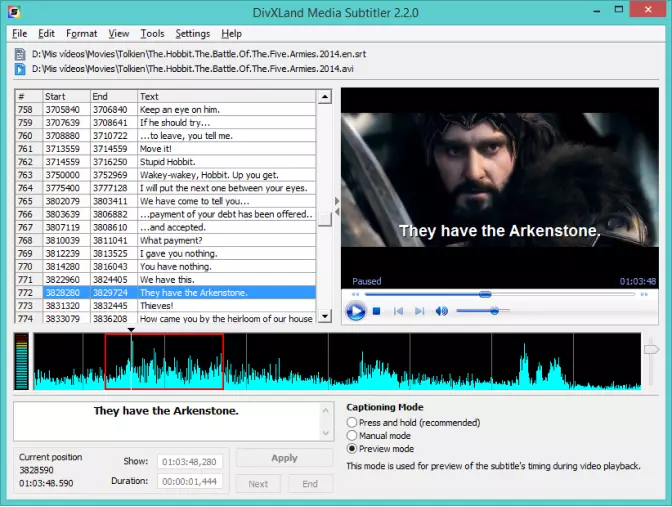 DivXLand Media Subtitler is a freeware app that lets you edit external subtitle files. You can also create new subtitles by uploading a text file that contains only dialog lines in chronological order. The software supports a great variety of subtitle formats. You can use keyboard shortcuts to make the subtitle-editing process faster.
Key features
Can create subtitles from a text file
Ability to edit subtitle files
Multi-language interface
Instant preview without saving
Can save partially edited files
Spell-checking in multiple languages
Pros
Supports more than 30 subtitle formats
Automatic timing correction
Cons
Not possible to create subtitles from scratch, you need to upload a text file
Can embed subtitles only into AVI videos
OS: Windows
Frequently Asked Questions
What Is the Best Software to Add Subtitles?
Here are some of the best programs for adding subtitles to a video:
Movavi Video Editor Plus
Jubler
Subtitle Workshop
Aura Video Editor
VideoProc
Aegisub
Kapwing
How to Make Subtitles Easily?
Read the guide link below to learn how to easily add subtitles to a video.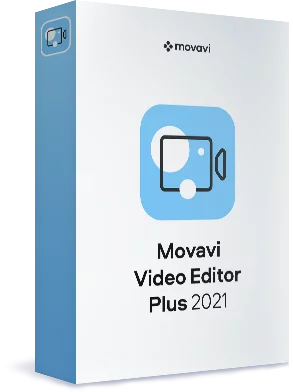 Movavi Video Editor Plus
Your next step in video-making
Edit video clips, images, and audio on a timeline

Add transitions, filters, titles, and stickers

Animate objects using keyframes, use more built-in media

Export videos in any popular format
* The free version of Movavi Video Editor Plus has the following restrictions: 7-day trial period, watermark on the output videos, and, if you're saving a project as an audio file, an ability to save only half the audio length. Learn more
See Other Useful How-to Guides