Best Gaming Headphones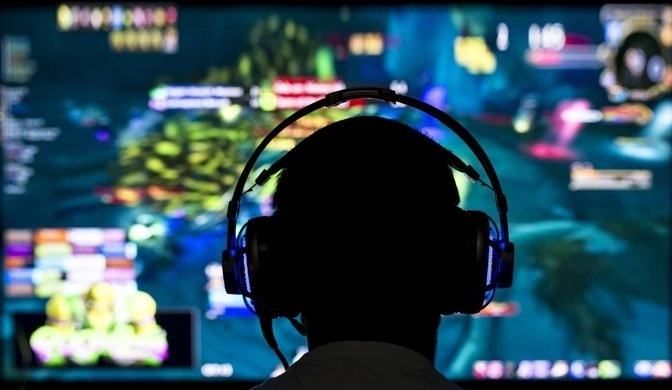 Today, the market of gaming gear is packed with all kinds of headsets (basically, headphones with mics). Coming from brands like Sennheiser, Logitech, SteelSeries, Sades, HyperX or Audio-Technica, they vary in every aspect imaginable. Cheap headphones coming at under 100 bucks or expensive headsets costing several hundred, with bluetooth or USB connection, with specialized features like noise cancelling, each with its own specs and subtleties... Some will suit beginners, while others are designed for pro gamers, some – for shooters, and others for third-person adventure games. How to buy the right model without wasting your budget? How to avoid getting lost among tons of reviews out there on the web? We'll try to help you out in our article.
Disclaimer: We use affiliate links to the products mentioned on this page. When you click an affiliate link and make a purchase, we receive commissions. If you want to support our portal, you can use the links. Otherwise, you can find the recommended products using a search engine.
Looking for a game recorder? We recommend you try Gecata by Movavi – a powerful app for recording gameplay. Follow the link below to learn more.
How to Choose the Best Gaming Headset
A right headset can improve your gaming experience in many ways and is an important addition to your PC, your monitor, and all the other gaming accessories. If you're an FPS fan, you know that headphones are the number one tool for intelligent shooting – it allows you to locate your enemies by hearing their footsteps and bullets, which is impossible if you don't have a decent headset. If you're into MMORPG, for example, headphones can support the immersive experience provided by your powerful, lag-free computer and your high-res screen. In general, all the newest games include a big range of environmental noises – all these rustles, shuffles, cracks and bumps that make a game not only look real but sound real, too.
So, before diving into our top 10 of the gaming headsets, let's try to understand what you'll have to pay attention to if you want to make the right choice.
Wired vs. wireless. The dilemma here is not the same as with gaming mice, for example, where a wire can significantly enhance the response time of a mouse which is one of its most important parameters. With headphones, it all comes down to comfort and personal preference. Wireless headphones usually weigh more, are more expensive, and they have to be recharged regularly. At the same time, you get rid of a wire that can be a real pain if you move your head a lot or need to get from your place to go to the kitchen or check on your teammates playing nearby without losing grip on the game.
Choosing a platform. Headsets are designed for specific platforms. The issue here is not so much in the ports, because a usual 3.5mm jack is supported by almost every console as well as the PC. But if you buy a headset designed for one platform and use it on the other, chances are some of its features won't work, as they are platform-specific: this is often the case for virtual surround sound, for example.
Sound quality. Who would have thought, right? The sound quality is probably the first thing you invest your money in when buying a headset. For gaming, avoid drivers below 40mm, pay attention to the frequency response (especially for FPS gaming) and verify that the mic has a noise cancelling feature.
Sound reproduction type. Basically, the sound reproduction type defines the way your headset distributes the sounds in space, helping you to define more or less precisely the distance and the direction of the sound.
Stereo sound. This type distributes the sound across two audio channels, left and right. Stereo sound is supported by almost all games and headsets but isn't that good for spotting enemies by ear.
Virtual surround sound. A 7.1 virtual surround sound headset simulates 7 sound channels, making the action sound more realistic. This type doesn't work on any platform, though, as it requires special software and the USB connection.
Dimensional sound. This sound pushes the "surrounding" effect even further, using volume and frequency to increase the precision of the sound and to place it not only on the horizontal axis but on a vertical one, too, allowing you to better hear an enemy creeping above or below you. Note that this technology is not supported by every game.
Open vs. closed earcups. The open design means that the ear is not entirely closed. This design is more light and breathable and better for playing in warm weather. Also, the open design changes the acoustics in a way for some sounds to sound more natural. The closed design provides a closed sound box, cutting you off from the world around you. The benefit here is that there is literally no sound loss, and the bass becomes more pronounced, but some gamers find this design uncomfortable, and it can feel uncomfortable in the warm weather.
Our Top 10 Picks
#CommissionsEarned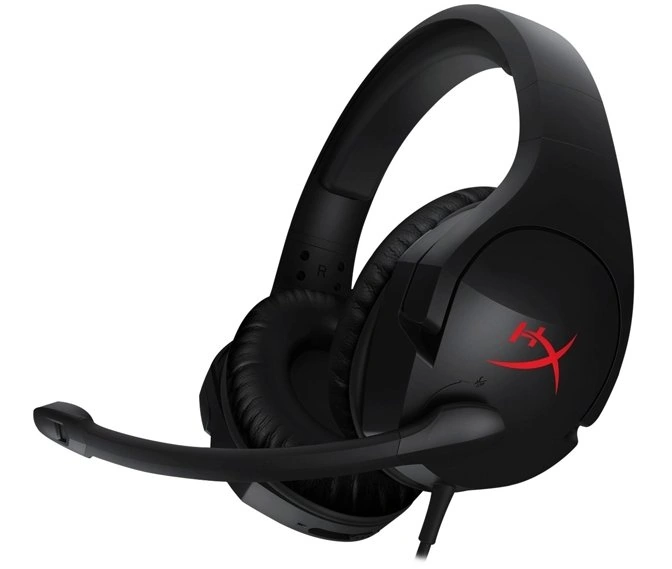 Wireless: No | Drivers: 50mm | Frequency response: 18Hz–23,000Hz | Connectivity: 3.5mm plug | Features: Rotating ear cups, noise-cancellation mic
This is the most affordable of the HyperX's gaming headsets line and one of our top choices because of what it offers for its price. While Cloud Stinger's case is made entirely of plastic, it doesn't feel cheap, partly because of its stylish matte black surfaces. The earcups rotate, which is a rare but useful feature for a budget headset. There is a flexible mic and a 3.5mm jack, and the volume slider is located at the bottom of the right earcup. Cloud Stinger has 50mm drivers which is impressive because almost all headsets from this price range stop at 40mm. It is still a budget stereo headset, so you won't feel the immersion provided by more costly models, but the sounds are crisp, and explosions feel concussive. Also, Cloud Stinger handles low frequencies pretty great, having a profound bass response, and overall it is way better than lots of other budget options we've tested.
#CommissionsEarned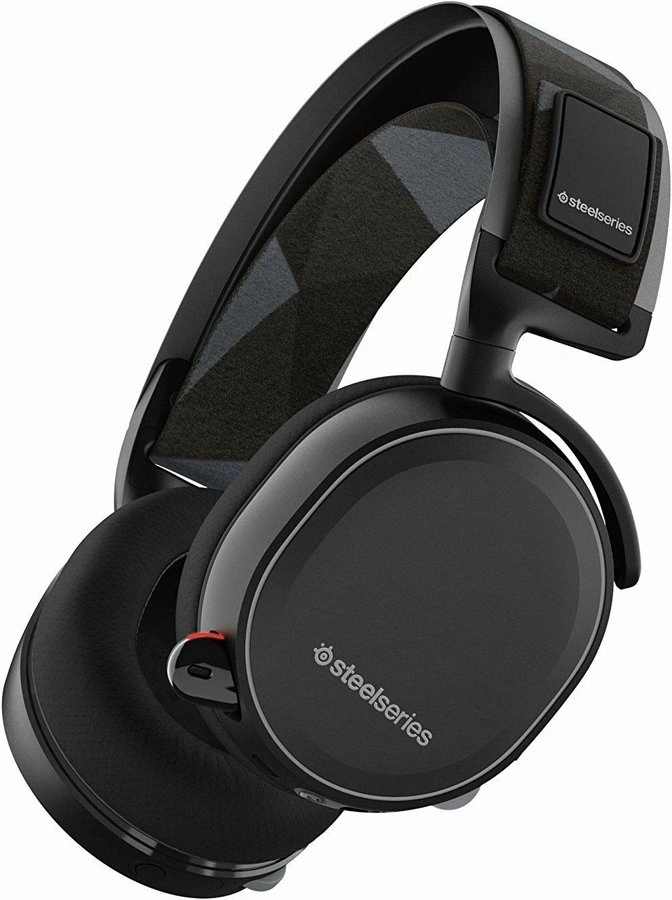 Wireless: Yes | Drivers: 40mm | Frequency response: 20Hz–20,000Hz | Connectivity: 2.4GHz wireless + 3.5mm plug | Features: Virtual 7.1 surround sound, AirWeave earcups, great battery life, ClearCast mic with noise cancellation
One of the top Arctis headsets, Arctis 7 has an austere design, eschewing all colorful attractions aimed at younger gamers. There are no prints on the matte black surfaces of the headset except for two silver SteelSeries logos on each of the earcups and a minimalistic monochrome pattern on a cloth headband (which is replaceable, by the way, in case you want to personalize your look). The elasticity of the "ski-goggle" headband creates suspension making the headset feel very light. The oval rotatable earcups covered with AirWeave fabric are amazingly comfortable and their pressure is super light, making Arctis 7 perfectly suitable for long gaming sessions. Two volume controls on each earcup allow you to balance the volume of the team chat with the game sounds on the go. A flexible microphone comes out from the left earcup and can be rolled back into it when if not needed. Despite Arctis 7 being a wireless headset with a 2.4GHz connection, it also has a 3.5mm jack and a cable that allows you to wire it to consoles or mobile devices. The SteelSeries Engine 3 lets you set up the 7.1 surround sound by either choosing among presets or creating your own profiles (note that the 7.1 surround sound is available on PCs only). Finally, a 40mm driver delivers lag-free and clear surround sound, coming with great dynamics from all sides and angles. So, in terms of both performance and functionality, Arctis 7 is definitely a great choice.
#CommissionsEarned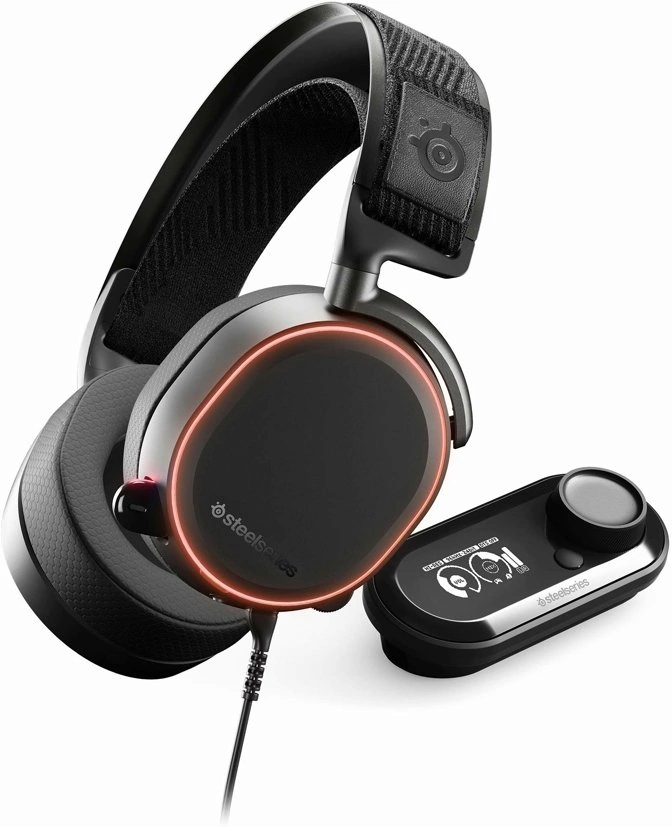 Wireless: No | Drivers: 40mm | Frequency response: 10Hz–40,000Hz | Connectivity: USB, optical, 3.5mm plug | Features: RGB, 40,000Hz output, DTS Headphone:X v.2.0 surround sound, ClearCast mic with noise cancellation, easy customization with GameDAC
This model from the Arctis Pro line features an external GameDAC module that provides high-fidelity sound, offloading the audio from the DAC on the hardware you're using. Also, it gives you super-easy customization of all the sound settings and controls, including the RGB lighting customization, via its OLED screen. The design is pretty close to that of Arctis 7, the only serious addition being the customizable LEDs forming two rings around the earcups. Arctis Pro is optimized for PS4, PC, and Mac. It will also work with the Xbox via an optical connection, but keep in mind that it will not support Xbox Chat because of the Microsoft policy that makes manufacturers pay to use its chipset for the chat functionality. The audio performance of the Actis Pro is mind-blowing. With an ESS Sabre converter supporting 24-bit audio at a sample rate that can go up to 96kHz and a frequency response range that is double a typical 20,000Hz, Arctis Pro is close to unbeatable both in numbers and in the performance that hides behind them.
#CommissionsEarned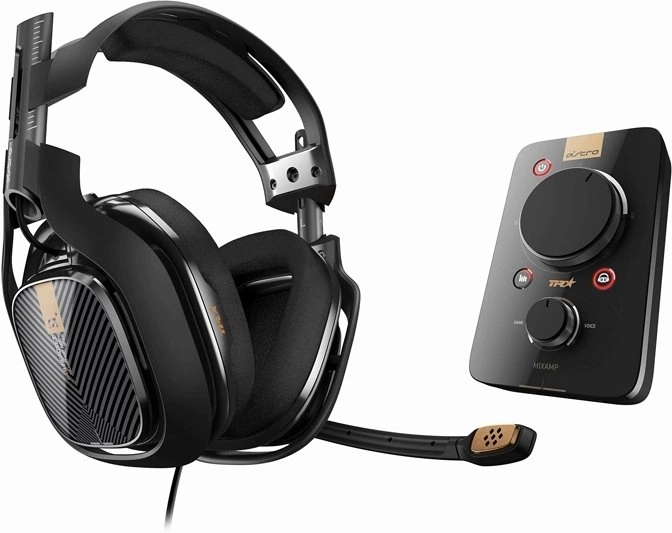 Wireless: No | Drivers: 40mm | Frequency response: 20Hz–20,000Hz | Connectivity: 3.5mm plug | Features: Dolby Audio 7.1, pro-level customization with MixAmp and Command Center
This ASTRO model, which is an improvement on the legendary A40, comes right after the Arctis Pro + GameDAC in our list because it offers a similar combination of a headset and a separate mixing station, in this case called MixAmp. The MixAmp Pro TR which comes with A40 TR is bigger than GameDAC and instead of the OLED screen uses an old-school nobs-plus-buttons functionality, allowing you to balance your game and chat volume, switch between EQ presets and turn Dolby on and off (speaking of Dolby Audio, only Xbox has that functionality, so one of the two buttons on the MixAmp will do nothing if you're gaming on PS4). Unusually many ports are located on the back of the box: an AUX port, an optical audio port, and a streaming output. As for the overall design of the headset, it hasn't changed much since A40, with shiny metal rods, big earcups, bendable and detachable mic. The headset is super comfortable, and your head doesn't get tired even during long sessions. The Command Center software is as pro as the headset itself: very useful, if you know how it works, but, believe me, most gamers will be perfectly happy with four preset EQs without going into the intricacies of dB and Hz tweaking. Other than that, it allows you to control almost everything you could imagine, from side tone to noise gate.
#CommissionsEarned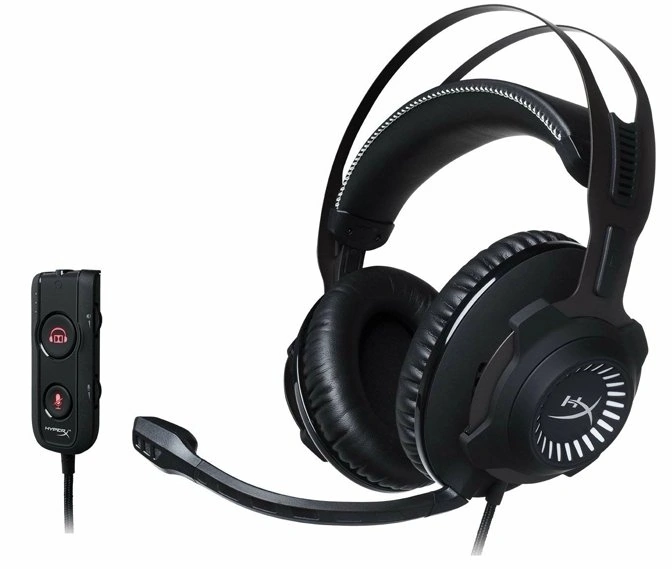 Wireless: No | Drivers: 50mm | Frequency response: 12Hz–28,000Hz | Connectivity: 3.5mm plug | Features: Great surround sound, very comfortable
Another great headset with the 7.1-channel surround sound provides incredibly immersive gaming experience and is perfectly suited for FPS gaming that demands extreme precision in sound tracking. For those of you seeking a simple design, note how little "gamery" Cloud Revolver S looks, being almost entirely made of black and white materials, with only two "HX" prints on the earcups reminding us of its gaming roots. A solid steel frame is just beautiful, it doesn't feel cheap and gives the headset a substantial look. Both earpads and headband are covered with memory foam making the headset super comfy. The small drawback of this model is the mic plugged via a 3.5 jack to the bottom of the left earcup. While the mic itself is firm and bendable, it has a weird rebound if it's bent too far. Another thing to keep in mind is the insanely long eight-feet cable that will definitely feel excessive if you're sitting close to your PC. As for the sound, the 50mm drivers and a 7.1-channel surround sound don't leave you much to ask for.
#CommissionsEarned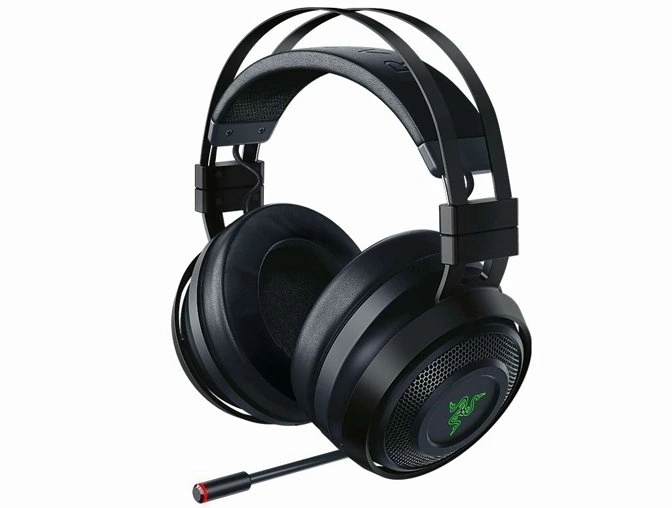 Wireless: Yes | Drivers: 50mm | Frequency response: 20Hz–20,000Hz | Connectivity: 2.4GHz wireless, 3.5mm plug | Features: THZ Spatial Audio, cooling gel-infused cushions, lightweight aluminum body
Razer is a well-established gaming brand, known for its accessories such as mice and keyboards. We have to admit that their headsets don't fall short of the other gear. Razer Nari Ultimate is the flagship model of the newest Nari line. From the first glance it looks impressive, with its huge earcups, elegant retractable boom mic and the aluminum frame. Inch-thick memory foam with cooling gel in the earcups keeps you comfortable – and they even spared a thought for those wearing eyeglasses by adding hidden eyewear channels. The design is clean and monochrome apart from two Razer logos that lighten up green when the headphones are turned on. Nari Ultimate uses the classic Razer's Synapse 3.0 software similar in look and navigation to the one used for Razer mice and keyboards. The most interesting feature to tweak there is the Haptic intensity slider controlling the HyperSense haptics technology that, basically, mimics the way of operation of a massive subwoofer's driver by moving motors at the frequencies that a subwoofer pushes air around, thus simulating a subwoofer on your head. The headphones literally shake and vibrate with the rhythm of the audio, their feedback is just incredibly strong and precise at the same time. THX Spatial Audio technology helps you locate the sounds and immerses you completely into the atmosphere of the game. The retractable mic sounds clear and has the popular and useful feature – when it is muted, the red light on the end turns on, so you'll never have to guess whether you're heard by your teammates or not.
#CommissionsEarned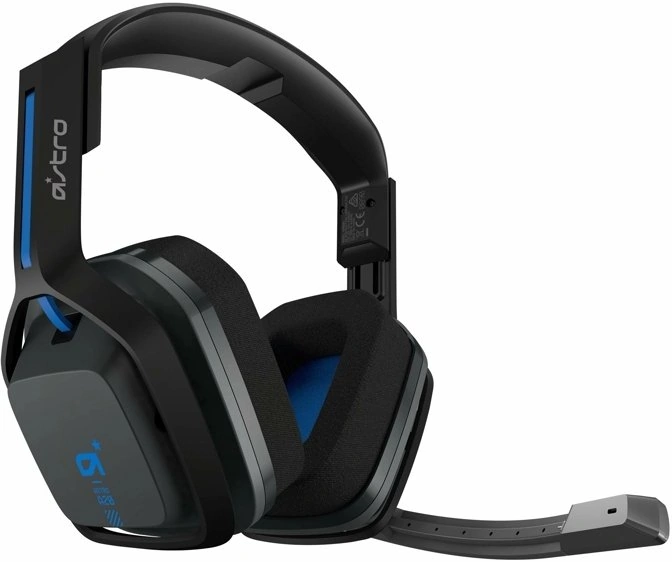 Wireless: Yes | Drivers: 40mm | Frequency response: 20Hz–20,000Hz | Connectivity: 5.8GHz wireless | Features: 15+ hour battery life, lightweight, exterior transmitter
This is a little step down from the Astro A40 both in features and price. Coming at $120, A20 is a stylish wireless headset with strong connection. The build feels a bit more premium compared to the A10 model, with the headband padded with a puffy material and two visible colored wires raising from each earcup to the adjustable headband. The A20 comes in PS4 and Xbox One versions, both working with PC. The set-up of the exterior transmitter that provides wireless connection is pretty straightforward, and a flip-to-mute mic works fine (even if it is not the most compact one). A20's 40mm drivers are great and the sound they produce is crisp and vivid.
#CommissionsEarned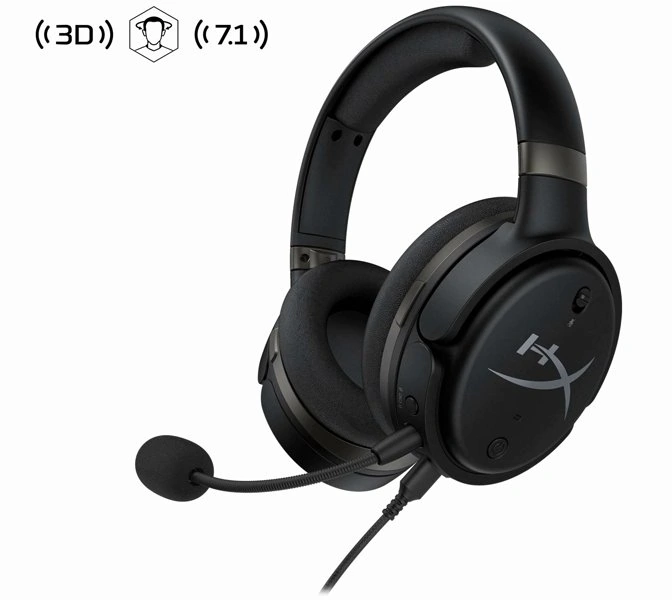 Wireless: No | Drivers: 100mm | Frequency response: 10Hz–50,000Hz | Connectivity: USB Type A, USB Type C, 3.5mm plug | Features: Audeze planar magnetic drivers, head tracking technology, three cable options | Price: $329.99
This headset stands completely apart from all the others. Its 100mm Audeze planar magnetic drivers make your jaw drop. The aim of this model is to bring the audiophilia into the gaming world, to squeeze every last drop of the gaming sound put into the game by the developers. Using thin speaker diaphragms and magnets, Audeze drivers provide ultra-fast frequency response, minimize distortion and enhance the clarity of the sound. A Waves Nx 3D audio emulates three-dimensional audio and offers an extremely precise sound positioning, while the head tracking technology detects the most subtle head movements almost 1000 times per second, stabilizing the audio environment and making your gaming experience as realistic as it can be. Detachable mic with pop filter and noise cancellation is very flexible and the quality of the sound it records is amazing. There are three cable options, a 3.5mm plug, a USB Type C and a USB Type A, and the headset is compatible with literally every platform you can imagine. Finally, the HyperX Orbit software is crazily versatile, allowing you to tweak the headset to the individual measurements of your skull, and set up a virtual room with a desired ambiance.
#CommissionsEarned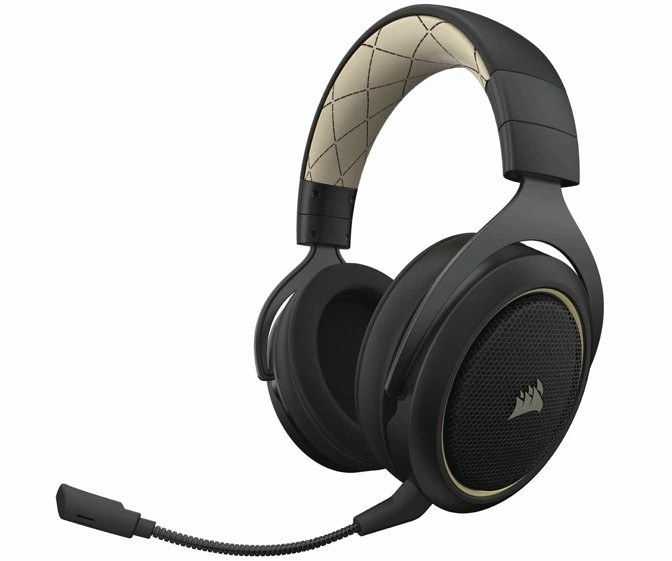 Wireless: Yes | Drivers: 50mm | Frequency response: 20Hz–20,000Hz | Connectivity: 2.4GHz wireless | Features: Long battery life, great sound, high wireless range
This is a very solid model, built around a metal headband, with a simple design and an excellent plush memory foam attached to the headband. The earcups are adjustable, and the mic is detachable. HS70 has an impressive 16-hour battery life and a high wireless range. As far as the sound is concerned, the impeccable 50mm neodymium drivers packed with the virtual 7.1 surround sound is a classic combination for a $100 headset providing a great sound worthy of most of the pro-gaming needs. All of the necessary controls are located on the left earcup, and for greater customization you can dive into the Corsair's iCUE software and adjust equalizer settings, sidetones etc. The headset is PS4 compatible. The microphone sits firmly in its port, articulates well and can be turned on and off by a button on the left earcup. The audio quality is just great, and even better than what you would expect from a $100 model. If the bass or sibilance are too elevated for your taste, they are easily tamed by adjusting the EQ sliders in the iCUE. If you care to learn to work with the software you'll be really impressed by the ultimate quality you can achieve with this headset.
#CommissionsEarned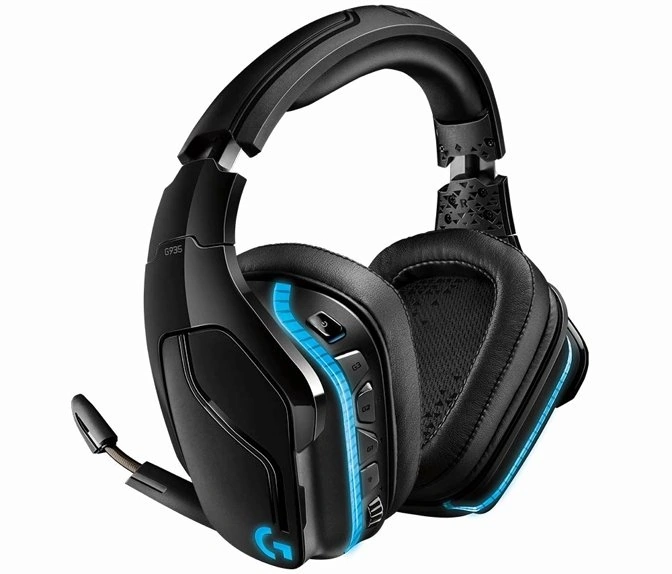 Wireless: Yes | Drivers: 50mm | Frequency response: 20Hz–20,000Hz | Connectivity: 2.4GHz wireless | Features: customizable RGB lighting, DTS Headphone: X 2.0 surround sound, Pro-G 50mm drivers
As far as the general functionality and audio specs go, G935 offers pretty much the same as the Corsaire HS70 does, but some of its special features seem to actually make it worth the extra $69 it adds to the HS70's price. But let's start from the beginning – the design. Logitech often puts a lot of effort into the shape and the overall look of its high-end accessories, and not that it always makes sense. You may only wonder who the RGB lighting bands on the back of the earcups are designed for. You can't see them, and in case you stream your viewers won't see them, the only person who will really be able to appreciate the light show you put on around your ears is someone sitting right behind you. Little glistening triangles on the inner side of the headband look weird to my taste and also bring out a bit of a dirty look to the surface. Well, those are matters of taste, really, and if you're into Logitech cosmic looks, bizarre angles and shapes, you will probably like this headset's design. As far as the features go, Logitech has a lot to offer. G935 comes with a new DTS Headphone: X 2.0 surround technology, using the proximity cues to better define the distance of objects like bullets and footsteps. A 10-channel graphic equalizer is added, and the bass support is enhanced in this new version. An interesting and risky feature of this headset is the three assignable buttons on the back of the left earcup. Risky, because, well, headphones are not mice or keyboards, and assignable buttons may seem an unnecessary extra for some gamers, especially when they are located on the back of the earcup, making them not easy to access. But it all depends on your needs and preferences: while I don't really need those, you might find them useful, and it is definitely a feature that makes G935 stand out among the crowd of headsets. Finally, a word about the great G Hub software – apart from the fun you get from the RGB lighting customization, it is there that you can assign dozens of options to those custom buttons, including app specific ones. You can choose from one of 7 EQ presets or use a 10-band graphic equalizer to set the frequency response as you like. Also, the software allows you to adjust the volume of multiple surround zones. All this is really easy to figure out and the results you get are rather impressive.
That's all for today! If you want to dig deeper, check out the articles below to find a keyboard and mouse to complete your setup and improve your gaming!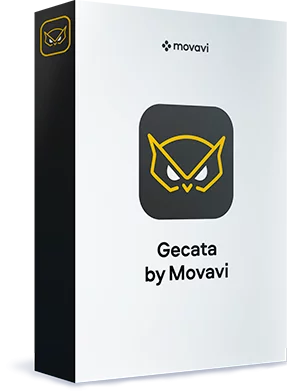 Gecata by Movavi
The best way to preserve your gaming achievements.
Record HD game videos at up to 120 FPS

Grab sound from microphone and speakers

Add webcam video to the game footage

Save video in MP4 for easy uploading to YouTube